The IWFS Grapevine August 2021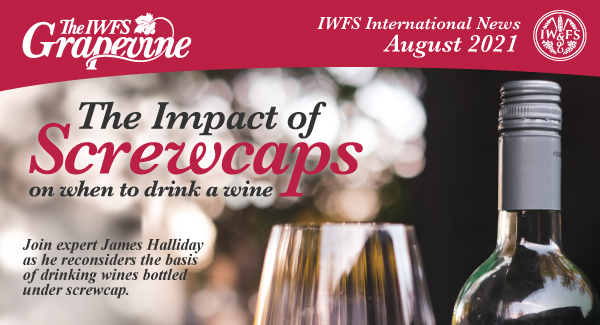 Appointment of new IWFS Chairman

We are pleased to announce the appointment of Michael Tamburri as Chairman of the International Council of Management (ICM). He was handed the reigns from outgoing ICM Chairman, Andrew Jones at the last Council meeting held on June 28th 2021.

Honorary President's Message Dave Felton

Stop the presses! Big story in the making: Older traditionalist foodie embraces tofu, then successfully pairs it with fine wine.

This shocking scene was observed by more than one credible source. Here's the back-story...

New For Members

South America Wine Guide

Amanda Barnes, our Vintage Card expert consultant and specialist for the wines of Argentina and Chile has recently published a book on the wines of South America – South America Wine Guide and is offering members a 10% discount on all books.

Falstaff International

Members are offered a free digital download, available until 24 September, of the first edition of this new international food and wine publication. This is the first English language version which is now the biggest wine, food and travel magazine in German-speaking Europe.

APZ Launch E-Newsletter

The APZ are pleased to advise they are now producing a newsletter which provides updates on the latest news from the Zone. It will be published twice a year and will be available online only. Non-APZ members are also welcome to take a look at the July issue, just click here to view. Editors Brian McIntyre and Nicola Lee welcome any contributions which should be sent to apz@iwfs.org

This will complement the other zone magazines Wine Food & Friends from the Americas plus Food & Wine and Food & Wine Online from Europe Africa which are available to view via the links here.

Have you listened to...?

If you haven't already done so, do listen to the three podcasts available on the website. They have all been recorded specifically for IWFS members and include Jane Anson giving you an insight Inside Bordeaux, Oz Clarke highlighting how climate change is threatening wine regions around the world plus Beverley Blanning MW providing an update on Biodynamic wines.

Vintage Card News

The impact of screwcaps on when to drink a wine

We are extremely fortunate to have many high profile experts amongst our team of vintage consultants advising us for our Vintage Card each year - James Halliday being one and he has written an article for us on screwcaps.

New Members of Vintage Card Team

We are pleased to welcome a new member of the Wines Committee and also new consultants for our Vintage Card this year, further strengthening our knowledge base of the world of fine wine.

Zone News

We welcome the latest news from our Zone Chairmen, and members of the International Council of Management – Stephen Hipple (Americas), Michael Tamburri (Asia Pacific) and John Nicholas (Europe Africa)

Americas Stephen Hipple

IWFS is thriving as a new branch opens in Arkansas and another branch is being organized in Colorado.

IWFS Arkansas Branch is off to fine start having held its first-ever event in February 2021 in Little Rock, Arkansas

Asia Pacific Michael Tamburri

In the time of writing this message for the Grapevine it has really made me reflect upon the APZ Zone and how sympathetic I feel towards Japan for staging arguably the world's most important sporting event, the Tokyo 2020 Olympics.

Europe Africa John Nicholas

We are very pleased to announce that the EAZ once again has a branch in France and in Champagne no less. The branch is called IWFS Vignobles de Champagne and we would like to welcome its founder Fabrice Laudron and fellow members to the IWFS family. We look forward to joining them at an event shortly.

Dates for Your Diary
Americas · Asia Pacific · Europe Africa
The Zones are still busy looking ahead and putting together a rich itinerary of festivals around the world for members to enjoy. Some festivals have had to be rescheduled, due to the continuing impact of the pandemic and the various governments' travel advice and local restrictions. But as we are getting closer to overseas travel being allowed do check out the following schedule to see what is planned:
16-19 September 2021
Cambridge, UK (Europe Africa)
All members are invited to join us visiting this historic city. The weekend will include a guided tour of the city and dinners in two of the University's historic Colleges as well as a day in Ely visiting the Cathedral. The EAZ AGM and Members Forum will take place on Sunday morning. See Food & Wine March 2021 pages 30 & 31 for details and also our website. There are still some places available for this weekend, contact eaz@iwfs.org to check on availability or to be added to the wait list.
26-30 October 2021
San Antonio, USA (Americas)
IWFS Americas invites you to join members from the US and around the world for four days of culture, history and exceptional cuisine for their San Antonio Wine & Food Festival. As one of the most visited cities in Texas, it's no surprise that San Antonio is packed with sights to explore and a four-day festival in San Antonio is the perfect amount of time to get to know the city! Click here to view the exciting itinerary.
30 October - 6 November 2021
Madeira, Portugal (Europe Africa)
Join the EAZ to explore this historic island; 'the pearl of the Atlantic' and learn about its world famous wine, Madeira. You will stay in the capital Funchal and visit the major producers – Barbeito, Blandys, Henriques & Henriques, and D'Oliveiras. You will also have the opportunity to discover something of the local cuisine. This is a unique opportunity to discover Madeira wine in its home setting. Now full but let us know if you wish to be added to the wait list. Click here for more details.
25-30 April 2022
Alsace, France (Europe Africa)
The EAZ are planning to head to the city of Colmar in 2022. Colmar is the capital of this historic wine region and will aim to give you a taste of some of the best wineries and restaurants in the area. These dates are now confirmed but the programme will not be finalised until later in the year.
2-7 May 2022
Piedmont, Italy (Europe Africa)
In view of the continuing uncertainty around Covid-19 restrictions we have regretfully decided to postpone this event to May 2022. Members who booked for this year will be contacted individually. You might like to make a note of these dates in your diary. We will be announcing full details of the programme later in the year.
NB – if you wished for an extended holiday in Europe It would be possible to join both tours, of Alsace and Piedmont, although they are being run separately.
5-13 May 2022
Paris & Bordeaux, France (Americas)
This amazing Americas event has now been rescheduled for next May – the itinerary will be in essence the same. The itinerary includes visiting some of the most exclusive venues in Paris; then in Bordeaux a stunning itinerary includes private tours and tastings of top chateaux. Last few places available. Click here for more details.
Rescheduled for 2022
Singapore (Asia Pacific)
The APZ are making plans for a festival on this delightful island country for members to enjoy its culinary delights and explore the many jewels of this island including the Singapore Botanic Gardens – the only tropical garden in the world to be awarded a UNESCO Heritage Site. Details to be released as available
2-6 May 2023
Williamette Valley, Oregon, USA (Americas)
Join the Americas for this exciting Willamette Valley 5 Day Festival, giving you the chance to visit some of the best wineries of this region renowned for its world class Pinot Noir. More details to follow.
If you are interested in joining an event that is full, or reservations closed, then please contact the organiser in case space is available.

131 Branches Worldwide
Click here to view a complete list and map of our branches around the world.
Or on the following links in your chosen region to see where they are.
Americas · Asia Pacific · Europe Africa
Why not explore the opportunities of running a virtual inter-branch event – maybe Miami and Manchester, Tecate and Tokyo Bay – the world, and their cultures, are your oyster...?
Contact our International Secretariat to find out more.
International Council of Management