Honorary President's Message

Stop the presses! Big story in the making: Older traditionalist foodie embraces tofu, then successfully pairs it with fine wine.
This shocking scene was observed by more than one credible source. Here's the back-story. The Honorary President of the International Wine & Food Society cherishes the challenge of matching wines with his favorite proteins, which long have included multiple hoof-footed animals, extensive fowls and fishes, and any number of cheeses. He has exercised this passion for close to fifty years. Now, in his eighth decade, he enjoys the myriad wine-pairing discoveries he has made over a lifetime.
No, he's not so settled as to ignore the evolution of food and the culinary choices being made in the 2020s. But a traditionalist is most comfortable with what is known. Anything different must be scrutinized. So it was that this older fellow was invited to join friends at a newish restaurant in Los Angeles, California; one being considered for an event by their local IWFS branch.
It was a delightful place, situated outdoors in a garden space. The diners had brought along a wide range of excellent wines to sample along with the restaurant's various food courses, and they all settled in for a fine dining experience.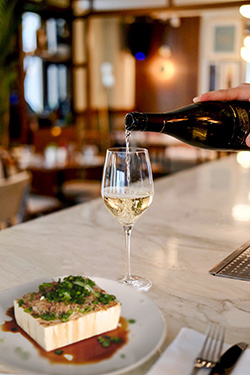 You've no doubt guessed at the denouement that followed. The restaurant brought out a long series of beautifully designed dishes, all with extravagant scents and opulent flavors. Every single one was plant-based. The wine pairing proved easy. A Spanish godello was a lovely match with a melon/almond/celery root/balsamic dish, while a tempranillo from California paired so nicely with a maitake mushroom steak au poivre. We talked about a beet tartare dish, with asparagus, pickles and herbs possibly working with an Italian lambrusco. So many good possibilities.
The pure enjoyment of the vegan menu proved an easier transition in thought than was expected. The food was delicious. It was as simple as that. Our IWFS friends in the Mumbai & Delhi branches of India already know this truth. Many of our members in southeast Asia must be chuckling at how late to this knowledge some of us have come.
But evolution is relentless. I will promise you now, that in only a few generations, the heirs to our International Wine & Food Society will be dining exclusively on plant-based meals.
By the way... squares of tofu, topped with a little grated fresh ginger, chopped scallion and a dribble of soy sauce, pairs beautifully with grenache blanc. Try it. You'll smile, too.
Dave Felton
PS – Covid-19 virus surges are continuing around the world. Stay safe. Try to get vaccinated. My thoughts are with you and your families.