Vintage Cards
IWFS Vintage Card - click here to view a sample of our Vintage Card
Members should instead view the 'For Members' pages within the Secretariat area or click here.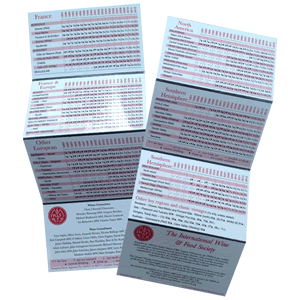 The Society's Annual Vintage Card is released in October each year having been thoroughly reviewed by the distinguished members of the IWFS Wines Committee, which includes several Masters of Wine. Vintage assessments are provided for key regions around the world and the Wines Committee try to ensure that regions are reviewed and assessed as to whether they are worthy for inclusion. Every care is taken to produce accurate ratings, but inevitably there will be exceptions. There are always some good wines made when a vintage does not warrant a high rating and some poor wines produced in the best vintages.
The 2019/20 Vintage Card, now available to purchase from the International Secretariat of the IWFS in London.
The Society publishes a non-members edition of this card for non-members to purchase. It is a very useful token gift for friends, family and colleagues and it is just the right size to include with a card or letter. Non-members can purchase the Vintage Cards, via the International Secretariat in London, at the prices detailed below:
2019/20 Vintage Card Pricing
(available from NOVEMBER 2019)

| Quantity | Unit Cost £ | List Price £ |
| --- | --- | --- |
| 12 | £2.23 | £26.76 |
| 25 | £2.12 | £53.00 |
| 50 | £2.02 | £101.00 |
| 75 | £1.96 | £147.00 |
| 100 | £1.91 | £191.00 |
Please note the following:
Minimum order: 12 cards.

Over 100 Vintage Cards — price on application.

Prices are in UK sterling and include postage and packing.
Please click here to download an order form and price list (as shown above). Payment can be made via bank transfer (in sterling), credit/debit card or a sterling cheque/check. Card payments will be processed by our International Secretariat based in the UK.
Please note there is a limited supply of Vintage Cards and therefore will be subject to availability.
International Secretariat
The International Wine & Food Society
4 St James's Square, London, SW1Y 4JU, UK
Email:
click here
Tel: +44 (0)20 7827 5732