Vintage Card News
THE IMPACT OF SCREWCAPS ON WHEN TO DRINK A WINE
We are extremely fortunate to have many high profile experts amongst our team of vintage consultants advising us for our Vintage Card each year - James Halliday being one and he has written an article for us on screwcaps. James has been our leading expert on Australia for over 20 years (including a stint as a member of the Wines Committee itself in the 1990s). As more and more producers are bottling under screwcap in Australia, James feels it is now time to reconsider the basis of drinking guidance for these wines on the Vintage Card in particular Clare Valley Riesling and Hunter Valley Semillon.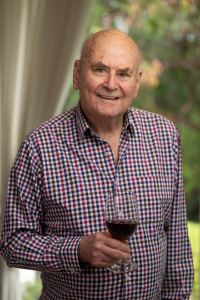 James commented this year that, for Riesling, "the screwcap (adopted by every Clare Valley Riesling maker in the 2000 vintage) has pushed the current drinking window out to a minimum of 10 years for vintages rated 4 or 5, and 15+ years for vintages rated 6 or 7. The default option of Diam is unproven beyond 10 years, but far better than one-piece natural cork."
He continued "'Possible to drink' is terminology for young red wines (and even then the gulf between young Pinot Noir and Cabernet Sauvignon is immense, Shiraz and Grenache the middle ground). All Australian Semillons and Rieslings are screwcapped, and Australian winemakers have got their heads around the necessity of eliminating precursors of sulphide/reductive aromas and flavours. So the pure varietal fruit flavours are at maximum intensity in newly bottled wine, complexity building with age. Thus the consumer has a purely personal choice of vibrant wine, with acidity also obvious, or complexity reaching its plateau with 7-10 years in bottle. Tyrrell's 2005 Vat 1 Semillon is still in its youthful prime of life, and has won truckloads of trophies. There's no space on the front of the bottle for more trophy emblems. It will live for many more years than I."
Screwcaps – by James Halliday
The basic technology of screwcaps dates back to 1889 when the first patent was granted in the United Kingdom. In 1926 they were used on Scotch whisky bottles, and in the 1930s the University of California, Davis, conducted trials with table wine, included a 1936 Colombard that was opened 60 years later and found to be in very good condition. Given that the technology involved in creating the sandwich liner that sat at the top of the screwcap where it intersected with the top of the bottle was vastly inferior to that of today, it's akin to one swallow making a summer.
There's a bit of nerdy science involved which I'll try to summarise in a moment, but some history may help the digestion. When I was first judging in the late '70s to early '80s, the Royal Sydney Wine Show had classes for Riesling, Chablis and White Burgundy, almost all from the Hunter Valley, and in turn the best almost always from Lindeman's old plantings of Semillon (Riesling, like Chablis and White Burgundy simply denoted a style). All were sealed with one-piece corks of modest quality, and the senior judges knew these wines like the back of their hand. In the first round of judging there would a frequent call for another bottle, the first adjudged to be madeirised/oxidised, the second usually much better. The top wine from each class went into the Trophy tasteoffs on the last day, and once again, there might be a call from the judges for a second, and occasionally a third, botte where the progression of trophies when in its favour. The wines were typically 10 to 15 years old, golden-yellow hued, rich, complex, looking for all the world like barrel matured (barrel fermentation was unheard of) wines. The always high acidity of Hunter Semillon balanced the madeirisation, and the wines would be marked with the back labels attesting to their quality (and the perspicacity of the judges). Nowadays most wine shows don't allow recalls of cork-sealed wines, the rationale being purchasers of a bottle usually don't get a second chance.
Roll forward 40 years to the present time, and the example of Tyrrell's 2005 screwcapped Vat 1 Semillon which has won 33 trophies and 57 gold medals. It is pale straw-green, brilliantly refreshing, wound around its backbone of acidity, and the lemongrass, flint and lemon zest lingering in the mouth for as long as the greatest red wines. The great Lindeman's Show wines would receive short shrift today. An easy byline might suggest that Vat 1 would have received an equally emphatic rejection 40 years ago.
One final bit of history was the display in Brokenwood's cellar door and website of 12 bottles of 10-year-old cork-closed bottles of Semillon brought back to the cellar door by a customer in an unbroken cardboard box of the wine wanting to swap it for 12 bottles of the current release. The original box had come off a sophisticated bottling line fully labelled and packaged, so all 12 bottles had to have had an identical history, the ullage was identical – and minimal – but every bottle had a different colour, from pale strawgreen to deep golden-brown. The kick-ass answer is that no two bottles of wine closed with a cork will ever be the same, and the converse for any two screwcapped bottles.
However, most of the extensive research, including the Australian Wine Research Institute's early study commenced in 1999 of 14 different closures, were of unwooded Semillon, and not of red wine. Next, high quality 54mm corks inserted with precise settings on the bottling line gives rise to an oxygen barrier similar to that of a screwcap. Cork taint, endemic 30 years ago, has been vastly reduced, and one brand is now available backed by a guarantee of zero taint. Next, both Diam corks and screwcaps are available with several oxygen barrier settings, allowing winemakers the ability to continue 'making' wine after it has been bottled and sold.
The message from almost all studies is that winemaking protocols are more important than the closure in determining the level of reduction/reductive characters. The use of copper to strip sulphide taints can have the reverse effect, and yeast selection can have the same outcome.
In 2019 97.3% of white wines tasted for my annual Wine Companion were screwcapped, or 87.9% of all wines. These are, by definition, the figures for wine being sold in the Australian market; cork (natural or Diam) are likely to be used for exports to countries that won't accept screwcaps. (9280 wines were tasted for the Companion).
Note from Editor – Many thanks to James for kindly writing this report for us. If members would like to find out more about screwcaps than please download a copy of IWFS monograph 'Taming of the Screwcap' by Dr Jamie Goode available free for members on the website. Click here to go to the relevant webpage.
NEW MEMBERS OF VINTAGE CARD TEAM
We are pleased to welcome a new member of the Wines Committee and also new consultants for our Vintage Card this year, further strengthening our knowledge base of the world of fine wine. Stuart Leaf, founder member of the Hudson Valley branch, has joined the Wines Committee and will offer advice on the North America section of the Card as well as other regions. Stuart is also the co-author of IWFS publication Guide to Enjoying Fine Wine and also this year's monograph Exploring Blended Whisky which will be published later this year.


New consultants who have joined the team are Anne Krebiehl MW who is an expert on the wines of Germany. She is a widely published freelance wine writer and also a Master of Wine. She was recently appointed as editor-in-chief of Falstaff International (first English language version) which is now the biggest wine, food and travel magazine in German-speaking Europe. Please click here to read the first issue free (offer available until 24 September). We are also pleased to welcome Julie Lumgair who is our specialist in the wines from Napa Valley, taking over from Michaela Rodeno. Julie is an award-winning consulting and hands-on winemaker for J. Moss and other luxury tier Napa Valley wineries. Her wines span fifteen vintages and 25 varietals from nine of Napa Valley's world class AVAs, Italy and Sonoma's Russian River Valley, Chalk Hill, Knights Valley and Alexander Valley AVAs. Welcome to all our new team members and also big thanks to all our existing Wines Committee members and consultants who give their expert advice freely.