The IWFS Grapevine June 2022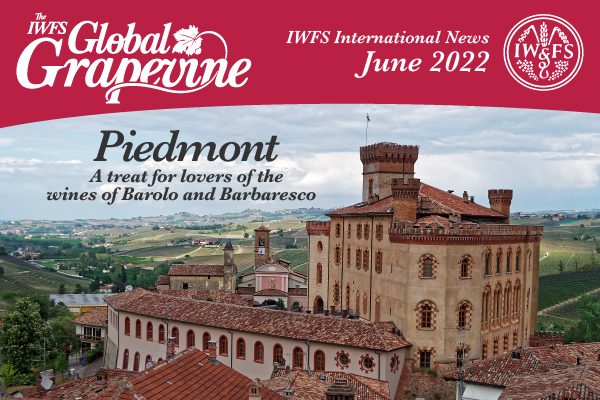 Appointment of New Honorary President

The International Council of Management (ICM) are pleased to announce the appointment of Chris Bonsall as Honorary President of the Society on 1 June 2022. Chris succeeds Dave Felton, who held the post from 2017 to 2022.

Honorary President's Departing Message Dave Felton

LONG LIVE THE SOCIETY! But how? Well, tune in for just a moment. COVID could have sounded the death knell on an organization founded on the precept that people thrive when seated at a table with wine, food and uncovered faces at our elbows. It didn't. It hasn't. Unmasked conversation is flowing again.

Our Festivals

25-30 April 2022

Alsace, France (Europe Africa)

What a culinary and vinous treat this was. Based in the beautiful medieval city of Colmar, in the valley between the Vosges mountains and the Black Forest, festival goers dined in the Michelin starred Auberge de L'ill and enjoyed wines from the 7 different Noble grapes.

2-7 May 2022

Piedmont, Italy (Europe Africa)

Such a treat for lovers of the wines of Barolo and Barbaresco as members tasted their way through these wines made from the big and bold Nebbiolo grape. Members learnt about the different winemaking processes of the two areas, tasting wines from grapes picked in cru vineyards and from the vines growing on very different terroirs.

5-13 May 2022

Paris & Bordeaux, France (Americas)

Wow - this was the trip of a lifetime! 106 members were part of the exhilarating and extraordinary nine-day festival in the beautiful cities of Paris and Bordeaux. Paris was a full-on cultural experience - dining at the top venues inc 3-star Michelin Le Pré Catelan (pictured), dancing at the Lido, visiting the Fondation LVMH and cruising along the Seine.

In Bordeaux, members were transported to a very different world - the hallowed world of fine wine (and food), with visits to so many top chateaux, including Yquem (pictured) and Lafite Rothschild, it was quite unbelievable.


Branch News

New branch: Vale Royal, UK

The EAZ are delighted to announce that a new branch was created at the beginning of this year, Vale Royal, in the heart of Cheshire in England. The idea for a new branch came about during conversations at the Cambridge Festival 2021 - and it is great to see that our festivals can be a real source of inspiration and creativity too!

New For Members

Vintage Guide for 2022

This year a summary of vintage reports for all the regions featured is being compiled and will be available when the Vintage Card is released. Thanks go to many of our consultants who have done this for us, again giving us such information freely, and providing an informed insight into why the quality of the latest vintage has been graded as it has. We hope you find this useful.

Member App

| | |
| --- | --- |
| We have made new additions including an IWFS Merchandise button so you can place your order for branded Society items to raise the profile of your events or order an IWFS lapel badge to wear with pride and spread the word about this magnificent society. | |

Wine & Food App

The pairing of wine and food has been fully reviewed by an expert and professional in food and wine matchings. We do hope that you welcome the comprehensive range of matchings now available at your fingertips.

New Monograph - A guide to Modern Madeira

We are now busy working on bringing you this modern and updated overview of madeira. Author and madeira expert, Richard Mayson has written the monograph with a view to taking 'some of the mystery out of Madeira, the islands and the wines they produce'. Richard has also provided some useful wine and food matchings and which could provide inspiration for future branch events.

2022 André Simon Lecture

For the foodies amongst you then you must listen to Suzanne Mustacich who presented "The Great Comeback: French Sauces". Suzanne talks about the history, origins and evolution of French gastronomy and sauces at the hands of the great chefs Taillevent, Varenne, Carême and Escoffier; and then bringing her research up-to-date and looking at the great comeback at the hands of top chefs such as Yannick Alléno

Wine Articles

Have you read? We regularly commission articles from leading experts in primarily wine topics and which are published in your zone magazine. The latest is by Loire expert Jim Budd who takes you through the wines you should try from this region which covers no less than 450 miles.

In the news on Sid's Blog

Did you know Sid's Blog has around 4,000 visitors to Sid's Blog every month? If you are not one of them then click here to find out what you are missing… A topic in the news and recently posed on Ask Sid was: Should wine bottles be made out of paper? Sid now expands further on this: "A key goal is to make the world more SUSTAINABLE…"



Our Awards

The recent Society festivals were are a good opportunity to recognise the dedicated work of members of the Society on an international and regional level. Our international awards presented were:

The André Simon Silver medal was presented to John Nicholas (Zurich) on 7th May 2022 for his distinguished services for the IWFS as a member of the International Council of Management (ICM) since 2015 assisting with company, tax and currency matters during incorporation. John is also the current Chair of the EAZ, taking on the role in 2019.

On 13th May 2022 Andrew Jones (Cayman Islands and New York) was presented with the André Simon Gold medal (the highest Society award one can receive) in recognition of his significant contribution to the Society as a member since 1987.

Zone News

We welcome the latest news from our Zone Chairmen, and members of the International Council of Management – Stephen Hipple (Americas), Michael Tamburri (Asia Pacific) and John Nicholas (Europe Africa)

Americas Stephen Hipple

I am pleased to report that all branches in the Americas have resumed in-person dinners. The Americas festivals and events program is now on track to recommence offering two events every year. Our Paris & Bordeaux wine festival went off without a hitch and we are now making plans for festivals in Washington DC (Oct 2022) and Willamette Valley (May 2023).

Asia Pacific Michael Tamburri

As the Asia Pacific region opens up, and despite our travel restrictions, our branches within the APZ are getting back into the rhythm of wining and dining with friends. We are looking ahead to our AGM Singapore Festival in September 2022. We are however sad to announce the passing of our past Chairman Ricardo "Dong" Puno earlier this year.

Europe Africa John Nicholas

It is a relief and very welcome that the IWFS has begun to function again with a number of exciting initiatives taking place in the EAZ such as the Black Pudding Competition (see the news and updates here) and our Excellence Awards.



Dates for Your Diary
16-18 September 2022
Singapore (Asia Pacific)
This festival is now able to go ahead - hurrah! Attendees will visit this delightful island country to enjoy its culinary delights and explore its beauty including the Singapore Gardens by the Bay Botanic Gardens. Last few places available to join this popular event. Please email us for details.
22-24 September 2022
Torbay, UK (Europe Africa)
The EAZ are now heading to the English Riviera on the south west coast for their annual AGM & ABRM event (24th). All members are welcome to join the other weekend events, enjoying the beauty and culture of this area which is also of unique geological interest, designated by UNESCO. Details will follow.
12-15 October 2022
Washington DC, USA (Americas)
The Americas next Great Weekend takes you to the Nation's Capital. October is a perfect time to visit, when the weather is wonderful and the tourists have mostly gone. Guests will be staying at the Five-Star historic Willard Hotel, enjoying some of the major sites, as well as dining at the finest restaurants in DC. Click here to book now.
2-6 May 2023
Willamette Valley, Oregon, USA (Americas)
Join the Americas for a wonderful tour of this beautiful wine region visiting some of the top wineries and enjoying some of culinary delights of the region. Details to follow but in the meantime put the dates in your diary.
23-27 May 2023
Barcelona, Catalunya, Spain (Europe Africa)
A delightful festival is being organised by the EAZ's local contacts. Starting in Barcelona you will then be taken to the Catalunya countryside to explore this 'land of castles' visiting vineyards and enjoying some of the best restaurants. Details to follow.
If you are interested in joining an event that is full, or reservations closed, then please contact the organiser in case space is available.

133 Branches Worldwide
Click here to view a complete list and map of our branches around the world.
Or on the following links in your chosen region to see where they are.
Americas · Asia Pacific · Europe Africa
Why not explore the opportunities of running a virtual inter-branch event – maybe Miami and Manchester, Tecate and Tokyo Bay – the world, and their cultures, are your oyster...?
Contact our International Secretariat to find out more.
International Council of Management