Rare Discovery of 18th & 19th Century Madeiras at Liberty Hall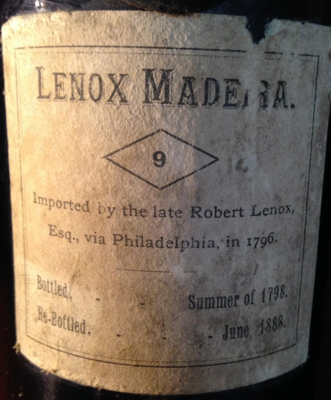 Rare Discovery of 18th & 19th Century Madeiras at Liberty Hall
by Tom Murnan

Imagine your excitement if you had inherited an old painting and an expert on Antiques Road Show told you it really was an unsigned Van Gough. Or you were a researcher in an obscure library who came up with a lost piece of music from Mozart. The stuff of fantasies and daydreams. But a real-life discovery happened in the world of wine when a hoard of very old Madeira was discovered at Liberty Hall in 2015. Wine so old that the United States was less than 20 years old when the wine was made: 18th century wine labeled 1796. Unlike paintings, books or music, wine is a unique, visceral taste experience of a specific moment in time.
Liberty Hall in Elizabethtown (now Union), New Jersey started its existence as a 14 room Georgian mansion built in 1772. Over the years it has expanded to 50 rooms and has been the residence of, among others, Alexander Hamilton, William Livingston, New Jersey's first governor, and the Kean political family, who purchased the house in 1811. In 1949, it began to be transformed into a museum. It currently is on the campus of Kean University. In 2015, the museum realized it had never done an inventory of the wine cellar. While in the cellar, they noticed that a false wall had been constructed, likely during Prohibition around 1920. Upon tearing the wall out, they made a most serendipitous discovery. Covered in dust and soot, they discovered almost 36 bottles of Madeira from 1796, as well as some whiskey, gin and other liquor. Other cases of early 19th century Madeira bottles were also found. More exploration of the mansion discovered, buried under piles of straw, 40 demijohns of Madeira in the attic wine closet. No one would put wine in the attic today, it is simply too hot, but fortunately, Madeira is mostly immune to all the usual demons of wine: heat and oxidation. Because it is an oxidized style of wine made in a high alcohol environment, it is virtually "immortal." Think most red wines being totally past their prime in 100 years. The best Madeiras are just getting started after a century!
Demijohns are glass containers. The standard sizes ranges from 5 to 16 gallons. To protect the glass, Madeira demijohns were wrapped in wicker. They are finished with a cork. The 40 Liberty Hall demijohns were no more than 5 gallons, and date from the 1820's. Remarkably, the Kean family still has the original receipts for most of the wine. They were imported by Robert Lenox, Esq. a banker and financier. He would buy the wine in demijohns, then split it into bottles in his home. In 1795, he began importing Newton, Gordon & Murdoch, the largest shipper of quality Madeira at the time. From research done by the museum, it was determined that the 1796 bottles were purchased by the Kean family to celebrate John Adam's election. Mozart had only been dead 5 years.
From our Baltimore Great Weekend, at the master class on Madeira presided over by Rare Wine Company owner Mannie Berk, we learned that it wasn't until the 1850's that Madeira was aged for extended periods of time in oak. That was because, after the oidium infestation, producers were so panicked they might not be able to make more wine that they would set barrels aside to weather the financial storm that would inevitably come. Before that, Madeira was shipped a year or two after the vintage. Another clue that the wine had not seen much time in the barrel is the color, which is said to be golden. Extended wood aging would probably have turned the color brown. We also learned from Mannie Berk that in the earliest days, Madeira was not fortified. The first confirmation of fortification came from Benjamin Franklin's Poor Richard's Almanac where he wrote about Madeira coming to America having alcohol added. This was sometime in the 1740's. A local brandy called Aguardiente was added and is one of the main reasons Madeira has such a long lifespan.
Why was the Madeira left untouched for such a long time? The current President of Liberty Hall, John Keane Sr. just figured that the wine went bad many years ago, a pretty safe assumption for most wines. Besides, Madeira had been out of fashion by 1850. He just wanted the old bottles as props for the museum. His original thought when the demijohns had been found in the attic was to give them to the staff to make lamps. He didn't realize that Madeira is almost immortal, and it was still likely in great shape. The bottles were sealed with a cork and then dipped in sealing wax. As long as the cork is dry, and the sealing wax intact, the cork would protect the wine. The proper way to store Madeira for an extended time is to stand it up, not lay it down, where the high alcohol would attack and soften the cork.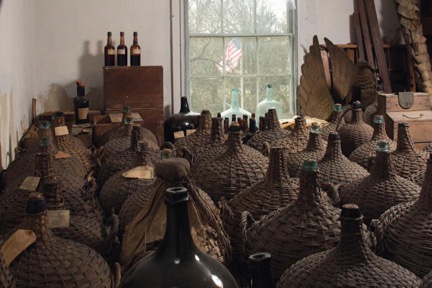 Large "demijohns," or straw-covered bottles, contained some of the antique wine found at Liberty Hall Museum. Photos courtesy of Christie's New York.
Keane called in experts from Christie's, the London auctioneers. Madeira expert Edwin Vos and the winemaker from Blandy's Madeira Wine Company, Francisco Albuquerque, assessed the wine. Vos stated they were "flabbergasted by the quality of the wines." "Very rich and concentrated" Francisco noted. "Exotic woods, even some passion fruit in there" Vos commented in a video Christie's made. They recommended that the bottles be re-corked, which was done by APCOR, the Portuguese cork association, who measured the old containers, so they knew exactly what dimension they needed to make. APCOR, by the way, recommends re-corking every 20 to 30 years. Vos and Albuquerque compiled an inventory and prepared a portion of the wine for auction at Christie's in New York on December 7, 2018. Most of the demijohns still had tags on them. For example, there was an 1846 demijohn that had been re-corked in 1871. There were 40 demijohns, 6 cases of Madeira, some going back to 1796, There were also 300 bottles of spirits and pre-Prohibition whiskey.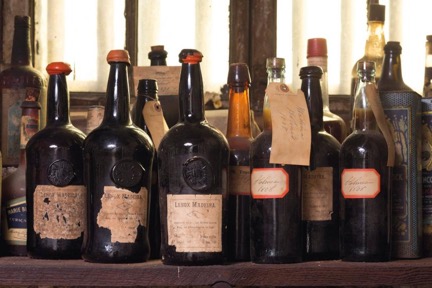 Madeira is a wine that is closely related to American history. George Washington collected Madeira, for example, as did Chief Justice John Marshall. It was said to have been used to toast the Declaration of Independence in 1776. It was a wine of the wealthy. It was easy to ship and was improved by heat. The United States imported about 95% of Madeira's production in the 18th century. One unique thing about the discovery is the superb provenance of the bottles. The Kean family still has the original invoices, giving the prices and documenting that the shippers were among the best in the United States.
A wine sampling luncheon was conducted before the auction, attended by wine writers and bidders. Prices from the December 7, 2018 sale ranged from $6,738.00 to $15,925.00 for a quart bottle of 1796 Lenox Madeira. Christies catalogue notes the wine was imported by Robert Lenox Esq. via Philadelphia in 1796 and bottled in the summer of 1798. It was Re-bottled in June of 1888. A bottle of 1820 Smoke, Madeira, realized $1593.00. 1808 Holmes, Madeira, yielded $3675.00. A 5-gallon demijohn of "Old Madeira" (no date given) sold for $18,375.00. Another 5-gallon demijohn of 1846 Old Sercial realized $39,200.00. Total receipts for the museum yielded $325,000.00. Many thanks to William Schroh, Jr., the Director of Museum Operations at the Liberty Hall Museum, for assistance on facts and photos for this story. The photos are from The John Kean Collection at the Liberty Hall Museum.
After several long slumps where prices were in the doldrums, Madeira is making a comeback, but the supply of ancient Madeira is finite, and dropping by the day. Now is the time to buy a few bottles of very old Madeira. To the fortunate auction winners, they will be able to immerse themselves in the 18th or 19th century (if only for a few hours) for a unique visit where time has virtually stood still. What a fantastic and romantic notion, to taste virtually the entire history of the United States in a glass of 1796 Madeira.
Sources: William Schroh wschroh@kean.edu; https://www.kean.edu/news/liberty-hall-museums-200-year-old-wine-be-auctioned; https://www.christies.com/features/One-of-the-largest-early-collections-of-Madeira-in-the-USA-9451-3.aspx; https://www.npr.org/sections/thetwo-way/2017/07/14/537276241/new-jersey-museum-holds-a-stash-221-year-old-madeira-wine