Alvaro Rave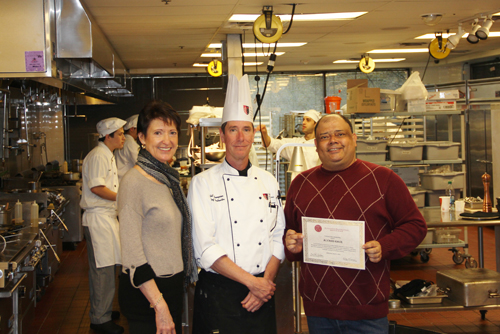 Kathy Kallus, Chef & Instructor Bill Thompson, Alvaro Rave
Once again The Wine & Food Society of Jacksonville voted to award a $500 scholarship to a worthy culinary arts student. We turned to The Art Institute of Jacksonville for our search, and Chef John Maxwell, the Director of Culinary Arts, found a very deserving student, Alvaro Rave.
This is what Chef Maxwell had to say about Alvaro:
"Alvaro is a native of Columbia who is in the United States receiving chemotherapy for cancer. He enrolled at the Art Institute in the Culinary Program and, in spite of the extreme demands of his treatment, the debilitating nature of his disease and the culture shock of a new environment, he is doing very well here. He struggles to keep up with his work because of the nature of his treatments, but has never allowed himself the luxury of self pity. He has received several certificates of achievement from his classes and has been recognized for volunteerism, school spirit and professionalism. He is an admirable person, a good student, and an example of optimism in the face of adversity. Alvaro would say he does not deserve the scholarship because there are others who face greater challenges. But I do not know of any who have faced what he faces and maintain such a positive outlook. He does not complain about money and has insurance, but I know that he is continually barraged with co-pays and fees in the thousands of dollars that insurance does not cover. I admire his spirit, his work ethic and his perseverance."
Alvaro was most appreciative of our award certificate when we presented it to him but when Associate Dean Elliot Robins pointed out the envelope with a check he was overwhelmed with tears in his eyes.
Alvaro plans to stay in the United States after graduation and hopes to go into catering. It was a good day indeed.
Additionally, a $500 check was awarded to Second Harvest Food Bank to help feed the needy in Jacksonville.
Kathy Kallaus
Jacksonville