Eastern Europe Wines & Dining
Foreword:
Prior to traveling, I engaged in pre-requisite wine reading for familiarization with the Eastern European grapes, which were largely unknown to me. Jancis Robinson's & Hugh Johnson's World Atlas of Wine, 6th edition, (published by Mitchell Beazley of London) provided a vast array of information, by country, which was used in the research and following writing. In addition, certain country reports from JancisRobinson.com were also of value in the research. Acknowledgement / attribution of both sources is hereby made. Many readers will no doubt recall my appreciation for Ms. Robinson's palate and her witty, cut-to-the-chase writing style.
My research finds that many of the grapes listed below have country-specific names; however, they originate in other areas and have migrated to various locales. This is not surprising, in that the total area in which we traveled on this trip was at one time a part of the Austro-Hungarian empire. Vineyard plantings go back to the times of the Holy Crusades, only to then be repressed / torn out by the onslaught of the Ottoman Empire and the Muslim aversion to alcohol. Fortunately, not everything was lost, so that there was at least a modicum of plantings in existence, to which the Austro-Hungarians added to the cultivations.
Post-World War II, with the onslaught of socialism / collectivism, the Soviets did their best to stamp out individual initiative by forcing all lands into collective agricultural areas. Grapes with specific characteristics were replaced by one or two types that were easy to maintain, grew prolifically and produced copious quantities of fruit (at the expense of quality). All of the production was destined to a few giant co-operative wineries producing output to Soviet specifics and tastes.
Initially after the collapse of the Soviet empire, there was little incentive and scarcely any money for individual growers to start anew. Further, the only market they knew for almost 50 years – the Soviets – had no money for trade to purchase wine. In time, individuals re-asserted their ownership claims to their land, re-planted better grapes and began re-establishing estate-bottled wines. Even today, the outputs range the gamut from poorly-made, tasteless bulk wines to very good estate-bottlings proudly bearing the proprietors' names / brands.
While AUSTRIA is not considered as Eastern European (in fact, it is Central), I note it here for three specific purposes:
One of the red cultivars throughout the Eastern region probably originated in Austria;
Our Eastern European trip on the lower Danube, from Budapest to Bucharest, was on Viking River Cruises, which served two Austrian wines as house wines; and
If you are planning a VRC cruise anywhere, you will undoubtedly experience these same two wines, as VRC has contracted with the Austrian vintner to provide a substantial portion of his outputs in private label bottlings to be served on all of VRC's ships!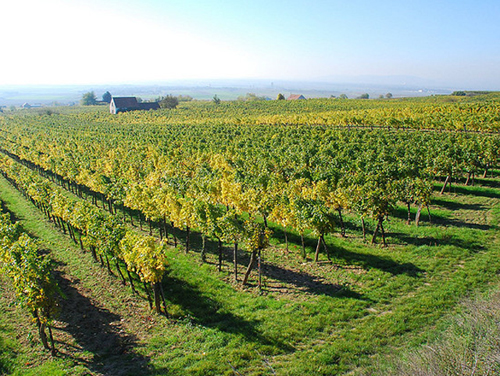 Vineyard in Deutsch-Wagram, Austria.


AUSTRIA
GRUNER VELTLINER – Winery Morwald – Wagram (Burgenland) – 2012

Gruner Veltliner has become Austria's largest planted white wine grape (although Riesling retains a prominent place in the white wine lineup). Austria's whites are considerably drier than German whites; in fact, they more closely resemble Alsatian white wines of France – dry, clean fruit aromas with bright, refreshing acidity – perfect as either an aperitif or with foods at the beginning of a meal.
Gruner is pale in color, with hints of green. Some find a bit of white pepper in the taste; others equate it to a grapefruit or grassiness similar to the taste of a well made sauvignon blanc. We found this particular GV to be consistently very good (it is noted here that we use many GV's as one of our 'home pours' so our palates are attuned to the grape and winemaking style).
BLAUER ZWEIGELT – Winery Morwald – Wagram (Burgenland) – 2012

In 1922, Dr. Zweigelt produced his namesake grape by crossing St. Laurent with the native Blaufrankisch.
Blauer is an infrequently-used term; most commonly the wine is known simply as Zweigelt. (Do not confuse it with one of Austria's workhorse reds from another region – Blauer Portugeiser.) Zweigelt is light to mid-range in style, easy-drinking, fruity, round, low in tannin wine that can serve either as an aperitif or a good accompaniment to foods, meats and cheeses that are not highly seasoned. In my view, the flavor is akin to a blending of Pinot Noir with a dash of Gamay / Beaujolais for 'spice'. Others who enjoy California Zinfandel characterize Zweigelt's flavor as 'low-test Zin'. This wine was very good with main plates.
The Bergenland sector of Austria is nearby the warm Pannonian Plain (which dominates Hungary) as well as the shallow, but enormous lake Neusiedlersee. Much of Austria's red and sweet wines come from this area. In addition to the Zweigelt, the region produces St. Laurent and Blaufrankisch (which name the reader will encounter elsewhere in this report).

Geographically, a western-most chunk of Hungary, called Sopron, juts into Austria's Burgenland. Not surprisingly, it is adept at growing the red wine grape called Kekfrancos in Hungarian (which is actually Austria's Blaufrankisch). Further, a number of Austrian's Burgenland growers / vintners actually make these wines in Hungary.
BUDAPEST / HUNGARY
I am opening this segment with a discussion of Hungary's probably most famous (and frequently misunderstood) wine for many centuries – Tokaji Aszu – affectionately known as 'the Yquem of Eastern Europe'. The 'gold rush' to stake claims to ownership and revitalization of this northern wine making region occurred shortly after the collapse of the USSR. Western capital poured into the Tokaji region – AXA purchased Disznoko; a syndicate led by the U.K.'s Hugh Johnson created Royal Tokaji; Spain's fabled Vega Sicilia purchased Oremus, etc – followed shortly thereafter by the 'internationally recognized, fly-in wine consultants' to assist in the revitalization of these jewels.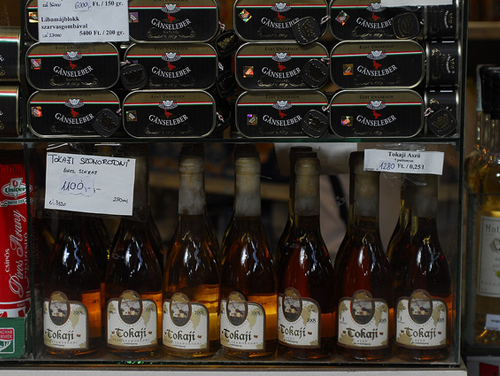 Tokaji Aszu sold at a store in Budapest, Hungary.


Tokaji is made in an unique two step process. There are three grapes involved:
70% is the late-ripening, sharp-tasting, thin-skinned FURMINT, which is very susceptible to botrytis, or 'noble rot';
20 – 25% is HARSLEVELU, rich in sugars and aromas; and
5 – 10% is MUSCAT BLANC, for aromatics and 'seasoning' flavor.
At harvest in October, both the botrytis-affected, shriveled grapes ('aszu') and the unaffected grapes are harvested at the same time, but kept separated. The unaffected grapes are pressed and vinified to make various styles of dry ('szaraz') or fairly sweet ('edes') wine, including the base wine for the final product. All of these wines are considered 'Szamorodni' (literally 'as it comes').
Meanwhile, over at the piles of aszu grapes, gravity is coaxing forth the fabulously sweet, free-run 'syrup' from those grapes, which becomes the stratospherically-expensive Eszencia (if they can get it to ferment – it contains so much sugar).
The resulting crushed aszu grapes are then added to fresh must or base wine for 16 – 36 hours of maceration. The measure of sweetness is still expressed as the number of 20 kilo puttonyos (or vineyard hods or baskets) of crushed aszu added to one barrel (137 liters) of base wine. The lower end of the scale is 3 'putts' (roughly equivalent to the sweetness of a German Auslese, approx 60 grams/liter of sugar); 4 or 5 'putts' is roughly equivalent to a Beerenauslese; 6 'putts' must have at least 150 g/l sugar; and Aszu Eszencia is effectively 7 puttonyos of phenomenal intensity.
In the Socialist era, the Russians preferred their wines with an oxidized taste, so aging casks were never filled full, may have been open tops and affected by aging cellar molds. Today, the world's fashion is for fresher flavors, but some say complexity is therefore sacrificed. Minimum age for aszu wines is three years; two in cask and one in bottle.
Previously, your writer was privileged to participate in a side-by-side tasting of socialist-era Tokaji aszu compared to the current fashion of fresher wines. I can report that both styles have their pros and cons; however, in my final analysis, fresher is better made and tastier.
Because of our prior experiences with Tokaji aszu, we opted this time to see what else was happening in the wines of Tokaj (the name of the village). We thoroughly enjoyed the following variations on the theme:
Szamorodni

(literally 'as it comes') – wine from Tokaj without aszu; in this case, Edes (fairly sweet); and

Dry Furmint

, made similarly to and treated as Chardonnay – some wood, some stainless steel – resulting in a dry, intense, perfumed, mineral-laden delicious beverage that was wonderful with food.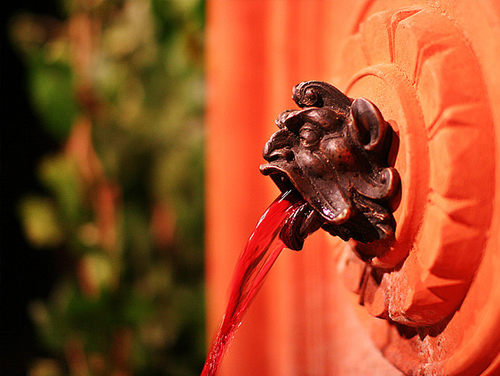 Fountain of Wine, Labyrinth of Buda Castle, Budapest, Hungary.


We tasted eleven different Hungarian wines on three specific occasions, two of which were at pre-cruise dinners in Budapest. The third encounter (with the Bull's Blood) was aboard ship.
For purposes of organization of these tasting notes, I have grouped the wines first as whites, followed by the reds, and lastly the sweet. [Later in this section, I will comment on the restaurant meals and mention the specific wine poured with a particular course, so that the in-depth reader may cross-reference the tasting notes.]
White wines:

Olasrizling

(a/k/a Welchriesling in Austria) – serviceable; not remarkable; much better made in Austria or Alsace.

Furmint (dry)

- Tokaji region LTD Edition; Andrassy Pinceszet '11 – an intensely flavorable and delicious wine; lots of body and a lengthy finish. Ordering a second glass of same is the 'proof of the pudding'.

Juhfark

- Somloi region; Kreinbacher '11 – well made; enjoyable.

Rezeda Olasrizling

- Balaton fel videk region; Kali Kovek '12 – much better than the prior mentioned version; however, still not on par with Austria nor Alsace.
Red wines:

Kadarka / Kekfrankos

blend – Szekszardi region; Oreg Tokek '12 – this is in the south of the country, where reds grow well in this warm climate. Kadarka is the historic grape; Kekfrankos (a/k/a Blaufrankisch in Austria) is well-entrenched. A warm, mouth-filling red; moderate acid, alcohol and tannic grip; nice finish. Worked very well with succulent pork cheeks, sauce and mushrooms.

Kopar Cuvee

– Villanyi region; Attila Gere '09 – further south than Szekszardi; Mr. Gere's wines are well represented on Budapest wine lists. Blends of Cabernet Sauvignon, Cab Franc, Merlot and Kekfrankos. The increased tannins and astringency from the international grapes paired very well with a lamb shank.
Szent Istvan Korona

Egri Bikaver

'09 – DHC Eger – this wine was a 'house pour' during a theme evening dinner aboard ship. Eger, in the north, is one of Hungary's most important wine centers. In recent years, the 'Bull's Blood' has gotten less intense as Kekfrancos has been increasingly substituted for the darker, stouter Kadarka in the blend. This wine showed well, with a bit of age on it, but it was decidedly less rustic than the Egri Bikavers that I recall from thirty or more yrs ago. Perhaps they 'internationalized it' to fit in better with today's tastes?

Kadarka

– Szekszard; Ivan Volgyi '11 – robust, yet surprisingly supple.

Egri Cabernet Franc -

Eger región; Nycolas & Fia Borhaz '09 – a delicious drink; loads of carácter and flavor; lingering finish.

Bordeaux Blend – Villany

region; Joszef Del-szemes '11 - The cepage is CS 60%; CF 5%; M 35%. Equivalent to many Haut-Medocs; well made / v good.
Sweet Wine:

Ch. Dereszla - Tokaji region – Szamorodni – Edes (

sweet) '10 – Effectively a base wine of non-botrytrisized Tokaji sold 'as it comes'. The Muscat aroma was tell-tale at first whiff; the Harslevlu's charms effectively balanced the more acidic, sharp-flavored Furmint into a delicately delicious beverage. It was an effective foil for the foie gras and provided a delicious finale to the apple dessert. Definitely worth a try (whenever / wherever you see it).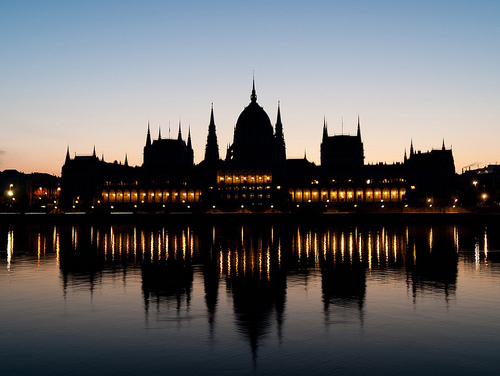 Sunrise in Budapest on the Danube River.


Budapest Restaurants
REZKAKAS BISTRO
As is our usual 'to Europe' custom, on arrival at our destination, we find that taking an immediate nap helps to adapt us to European time by the second morning. Our first night's dining is scheduled for earlier than usual (7pm or so), in order to retire earlier and 'hit the ground, running' first a.m. on the second day. For our introduction to Budapest and Hungary, we reasoned that we should try upscale, but traditional Hungarian cuisine. We thoroughly enjoyed REZKAKAS Bistro, on Sas utca (street), about a ten minute walk from the hotel. We had made email reservations well in advance with Szilvia Latjal, the Manager, who greeted us warmly upon arrival. Ms. Sylvia pointed out that our early arrival (most of her patrons arrive between 8 and 9pm) on this Saturday evening allowed us to select our table and establish a working relationship with our Captain and waiters, especially since we wanted to try several Hungarian wines throughout our evening.
The bistro has outdoor seating, a large bar area and tables in the front of the space and a smaller, but less bustling and quieter dining section behind the bar. We opted for a corner table in the back, which worked out to be an excellent location. The restaurant has a three piece, string ensemble (violin, bass violin and cymbala, a Hungarian stringed instrument that looks like the string bed of a piano, except that it is played by striking the strings with two cloth-tipped batons) for lovely background music ranging from the classics to gypsy music. The musicians were great performers and gave the evening a special 'welcome to Hungary' atmosphere.
Rezkakas has a moderate by-the-glass wine list, from which our Captain and waiters put forth a delicious representation of Hungarian wines for our enjoyment. The dry Furmint was exceptionally good; a white wine with some backbone and flavor. Our starters were a delicious Gulyas soup (in which you could increase the 'heat' by adding more paprika condiment to taste) and a goose liver foie gras. Hungary features lots of very good foie gras; moreover, it is equally as good as found in France.
The main plates were two regional specialties: succulent braised pork cheeks with a delicious side savory strudel (actually a well-grilled crepe filled with minced vegetables, mushrooms and rolled up) and a beautifully braised and tender lamb shank with reduction sauce. These mains paired beautifully with the native grape red blends Kadarka / Kekfrankos and Kopar cuvee, respectively.
We enjoyed chatting with our next table mates –a couple from Northeast England – who remarked that they come to Budapest quite often as they can experience a 'Parisian atmosphere' without paying stratospheric Parisian prices. [NOTE: Do you remember the last time you were able to chat in a conversational tone of voice in a restaurant with live music? You can here.]
Two courses each, plus one dessert, five different glasses of wines, bottled water + tip = HUForints 34,000; approx $153. Open daily mid-day and evening.
[NOTE: The evening at Rezkakas was about one-half of what one would pay for a similar meal, wines and music at the venerable Restaurant Gundel, perhaps the best known of Budapest's restaurants (unranked by Michelin, living on past glory?) in the city park near Heroes' Square.]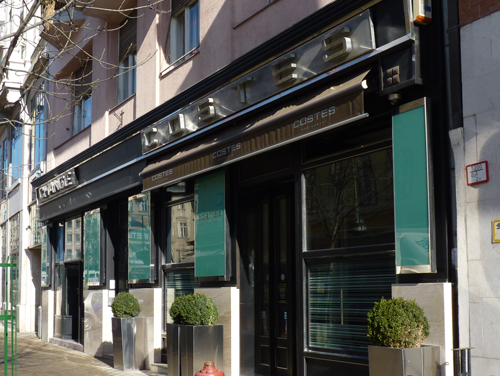 Costes Restaurant, Budapest, Hungary.


COSTES RESTAURANT ( * Michelin)
Our second evening's dining (a Sunday evening) was at * Michelin (the three *'s in Budapest are the highest ranked restaurants in the city) Costes Restaurant, a five minute, EUR 8 cab ride from the hotel. We were thrilled by Costes' cuisine – classical haute cuisine with French technique, using fresh, local ingredients orchestrated by Portuguese chef Miguel Rocha Vieira– and the Sommelier's delicious suggestions for various Hungarian wines with the courses. This evening's six wines were all different from the prior evening's enjoyment, so we have had a fine introduction to these up-and-coming Hungarian wines that have shaken off the dreariness of the collectivist winemaking attitude from former Socialist days.
Reservations must be made well in advance (Internet / email is available) for this 40 seats or so establishment. They are open for dinner Wednesday – Sunday. They offer a limited a-la-carte menu as well as the prix-fixe, tasting portion sized menus. The latter run from 3 courses (plus cheese or dessert = 4 actual courses) at EUR 75 upwards to 7 courses. In addition, there is the usual parade of interesting amuse bouches and breads/flavoured butters pre-meal, and the mignardises afterwards. We were pleasantly sated with the EUR 75 offering and the extras.
After three rounds of amuse bouches, the courses began in earnest. Duck liver foie gras marinated in Tokaji Aszu was seriously good; slightly better than the prior evening's course. The sweet Szamorodni wine was a lighter, but effective foil for the dish.
Our second plates were a line-caught and perfectly seared sea bass with artichokes and gnocchi. In addition, a sous-vide cooked pintade was whimsically presented with poached grapes and oat flakes. The Kadarka proved to be effective and not over-powering for the pintade and, at the Sommelier's urging, also worked very well with the sea bass.
The mains were a delicious, sous-vide created 'pressed suckling pig' (in perfectly square cubes on the plate!) and roasted deer loin from Hungary's Mecsek mountains. The Cabernet Franc made a delicious and flavorful pairing with the deer, while the Bordeaux blend cut right through the succulence of the pork and worked well with the French cheese selection that followed.
The dessert was a tour de force in eye appeal, and tasty, too, in its simplicity. 'Granny Smith sphere' was a pale green tinted croquante in the shape of an apple. Inside was a bed of yogurt crème, flavored with cinnamon crumble and topped with barely-poached small cubes of Granny Smith apple dressed with a light caramel sauce. The last sips of Szamorodni were a delicious finale to an evening such as one would find in Paris or Lyon's finest establishments.
Four courses each, prix fixe EUR75; plus a parade of amuse bouches and mignardises; six glasses of wine and tip = EUR 230. The quality of the offerings, presentations, waitstaff attention, décor, ambience and of course food and drink were equivalent to what you can enjoy in Paris or New York, and at better prices!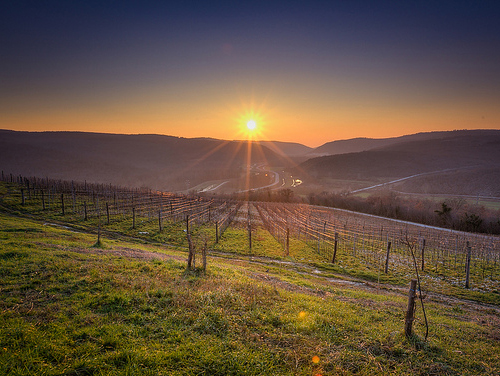 Vineyard near Grožnjan, Croatia.
CROATIA
This country's better white wines are made on the Adriatic seacoast. We were on the easternmost point of Croatia's inland border region (the Danube making the easternmost border of the country). Also, its better red wines come from Dalmatia and Istria. As is known among wine aficionados, California's Zinfandel is actually a grape that originated in Croatia. Two of their better reds are reported to be Dingac Riserva[1] (something akin to Merlot in flavor) and Postup.
We had the opportunity to sample a red and a white wine at one of our touring stops near Osijek. The red, marked as "red" was probably a field blend of local grapes and unremarkable. The white wine - Grasevina – was drinkable. Grasevina is a local, workhorse grape; known elsewhere as in Eastern Europe as Welschreisling.
BULGARIA
During socialism, Bulgaria dutifully churned out rivers of cheap plonk to earn hard currency.
The two Bulgarian wines that we sampled were simply undrinkable to us (although many of our fellow travelers drank them without comment). With very good Hungarian and Romanian wines from Eastern Europe, why be bothered with junk from this country.
One evening aboard ship, a Dry Muscat – white was served as the house pour. Muscat usually has a distinctive, telltale bouquet. This bouquet was peculiar, but not 'off', which I attributed perhaps to local terroir. The taste was industrial, unbalanced, and an example of plain bad winemaking. Avoid it.
One of our excursions featured a 'typical Bulgarian lunch' and included a bottle per table of Gulbarnis Bulgarian Red Blend ' 11. The cepage was Cabernet Franc, Cabernet Sauvignon and Carmenere. The bouquet was prune-y with volatile acidity; the taste was not anything resembling any of the component parts of the blend. Avoid it.
During the lunch, I noticed a large clod of sediment hanging on the inside of the bottle. I cautioned our tablemates (all were drinking it except Melanie and me) to let the glass rest and then sip judiciously to avoid the sediment. One fellow emptied the last of the bottle into his glass; I could see the chunks of sediment flowing into his glass. He swirled it vigorously, drank it entirely, then pronounced 'yes, there was sediment in there, but not too bad!'. C'est la vie.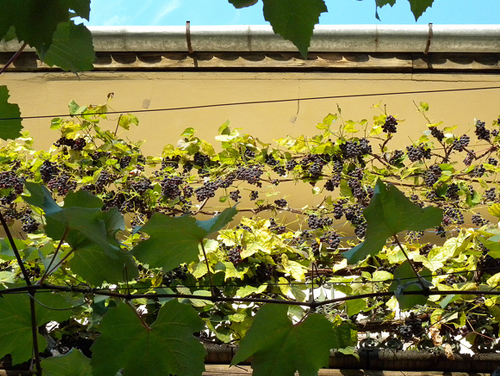 Grape Vines in Sibiu, Romania.
BUCHAREST / ROMANIA
A study in contrasts, in that the country still produces bulk wines as a left-over vestige of the Soviet / collectivist days; however, as capital becomes available, better winemaking is occurring. As part of our city tour / overview of Bucharest, a 'typical Romanian lunch' with white and red wine offerings was included. The bill of fare was largely the same as the Bulgarian lunch, although this time the wines were poured from large pitchers; i.e. 'vins mysterieux'! As my late wine friend Conway Hamilton once remarked: "It's easier to choke down cheap red wine than cheap white wine!" Initial sniffs of each screamed 'avoid it'. We did, but the others drank up.
Fortunately, our evening dining provided an opportunity to enjoy much better red and white wines, representative of what there is to look forward to from these 'can-do' Romanians.
Since we were flying all day the next day, we chose to not be adventurous in our evening dining in Bucharest. The city is not known for cuisine (no Michelin rated restaurants); however, several of the websites we browsed made mention of Caffe Citta in our Radisson Blu hotel as presenting very good Northern Italian cooking.
The restaurant manager Andrea was only too happy to showcase Romanian wines for our enjoyment from their extensive by-the-glass list. For aperitifs, we enjoyed the following:
Ceptura – white blend ; Alb de Ceptura; '12 The cepage is the native Feteasca Alba (famous in Hungary as Leanyka), Sauvignon Blanc and Riesling.
Mysterium – white blend ; '12 This blend is Feteasca Regala (which is a crossing of Feteasca Alba with Cotnari Grasa), Muscat and Sauvignon Blanc.

Both of these wines exhibited clean, fruity bouquets; well balanced flavors / acidity / freshness on the palate and a clean, lingering finish. Both were delightful beverages.
We enjoyed the featured dish of the day – saltimbocca – (which was one of the items they are known for); shared a risotto of the day flavored with radicchio and Parmesan and an Insalata. Andrea presented the following red wines:
Feteasca Neagra – '12; the local, full-bodied red wine
Ceptura – red blend; '12 The cepage is Feteasca Neagra, Cabernet Sauvignon and Merlot.

Our initial impression – without food - was that the blend had more complexity and therefore perhaps a bit of familiarity with the CS and M flavors. In short order, with aeration, the unblended wine's characteristics shone forth and were very pleasing to us. Both wines were very well made, delicious to drink and with lasting finishes.
With the foods ordered (which contained assertive flavors of Parmesan in the risotto and Parma ham and sage atop the delicious, tender veal scalloppine), the wines were equally worthy of holding their own as worthy and delicious counter-points to the food.
Along with four glasses of various Romanian wines, sparkling water and a generous tip for our charming and gracious Manager and servers, the tab was 320 Lei (approx $100).
SUMMARY
A discerning traveler can drink very good native wines in Austria, Hungary and Romania;
Dining in both of the 'Parises of Eastern Europe' – Budapest and Bucharest – is worthwhile, enjoyable, tasty and relatively good value for money;
The 'jury is still out' on inland Croatian and Serbian wines;
As for Bulgarian wines, in the words of Tony Soprano, 'fuggedaboudit'!
---
[1] Rubyn, Jack, Chmn, IW&FS – Marin Branch – Haskell Norman Chapter; undated trip report "Croatia".