Cuisine of the Sun: Cuban Cuisine and Restaurants in Greater Miami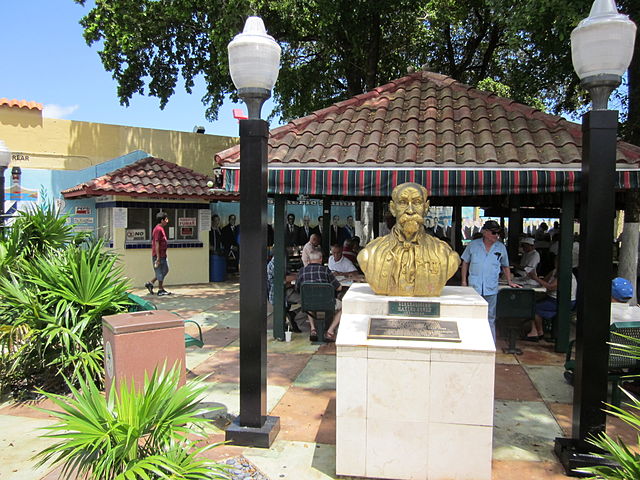 Little Havana Dominos Park
Americans of Cuban origin or ancestry are less than 1 percent (0.57 percent) of the U.S. population. They have adapted admirably to the United States and their success has allowed them to establish a kind of "parallel mainstream" where their large middle class can sustain part of their culture, preserving, among other things, "la cocina cubana" or Cuban cuisine.
We are often asked for recommendations about Cuban restaurants in Miami. Not an easy task for various reasons. First, and most important, the best Cuban meals are cooked at Cuban-American homes. Secondly, the many places where locals enjoy authentic Cuban cuisine are small, family-owned restaurants with settings and somewhat rustic decor that often do not appeal to out-of-town folks, though the genuine fun with the experience make up for the lack of polish. That said, you will find a number of Cuban restaurants in every neighborhood in Miami, not expensive or fancy, but locals patronize them and the food is authentic. The portions are usually generous. The wine lists are modest and mostly include wines from California, Spain, Chile and Argentina. Alternatively, there are other more "sophisticated" restaurants that we recommend to our visitors where menus are usually bilingual and the servers speak English. Visiting them is a culinary journey into the multicultural influences that have shaped Cuban food for centuries.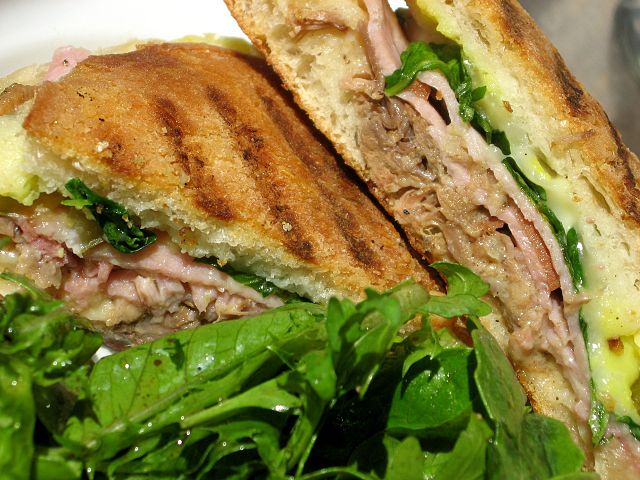 A Medianoche
Bear in mind that Cuban cuisine is rich in flavorful spices and condiments but it is not "hot" and, contrary to what some expect, the food is markedly different from that of Spain, Mexico or other Spanish speaking countries. Cuban cuisine is at once exotic and accessible. It is influenced by three continents and marked with a style born of unpretentious people rather than sophisticated. Spanish, Caribbean and some African ingredients are part of the mix that creates a uniquely Cuban flavor which is warm, welcoming and winning. It is a culinary repertoire whose wealth of flavors, textures and aromas reflect the traditions and cultures in the Cuban ancestry. New cooking currents are now helping to bring the ingredients inherited from our ancestors to a new level. The group known as the "Mango Gang" includes Cuban and American chefs who have been fusing past with present. They have created a "new" Cuban cuisine with Miami flavors.
The majority of Cuban restaurants, and in our opinion the best, is in the Miami mainland and we list some of our favorites. You will enjoy a family style ambiance and listen to the lively Spanish chatter of the patrons making for a truly Miami experience. That is the best way to savor "la cocina cubana." A good plate of food, the kind our mothers or grandmothers would cook. Simple, good food and not expensive.
A few restaurants suggest calling for reservations and others may close a specific day of the week. We recommend that you call before going to make sure they are open that day. Bear in mind that our preferences may change from time to time, especially when they have new chefs or owners. In recent years, Miami has become a playground for foodies. Many tourists are discovering Miami through the rich variety of world cuisine that abounds here. Food is one of the ways to bring people together. It makes people happy and one learns about different cultures. Try "la Cocina del Sol" at a Cuban restaurant. "Simplemente deliciosa."
Casa Larios, 7705 W. Flagler Street, Miami and also 5859 SW 73 Street, South Miami. The Miami restaurant is typically local while the South Miami version is a bit fancier.
El Viajante, 2846 Palm Avenue, Hialeah. Not expensive food in a blue collar neighborhood but far from most hotels.
García's Seafood Grille & Fish Market, 398 NW North River Drive, Miami. A popular seafood restaurant by the Miami River where you can watch yachts, fishing vessels and cargo ships cruise past. Try the cherna frita (deep fried grouper) tasty, crunchy on the outside, moist on the inside. Other favorites are the pan fried rabirrubia (yellow tail) and the mahi.
Havana Harry's, 4612 Le Jeune Road, Coral Gables. The original version, family oriented. Also at 9525 N. Kendall Drive, Miami, recently opened in a less crowded venue. The latter is our favorite of the two.
La Rosa, 4041 NW 7 Street, Miami. Good rice dishes, ideally when cooked to order, but expect a 45-minute wait in that case.
Malanga Café, 12313 South Dixie Highway, Pinecrest. A recent addition to our list. Hip and solid food at reasonable prices.
Rey's Seafood, 8214 Biscayne Blvd., Miami. Not fancy, it brings to mind the colorful fish shacks that dot Caribbean beaches. Only three tables inside and most customers come for takeout. Great local seafood, Cuban style at budget prices. Good for a very informal, quick fish sandwich or lunch.
Sergio's Family Restaurant, 3252 SW 22 Street, Miami. An inexpensive diner with home-style food. Also at 9330 SW 40 Street, Miami.
Versailles, 3555 SW 8 Street, Miami. A well known landmark but you will find more tourists than locals here.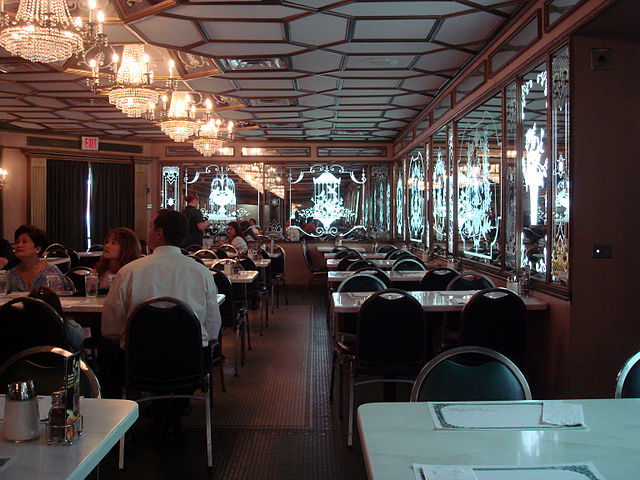 Versailles Restaurant
The following restaurants are in Miami Beach.
De Rodríguez Cuba, Hilton Bentley Hotel, 101B Ocean Drive, Miami Beach. Chef Douglas Rodríguez is the "godfather" of the "Nueva Cocina Latina," with bold flavors, Cuban-influenced but not traditional. Newsweek selected Rodríguez as "one of the hundred Americans who will influence the coming millennium."
David's Café, 1058 Collins Avenue, Miami Beach.
Larios on the Beach, 820 Ocean Drive, Miami Beach. Very touristy but good food. Owned by celebrities Emilio and Gloria Estefan.
OLA, 1745 James Avenue, Miami Beach. Nuevo Latino, a mix of Cuban and Latin American cuisine.
Puerto Sagua, 700 Collins Avenue, Miami Beach. Traditional and simple Cuban food.
Some of these restaurants also have regular American entrées in their menus but, if you go there, try the Cuban courses. Below we list some of the most typical Cuban culinary delights which you may want to try.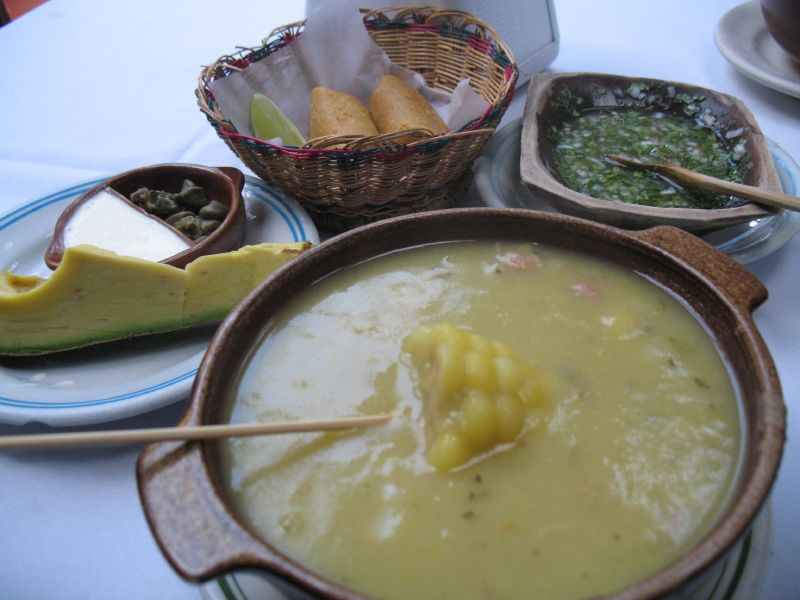 Ajiaco
Soups (Sopas y Potajes)
Ajiaco: A heavy stew made of "viandas" (vegetables) such as boniato, calabaza, malanga, ñame, yuca and beef or pork chunks. See "Side Dishes" below for a description of viandas.
Crema de Malanga: Malanga soup (see "Side Dishes" below).
Potaje de Chícharos: Split pea soup.
Potaje de Frijoles Negros: Black bean pottage or soup.
Potaje de Frijoles Colorados: Same but with red kidney beans.
Sopa de Ajo: Garlic soup, usually served with fine noodles.
Sopa de Pollo: Every Cuban grandmother's chicken soup.
Sopa de Pescado: Soup with any fish chosen by the chef.
Sopa de Plátanos: Green plantain soup, often served with mashed plantain balls.
Seafood (Pescados y Mariscos)
Cherna Frita or Cherna al Horno: Deep fried (frita) or baked (al horno) grouper.
Enchilado de Camarones: Shrimp creole dish, cooked in a tomato, red peppers, onion, olive oil and white wine sauce. Very different and not to be confused with Mexican enchiladas.
Enchilado de Langosta: Similar to above but with lobsters, usually the spiny Florida lobster (crawfish).
Pargo Asado o a la Parrilla: Baked or grilled red snapper.
Pescado en Salsa Verde: Fish steaks cooked in a green sauce made with parsley.
Pescado frito o al horno: The chef's fish selection for the day.
Rabirrubia Frita: Deep fried, small yellow tail snapper, served whole.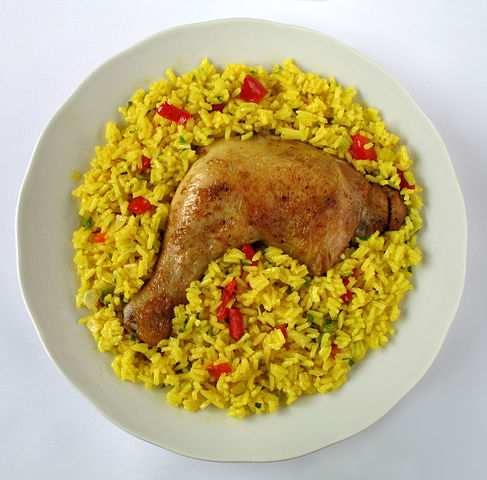 Arroz con Pollo

Rice (or arroces)
In Cuban homes and restaurants, rice is usually served as an accompaniment although there are exceptions, as indicated below. Depending on the dish and the preparer, it could be desgranado (dry), or caldoso (soupy) and, in some instances, al horno (oven-baked).
Arroz Blanco: White rice, usually served to accompany another dish, such as frijoles negros (black beans).
Arroz Amarillo: Yellow rice, usually served to accompany various dishes. The coloring is obtained by preparing the rice with Annatto tree (Bixa orellana) seeds, which are food-coloring and flavoring. The product is also found in Cuban stores where it's called "Bijol." Annatto or Bijol is also called "the poor man's saffron."
Arroz con Mariscos: Yellow rice cooked with fish and shellfish.
Arroz Negro: Black rice made with fish ink, usually squid.
Arroz con Pollo: Chicken with yellow rice. Most of the times it is cooked in advance, before serving. Best when it's ordered and cooked especially for your party, usually with a 30 minute wait.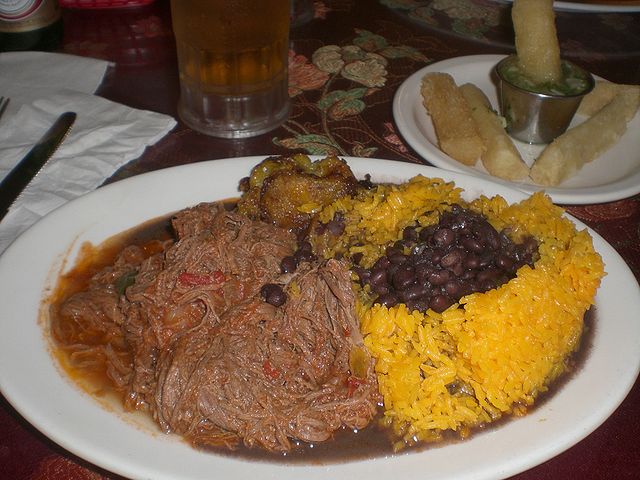 Typical Cuban dinner consisting of ropa vieja (shredded flank steak in a tomato sauce base), black beans, white rice, plantains and fried yucca.

Beef, Pork, Fowl and Other Dishes (Carne de Res, Cerdo, Aves y Otros Platos)
Aporreado de Tasajo: Jerked or hung beef, unsalted and shredded, with tomatoes and spices.
Bistec de Palomilla: Thinly sliced and pounded steak usually topped with raw or grilled onions, at one's option.
Bistec Empanizado: Breaded steak, dipped in a light batter, sometimes topped with your choice of raw or grilled onions.
Fricasé de Pollo: Chicken fricassee Cuban style.
Harina de Maiz: Coarse yellow corn meal cooked in a soupy style with spices and small pork chunks.
Lechón Asado: Slow roasted shoulder or whole pork marinated with "mojo" (read the Mojo section below). On special days, some restaurants have roast suckling pig (lechoncito lechal), a real culinary treat.
Masas de Puerco: Grilled or fried pork chunks, marinated in a blend of lime or sour orange and garlic, then cooked slowly to maximize the marriage of the ingredients.
Masas de Puerco Ahumadas: Smoked chunks of pork.
Palomilla Steak: A thin, juicy steak covered with chopped onions and parsley,
Papa Rellena: Mashed potatoes stuffed with picadillo (seasoned ground beef) presented as a large ball covered with fine bread crumbs and lightly fried.
Picadillo: Ground beef, sometimes also mixed with ground pork, oregano, cumin, pepper, onion, garlic and other seasoning, usually served with white rice.
Pimientos Rellenos: Roasted, sweet red or green peppers stuffed with picadillo (seasoned ground beef).
Rabo Alcaparrado: Oxtail with capers cooked in a hearty red wine sauce with spices.
Ropa Vieja (literally translates as "Old Clothes"): Tender, shredded flank or skirt steak, seasoned with tomatoes, onions, red peppers and spices.
Tamal (also called Tamal en Hoja): Corn meal or corn based dough, wrapped and steamed in a corn husk filled with beef or pork chunks and spices, seasoned Cuban style. Very different from the Mexican tamale. See the next course.
Tamal en Cazuela: A heavy, creamy soup made with new corn before the grains solidify. It is flavored with pork chunks and spices.
Tortilla: This is a Spanish-type omelet, completely different from the Mexican corn or flour tortilla. You may have a Tortilla de Papas (potatoes), chorizo (Spanish sausage), cebolla (onion), plátanos (ripe plantains) or any combination.
Vaca Frita: Pan roasted, crispy, marinated, skirt or flank steaks pulled into thin strands, cooked until crispy, with mojo, spices and caramelized onions on top.
Vaca Frita de Pollo: Same as above but made with chicken breast.
Mojo
"Mojo" deserves a special mention. It's the typical Cuban "adobo" (marinade) sauce with battling flavors, most simply obtained with garlic cloves, onions, naranja agria (sour orange), oregano, a touch of olive oil and sometimes a slight touch of chopped culantro (the Cuban or tropical cilantro). It should be used sparingly, up front with the other flavors, without ever being overpowering.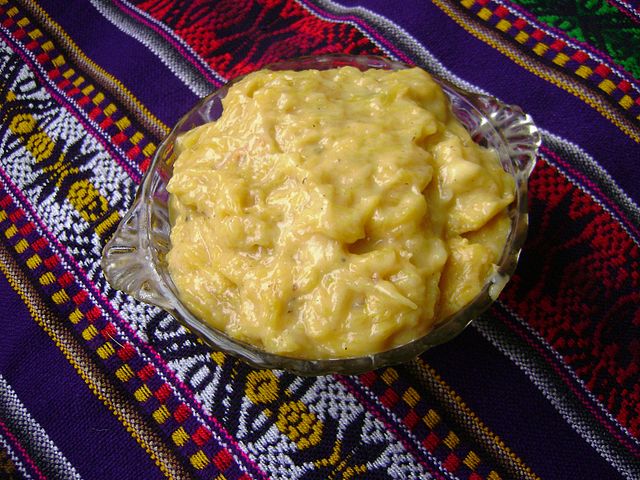 Calabaza


Side Dishes (Platos para Acompañar)
Arroz con Frijoles: White rice and black beans, cooked and served separately, to be mixed at your discretion.
Boniato: A tropical tuberous root, similar in taste to the sweet potato with white flesh. Served boiled and often with Mojo on top.
Boniato frito: As above but cooked in deep fried chunks.
Calabaza: Usually served boiled, it has a similar taste to the American pumpkin or squash.
Chicharrones: Salty strips of crackling pork rinds, deep fried with layers of fat and meat attached.
Croquetas (Croquettes): Choose between jamón (ham), pollo (chicken), chorizo (Spanish styhle sausage), bacalao (cod fish) or others.
Congrí Oriental: White rice which turns "reddish" when cooked with red beans and small pork chunks or bacon.
Ensaladas (salads): Usually include vegetales verdes (green vegetables) but also aguacate (sliced avocado), tomatoes and other.
Malanga: A tropical vegetable, similar to arrowroot (taro), boiled and usually served with Mojo on top.
Mariquitas (or Chicharritas): Very thinly sliced, crisp fried green plantain chips.
Moros y Cristianos: White rice which turns "black" when cooked together with black beans and small pork chunks. The Cuban marriage of black beans and rice.
Ñame (in the Yam family): A tropical tuberous root of the yam family, boiled and usually served with Mojo on top.
Plátanos Maduros Fritos: Fried slices of ripe plantains, the riper the tastier, with their natural sweet flavors.
Plátanos Verdes Fritos (also called Tostones): Sliced, double-fried and flattened green plantain chunks.
Puré de Papas: Mashed potatoes.
Yuca (Yucca or Cassava): A tropical tuberous root, topped with onion slices and a garlic and sour orange mojo.
Yuca Frita or Yuquita Frita (Fried Yucca sticks): Deep fried yucca sticks.
Cubans call "viandas" most edible tuberous roots such as boniato (Cuban sweet potato, different in texture, flavor and color from the American version), calabaza (similar in taste to squash), malanga, plátanos (plantains), ñame (tropical yam) and yuca (yucca), often served with mojo on top. "Vegetales" include zanahorias (carrot), habas limas (lima beans), habichuelas (string beans), tomates (tomatoes), and other. "Verduras" (leafy-green vegetables) are berros (watercress), espinaca (spinach), lechuga (lettuce), perejil (parsley), rúcula (arugula) and others.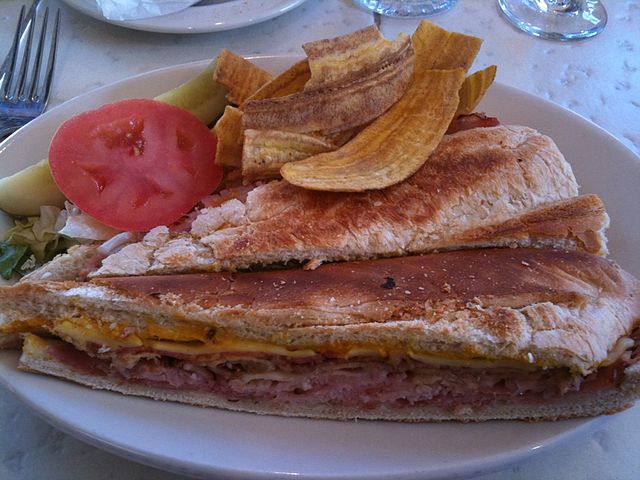 Authentic Cuban sandwich, plantain chips, and black bean soup
Sandwiches
There are many different types of Cuban sandwiches but we will mention the most commonly found.
Media Noche: Similar to the Cuban sandwich though smaller and made with soft, sweet buns.
Pan con Lechón: Cuban bread stuffed with mounds of moist, shredded roast pork and a flavorful topping of sautéed onions and mojo.
Sánwiche Cubano (the Cubans' pronunciation for a Cuban Sandwich): Cuban bread stacked high with slices of roasted marinated pork slathered in Mojo, glazed ham, Swiss cheese and sliced dill pickles, all thinly cut and placed on Cuban bread with a light touch of mustard. The sandwich is then put on a "plancha," or flat toaster, hot-pressed, adding crunchiness to the bread. In some places they are still prepared by a "lonchero" or "sanwichero" (both terms are "Spanglish") who put on a performance as they slice and assemble the sandwiches in the showy traditional method, using only knife and fork.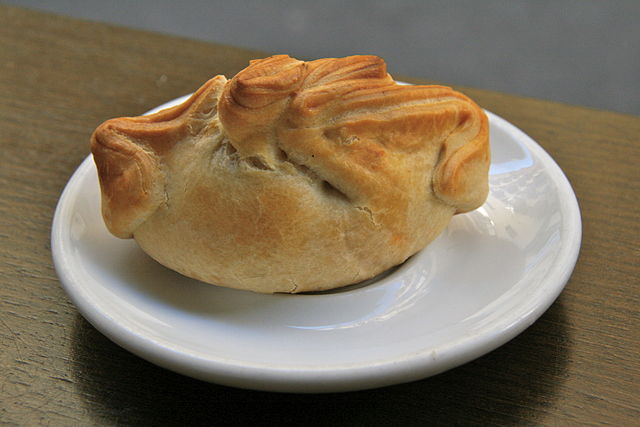 Empanada
Pastelitos and Empanadas
You can enjoy pastelitos (small pastries) or empanadas (turnover pies) for a snack, by themselves, with Café Cubano (read section below) or Café con Leche.
Empanadas: Small turnover pies, stuffed with various fillers, such as mashed bacalao (cod fish), carne (spiced ground beef), chorizo (Spanish sausage), jamón (ham), queso (cheese) or pollo (chicken).
Pastelito de Carne: Pastry filled with ground meat.
Pastelito de Chorizo: Pastry filled with ground Spanish sausage.
Pastelito de Guayaba: Guava pastry, sticky sweet filling oozing from the sides.
Pastelito de Coco: Similar to above but filled with shredded coconut.
Arroz con Leche
Desserts (Postres)
Cuban desserts are usually sweeter than most American desserts.
Arroz con Leche: A light, creamy rice and milk pudding flavored with lemon rinds and often sprinkled with vanilla or cinnamon powder.
Buñuelos: Little ladlefuls of yucca-based batter (traditional in Cuba) or flour-based dough (mostly in Miami) fried in hot oil so that they are crisp on the outside and spongy on the inside.
Flan: Cuban style cream, egg yolks with a caramel topping dessert.
Helado (ice cream): Chocolate, fresa (strawberry) and mantecado (vainilla flavored) are the most common.
Helado de Fruta: Sorbet made from various tropical fruits such as coco (coconut), guanábana (sour sop or custard apple), guayaba (guava), limón (lemon), mamey (mamey sapote), mango, naranja (orange), tamarindo (tamarind) and others.
Mermelada: Marmalades made with fruta bomba (papaya), guayaba (guava), mango, orange or any tropical fruit.
Pudín de Pan: Bread pudding with shredded coconut or caramel on top.
Café Cubano
In Miami you will see places serving Café Cubano (Cubans ask for "un cafecito") in just about every corner. This is what Cuban-Americans drink to keep energized. It is a jolt of especially roasted and brewed coffee beans with a shot (or two) of sugar added and stirred during the preparation, which forms a delicious foam on top. It is strong enough to kick your brain awake. Cuban-Americans usually have Café con Leche (the Cuban version of café-au-lait) during breakfast but a strong Café Cubano any time during the day, especially after lunch and dinner.
Café Cubano (un "cafecito"): Coffee as described above.
Café con Leche: A cup of hot milk adding Cuban coffee to make it as light or dark as you want. Usually enjoyed for breakfast and served with Pan con Mantequilla (Cuban bread toasted and generously spread with butter).
Colada: A generous serving of Café Cubano in a styrofoam cup, which can be carried away to your office or any place.
Cortadito: Café Cubano topped ("cortado") with hot milk (not cream), similar to Café Con Leche but served in a large demi-tasse.
Cubans are gregarious by nature. They will always find a reason for a celebration and turn everything to a party. When you go to a Cuban restaurant in Miami you will see tables where families and friends are celebrating a cumpleaños (birthday) or Día del Santo (Feast Day), a Bautizo (Baptism), Primera Comunión (First Communion) or, simply, "something." Enjoy the lively chatter and, who knows, if you approach them and ask for suggestions they may even share a glass of wine or invite you for "un cafecito."
As Cuban-Americans say … ¡Buen provecho! … and … ¡Salud!