New for Members

Member App Updates: Food & Wine Pairing
Have you yet clicked on the Wine & Food Pairing button on our Member App? If not then we recommend you give it a try. This is a really useful guide to assist you in pairing wine with food. Correct pairing improves the palate of both the wine and cuisine, as well as enhancing the dining experience.
If you have already downloaded the IWFS Member App, then you're good to go; the feature is already on your phone when you click on the App. If you haven't downloaded the App, click here for instructions on how to add it to your mobile device.
Pairing wine and food can be complicated. The old adage "White wine with fish; Red wine with meat" is no longer observed. There are too many exceptions to this rule.
Our guide follows two important rules when it comes to wine-and-food pairing:
Wine and food should be in balance. Consider the weight, body, and richness of both the food and the wine. The wine and the dish should be equal partners, with neither overwhelming the other. Hearty food needs a robust wine. Cabernet Sauvignon complements a grilled steak because they're equally vigorous. This entrée would overwhelm a crisp white wine. In contrast, a Pinot Grigio washes down the subtle flavours in poached fish because the two are equals in delicacy. The question is how do you determine balance? The main contributors are food, fat, sauces and method of cooking you are using. For a wine, the alcohol level contributes to its weight. Wines with less than 12 percent alcohol tend to be lighter-bodied while those with more than 14 percent are heavier.
Match wine to the components of the dish. The cooking method, sauce and seasonings can be more important than the main ingredient. An example is Chicken Marsala versus poached chicken with a creamy lemon sauce. Chicken is the main ingredient. The components in the dish make a difference in which wine should be paired with the dish. Chicken Marsala pairs well with a supple red wine, while the chicken in a creamy lemon sauce will pair best with a fresh white wine.
Imagine you are at a restaurant or dining at home with friends. The guide will help you pair wine and food at the touch of a button. We will be adding more food pairings each month. Our App automatically self-updates.
There have been hundreds of books written about pairing wine and food but this guide will help when you need it most when out to dinner and wanting a wine to match with your chosen dishes.
Wine & Food Pairing
Twenty-five of the world's most popular wines have been selected. Thirteen are red wines and twelve are white wines. A well-stocked cellar should include these wine varietals.
13 Red Wines

Barbera
Cabernet Sauvignon
Gamay
Grenache/Garnacha
Malbec
Merlot
Nebbiolo
Pinot Noir
Port
Sangiovese
Syrah/Shiraz
Tempranillo
Red Zinfandel

12 White Wines

Albarino
Chardonnay
Champagne
Chenin Blanc
Gewurztraminer
Muscat
Pinot Grigio/Gris
Pinot Blanc
Riesling
Sauvignon Blanc
Semillon
Viognier
Here is how IWFS Wine & Food Pairing guide works: All you need to do is click the button Wine & Food Pairing. You have two choices: Pair by Food or Pair by Wine. Below are two examples how to use the button options.
Pair by Wine (Example 1)
You want to serve Barbera with dinner. What foods pairs with Barbera?
Click on Pair by Wine.
Choose Barbera from the list.
A list of popular foods will appear.
Pair by Food (Example 2)
You want to serve Beef Lasagna for dinner. What wines pairs with Beef Lasagna?
Click Pair by Food.
Here you will find high-level categories of food.
Choose Beef Lasagna from the list.
A list of classic wines varietals will appear.
We hope you enjoy our Wine & Food Pairing guide and we welcome any ideas you have too. Please email them to Joe Temple at iwfshelp@gmail.com.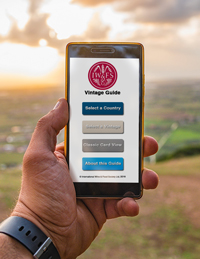 Vintage App
Your updated version is now available and can be viewed direct from your mobile or tablet. All the latest vintage assessments, plus the addition of Loire Dry – White (on the App only), can be viewed anytime, anywhere, no need to wait to receive or look for your printed copy. Just click on this link to download your copy now. If you already have it downloaded then the new data will automatically upload.
An advantage of the App is that we are not limited by amount of space available and therefore the Wines Committee were able to add an extra line - Loire Dry - White. This is a classic, fine wine and one which many of you may well have in your cellars. We are pleased that our expert for the region, Jim Budd, has kindly provided the assessments which he says: naturally apply to the best of the whites – top Sauvignon Blanc from appellations like Sancerre, Pouilly-Fumé, Menetou-Salon, even best Touraine; top Chenin Blanc from appellations like Vouvray, Montlouis, Jasnières, Saumur, Anjou inc Savennières; and Melon de Bourgogne – the zonal Muscadets and esp the Crus Communaux. We trust you welcome this new addition.
HAVE YOU ASKED SID..?
Do check out Sid Cross's blog on the website. Sid answers members questions in the world of wine and food or he will post his latest fascinating wine and/or food experience. This isn't a new venture for Sid and there are archived editions of his blog dating back to 2013. Check out June 2020 when Sid explains the Vancouver branch novel way to run a socially distanced 'supper party' with a twist. Sid's last post in November was focussing on two of his favourite vintages of Château Ducru-Beaucaillou from St Julien.
For those of you who do not know Sid, he is a long time member of the Vancouver branch and recognised for his extensive knowledge of wine and food. He has travelled the world tasting and judging to become a world respected educator-judge-media personality on both wine and food. Sid was Chairman of the Society's Wines Committee for many years as well as our Honorary President. He is the only Canadian to be inducted as a Membre d'Honneur of the L'Academie du Vin de Bordeaux and be awarded The Gourmet of the Year by The Society of Bacchus America ('for outstanding knowledge of food and wines and for imparting this knowledge to others'). He has been promoted by the French Government from Chevalier to Officer status in the prestigious Ordre du Merite Agricole. Sid is co-founder of the Chefs' Table Society of British Columbia and honoured with The Spirited Industry Professional Award plus The British Columbia Restaurant Hall of Fame. He is a frequent wine judge (British Columbia Lieutenant Governor's Wine Awards), food judge (Canadian Culinary Championships), panelist and entertaining educator on wine and food. Follow him on his blog and Twitter @winefoodguru.
NEW MONOGRAPH RELEASED: Exploring Blended Scotch
Our latest monograph 'Exploring Blended Scotch' has been released. When you receive your copy we hope you welcome the departure into the dynamic spirits world when we investigate the sheer delights of blended Scotch whisky – uncovering many of the hidden treasures of what is the 'foundation of the Scotch whisky industry'.
Chapters covered include its fascinating history, blending, appreciation, leading blends, old blends, cocktails, pairing whisky with food and finishing with some delicious recipes.
This title "Exploring Blended Scotch" is the product of a collaboration between two writers from both sides of the Atlantic. It has been co-authored by Charles MacLean MBE (Scotland), a renowned expert in writing, tasting and lecturing about whisky and Stuart Leaf (USA) who is a knowledgeable, passionate collector and taster of old blends (and a fellow IWFS Americas member and founder of the Hudson Valley Branch). They first met, over a glass of Scotch back in Edinburgh, three years ago. Through discussions with immediate past Chairman, Andrew Jones, the idea was born.
Extra copies are available to purchase via the website via the members only merchandise/regalia pages of the website. An e-book will be available in due course.
André Simon Lecture 2021: Focusing on Barolo and Barbaresco
This year's lecture heads to Italy. Our very own Wines Consultant for Piedmont and Valpolicella, Michael Garner, is taking us on a journey of the 'magical' wines of Barolo and Barbaresco and their role in the risorgimento (renaissance) of fine Italian wine. Read more…
Michael had his first taste of these wines back in the 1980s and has never looked back – he has 'lived' Italian wines ever since - regularly visiting the region, writing books, lecturing about the wines, importing the wines and of course, appreciating and enjoying the wines along the way. Michael takes us through how some of the producers have responded to market influences. But what has really changed to bring these wines, and more broadly Italian wines, to the top table in the world of wine? It is a fascinating listen. The video is due to be loaded onto the website in December for you to view at your leisure.
VINTAGE CARD 2022
The updated version is now available. We are continually grateful to our Wine Consultants and Wines Committee members who ensure the prestige of the Card is maintained by providing us with their expert knowledge, which they do without charge – for which we thank them also. Members will receive their copy as part of their 2022 membership of the Society plus copies are available to purchase from the website – the ideal gift to include with your seasonal cards.
Points to note - the southern hemisphere has topped the number or regions receiving the premium 7 rating although there are a number of wine regions in the northern hemisphere waiting in the wings and may well be given the top rating next year; the South West France has been re-categorized as Cahors/Madiran as this better reflects the regions our consultants Britt and Per Karlsson are referring to; the Wines Committee have not provided assessments for the 2020 vintage for Oregon and the northern California regions of Napa, Sonoma County and Central Coast, after the wildfires that hit the west coast. Instead they have introduced a new symbol, referencing the 'natural disaster' that affected the regions. It was agreed that this will allow the Wines Committee time to revisit the wines from these regions and to taste and properly evaluate them in another 12 months and to provide a more informed assessment.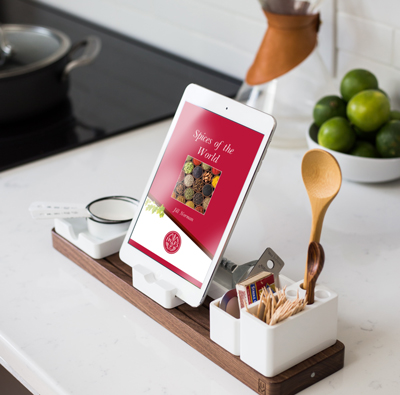 E-BOOKS
In order to spread the word further about the wealth of information about wine and food published by the IWFS our e-books are now available to purchase via a number of other leading online platforms which you may like to direct friends, family and colleagues to – Apple, Barnes and Noble, KOBO and Amazon Kindle – titles currently available are Sonoma County by Tina Caputo, Around the World with Olive Oil by Judy Ridgway, Spices of the World by Jill Norman and the Essential Guide to English Wine by Susie Barrie MW and Peter Richards MW. This is an ongoing project and more titles will be added in time.