Special Evenings
---
La Jolla Branch IW&FS Holiday Gala 2012
The 2012 edition of the La Jolla Branch Holiday Gala was held on December 2 at the Lodge at Torrey Pines. The attendance of 56 of our members enjoyed the evening. It was the 62nd gathering of our Branch This celebration marks the beginning the 62nd year of our Branch. Executive Chef Jeff Jackson and his Brigade prepared an amazing menu. Sommelier John Ruth presented comprehensive descriptions of the wines.

The evening started with Caviar on toast points with Crème Fraiche, and Smoked Salmon Sandwich on Brioche. The wines were a NV Duval Leroy and Drouhin 2006 Chablis 1er cru.

The first course was a special Celery Root and Parsnip Velouté with a Gruyere and Black Truffle toast. This paired with 2007Au Bon Climat Chardonnay from the Sanford and Benedict Vineyard in the Santa Rita Hills AOC. The style was definitely in the Burgundy tradition.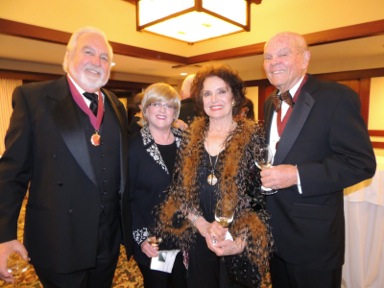 Next was an Open Ravioli with Lightly Cured Salmon, Chanterelles, Cabbage, Pearl Onions and Thyme. This was an unusual presentation but the flavors of the unstuffed ravioli did all blend and made a very tasty serving. The wine served was a Pinot Noir from the Cellars of Ken Wright in the Willamette Valley in Oregon. Ken makes only single vineyard selections and the grapes were sourced from six different vineyards.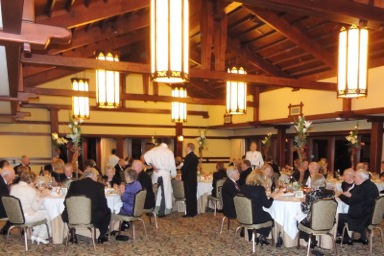 The vintages were 2000 and 2002. Each table had a different selection and John Ruth visited each table to discuss the selections. This was a very interesting approach and the audience learned that the climats of Oregon were like the climats in Burgundy. It is all about the Terroir, the Weather, Mother Nature and the Hand of God.
The Entre course was a Spinach and Coriander Stuffed Loin of Lamb En Croute with fingerling potatoes. The presentation was terrific. The wine chosen for this course was 2002 Esprit de Beaucastel from Tablas Creek served in Magnums. The Perrin family of Chateau de Beaucastel came to the Central California area near Paso Robles in 1985 to found a vineyard in the hilly Las Tablas district, where the similarities to the Chateauneuf du Pape's limestone soils, favorable climate and rugged terrain are strong. They brought budwood cuttings from the Chateau de Beaucastel estate of Mourvedre, Grenache Noir, Syrah, and Counoise, all traditional varietals to grow the grapes that make their exceptional wines. The 2002 vintage was tremendous warm and sunny, with cool nights that prolonged the hang time of the grapes. Mother Nature's bounty led to grapes that were concentrated, rich, and ripe, but with good balance as well as ripeness. The 2002 vintage was bottled in 2004 and now ten years later the consumer is rewarded with a wonderful expression of a ripe spicy nose of raspberries and blueberries baked by aromas of smoke and saddle leather, an elegant palate of red fruits laced with nutmeg and pepper with a long finish. The lamb and wine complemented each other perfectly.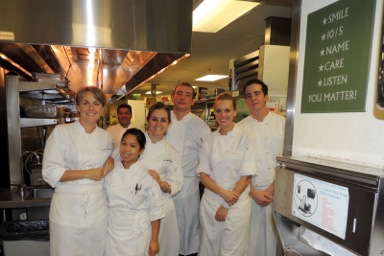 The cheese choice was mild Stilton accompanied by Jeff's famous biscuits. The wine was a Graves from 2000 by Chateau Villa Bel-Aire. This Bordeaux sample was delicate but was not overpowered by the Stilton. This vintage was ready to be consumed and we were not disappointed.

The Holiday Dessert was an Orange and Cranberry Tiramisu. While not a traditional combination of flavors this dessert was complemented with a 2002 Lillypilly Estate Noble Blend from the Leeton Australia region in Southern New South Wales. Late Harvest Sauvignon Blanc, Semillon, Muscat and Riesling make up the blend. This is a sweet wine with honey, apricot, and orange blossom aromas. A wonderful accompaniment to the Tiramisu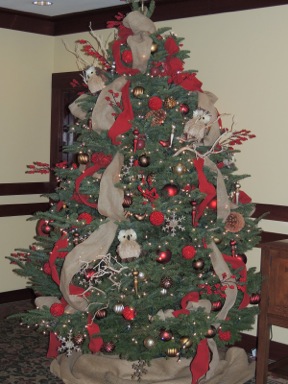 I believe that the 2012 edition of out Holiday Gala will be long remembered as a gathering of good friends to enjoy a remarkable dinner of wine and food excellently prepared and presented at the famous Lodge at Torrey Pines. We look forward to all of our upcoming 2013 events, and our return to the Lodge next year for another memorable evening.
---
Beaujolais Nouveau 2012
Once again the members of the La Jolla Branch of the IW&FS journeyed to Tapenade Restaurant in La Jolla for the annual tasting of Beaujolais Nouveau 2012 edition. Owner and Chef Jean-Michel Diot prepared a lovely repast that featured a "Crayfish Quenelle sauce Paul Bocuse", followed by Wild Boar braised in a Beaujolais sauce, a wonderful Croustillant de Roblocon with a salade de mache and we finished with a Beaujolais Poached Pear "Clafoutis" and Black Currant Sorbet.

The Beaujolais served were a Viré-Classe, a Brouilly , and a Juliénas. All matched well with the menu and no one was disappointed.

Jean-Michel has been preparing this celebratory meal for our group for many years and we appreciate his efforts.

The La Jolla Branch has been celebrating our 61st year in 2012 and we are looking forward to year 62..
---
A Nouveau Beaujolais lunch and a Bastille Day Dinner; We have a special annual Cheese tasting afternoon at the home of a member; At least one of the meetings each of our members share a wine from their private collections and "bragging rights" are established. Another where the Chefs are our members; A Game dinner where our hunting friends share their bounty; Occasionally a trip to Baja California for a special dinner; And, an occasional event when members travel to one of the many wine making regions in California.