Past Events
Manchester Branch AGM 2020
On Thursday 13th February 2020 IW&FS Manchester Branch held their AGM and lunch at Restaurant Tast Ciuna Catalana in King Street, Manchester. We had decided to have the AGM at lunchtime for a change to measure its popularity, and 52 members came along, our best number in 3 years. The meeting went according to plan.
An IW&FS Restaurant Award was presented by Chairman, Ronnie Costello to Chef Julia Castello for an excellent meal we had enjoyed in October 2019.
Our AGM menu had been prepared by Executive Chef, Paco Perez and the cooking was done by Julia.
Our first course was Bloody Mary Oyster and Croquettes of Chicken. Well received, some would have liked a little more vodka with the oyster – surprise surprise!
The second course Ou 64 was absolutely delightful, a fried egg, cream of mushroom, potato soufflé and mushroom foam, shared between two. A lovely succulent dish.
The third Course – Suquet de Rap – Monkfish Stew with Potatoes and Mussels, accompanied by toasted Catalan Sourdough – another delightful dish again shared between two. The fish and mussels were fresh and tasty, and complemented by the toasted sourdough.
We were then treated to two shared main dishes. The first one, a Catalan rice dish, with 40 day aged beef sirloin. The beef was tender and succulent, a joy to eat.
The second one –lamb shoulder, with roast potatoes, garlic mayo, lamb demi-glace and garlic crisps – another delight. The lamb was tender and beautifully cooked and melted in the mouth with the accompaniments.
The dessert Xuixo de Crema – puff pastry filled with custard, rubbed in sugar and covered with dark chocolate. Excellent. His recipe goes back five generations in the family.
An outstanding meal enjoyed by all those present. Fernando and his team are to be congratulated for the wonderful service we received throughout the event.
The wines served were:-
Aperitif Cava Giro
White Pares Balta, Penedes
Red El Seynal, Terra Alta
Cava Giro – a pleasant Cava, with reasonable mousse. Perhaps not quite as good as the Cava on our previous visit from the same stable.
Pares Balta & El Seynal
We had copious amounts of white and red wine served throughout the meal.
The white Pares Balta was a mixture of Maccabeo and Xarrello, and was fruity with zest, and a medium long finish.
The red El Seynal was a mixture of Terra Alta. Grenache and Carignan. This was a well balanced wine with blackberry fruit and a medium long finish.
Both wines complemented the food and were pleasantly received. As a surprise, we had a pudding wine from Coteaux de Layon, which finished the meal to the satisfaction of most of the members.
Bob Lloyd
Manchester Committee Member
LUNCH AT TAST CUINA CATALANA BY PACO PEREZ ON SUNDAY 20TH oCTOBER 2019
Some 37 members and guests of the Manchester and mid-Cheshire branches visited TAST, the three-storey Catalonian restaurant on King Street, Manchester, where we had the entire first floor to ourselves and were treated to an excellent lunch.
The menu invited us to "take a trip around Catalan food with Paco's favourite dishes" and we duly obliged.
Taco Perez, wasborn in Andalucia, but almost immediately moved with his family to Catalonia. He is multi-Michelin starred, as the chef patron at Miramar in Girona (2 stars) and Enoteca at the Hotel Arts in Barcelona (2 stars), with a single star at theRestaurant Cinc at the Hotel Das Stue in Berlin.
TAST in Manchester's backed by the Fazenda Restaurant Group, as well as three people with Manchester City connections – the manager Pep Guardiola, the chairman, Ferran Sorano, and director, Txixi Begeristain.
On arrival, we were served a Cava, Bocchoris Brut Nature NV(Xarel-lo, Macabeo and Parellada), a pleasantly fresh and straw yellow coloured wine. Original cavas were produced exclusively in Catalonia and the heart of cava production remains in San Sadurni de Noya.
Once we were all seated we were served a series of "small bites" and "lots of joy" croquetas. The first of these was a delicious tiny donut of foie gras, encased in white chocolate topped with a vivid raspberry flavoured dust.
Two croquetas followed, both crispy on the outside and each with a different creamy inside - one containing red peppers and the other Iberian ham.
The last of the small bites were two small baked meringue wafers, arranged in a butterfly shape, enclosing sheep's cheese with the texture like Brie and a slice of summer truffle.
After a short break, we moved on to the next part of the menu, starting with the very visual "smoking" Cocktail de Llagostins, this comprised of tiger prawns, avocado, lettuce and tomato with "mayo cocktail nitro". Liquid nitrogen rises, so the chef adds the food to the liquid nitrogen to prevent the top of the food freezing.
The next course was Ou d'anew amb xipirons, which was a fried duck egg,deep-fried baby squid, potato and tartare sauce. This came with the suggestion to mix up the elements because "the messier it looks, the better it tastes"! We did – and it did taste good!
There then followed the Papillote de Musclos, taking many of us by surprise, it arrived in a polythene bag! The dish was mussels, which had been cooked in the bag, along with chilli, basil, ginger, spring onions, lemongrass and white wine. Our waiter snipped off the top of the bag at the table, releasing beautiful aromas.
The next course was Arros De Verdures (Vegetable Bombs Rice), which had been cooked paella-style in the oven with a cauliflower and broccoli stock in emulsion. This was served in a very shallow tray with the best bits to be found around the edges!
The main course was Costella de Porc, a large pork rib coated with a homemade barbeque sauce, accompanied by tiny cubed chips.
And then there was the pudding! Pessic Fluid De Xocolata, a warm, dark chocolate fondant in a crumble, served with ice cream, spiced with cardamom and star anise with a mango coulis - and this was delightful.
Throughout the meal we were served a white wine Lumi Blanc Alimara 2016 (Macabeu and Grenache Blanc) and a red, Lumi Cellar Alimara 2017 (Syrah and Tempranillo) and the restaurant did not stint when pouring.
Both of these wines are from the Terra Alta (high land) in the west of the province of Tarragona in Catalonia. Grapes have been grown in this region for centuries but, because of its geographical isolation, the wines were mainly used for local consumption. However, during the 19thcentury, vinos rancios (rancid wines) from the region, such as Amber Blanc apparently attained great fame.
The area was then devastated by the Phylloxera bug and the current vineyards were replanted by grafting on to New World rootstock between 1920 and 1950 and Terra Alta DO acquired official status in 1982.
Both of the wines were well received, with some people opting to change from white to red at various stages of the meal.
Catalonia has a distinctive identity and culture from that of the rest of Spain and it was a pleasure to have been introduced to its tastes and its flavours, a combination of traditional dishes, with some interesting modern twists.
The very efficient service was supervised throughout by Fernando, the General Manager of the restaurant, who hails from Galicia and his very able assistants Tim and Tay. Each dish was described in detail as it was served, which added significantly to the experience.
On the day Julià Castellò was the chef in the kitchen with Julian, Mikel, Albert, Welker also deserving an honourable mention and all are to be complemented both on the cooking and the presentation of the food.
Some of our members, visiting Tast for the first time, may have come expecting tapas, but they experienced the taste of Catalonia in the shape of Tastet, these are small tastes of food and more complex. I suspect many who attended that day will return.
Many may have stepped out of their comfort zone, but not a dissenting voice was heard!
Malcolm Tidmus
Committee Member
Gonbay 6th September 2019
Our return to Gonbay was eagerly anticipated after a fabulous evening last year! We were delighted to be joined by friends from Mid - Cheshire and Liverpool branches as well as guests.
Ming, our host, ensured that the evening was everything we could have hoped for. We were greeted with a summery glass of rosé Saumur Bouvet Brut whilst we caught up with friends.
We then commenced an incredibly generous banquet, with few of us managing every course! Dim Sum of prawn and garlic and scallops got us off to a good start. However, the fillet steak rolls in pepper sauce and prawns with coriander in crispy rice paper which followed were exquisite! By this point we were washing things down with a wine that is a personal favourite of mine, Martin Codax Albarino - dry and slightly salty. Crispy seaweed and ribs in OK sauce made a delicious surprise appearance as they had not been on the menu!
We were then expecting Hoi Sin Chicken with lettuce wraps but in fact huge platefuls of crispy duck with the usual pancakes and vegetables arrived first - another generous surprise! Both the duck and the chicken were very tasty and much enjoyed.
By this point some of us were grinding to a halt but there was much still to come. Whole steamed seabags in garlic, ginger and spring onion were delicate and moist. Mixed seafood in bird's nest was also a delicately flavoured dish, packed with squid and prawns and scallops. Crispy chicken in chilli and garlic sauce was a fiery and crunchy contrast - absolutely mind blowing. Beef in Cantonese sauce was juicy and yet another interesting flavour to tempt us. The mains were accompanied by Yeung Chow fried rice packed with pork and prawns. We were also offered a red wine with the mains - Emporer's Prize Pinot Noir - which was light and fruity, letting the flavours in the food sing through.
Finally, we rounded things off with toffee and sesame bananas and vanilla ice cream - a traditional and perfect end to a fabulous banquet and very convivial evening.
As ever, Ming and staff provided an excellent and attentive service throughout. I personally very much hope that we will visit again next year!
Nicola McLoughlin
Committee Member
39 Steps Sunday July 21st 2019
The 39 Steps in Styal is a long term favourite of Manchester branch members. It was no surprise, therefore, that this event was fully subscribed.
It was a hot, sunny day and we were greeted with a refreshing, well chilled, glass of André Carpentier Champagne which got the party going with a swing! We nibbled at the homemade melba toast (a house speciality) whilst we waited for service to commence.
After selecting freshly made white or brown bread we were served with a Scottish Smoked Salmon and Crab Parcel with Watercress and Herb Oil. This was a delightfully summery dish with the pink and green looking a picture on the plate. The parcel was generously packed with white crab meat and tasted delicious. This was accompanied by Rapura Springs Sauvignon Blanc 2018 which gave us the lip-smacking grapefruit, peaches and apricots you would hope for from a Kiwi sauvignon blanc.
Our main course was a combination of Roast Rump and Confit Shoulder of Cheshire Lamb with Cheshire New potatoes and Mixed Vegetables with Lamb Gravy and optional mint sauce. The lamb was juicy and flavoursome, the potatoes outstanding, and the vegetables slightly al dente - all perfectly cooked by our host, John Rebecchi. The red wine was an excellent match for this dish - a luscious Primitivo/Cabernet Sauvignon blend made in 2018 by Masseria Surani in Puglia. This was full of blackcurrant fruit and herbaceous flavours with just a hint of smoke.
John then tempted us with a delightful assortment of sweets. There was a mango sorbet to refresh the palate, a perfect wobbly pannacotta with raspberry coulis, a rich chocolate brownie and a sugary and flaky apple turnover!
Throughout lunch we were extremely well looked after by Jason, Juan and Ellin. Our meal was rounded off by petit fours and excellent coffee. David Briggs, the Lord Lieutenant of Cheshire, had arrived across the road for official duties in all his regalia and he took the opportunity to pop in say hello to us.
Nicola McLoughlin
Committee Member
Adam Reid at The French – May 2019
Manchester members returned to Adam Reid at The French in The Midland Hotel for another memorable dining experience. We were warmly welcomed by Kamila and Eleanor with a refreshing glass of Nyetimber N.V. English sparkling wine.
Once seated in the spacious, attractive dining room chef Adam Reid flushed by success on The Great British Menu talked us through each course, four of which he cooked on the G.B.M. Sommelier Vladimir Svenhlak described the accompanying wine flight.
Barbecued asparagus with prawn, pork and garlic capers was our first course with Tokaji Furmint, Dobogó, Tokaj, Hungary 2015. This was an explosion of flavours with a hint of wild garlic and the fresh mineral notes in the wine it went very well with the prawn. The medium bodied wine stood up to the richer flavours of the Lardo di Colonnata and the pork crackling.
Tater'ash with mushroom catsup, bread and butter accompanied by Raised by Wolves, Adam Mason, South Africa 2015. This dish received rave reviews on the G.B.M., it's a strong, smoky beef dish but is tempered by vegetables, potatoes and shallots so we had a light bodied Pinot Noir which had been aged in Burgundian oak barrels for 16 months. Delicious home made bread and butter.
For our next course we had almond poached cod, smoked roe sauce and leeks, this was served with Friulano, Livio Felluga, Friuli-Venezia Giulia, Italy 2017. This lovely, medium bodied, well-balanced, aromatic wine complimented the almond milk and the fresh acidity cut through the creamy texture of the sauce. One member declaring, "it was the best fish dish I have ever eaten", high praise indeed.
Now for the crowning glory Rhug Estate chicken, barley, sweet corn and turnip stew with Valpolicella Classico Superiore, Meroni, Veneto, Italy 2012. The presentation of this dish was stunning, served as a crown but pre-carved and tasted just as good, the chicken moist and succulent, full of flavour with truffle, crispy shin and aromatic herbs. This complex aromatic wine worked very well with the truffle and herbs. This was a winning dish on the G.B.M. and on the night.
St. James cheese, walnut biscuit and Armagnac prune, this was a most interesting course with fresh apple and celery served was Vouvray, Château Gaillard, Vigneau-Chevreau 2016. This medium sweet Chenin Blanc from Loire Valley harmonised with the sweet taste of the honey and prune, it also refreshed the palate after each bite. This cheese is produced in Cartmel in very small batches and is seasonal so was a real treat.
Treacle tart, clotted cream ice cream, orange and mint granita was our final course with Gewürztraminer, Late Harvest, Montes 2015. This wine made from late harvested grapes together with grapes affected by noble rot is quiet concentrated so went well with the rich treacle tart and cinnamon biscuit and balanced with refreshing acidity to accompany the orange and mint granita. Tea and coffee were offered.
This was a delicious meal with impeccable service and attention to detail. Chef had earlier in the year been presented with an I.W.F.S. award, which everyone agreed was richly deserved. All present without fail said it was an exceptional meal so a huge thank you to Chef, Sommelier Vladimir, Kamila, Eleanor and all the team.
Ronnie Costello
Chair Manchester Branch
BYOW Monday Wine Club at the Hawksmoor
On a sunny Monday evening members met in The Hawksmooor Manchester's most celebrated British steak house, fish and cocktail bar. Located in a late Victorian courthouse the venue has a special atmosphere from the moment you enter. Greeting our party were Rebecca and Lisa who have the knack of making you feel welcome instantly.
Bob Lloyd chose the wines Cremant de Loire L' Extra par Langlois Brut NV. Subtle flavours with a biscuit aroma, clean, dry and elegant, the story of the Bollinger connection was well received, I am sure Madam Bollinger would approve! Our first course: potted beef and bacon with Yorkshires. This dish originated from steak trimmings and became a staff food favourite so good it ended up on the menu. A robust dish with beef, bacon, anchovies and a hint of freshly grated nutmeg, topped with beef dripping and melted butter, served with airy, light, crisp fluffy Yorkshire puddings, bone marrow and onion gravy - absolutely delicious. St Emilion 2016 Vieux Ramparts Lussac magnums was a good choice. A rich wine with juicy black fruit on the nose and palate showing plenty of promise to come.
Our waiters and sommeliers Jimmy and Richard are so enthusiastic they could be on stage. Warm, helpful and ensured that everyone had copious amounts of wine.
"In dreary economic times, people turn back to comfort food and there is nothing more comforting than steak and chips." Richard Harden.
Flavours of beef dripping and charcoal from the grill fill the mouth, the meat is exclusively sourced and quality shines out. Accompaniments of classical béarnaise, peppercorn sauce and house-made ketchup. Indisputably great steak impeccably cooked by Andre, Josh and Kay. The dressed green salad, every leaf glistening because it has been attentively tossed in judiciously balanced vinaigrette. Triple cooked chips do not disappoint.
To finish we devoured Peanut butter shortbread and salted caramel ice cream. Served warm from the oven, this is magnificent crumbly, crunchy shortbread with chocolate ganache in the middle topped with a quenelle of salted caramel ice cream a scattering of chopped peanuts and a drizzle of caramel sauce.
A most memorable evening and we look forward to our next visit.
Patrick Trodden
Committee Member
Wine Tasting & Supper At St James' Club, Manchester on 7th March 2019
The Manchester Branch attended a Wine Tasting and Supper at the St James' Club, Spring Gardens, Manchester. The Wine Tasting was given by Matt Whitehouse, Manager of Majestic Wines, Hale Barns, Cheshire. We tasted 8 wines, four wines from the New World and four wines from Old World in a comparative tasting.
There were four flights of wines as follows:-
Flight 1
Domaine di Villargeau from Coteaux de Gienois, Loire
St Clair Pioneers Block, Sauvignon Blanc, New Zealand
Both wines were well received, but the French wine was a little more complex, and therefore a narrow winner.
Flight 2
Vire Clesse, Pierre Ponnelle, Burgundy
Bread & Butter Chardonnay. Napa, California
Again both wines acceptable, resulting in an honourable draw.
Flight 3
Nicolas Potel, Pinot Noir, Burgundy
Metz Road, Single Vineyard, Pinot Noir, Montrey County, California
Both wines were popular, but the Burgundy shaded it.
Flight 4
Il Viaggio, Appassimento, Cantina Di Negrar, Veneto, Italy
Mayu Carmenere, Appassimento, Elqui, Chile
Two very nice wines, both of which were well received, it was impossible to prefer one to the other.
So, overall, it was a close win for the Old World wines.
In another tasting, the result could easily have been reversed.
Supper Menu
Starter Smoked Salmon, Asparagus and Cheddar Tartlet.
The wine served was Domaine de Villargeau, which complemented it.
Main Course Chicken Supreme, with wild mushroom and Thyme jus
The wine served was Nicolas Potel, Pinot Noir, which was well matched to the food.
Followed by a good selection of Cheeses, with grapes and celery. The wine, Il Viaggio Appassimento.
Coffee or Tea
The starter was excellent, but there was some criticsm of the main course. The speaker gave a first class tasting and the wines were very acceptable.
Overall it was a very successful evening.
Bob Lloyd
Committee Member
Presentation of an IWFS Award to Adam Reid at The French Manchester
Following a spectacular 6 course dinner with wine flight in May 2018, it was decided that Adam Reid should be given an Award for exceptional cuisine and hospitality.
On the 1st March representatives of the Manchester Committee including Ronnie Costello, Chair, and Tricia Fletcher, Manchester member and Awards Officer, attended with Josephine Jackson (author of the article in the IWFS magazine about the evening) for lunch and to present the Award.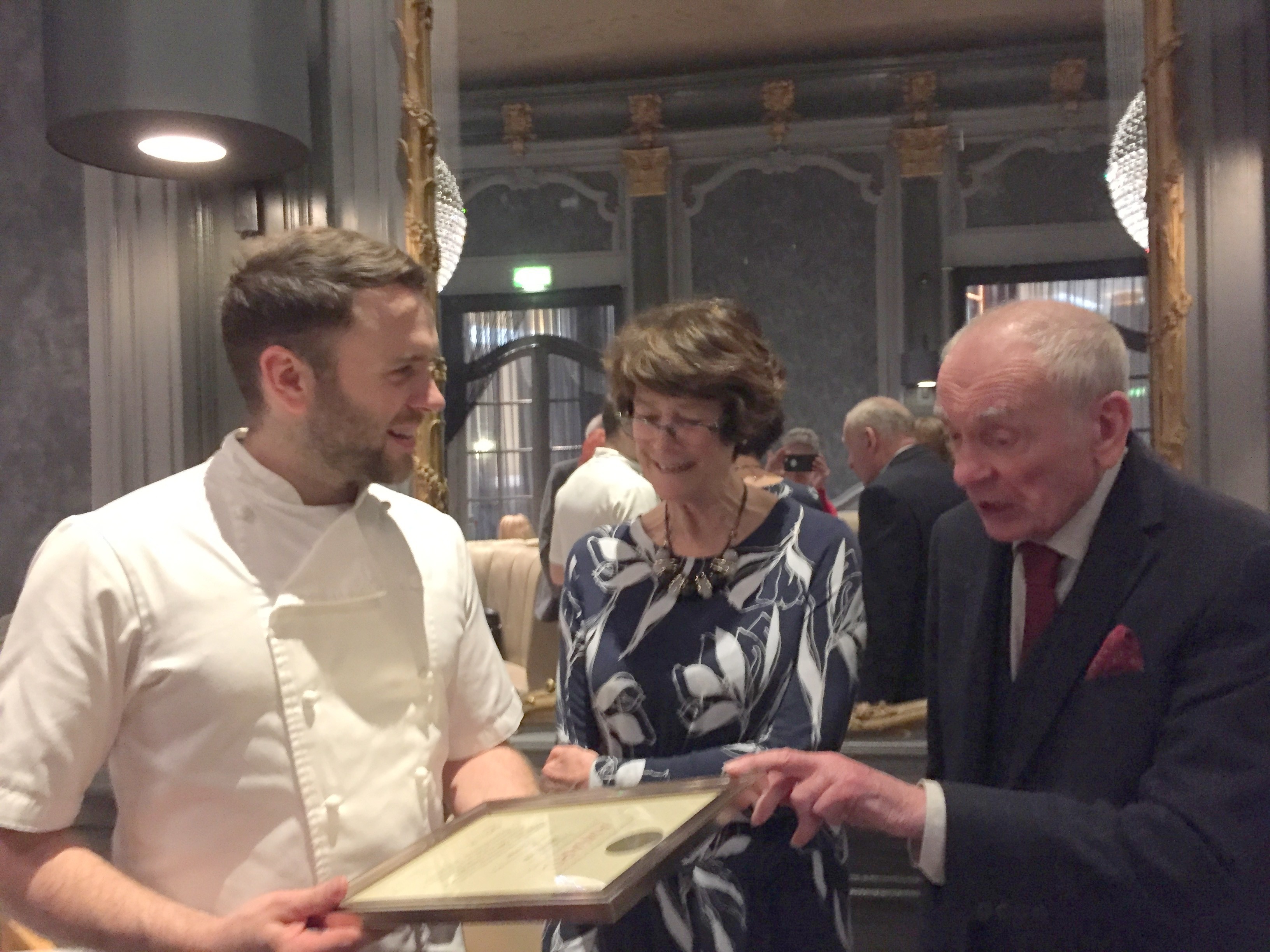 Annual General Meeting and Dinner at Stanneylands Hotel on 31st January 2019
The sumptuous first floor Suite at the hotel was the perfect setting for Manchester branch's Annual General Meeting and dinner. Jacquart Mosaic Brut was served to Members as they entered the suite through the elegant bar. The champagne had a lovely fresh bouquet and on the palate there were notes of pear and toasted biscuit.
The delightful 'Attitude' was poured before our starters and we took time to enjoy the fresh grass and gooseberry nose of this Sauvignon Blanc from the Loire valley. It proved to be a well balanced wine with good finish and length. The soup was a roast tomato and basil and with those zingy flavours it was a good job the wine 'had Attitude'! The soup was piping hot and a perfect choice for this snowy and frosty night.
Our main course of Loin of Venison with Pommes Anna, Mushroom Puree, Brunoise of potato and carrot, black trompettes and Malbec sauce was another seasonal dish beautifully presented. The generous serving of venison was served rare and the earthy flavours on the rest of the plate were the perfect backdrop. Add to the equation the lovely deep smooth Douro Red of Adriano Ramos Pinto, with its intense blackberry flavour and we had a perfect pairing.
We enjoyed another glass of the red wine with the fantastic selection of cheese - Burt's Blue, Lancashire, Smoked Cheddar and Brie, accompanied by a homemade chilli jam and crisp artisan crackers.
Our dessert was a true classic, an unctuous and caramelised Tarte Tatin with Chantilly cream and a delicious hazelnut brittle. The Castelnau Sauternes 2012 was the perfect choice to pair with those flavours. The wine sang with honey, apricot, almond and marmalade.
Tea and coffee was served with beautiful homemade black and white chocolate truffles.
The service throughout was excellent and we would like to thank our friend Jamie Thistleton, the General Manager, and his team for their solicitude throughout the evening.
Nicola McLoughlin
Manchester Committee Member
Lunch at Aspire
On 9th November we re-visited Aspire Restaurant in Trafford College. The students were preparing the food and covering food and wine service with a light tough of supervision from their tutors. We were warmly greeted as we entered, and soon glasses of a South African sparkling wine were distributed.
Whilst waiting for the starters we enjoyed generous baskets of homemade cheese bread and rolls. The choices of starter were a pork terrine with homemade piccalilli and toast, or roasted butternut squash with feta, rocket, walnuts and pomegranate. Both were delicious and well presented. The chardonnay was a good accompaniment to both dishes.
For the main course we were offered a beef or a fish dish. The beef was a casserole served in a piped nest of potato and swede puree with a melange of green vegetables and chestnuts. This was a very seasonal and satisfying dish. The fish was a fillet of seabass served alongside an autumnal Puy lentil and chorizo stew and Hassleback potato which was a bold and interesting combination, well executed. With the main courses we enjoyed a Montepulciano d'Abruzzo which was full bodied and redolent of spiced red and black fruits.
The desserts were a surprise on the day and we had no less than three to choose from! The chocoholics went for a hot chocolate pudding with chocolate sauce and ice cream and black cherries. This was a rich and decadent dessert. There was also a spiced fruit pavlova with Chantilly cream and fragrant compote which was a very pretty light dish with a punchy flavour. Finally, there was a layered lime and raspberry panacotta topped with white chocolate and a yellow pansy contrasting with the deep ruby topping. This was classic and faultless.
We rounded off our lunch with tea and coffee served with both hot and cold milk for individual preference.
The standard of food and service was very high and it was easy to forget that most of the work was done by students in the 16 - 18 age group. They are to be congratulated on their professionalism and confidence.
Nicola McLoughlin
Committee Member
Chilli Banana, Lapwing Lane, Didsbury - Tuesday 9 October 2018
An early evening meal was enjoyed by members and guests at Chilli Banana Didsbury.

We began with a great selection of starters Chicken Satay, Thai Fish Cakes, Miniature Spring Rolls, Spare Ribs, Mushroom Satay, Vegetable Spring Rolls, Sweet Corn Cakes and Tempura Vegetables. These were all well received the tempura batter was perfect on the vegetables, the mushroom satay was very different almost meaty. The Spring Rolls were light and tasty, corn cakes sweet and succulent and the chicken satay was very popular with a delicious peanut based sauce. Luna Azul Sauvignon Blanc ,Chile was served with these it was light, fresh with green apple flavours which worked with the varied selection.

Our sharing main courses were Pla Song Kreuang, crispy seabags with lemon grass, shallots, peanuts and Thai herb salad, this was a delicate lightly flavoured delicious dish. Nun Sawan 'Heavenly Beef ' with deep fried basil truly was heavenly tender, moist melt in the mouth. Massaman a rich but mild curry slow cooked with coconut milk, baby potatoes, shallots, peanuts and cubes of chicken, great intensity of flavours with tender chicken. Pad Thai Gung, special fried noodles in a sweet tamarind sauce with king prawns, bean sprouts, bean curd, preserved radish, egg and peanuts, this was an exceptional dish bursting with subtle flavours. Fluffy perfectly cooked Jasmine rice accompanied.
Two red wines were served with the main dishes, Luna Azul, Merlot, Chile this has a slight citrus aroma with fruits and a hint of vanilla. Carmel Recas, Pinot Noir, Romania this was an interesting medium bodied wine with aromas of black cherry, raspberry and sweet spice notes.

Jasmine tea was served as was an unusual dessert wine compliments of the management. Monsoon Valley Dessert Chenin Blanc, Thailand this had hints of dried apple and peach with some acidity a lot less sweet than we are used to.
Chairman Ronnie Costello thanked the chefs and front of house Marta who worked very hard on the night, also thanks to Kuba who helped arrange the event but couldn't be present on the night.

Members had a lovely evening and pronounced the food much more to their liking than they expected.
Ronnie Costello.
Chair of Manchester Branch
Cafe Italia, Moss Bank Way, Bolton - Sunday 2 September 2018
Manchester members and guests gathered on the terrace at Café Italia on a glorious sunny afternoon to enjoy a refreshing glass of Prosecco. Having admired the unexpected view we went upstairs to the private dining room.

Chairman Ronnie Costello welcomed everyone and introduced Chef/Patron Vito who spoke briefly about the food. Our first course Burrata E Prosciutto was rich, creamy Burrata from Napoli with Parma ham that complimented the richness of the cheese.

Britto Misto was served next, lightly battered calamari and soft shell red prawns from Sicily, these were delicious. A simple Trebianno wine was served with both the above which didn't detract from the flavours of the food.

Paccheri Salsiccia E Porcini was our pasta course, this was full of flavour with deep intensity from the Sardinian pork sausages and the porcini mushrooms this dish was a firm favourite with members.

Our main course Spezzatino, was a rich beef stew slow cooked with onions, carrots and celery with hints of garlic and sage, served with crisp rosemary roast potatoes. Justice may not have been done to this dish as many people were already full. Chianti was generously served with these courses and stood up to the richness of the dishes.

Trio Di Dolce arrived next three mini desserts, creamy panna cotta, a surprise chocolate cake resembling a certain ambassadorial chocolate rich and unexpected and light as a feather pastry with vanilla custard and strawberries all delicious, some members had them boxed to take home. Tea and coffee were served.

A most relaxed, enjoyable, leisurely lunch was had by all. A big thank you to Chef Vito and his team and to Mara and Fabrizio who did a great job front of house.
Ronnie Costello.
Chair of Manchester Branch
Aides Byrne at 20 Stories, Spinningfields, Manchester - Monday 30th July 2018
Around 50 members and guests of the Manchester IWFS Branch celebrated the 85th Anniversary by combining a memorable dinner at renowned chef Aiden Byrne's latest - and most ambitious - venue, together with a selection of wines from the Waterkloof estate in South Africa, star project of Mancunian Paul Boutinot, whose son Louis was present to introduce the wines.
The venue was the newest 'destination' restaurant in Manchester - '20 Stories' - and from the terrace at the top of the tower we had a magnificent view across the city to the hills beyond. Equally magnificent were the canapés served there - 'Truffle Macaroni Squares', a 'Squid and Tapioca Cracker ', and an 'Oxtail Doughnut ' were all very well received, and accompanied by Filigree Blanc de Blancs NV - light but with sufficient biscuity tones to be a pleasurable
starter.
Once seated in the enormous and swanky (but noisy!) dining area, a Beetroot Poached Salmon with fennel and orange provided satisfyingly contrasting flavours. Lightly cooked (or some a little too lightly) it went well with a Circumstance Cape Coral Mourvedre Rosé 2017. This was followed by Grilled Dover Sole with a lemon emulsion, white grapes and tarragon - a beautifully delicate piece of fish complemented by Circle of Life White 2013.
Two contrasting red wines enhanced the flavours of a subsequent course of breast and confit of duck. Preferences were evenly divided between the delicate Waterkloof 'Seriously Cool' Consult 2016 and the more full bodied Waterkloof 'Circumstance' Syrah 2016, and debate was equally balanced as to whether the confit was optimally piquant or a little too salty. Some subtle morel mushroom flavours attracted favourable comments.
Was there room left for pudding? Oh, yes, there was! The company enjoyed Aiden Byrne's take on 'Strawberries and Cream', very suitably paired with an Alasia Brachetto D'Acqui 2017, a sweet and slightly petillant red wine from Piedmont. Knowing that one diner was allergic to strawberries, the restaurant produced for him a rich dark chocolate tart with pistachio dressing, which returning diners are recommended to try.
Service throughout was attentive, knowledgeable and helpful.
Welcome guest and old friend John Valentine proposed a Toast to 'The Society' and Chairman Ronnie Costello warmly thanked chef Aiden Byrne, speaker Louis Boutinot and all Committee members who had contributed to the preparations for this landmark occasion.
Richard Grieve
Manchester Member
La Popote, Marton, Cheshire – Saturday 20th June 2018
The residents of the pretty village of Marton in Cheshire must surely feel lucky, if not surprised, that they only have to take a short walk to experience world class dining.
Victor, a Dutchman, and his Scottish wife Lynne have been running award winning restaurants since 1974. First in Durban, South Africa where they opened the first La Popote, and then in the highlands of Scotland where they ran a small country house hotel.
In 2009 they moved to Cheshire and opened their second La Popote on the side of the A34 as it winds through the countryside. Word of it being a great place to eat spread fast and our visit in July was not the first for many of the members of the Manchester branch. It was, perhaps the first time that many had been on a sunshine filled summers day, however, so rather than being welcomed with a warming glass of red and an open fire, we strolled into the flower filled gardens for a chilled glass of Pimms cocktail. Delightful.
Following our cocktail we were seated at beautifully set tables in the main restaurant and conservatory and served one impressive plate after another.
First a few words on my personal favourite part of any meal, the bread. Home made every day the darkly rich seeded bread with rosemary (a total of eight different seeds are used) was so moreish many risked being full before starters by happily wolfing down seconds.
To start the meal proper head chef David Gibson (previously at Le Manoir and Grossi Florentino in Melborne) chose Cornish white crab mousse wrapped in Scottish smoked salmon and topped with quenelle of avocado caviar and toasted focaccia. A creamy, refreshing, delicately flavoured way to start. The accompanying 2017 Freedom Cross Chenin Blanc from South Africa was clean and crisp. There was nothing left of the chicken liver pate served as an alternative either.
The main of roast fillet of pork with caramelised apple, Calvados sauce, potato rosti, broccoli, kale and Chantenay baby carrots was a proper, tender, roast. Each flavour discernible, and a perfect compliment to all others. The potato rosti were made with a stuffing that made many smile as they tasted them, prompting memories of Christmas. Simply delicious. Large glasses of a 2016 La Cabane Reserve Grenache-Syrah of Languedoc-Rousillon accompanied the meal perfectly.
Unsurprisingly, everyone found room for the summer pavlova with Scottish berries and raspberry coulis. It was a perfect chewy, melt in the mouth fruity dream of a dessert and spot on for the lovely summers day.
All very satisfied members then wandered back in to the garden for tea and coffee served by Lynne in beautiful china cups with chocolate fudge and shortbread. This very cosmopolitan team, David is assisted by Jo Stubbs who has worked with Michael Caines, and Harry Grinstead who has worked at the Michelin starred The Ocean in Portugal, managed to make the afternoon feel like a vintage English occasion. A happy and memorable lunch that left us all smiling as we departed.
Esther Greaves
Manchester Branch Member
Adam Reid at the French
There has always been an aura of opulence at Manchester's Midland Hotel. Here, famously, Rolls met Royce in 1904. Here is where generations of Mancunians have come to celebrate special occasions. Many who have never crossed the threshold feel a sense of respect just because it's there, solid and reassuring in the centre of our city. In the heart of this hotel is Adam Reid's French restaurant.
Manchester Branch's dinner there in May 2018 proved to be the memorable occasion we expected it to be. Thirty eight of us gathered in the recently refurbished surroundings, which set the scene for the evening. The elegance, the comfort, the imaginative lighting all combine to offer an enticing setting. The table arrangement - round tables for four or five - is conducive to conversation with one's fellow diners, and of course, there is plenty to talk about. The restraint of colour means that the significant colours are those on one's plate.
Adam Reid became chef-patron of the restaurant in 2016. He is known to have sought a relaxed atmosphere, and this he has achieved, whilst at the same time acknowledging the Edwardian grandeur of the hotel.
We had a six course menu, with wines to accompany each course. A glass of English fizz from the Nyetimber vineyard got the evening off to a refreshing start, and set the standard of what was to follow. Adam himself welcomed us with an outline of his menu, and his sommelier did the same for the wines, which came from five different countries.
When we pick up a menu, our preconceptions are based on what we have experienced in the past. At a subconscious level, we invariably react in this way, so when you read the menu below, please try to put these thoughts aside. No words can adequately express the delights, the surprises, the awakening of the drowsiest taste bud. (Words in brackets are mine.)
1. Dripping toast, grated tongue Lancashire tasty (cheese) and onion pie Whipped cod's roe, squid ink cracker
2. Tater 'ash (potato hash for those of you who don't come from round here) with mushroom catsup (ketchup), bread and butter
3. Cornish crab, fried asparagus, chives
4. Baked Cornish brill, mussels in cider, watercress
5. Organic Rhug (Welsh) chicken, artichoke and green olive
6. Rhubarb jelly, malt ice cream, ginger biscuit
The accompanying wines were:
1. Conciso, Nieport, 2015, Dão, Portugal
2. Ch. Chantalouette, 2012, Pomerol, France
3. Picarana, Botega Marañones, 2016, Madrid, Spain
4. Roussette de Savoie, Domaine Giachino, 2016, France
5. Wunderwerk, Dreissigacker, 2013, Rheinhessen, Germany
6. Icewine, Riesling, Peller Estates, 2013, Niagara Peninsula, Canada
Any descriptions I could attempt to make can do nothing to guide you into this gastronomic fairyland, so I am not going to try. A brief survey round the tables at the end of the meal highlighted the brill and the rhubarb. This was rhubarb jelly as you have never met it before, raised to a delicacy you could never have imagined. One small criticism - the only one - was some disappointment with the chicken.
There was general praise for the choice of wines, and praise for the imaginative sourcing of the unfamiliar.
The serving staff offered us descriptions of the food and the wine with friendliness and enthusiasm, all done without any sense of the aloofness that can be so off-putting in some restaurants. Here was service of a very high standard.
How André Simon would have loved this dinner! It represents all the things he wanted the world to enjoy. Adam Reid and his team did us proud, with an evening that we will remember with pleasure. His place in the history of Manchester's Midland Hotel is assured.
Josephine Jackson
Member
Gonbay
Ming and his team at Chinese restaurant, Gonbay, in Altrincham, extended to us a warm welcome on 25th April.
We were greeted with a glass of champagne which was kept topped up until it was time to be seated.
We started with a juicy, fragrant, and garlicky steamed scallop served in the shell. This was served with Abbots and Delauney Viognier 2016, a robust wine that offered the body and depth of flavour to complement the strong flavours of the first few courses. It was perfumed with apricots, peaches and honey.
Our next course was a plump breaded crab claw with an accompanying lemon mayonnaise. Delicious!
We then moved away from seafood dishes to an exciting selection of meat dishes. There was a pork dumpling redolent with garlic and ginger juices, a crispy spring roll, tender char sui ribs and lettuce with a mixture of diced chicken, carrot, bamboo shoots, nuts and spring onion. We enjoyed the variety of flavours and textures and the Viognier continued to hold up well to these dishes.
By this stage we were far from hungry but the main courses continued to tempt us. We were presented with steamed sea bass with spring onion and ginger, sizzling steak and skewered chicken in Cantonese sauce, salt and pepper pork with chilli and garlic, vegetables and tofu in a clay pot and Yeung Chow fried rice. A member on my table was keen to stress how well the combination of flavours flowed. This was a fantastic selection and those who couldn't finish these dishes were offered 'doggy bags' to take home! We enjoyed a Louis Latour pinot noir with our main courses - Domaine de Valmoissine 2014, which was elegant and fragrant with ripe cherry flavour.
The desserts were another cacophony of flavour and colour, with a lemon and pineapple jelly and mixed melon, grapes and orange.
It is worth adding that those diners with dietary requirements were served a stunning array of different dishes of their choice. Chinese tea was also served throughout the meal. The delightful Ming and his team provided a swift, efficient and unobtrusive service which is to be commended.
We all thoroughly enjoyed our evening and another member told me that the evening was the epitome of what the IW&FS stands for - good food, good wine and good company. I could not agree more!
Nicola McLoughlin
Committee Member
One88 Lunch 6 March 2018
Members of the Manchester branch and their guests assembled in the leafy Manchester suburb of Whitefield at One88 for lunch on Tuesday 6th March. Many travelled from Cheshire on the Metro Link which stops a few hundred yards away.
The restaurant opened a year ago and is the lifelong held dream for chef/patron David Gale after a career forged at Soho House, Abode and Hilton to name a few. The premises have been rebuilt as new in the Victorian style as befits the area. Our lunch was in the lovely upstairs dining room with floor to ceiling windows across one end and an intriguing picture window into the kitchen at the other. The decor is understated elegance in shades of duck egg blues and greys with a statement chandelier in the middle.
David's aim was to showcase Lancashire food and he certainly did that! After a welcoming glass of Prosecco, we enjoyed a starter of potted salmon with pickled cucumbers, capers and melba toast. This was a light and fresh dish with well balanced flavours. The main course was slow cooked shoulder of High Peak Lamb with courgettes and green beans, crispy garlic potatoes and a tomato and olive jus. The lamb was served off the bone in a timbale which made for a beautiful presentation. The meat was tender, succulent and tasty, well complemented by the assortment of vegetables. Our dessert was a real showstopper - sticky toffee pudding with vanilla ice cream. This was exceptionally light and not too sweet.
The dishes were self assured and beautifully presented with a good use of colour. We appreciated the piping hot plates for the hot dishes and the fact that the kitchen could serve all the plates in a short space of time.
We enjoyed two wines specially chosen by T Wright of Horwich for this menu - a Pardina Chardonnay and a Temperanillo both from Vina Arroba in Spain. These were light and let the food take centre stage.
Members had a thoroughly enjoyable lunch and several members who had not been to One88 before said that they would be making a return trip.
Nicola Mcloughlin
Committee Member
IWFS MANCHESTER BRANCH - ANNUAL GENERAL MEETING
1st February 2018
Stanneylands Hotel, Wilmslow
This year we held our AGM in The State Room, which is the largest events space in The Stanneylands in Wilmslow, Cheshire. It was a lovely room with mirrored walls and interesting light fittings.
Some 48 members gathered together in the suite and its adjacent bar where they were served with Comte de Senegal, which we've enjoyed before at a number of Manchester Branch events. It's bright and ripe, with baked apple and pear aromas and a creamy texture. It has persistent bubbles and a refreshing flavour, with a touch of tropical fruit.
We were then seated at round tables and the AGM took place, concluding with the awarding of Long Service medals to some very worthy recipients, many of whom were very pleasantly surprised.
A pleasant atmosphere pervaded the room as we readied ourselves for the meal.
The starter - Mosaic of Smoked & Cured Fish - was a lovely dish, enjoyed by all and accompanied by an un-oaked Australian Chardonnay 2013 – from the Harewood Estate, Great Southern, Western Australia, a crisp, fruit-driven wine, which was well received.
Many present were not aware of Great Southern as a region, let alone a wine-growing area, but even by Australian standards, Great Southern is vast and it's one of the largest, most isolated wine regions in the world, located some 400km south of Perth.
The main course of Goosnargh Duck Confit, with Sweet and Sour Morello Cherries and Fondant Potatoes was delicious and accompanied by an Australian Shiraz Cabernet Sauvignon 2012, which had been matured in French Oak for 18 months. This wine, from the same region as the Chardonnay, was only moderately received, but the writer confesses to having been "quite partial".
A generous Cheshire Cheese Platter followed, paired with another glass of the Shiraz Cabernet Sauvignon.
For those looking forward to the final course, the dessert was not "Chocolate Indulgence", as advertised, being more of a firm chocolate cake, but the pudding wine, another Aussie tipple, this time from the other side of the country, was a winner and some thought it could also have accompanied the cheese course. It was Riverina Botrytis Semolina, a rich gold in colour, made in the traditional French Sauterne technique using high quality Botrytis affected grapes, came from the Wellwood Estate, near the town of Orange, around 250km west of Sydney, New South Wales.
For those interested in where their wines come from, Orange is near to the base of an extinct volcano on the western side of the Great Dividing Range and close to the birthplace of Banjo Paterson, who wrote Waltzing Matilda!
The service was very good throughout and the staff looked after us very well so, in spite of a single kitchen malfunction, a very pleasant evening was had by all!
Malcolm Tidmas
Committee Member
Manchester House – 9 December 2017
Manchester House has a new chef Nathaniel Tofan who is a protégé of Aiden Byrne. His approach to cooking is based on the great classical cuisine, and he has already put his magical touch to the kitchen. In the planning stages of the event Ronnie and I met James Devereux - Sommelier and John Clossik newly appointed Events Manager, again a promotion within house. We knew we were in capable hands. Nathaniel spoke of his love of cooking and his approach to his style of cooking is about taste and flavour whether robust or delicate, sweet or earthy, pungent or aromatic. There is a simplicity in his post modern cooking style that does away with disguises, complex sauces and elaborate combinations of ingredients, and lets the essential qualities of the food shine through as we discovered. Our lunch was an explosion of flavours and this style of cooking would reflect the words of the great philosopher Anthelme Brillant - Savarin who wrote in Physiologie du Gout, ou Meditations de Gastronomie Transcendante 1826 "Tell me what you eat and I will tell you what you are".
The snow was falling, we arrived to a warm welcome and were guided to the Twelfth floor bar, everyone was in a jolly mood and staff circulated around the room with trays of Billecart Salmon Reserve Brut – NV, supplied complimentary by the restaurant and a perfect start to the event served with canapés. Down to the dining room, three snack canapés: Snack 1 Duck heart with watercress, buerre noisette - rich, gamey and peppery with richness from the nut-brown butter. Snack 2 Rice cracker, cod roe emulsion, verjus and nasturtium - buttery, sweet and acidic, the rich buttery texture of the emulsion and nasturtium added a hint of spice. Snack 3 Foie gras, sauternes and truffle served in a savoury cone - the rich mousse was cut through by the sweetness of the sauternes. The truffle brought everything together, a great hit of earthy flavor. We drank Rioja Blanco, Izadi, 2016. Judicious use of subtle oak enhances the rippling flavours of the crisp Viura grape.
Monkfish smoked over pine, hen of the woods mushroom, goats' curd. This was a delicate and fragrant piece of fish, inspired by the season, the use of Douglas fir pine has a rather unique flavour which complemented the dish. A touch of acidity from the pickled onion and the freshness from goats curd was unique, we drank Soave Pieropan 2016 which is probably one of the most famous producers of fine and elegant Soave it's consistently excellent.
Our next course was Truffle poached chicken breast, vanilla and artichoke puree, roast salsify. Putting this dish together was a labour of love, brined for twelve hours with lemon, thyme, rosemary and garlic, then air dried for a further twelve hours, and then gently poached with vanilla and truffles resulting in a depth of flavour, the sweetness from the artichoke puree and the earthiness from the truffle. The choice of wine was Nebeioio, Matteo, Corregina, 2013. A fruity nose of red fruits, cherries and cherry blossom, characteristic of the wine.
Pear tarte tatin, beurre noisette ice cream. A dish that shone, so many textures and flavours on a plate, buttery, sweet and nutty with a hint of Muscovado. The burnt butter ice cream was certainly a new interpretation of a classic. A wine that stood up to this dish was Sautaire, Chateau Delmond, 2014, rich and intense.
Coffee, petit fours and crisp pastry mince pies followed.
From the compliments received and feedback to the committee, I know that members are looking forward to their next gastronomic experience.
Patrick Trodden
Committee Member
YU, Alderley Edge, Cheshire – 12 October 2017
A fantastic evening began in a very special way as the restaurant was given the prestigious IWFS award. The Manchester Branch members had visited last year and were so impressed with the food and service, they applied for this award to be granted. The owners, chef and staff were all delighted with this special accolade, which the Branch believe is richly deserved.
This was to be a 6-course wine and food pairing and the restaurant had taken a great deal of thought and preparation to create the right combinations. A crisp glass of Prosecco, La Pieve, Treviso from Italy was served on arrival and then when everyone was seated the canapés arrived – Wagyu Beef Carpaccio with Ponza dressing, Baby Squid, Teryaki glazed Tuna, each one had a different and distinct flavour and all were very tasty.
The next course was Crispy Peking Duck served in a bamboo basket, this was paired with a 2016 Moscatel & Chardonnay 'Goru', Jumilla from Spain. This wine had a slightly sweet taste which complemented the richness of the duck beautifully.
Our third course was Sechuan style spicy King Prawns. The sauce was lightly spiced and so did not overwhelm either the large succulent prawns or the wine, which was a beautiful lightly coloured Villiera 'Jasmine', Fragrant White, Stellenbosch 2016 from South Africa. At this point after three fantastic courses everyone was excited to know what would be coming next.
The fish course was served next and was an expertly cooked piece of Cod in a Five Spice Burnt Butter with Edamame Beans. One member of my table commented on the colour, texture and taste of the cod and said how well it had been prepared. This was served with Pouilly Fuisse 'Luquet' Burgundy 2015 from France. This combination was a particular favourite on my table.
The final savoury course which was Braised Rib of Wagyu Beef, Five Grain wheat and Dark Sauce. The beef was so tender, one member commented that it must have been from all of the massaging! Another said it was "beef like I've never tasted before". The dark sauce was rich and went so well with the perfectly cooked meat. The wine accompaniment for this course was Prietc Picudo 'Cumal' Castilla y Leon. This fantastic Spanish red wine beautifully complimented the Wagyu Beef.
To finish this myriad of exotic tastes was a sweet and clean dessert, a Mango Parfait with Coconut and Ginger Chia seeds and Pandan Powder. This was an exceptional dessert as the fruit, coconut and ginger refreshed the palate and brought a light sweetness to conclude the fantastic food. A sweet wine was served which was Haut Roquefort Cadillac, a French Bordeaux with lovely honey sugary notes.
I think all had a superb night – the Manchester Branch members were treated to such a fabulous evening of food, wine and exceptional service. I hope the restaurant also enjoyed the evening as they had a very appreciative group to sample the best they have to offer.
Ali Graham