Past Events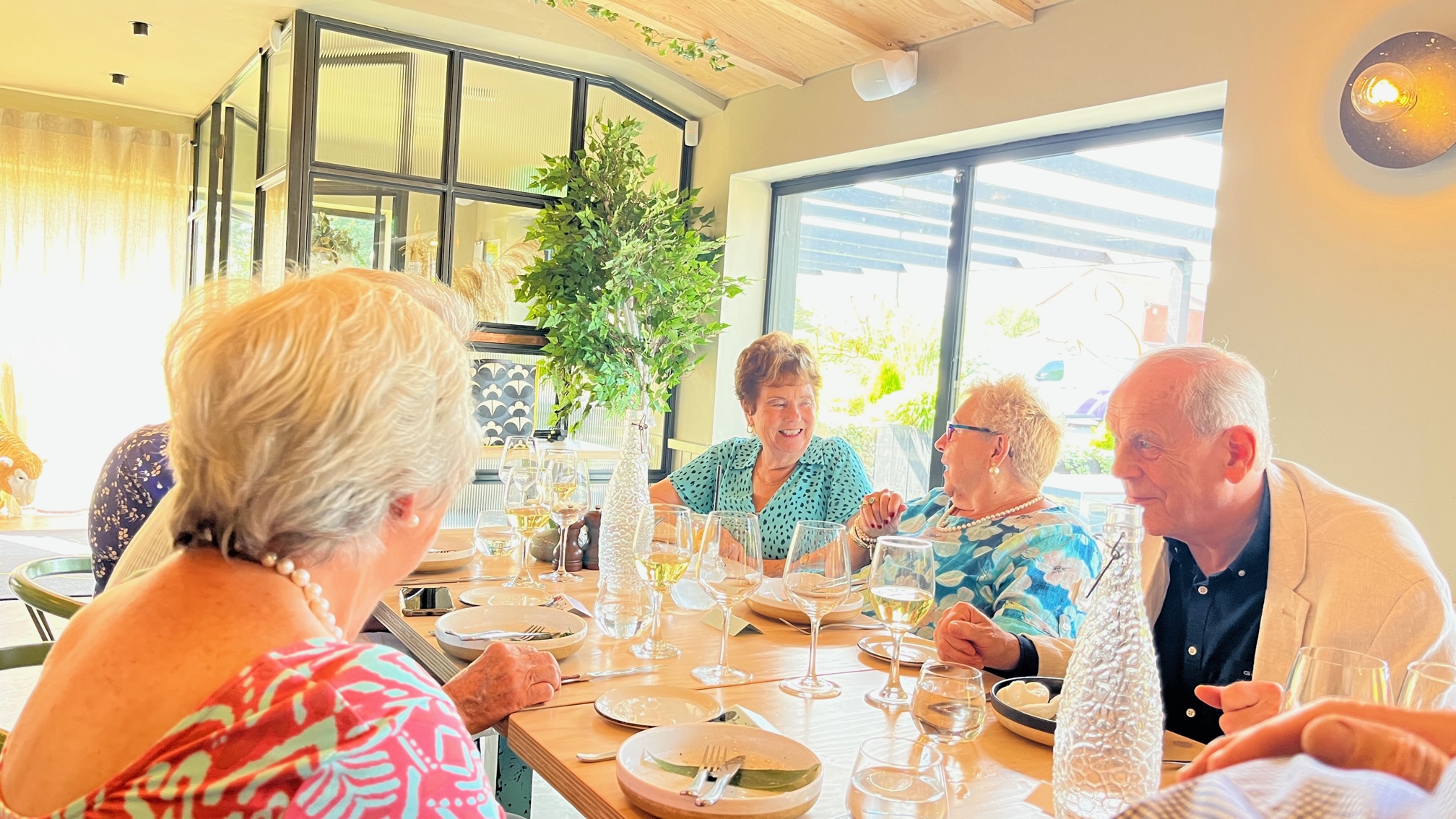 A Summery Lunch at Ewe Restaurant

On a glorious sunny September afternoon Manchester members gathered on the
terrace of Ewe Restaurant with wonderful views of Rivington Pike to enjoy a
refreshing glass of Bouvet-Ladubay's Saphir Saumur Brut with a fine
elegant mousse.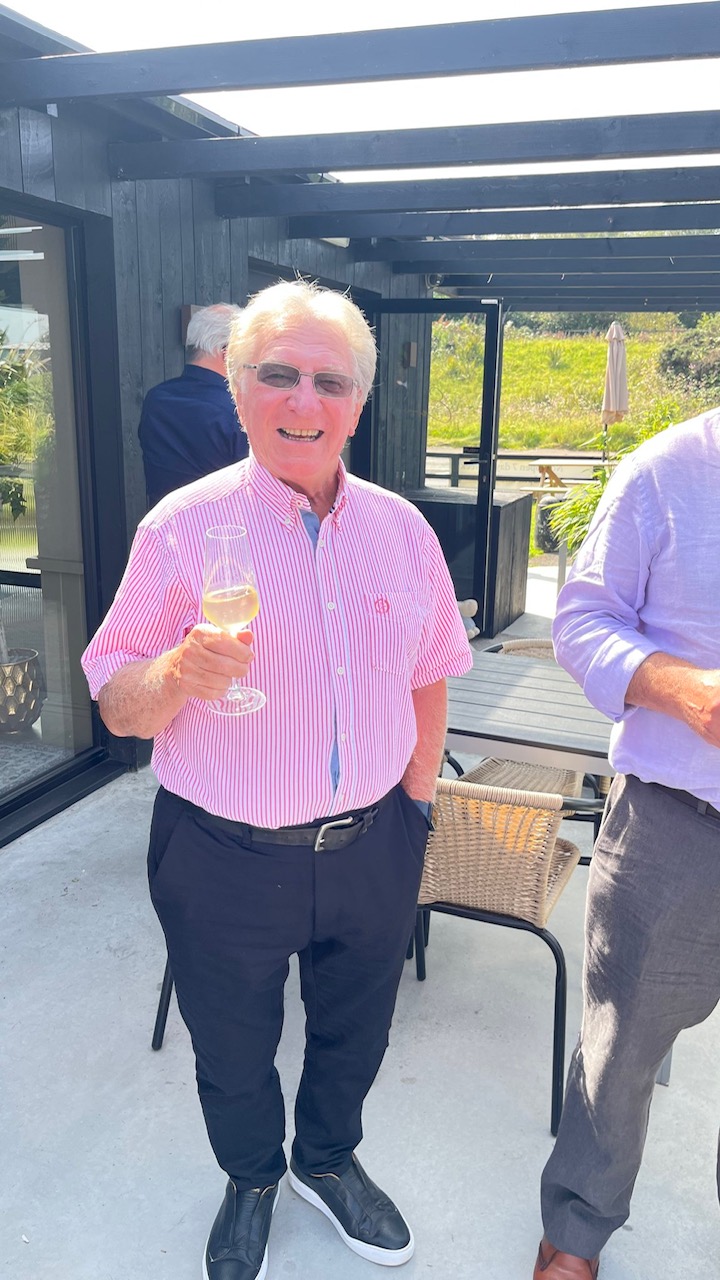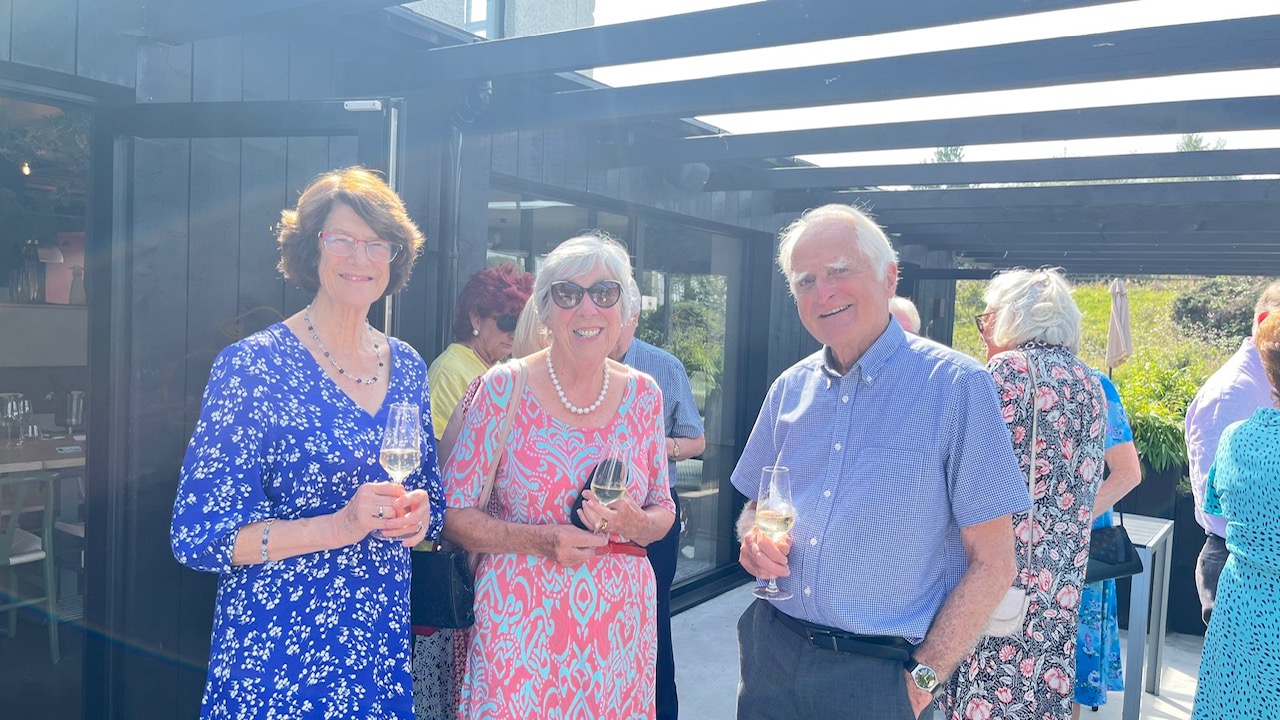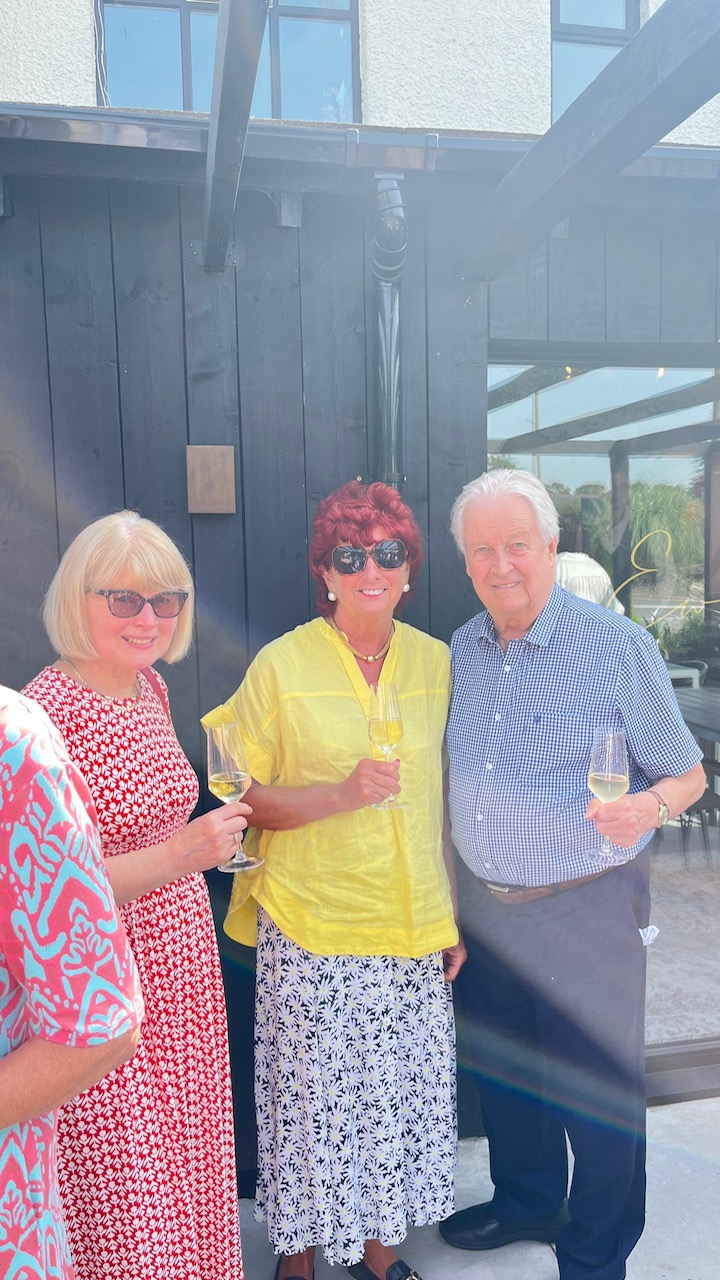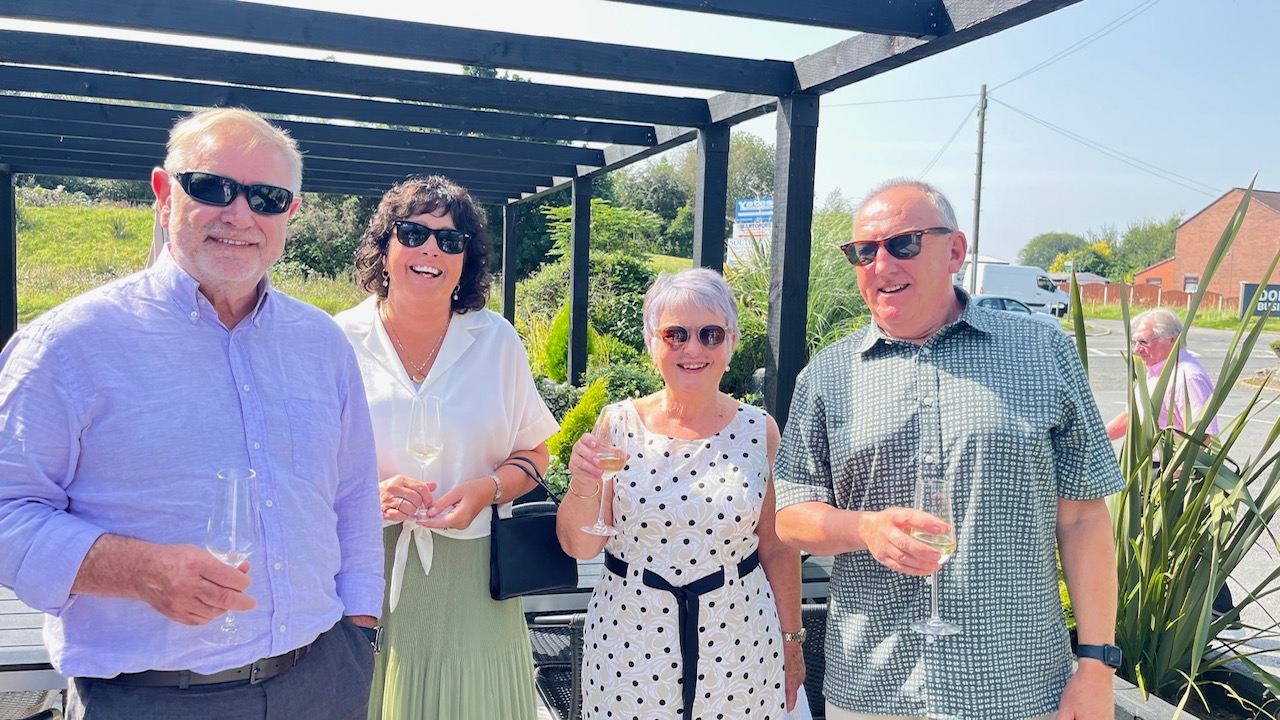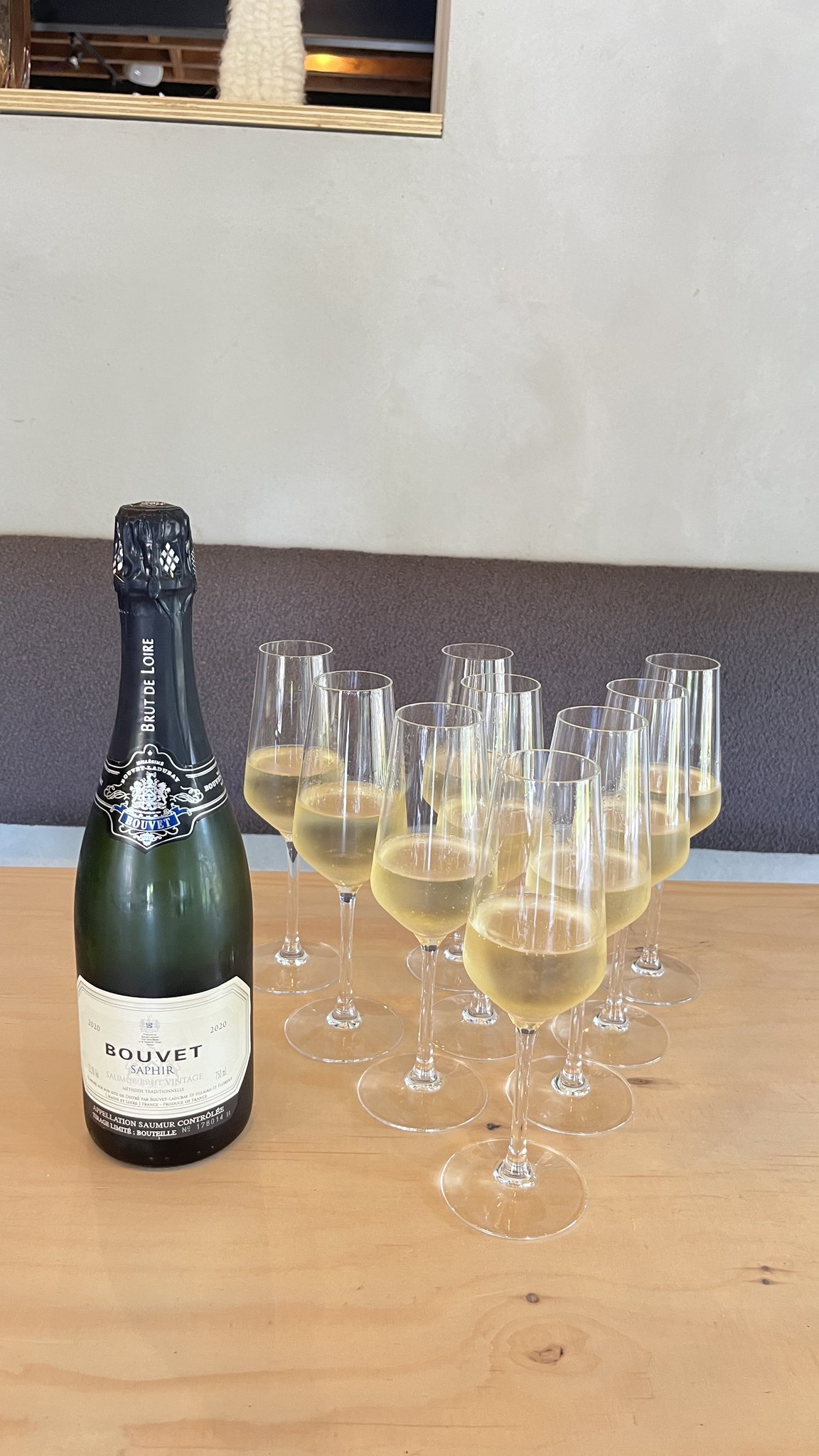 Lunch was in the garden room where we were warmly welcomed by manager Paul.
Chair Ronnie Costello welcomed everyone before our starter was served. This was
a beautifully presented trio of black truffle arancini with melted cheese
and lemon aioli which were delicious, oozing cheese. Serenata Bio Grillo 2021
was the accompanying wine which, with its citrus and tropical fruits
paired very well.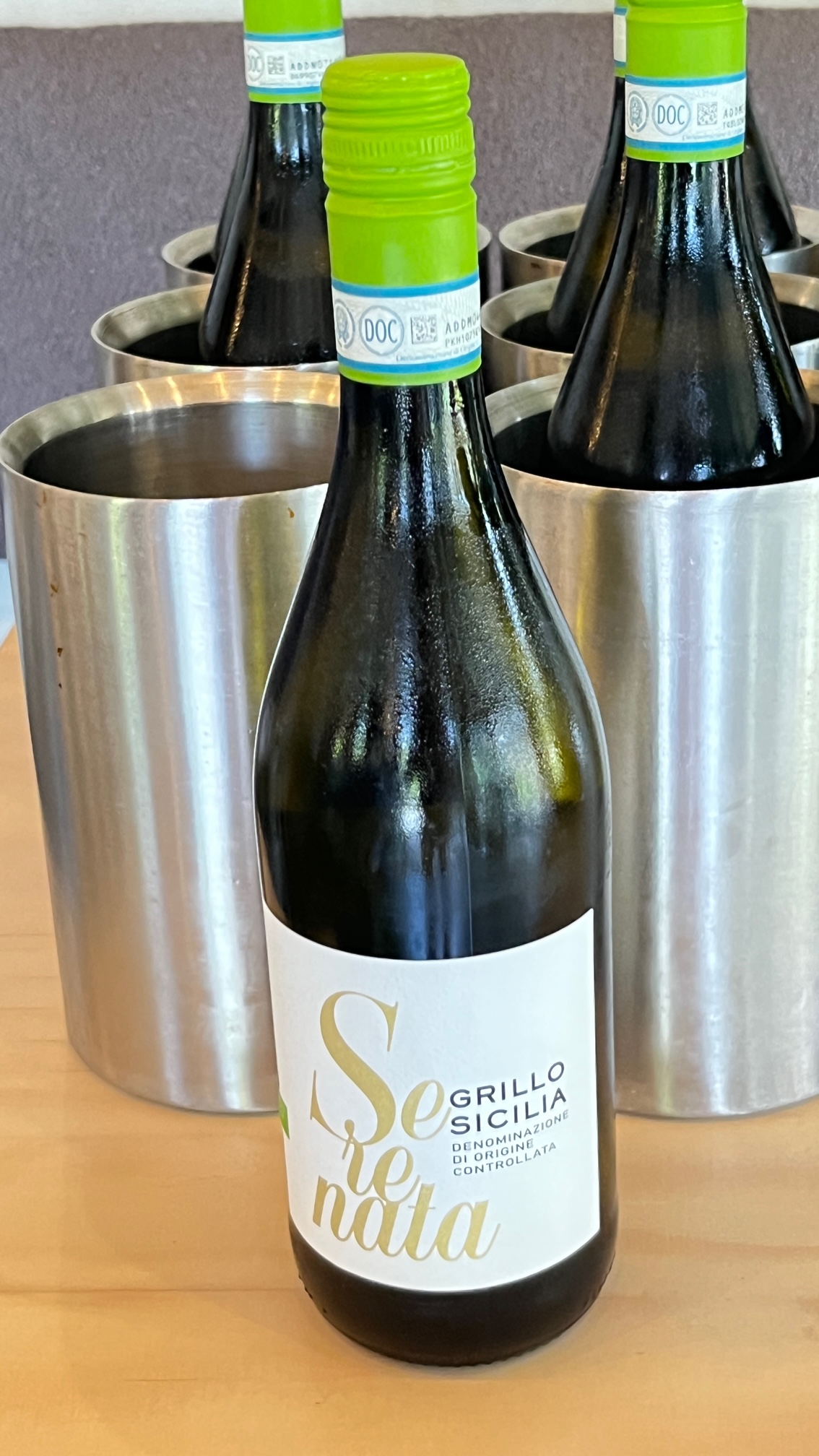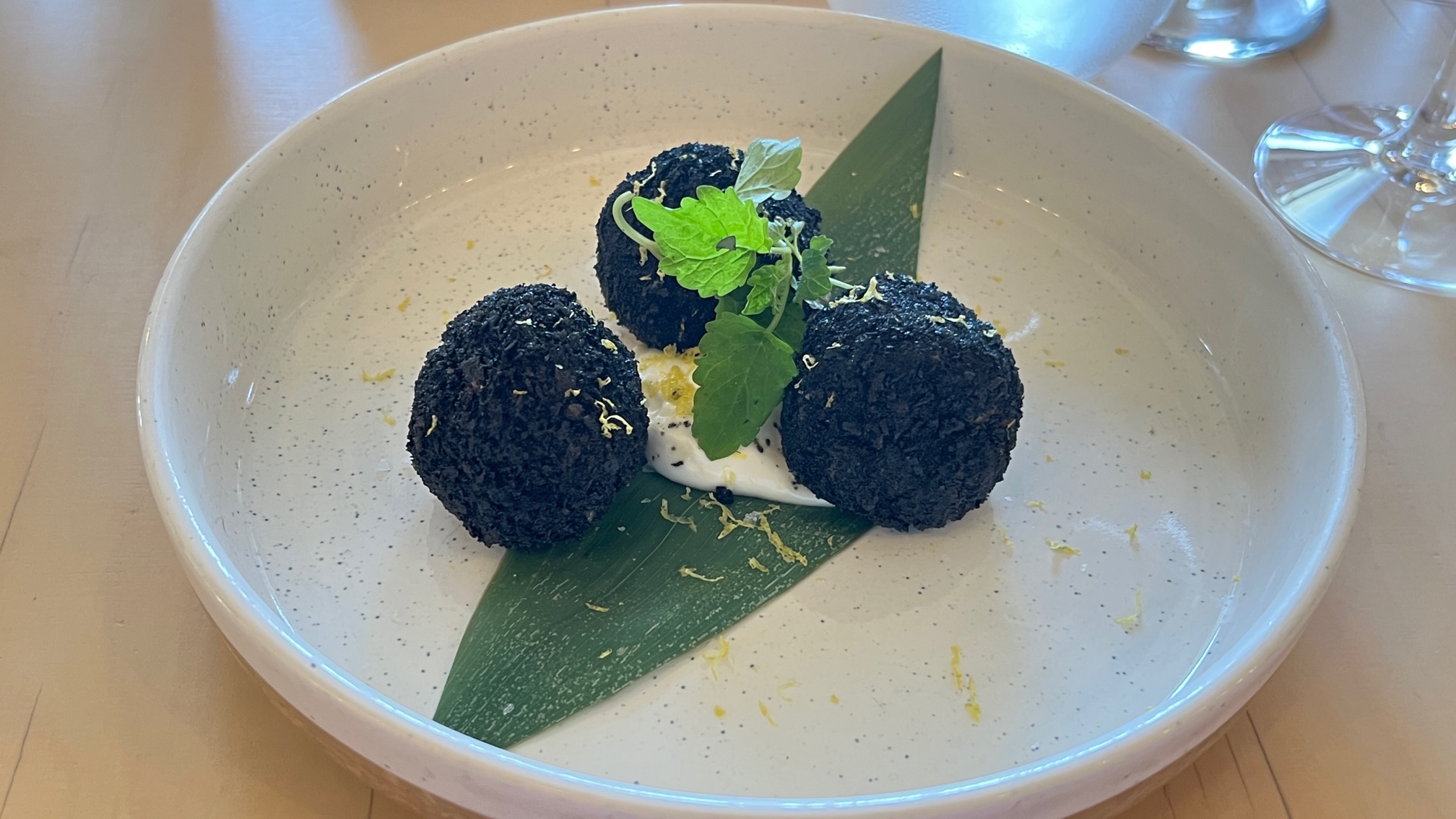 Perfectly cooked tender pink breast of Gressingham duck was our main course
with braised chicory, baby carrots, black cherries and cherry jus. This was a
very well executed dish. Sonsierra Tempranillo with its red fruits and liquorice
was perfect with the cherry jus and duck.

Dessert was art on a plate, picture perfect strawberries, cream, yuzu curd,
mini meringues, almond nougatine and green basil decorated with edible flowers.
Words don't do it justice – it was an explosion of flavours! Tea and coffee were offered.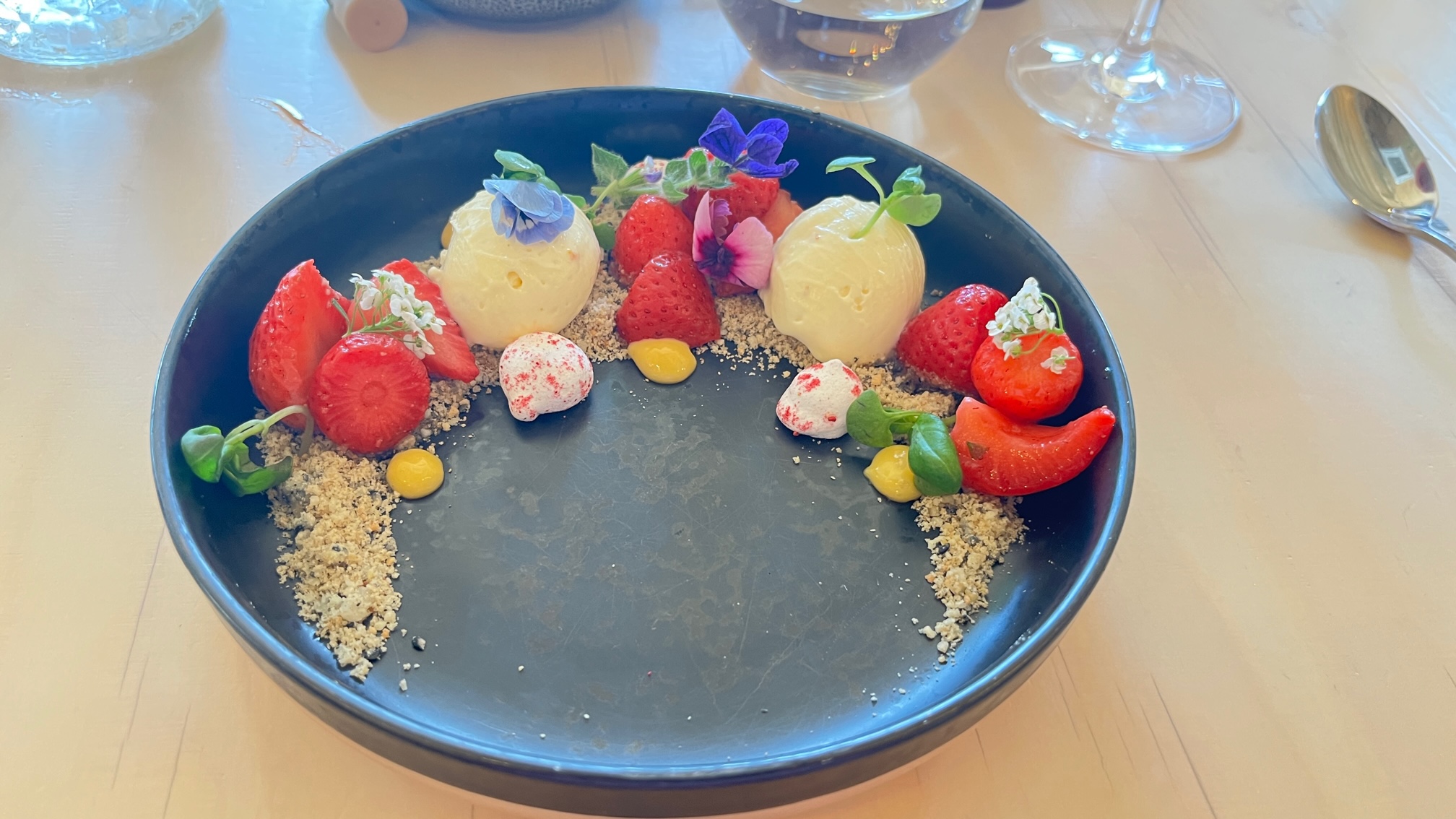 A wonderful time was enjoyed by all and chef Neil Kall excelled with his delicious food, manager Paul couldn't have done more to make our event a success and Stefano and Rabu were most attentive which meant the service was faultless. Ronnie thanked them all at the conclusion of lunch.

Ronnie Costello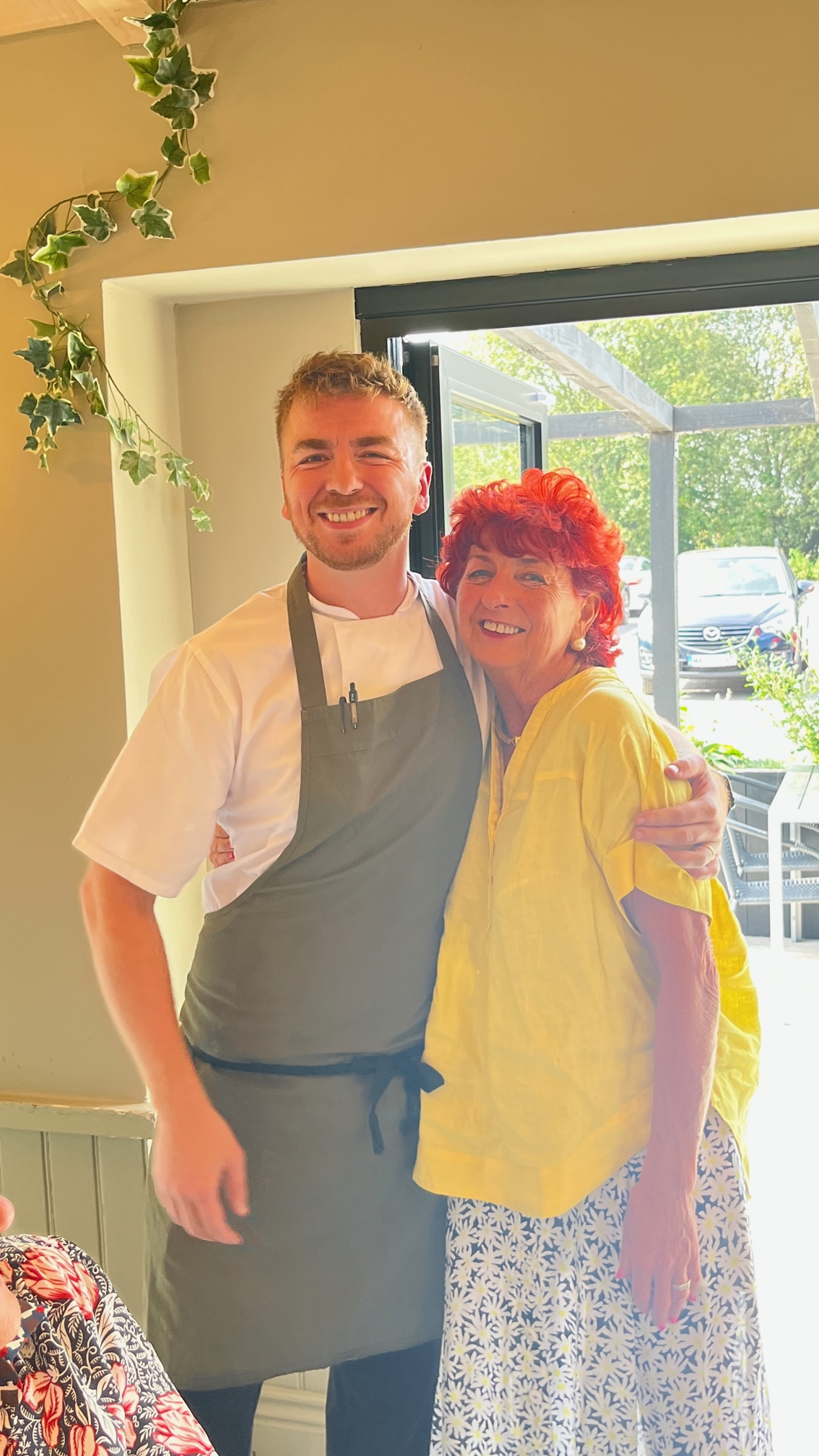 Summer Lunch at the Bowdon Club July 23rd 2023
On a not so sunny July afternoon, members and their guests gathered at the historic pavilion of Bowdon Cricket, Hockey and Squash club for their annual Summer Lunch.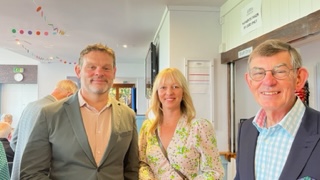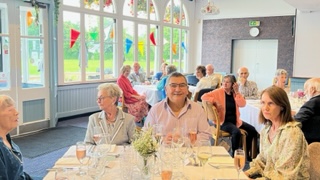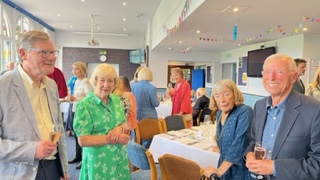 Sadly, due to the weather there wasn't the background sound of leather on willow as hoped but there was the sound of a convivial reception to the lunch with a generous serving of the South African Graham Beck sparkling Rosé.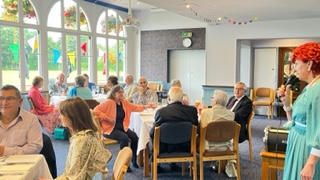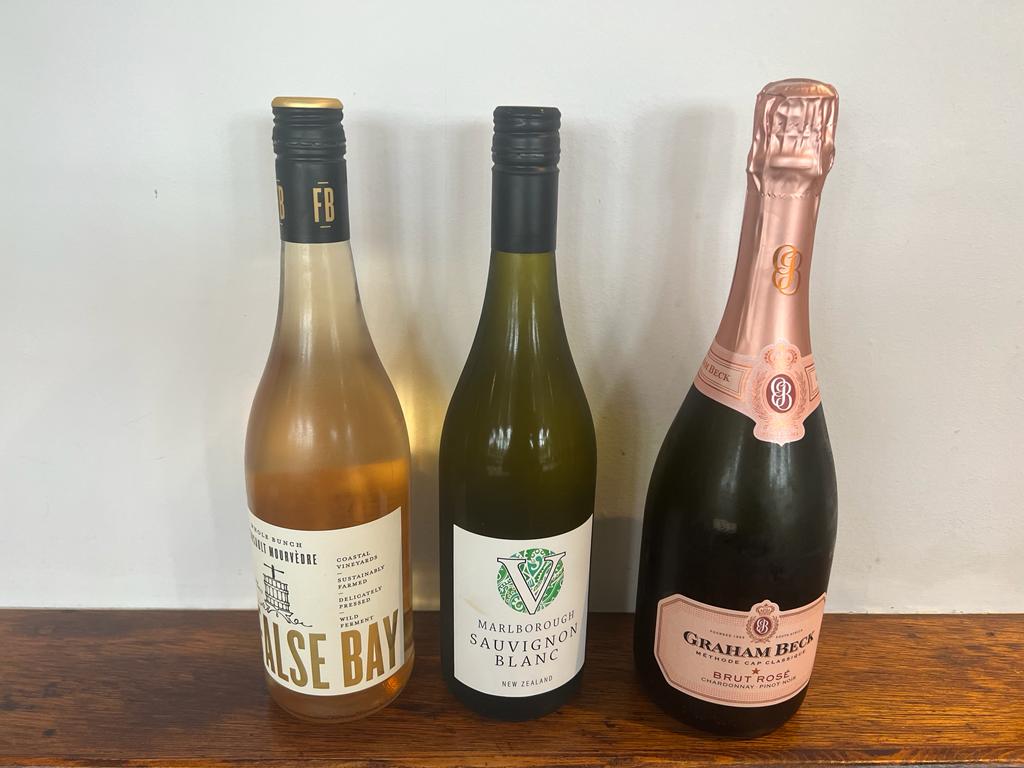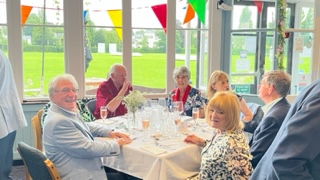 Following a short welcome to Members and Guests from our Chair Ronnie Costello the first course of our three-course lunch was served.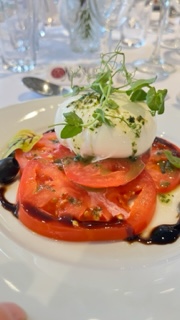 This was a well-presented dish of Burrata. The outer case was perfect soft Burrata with an oozing soft interior of cheese curds and cream, accompanied by vine ripened beef tomato with a balsamic reduction adding great flavour. Basil leaves added a finishing touch. The matching wine was a Marlborough Sauvignon Blanc.

The main course was a delicate Honey and Mustard glazed grilled Salmon fillet with roasted fennel and new potatoes, topped with a white wine and cream reduction. This was a delicious and very indulgent dish !
The pairing wine was a False Bay 'Whole Bunch' Cinsault Mourvedre Rosé, perfect with the Salmon.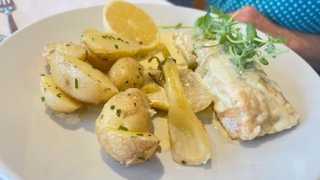 The Dessert course was a delicious Summer Pudding, rich in summer forest fruit and accompanied by Devonshire clotted cream and blackberry jelly.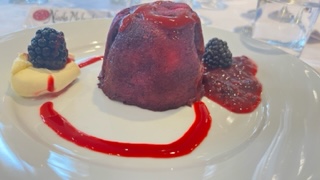 Thanks were given to the staff and especially the Chef Duncan Dickinson who is MD and Executive Chef of the company Herb and Spice, and has expanded his culinary expertise through a great deal of international travel.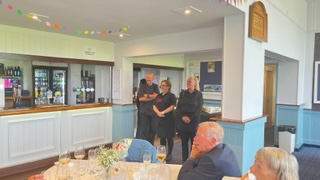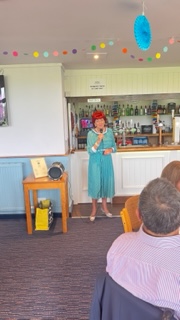 The venue was brilliant, the food and wine was superb and we had a great atmosphere, but the rain continued!

Ron Cowley
*****************************************************************************************************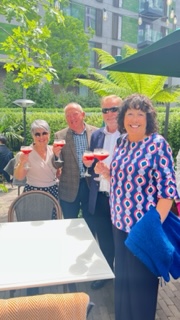 Lunch at the Black Friar on 7th June 2023
On a sunny June afternoon Manchester members and guests gathered in the stunning garden at The Black Friar where we enjoyed a strawberry and vodka based cocktail which was very well received and perfect in the sunshine.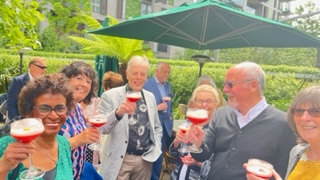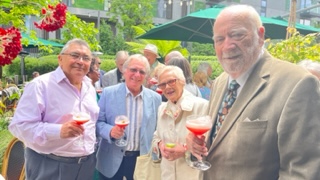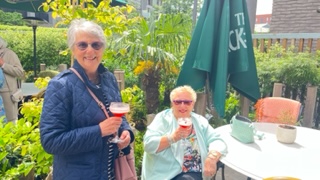 We then took our seats in the glass room which overlooks the garden. Chair Ronnie Costello welcomed everyone.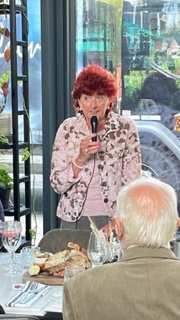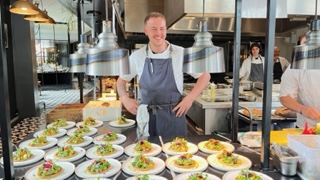 Rustic artisan breads, whipped flavoured butter and mixed olives were presented, all delicious. Primavera Tart Fine was served this being the perfect summer starter -light crisp pastry, pea mousse, fresh green asparagus, peas, broad and edamame beans highlighted by dots of lemon gel and decorated by edible flowers. This was a work of art on a plate. Organic Verdejo – Airén Soñadora La Mancha was served which was crisp and fresh with notes of apple and pear, perfect with the tart.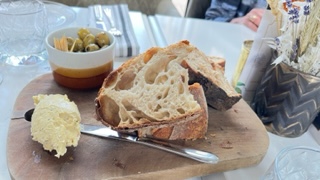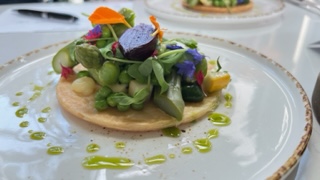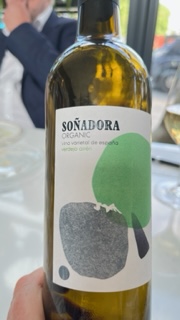 Our main course was Chicken Normandy- succulent chicken breast, confit leg, crisp bacon and apple with a delicious cider and apple sauce, pomme purée and greens all beautifully presented. This dish was much enjoyed by everyone. Grenache-Carignon, Les Lauriers, Languedoc accompanied the dish a soft, silky smooth red with flavours of cherry, plum and cassis was well received.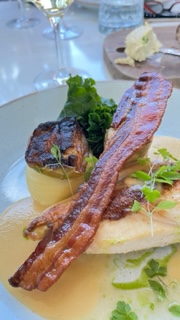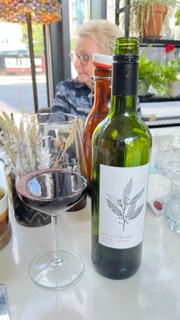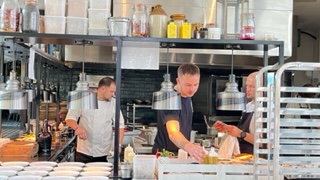 Treacle sponge roulade with vanilla custard was not sponge pudding as we know it ! Light sponge with delicate custard was a fitting end to a most enjoyable a memorable meal. Tea and coffee were offered.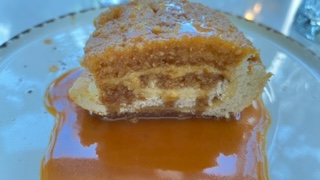 Ronnie thanked Chef Ben and his brigade for an exceptional meal and Vito and Holly for their excellent and attentive service which could not be faulted.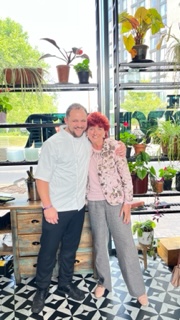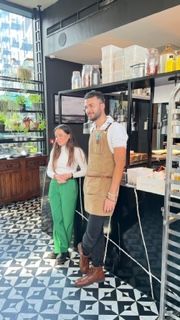 Ronnie Costello.
Awards Lunch for the Northern Colleges Competition 2023
The Competition will be reported upon elsewhere so I shall confine myself to reporting upon this lunch, held in the Signature restaurant at Bolton College.
We were greeted by a lovely glass of Valencian Medien Rose Cava which was a fresh and elegant aperitif. All the wines had been chosen by Ron Barker of Blackpool.
At the event were sponsors of events, members of staff from Colleges, members from Northern branches and student finalists. I was lucky enough to sit opposite two delightful students from Scarborough.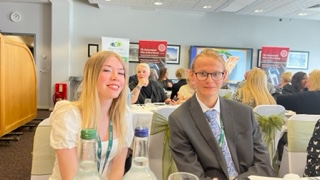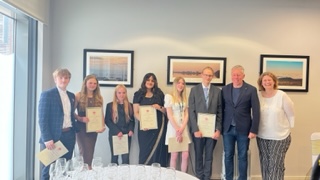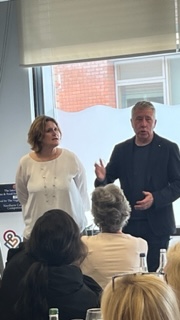 The starter of goat's cheese spheres with beetroot was a very accomplished dish brightened by a little fresh orange. This was served with a delicious Sauvignon Blanc from Uruguay, Sierra Oriental Reserve 2021.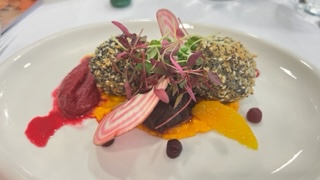 Our main course was mushroom arancini with tomato sauce and basil oil. It was well executed but the filling could have had more flavour. The red wine to accompany this dish was Domaine Saint- Lannes Les Peyrades 2021 from Cotes de Gascogne. This was a wine with plenty of 'oomph'.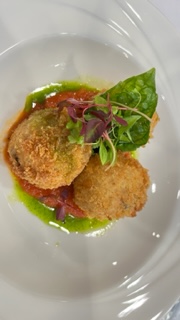 The dessert was a white chocolate mousse with raspberry compote and shortbread biscuit. This was one for the chocoholics but a little large for most of us. It was no doubt a difficult dish to pair a wine with but Ron did an excellent job with the Quinta de Bacalhoa Moscatel de Setubal. This orange fortified wine was a very interesting choice and worked well.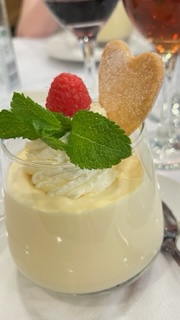 The students did an incredible job putting together this lunch for around 60 people and the service from students was superb. We had a most enjoyable time and really appreciated the efforts that had gone into this.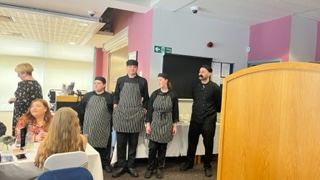 Nicola McLoughlin
Dinner at Trafford College
The Manchester Branch's Spring event was a return to Trafford College Catering School on 27th April. It had been several years since we last visited, and our dinner this time was certainly enjoyed by all the members and guests.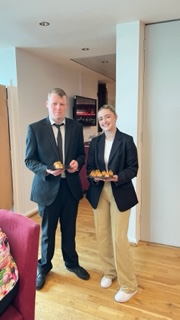 We were welcomed by students serving us a refreshing glass of Cava. Later we sat down to enjoy a three-course dinner all prepared and served by the students. The first course was a pressing of chicken studded with baby leeks, herbs and toast. This was beautifully presented and accompanied by a glass (or two) of Cal Y Canto, Verdejo, from Spain. The wine matched the course well.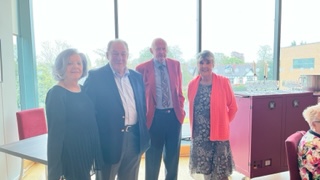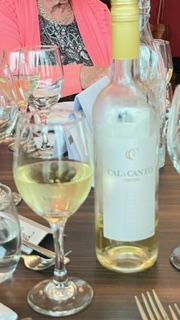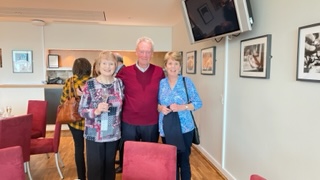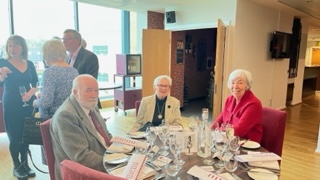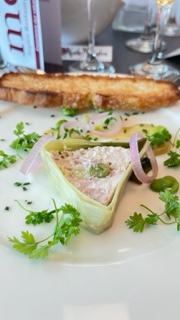 The main course was pan-fried fillet of Seabass, spring greens, crushed new potatoes, shrivelled tomatoes and salsa verde. The fish was well cooked with a nice crispy skin, and beautifully complemented by the vegetables. The presentation on the plate was excellent. A Merlot Rose, Aves del Sur, from Chile had been selected as the accompanying wine, and it enhanced the dish, but some felt the wine lacked some interest on the palate.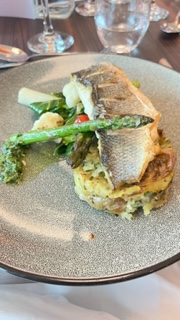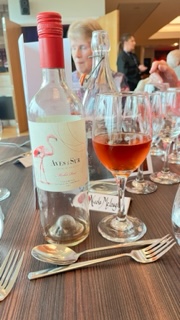 The dessert was a trio of Vacherin, Summer pudding and Chocolate torte. All were much enjoyed and displayed the different skills of the students.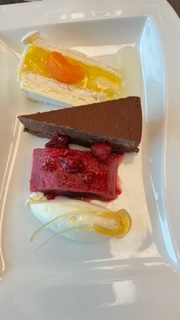 The students were congratulated for their impeccable service and fine cooking. The Branch will hope to return again in the very near future.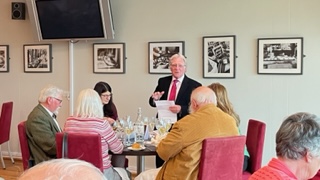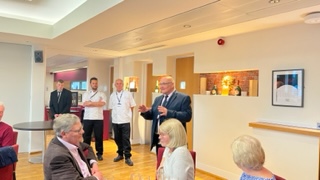 Richard Martindale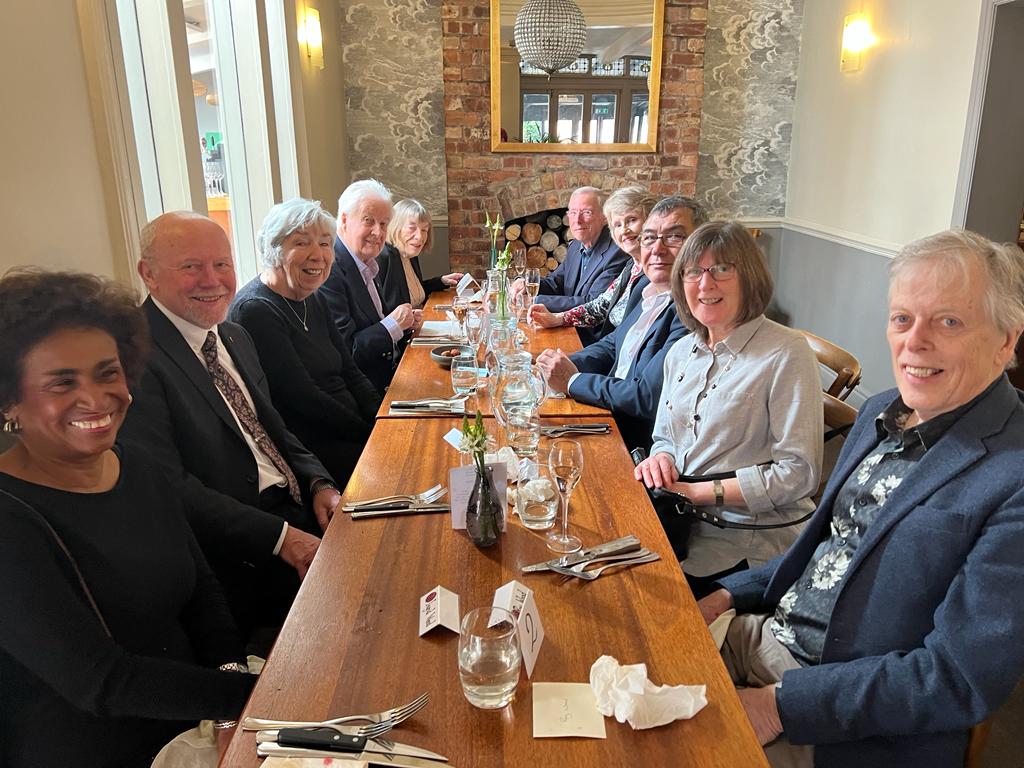 The Lime Tree, Lapwing Lane, Didsbury, Manchester
Saturday 11th March 2023
What an excellent lunch! The Lime Tree is an award-winning family-owned restaurant which prides itself on quality, seasonal and local produce much of which comes from their own farm at Macclesfield Forest. Immediate chatter and a buzz accompanied the pre-lunch choice of a sparkling rosé, Bouvet-Laudubay, a branch favourite exhibiting pink fruits and a good clean finish, nibbles and Catalan toast, the latter with a fresh tomato and intense garlic flavour – just enough to whet our appetites for the lovely lunch which followed.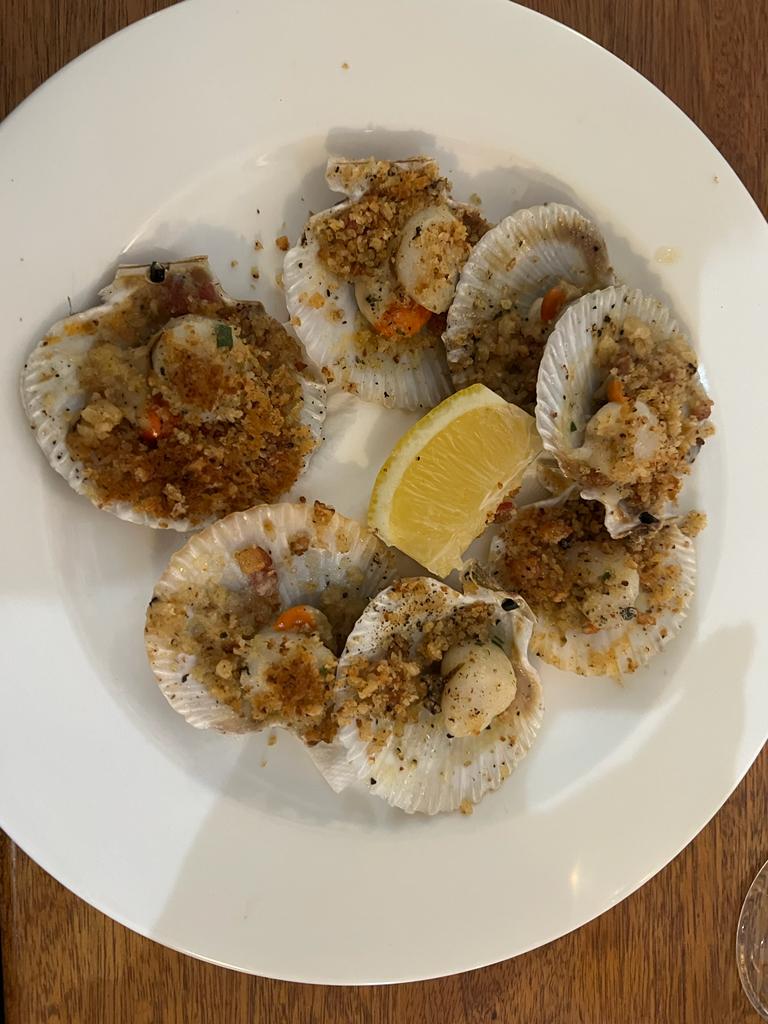 Chair, Ronnie Costello, welcomed guests from mid-Cheshire and additional visitors and though there were vegetarian options for each course, most of us enjoyed Queen Scallops in a garlic parsley butter with a bacon crumb, lightly and exquisitely cooked. A 2021 blanc, Cotes Du Rhone, La Fleur Solitaire from the restaurant's wine list, was a perfect, nicely dry choice, to go with this delicious dish.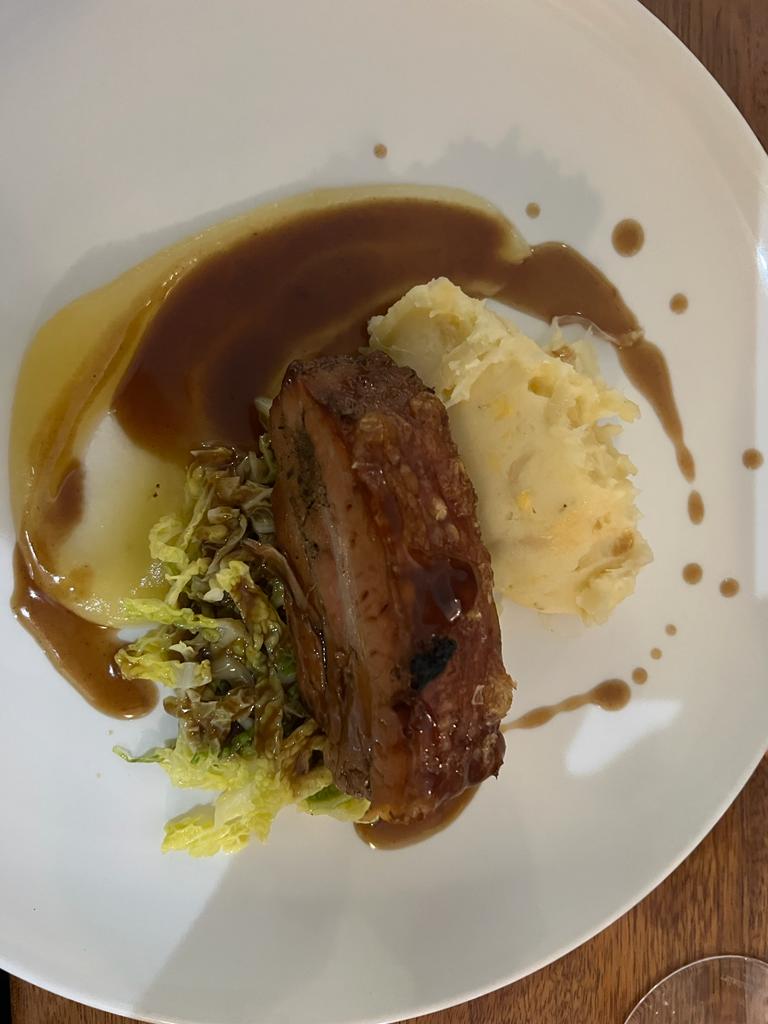 The main course of crispy pork belly, cheese and onion mash, braised cabbage and apple looked good on the plate and tasted tender – the chef executed this dish with a perfect touch. Perfect crackling too! Les Couteaux Cotes du Rhone Villages 2021 accompanied the dish well.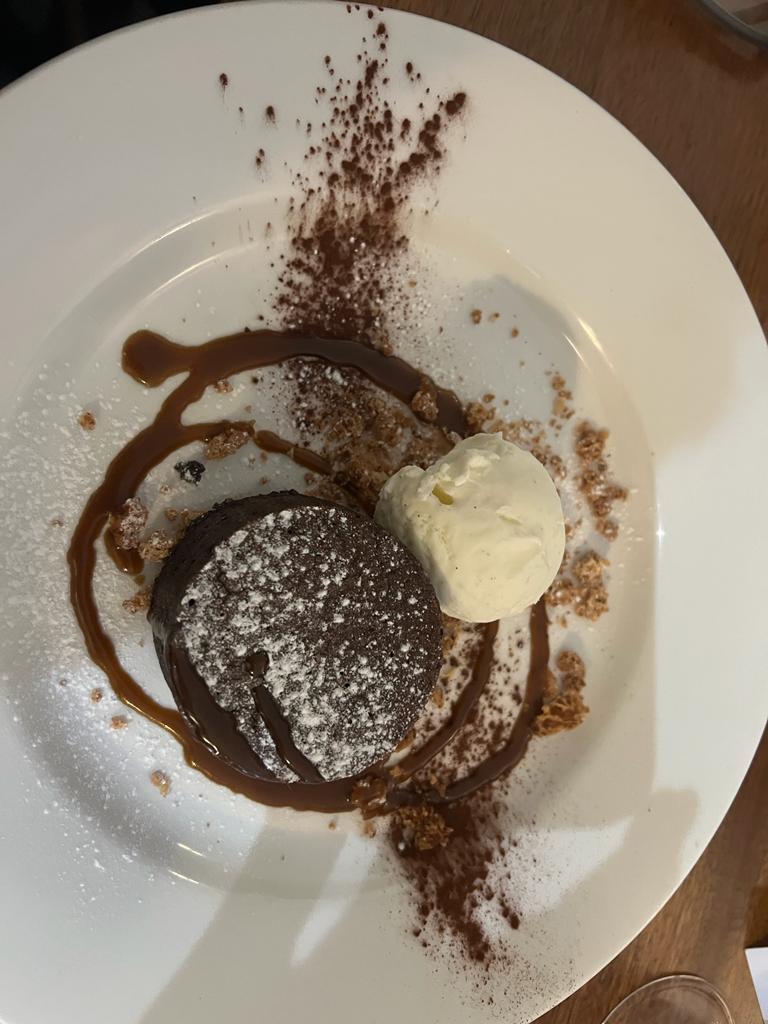 Warm chocolate torte followed, extremely light with a most intense dark chocolate flavour, again show-casing the chef's style and touch.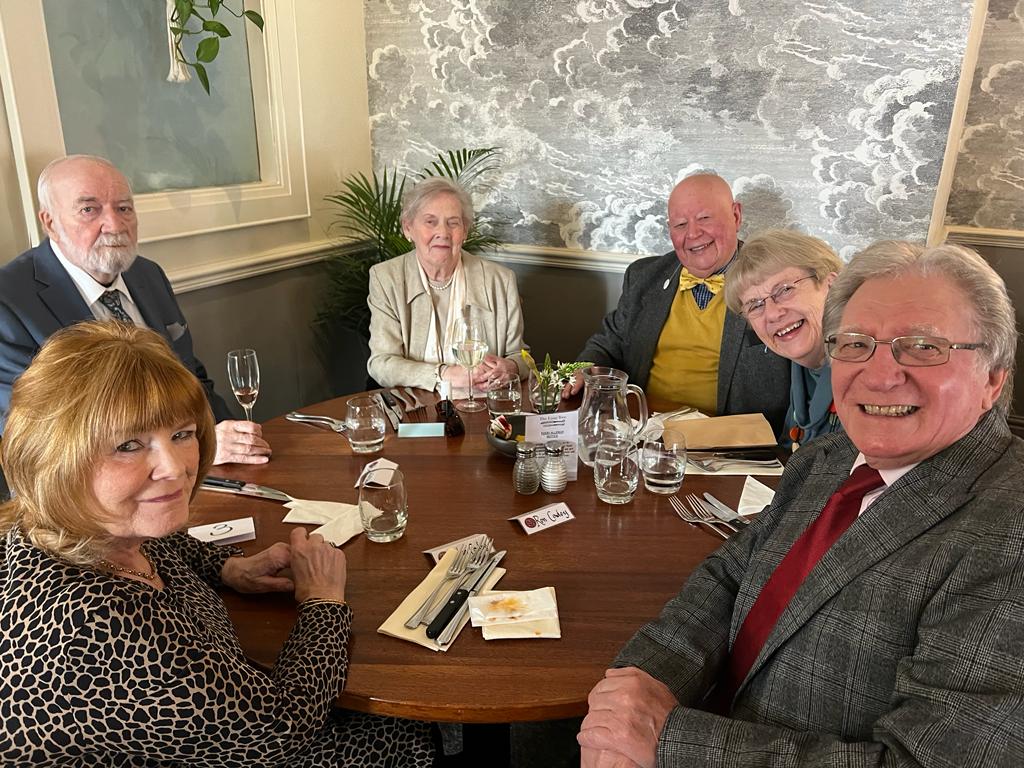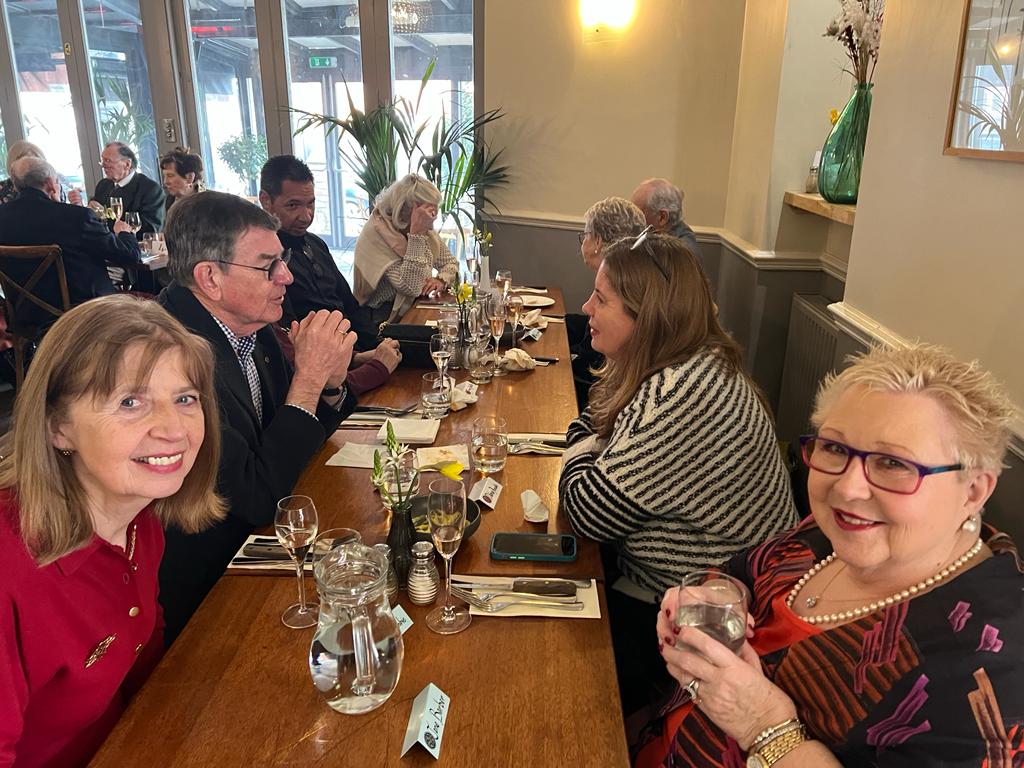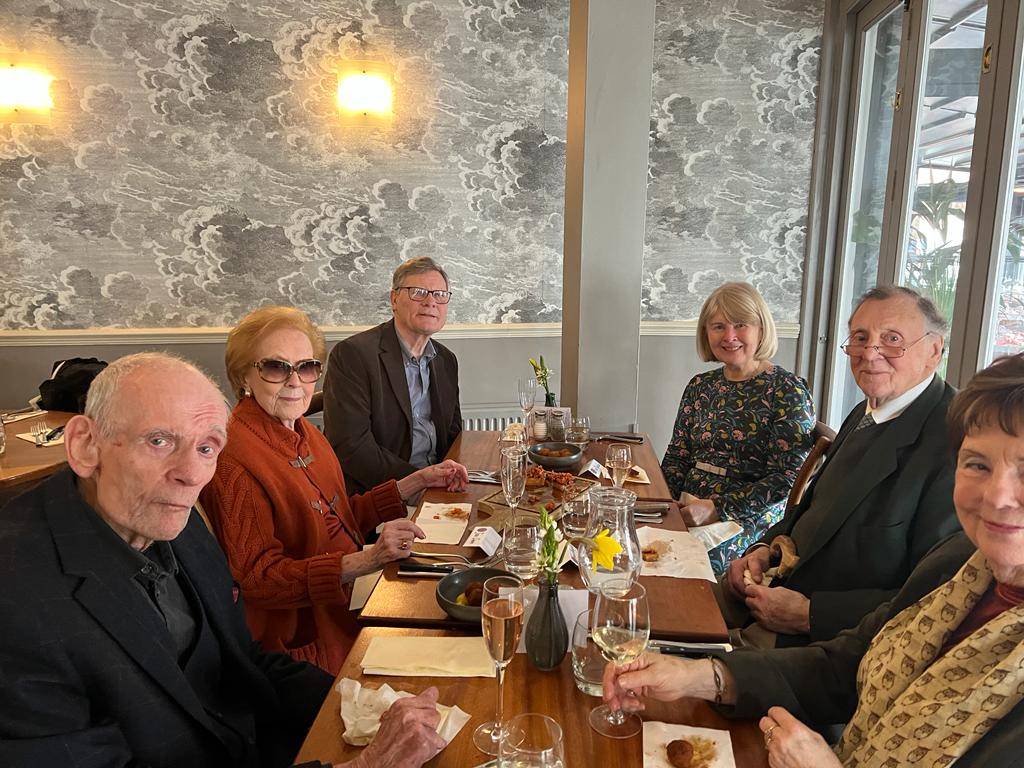 The restaurant's own unfussy but aware approach, created a relaxed atmosphere and the hard- working staff and of course, chef Dave, were much praised and thanked wholeheartedly by Ronnie. We enjoyed ourselves tremendously and will surely return.
*********************************************************************************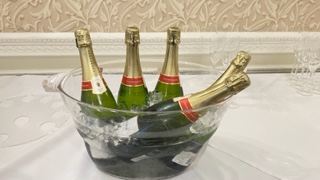 MANCHESTER BRANCH OF THE INTERNATIONAL WINE & FOOD SOCIETY
AGM AND LUNCH ON SATURDAY 11TH FEBRUARY AT THE MIDLAND HOTEL
What better place to be than the Derby Suite at the Midland Hotel in Manchester on a Saturday lunchtime in mid February.
41 members and guests gathered for our AGM and lunch which commenced with a champagne reception followed by the business of the day.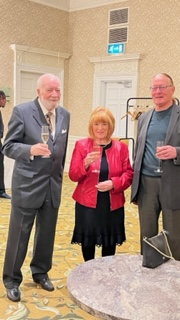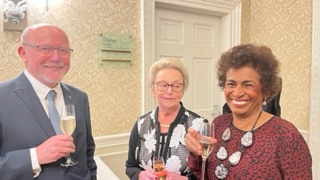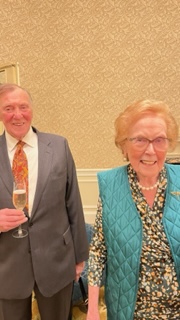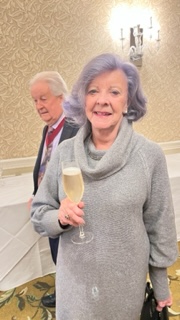 Our treasurer Ron Cowley brought a Mr Micawber moment (CD-DC) in reporting on a small surplus on the year but the highlight at the conclusion of the business was the presentation of the newly created 'Exceptional Service' Award to our Chair Ronnie Costello, the presentation being made by Dr Tricia Fletcher the National Awards Officer.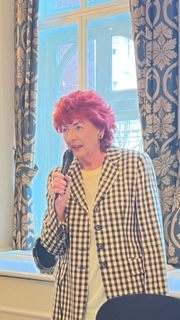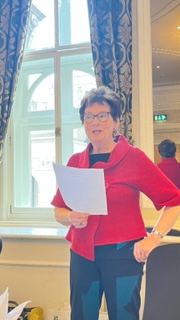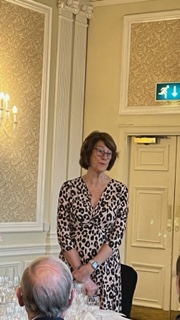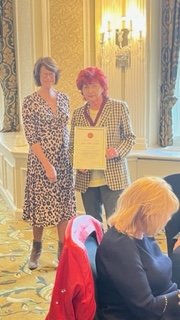 The lunch itself commenced with an enjoyable Lobster and Rabbit Roulade accompanied by a 2021 chardonnay from Harewood Estate Western Australia.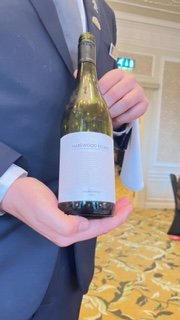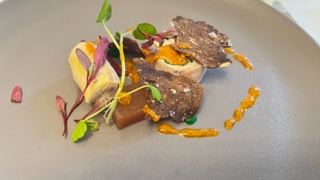 This was followed by the most culinary part of the meal; a deliciously cooked Blackened Sirloin of Beef with pressed potato terrine, onions, black garlic and lovage. The excellence of the food was matched by a well-chosen Chateau Kefraya 2016 from the Lebanon.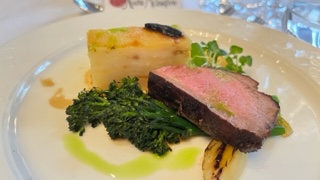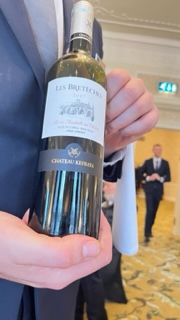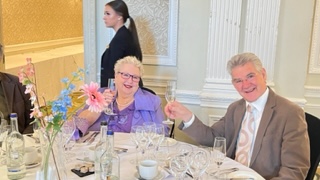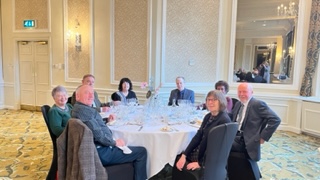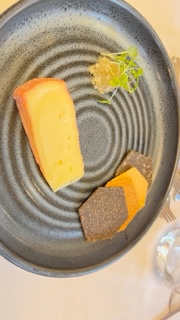 After the cheese the meal was concluded with a Caramelized Rice Pudding with Rhubarb jam, milk skin shards and clotted cream ice cream.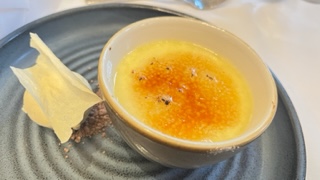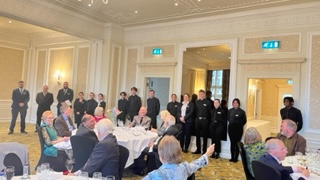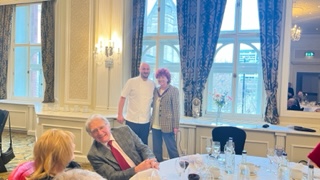 Overall any slight disappointment in the numbers attending (down from 60 members and guests in 2022) was more than made up for in the overall quality of the food and the excellent choice of wines to match.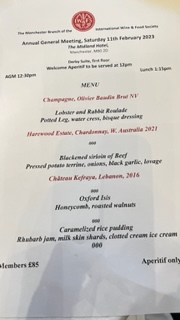 John Appleby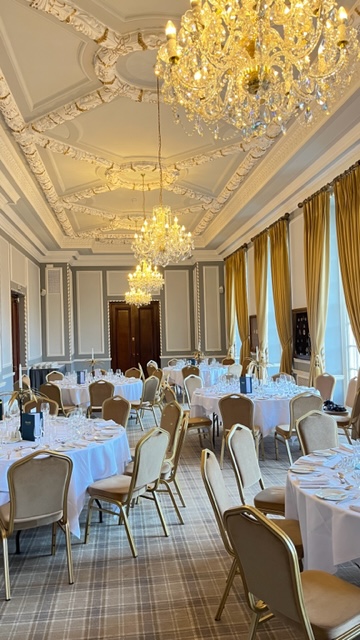 Christmas Lunch in the Museum Room at Manchester Hall.

11th December 2022
On a very cold, sunny Sunday in Manchester 50 hardy souls met for lunch in the Museum Room in Manchester Hall to celebrate the approach of Christmas. Manchester Hall, a Grade 11 listed building designed by Percy Scott Worthington, has had an impressive refurbishment combining the period with the modern. The Museum Room has been elegantly decorated and is a most light and attractive room radiating an historic atmosphere with a beautiful ceiling decorated with plasterwork highlighted in gold.
Under the twinkling chandeliers we enjoyed, as an aperitif, a delicious Bouvet-Ladubay Brut Rosé which demonstrated pink fruits and a very good, clean finish.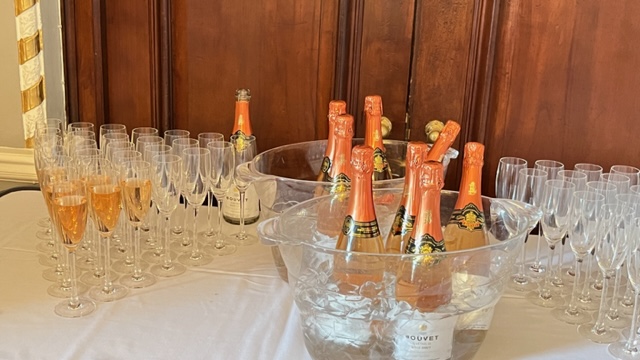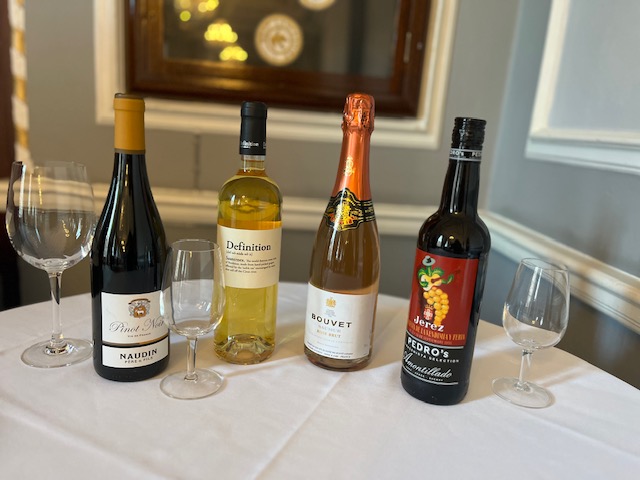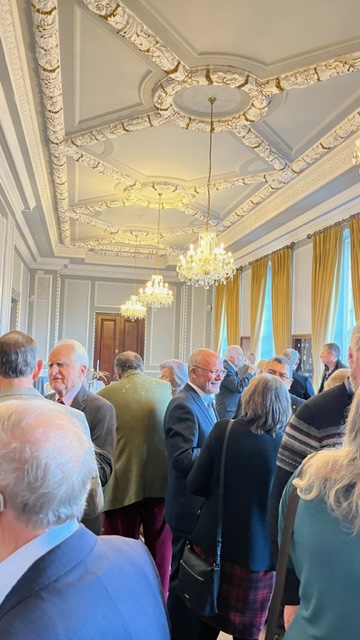 We began the meal with Roasted Parsnip Soup with a Parmesan Crisp and Truffle and Chive Cream. The creamy concoction of flavours was absolutely delightful and intriguingly matched with Pedro's Amontillado Sherry……. It worked!
To follow, we were served very tasty, locally shot Pheasant (one diner discovered a pellet!) accompanied by Pickled Blackberries, Roasted Cauliflower Purée and Fondant Potato with a Juniper and Port Sauce. This was excellently matched with a Domaine du Clos Naudin Pinot Noir from Southern France which certainly felt like an older vintage in its texture and length.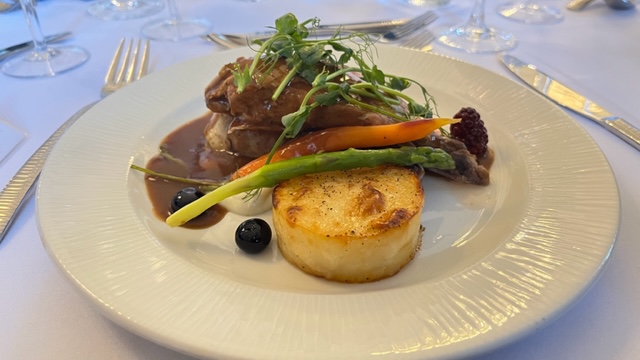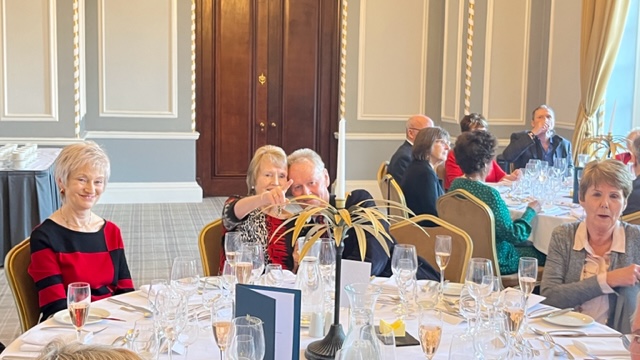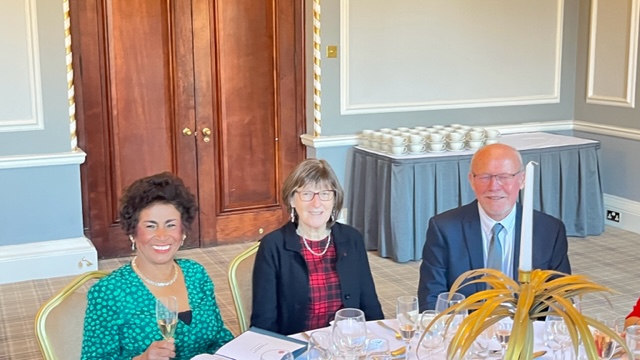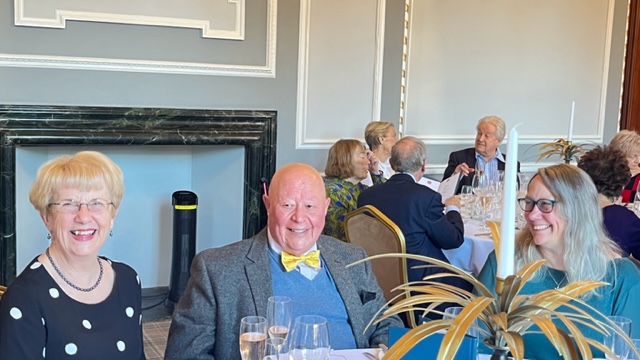 Before the dessert course, we enjoyed some cheese - Cashel Blue and Rutland Red accompanied by Fig, Red Grapes and Charcoal and Oat Crackers.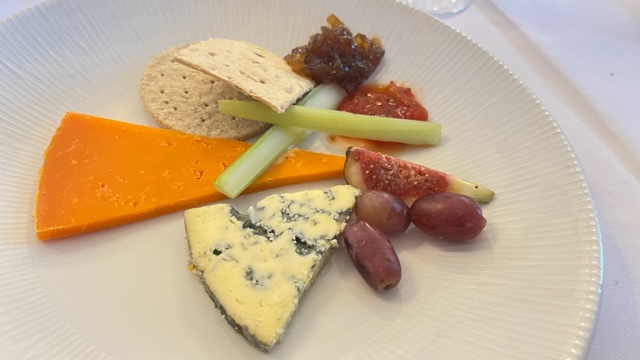 Dessert was a light and delicious Almond and Pear Tart served with Toasted Almond, Chantilly Cream & Candied Pear. These flavours married well with the Definition Sauternes from Southern Bordeaux which accompanied the Tart.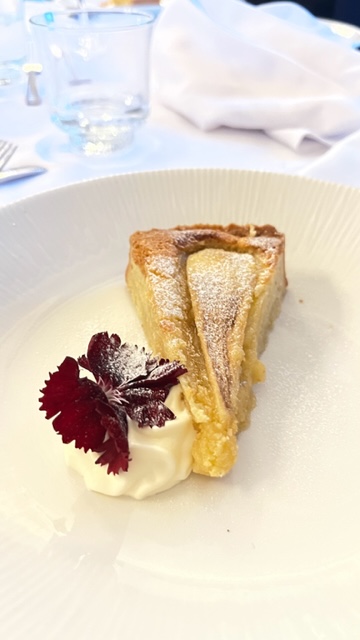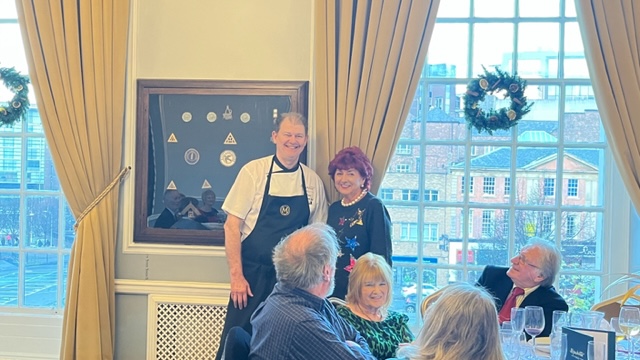 Ronnie congratulated the chef on a delightful meal, highlighting the soup in particular.
David and Linda Connor
Summer Lunch at the Black Friar
16th July 2022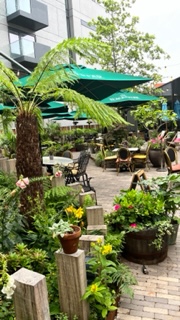 We were excited to return to the beautiful setting of the Black Friar on a Summer's day. We gathered in the stunning courtyard garden ( which is in the top 10 entries for an award for Urban Garden of the Year) and were offered a glass of Bouvet- Laubady rose Saumur or a plum gin spritz in a very large glass with delightful garnish. Many of us went for the gin spritz and thoroughly enjoyed it. The Bouvet is a favourite of ours so we were off to a good start.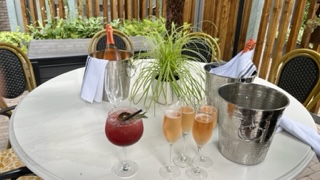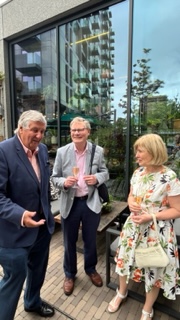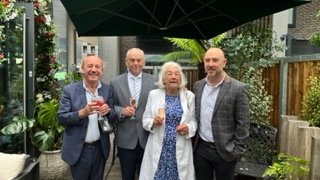 When we came to take our seats, Neil Burke's highly professional team brought us freshly baked bread and olives and offered a choice of wines. The white was 'Sonadora', an organic verdejo/airen blend. This was dry but with plenty of fruit and a good choice with our crab starter. The red wine was 'Les Lauriers', a blend of Grenache and Carignan from Pays D'Oc. This was a light young wine and appropriate for the light style of the main course of chicken.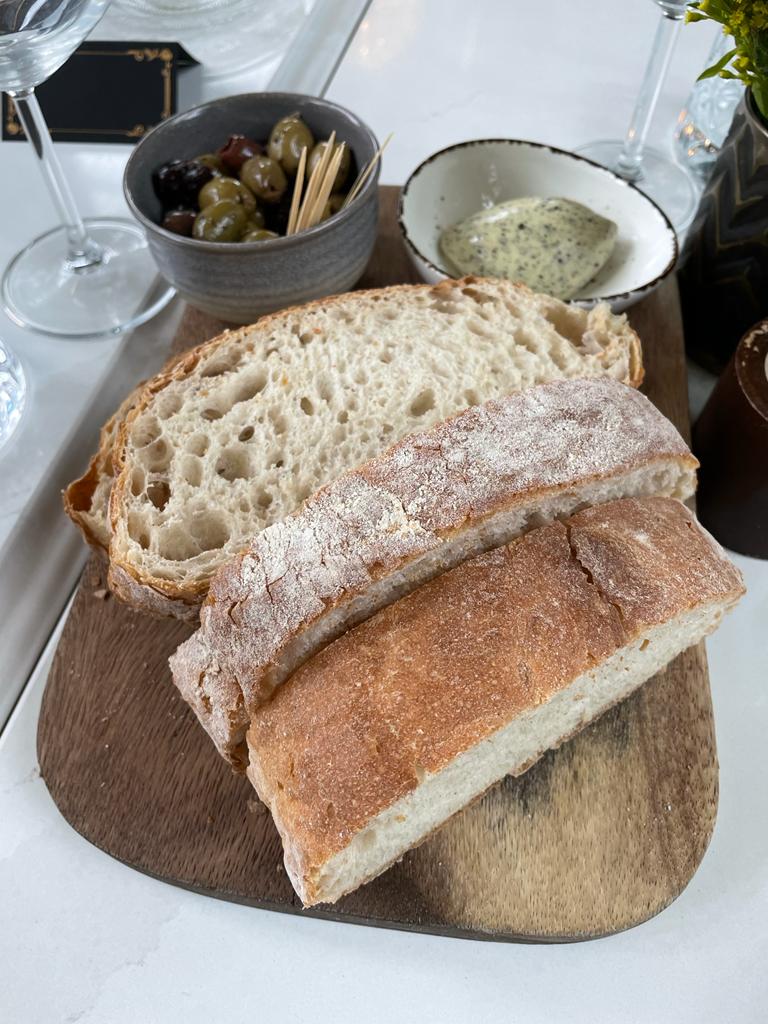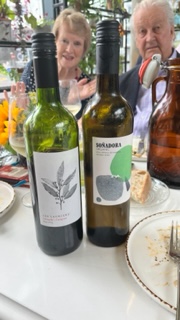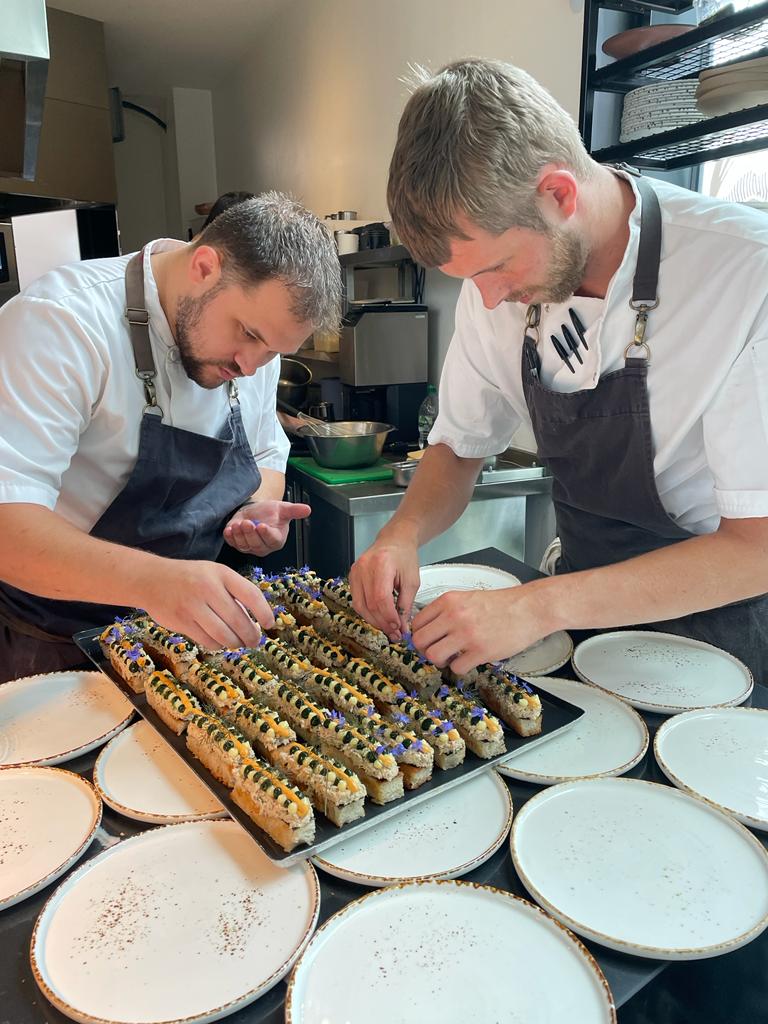 The starter was simply stunning! Brown crab is used to make a mayonnaise on which the dish sits. Brown and white crab along with dots of a basil and lemon gel and dots of squid ink are skilfully mounted on a base of toast and dressed with flowers and herbs. It was a delicious as it looked!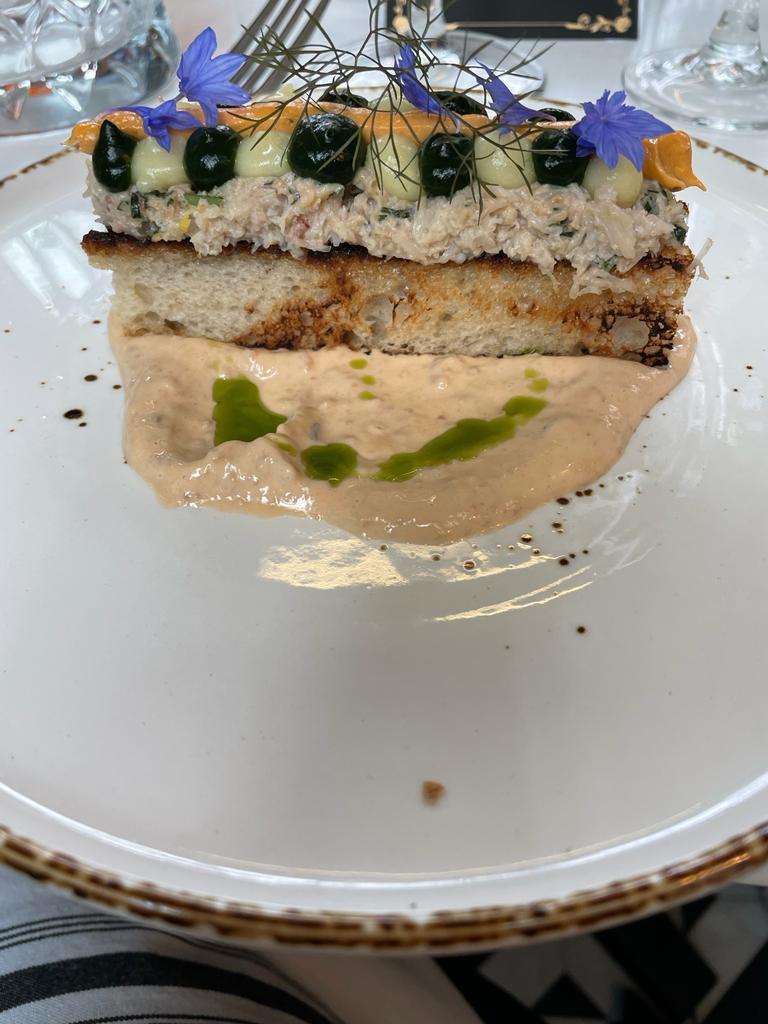 The main course was Summer truffle stuffed chicken in a consommé with baby summer vegetables such as purple and orange carrot and turnips. This was light and flavourful with the earthy truffle, and the vegetables were just al dente.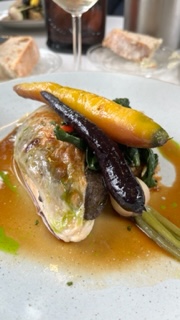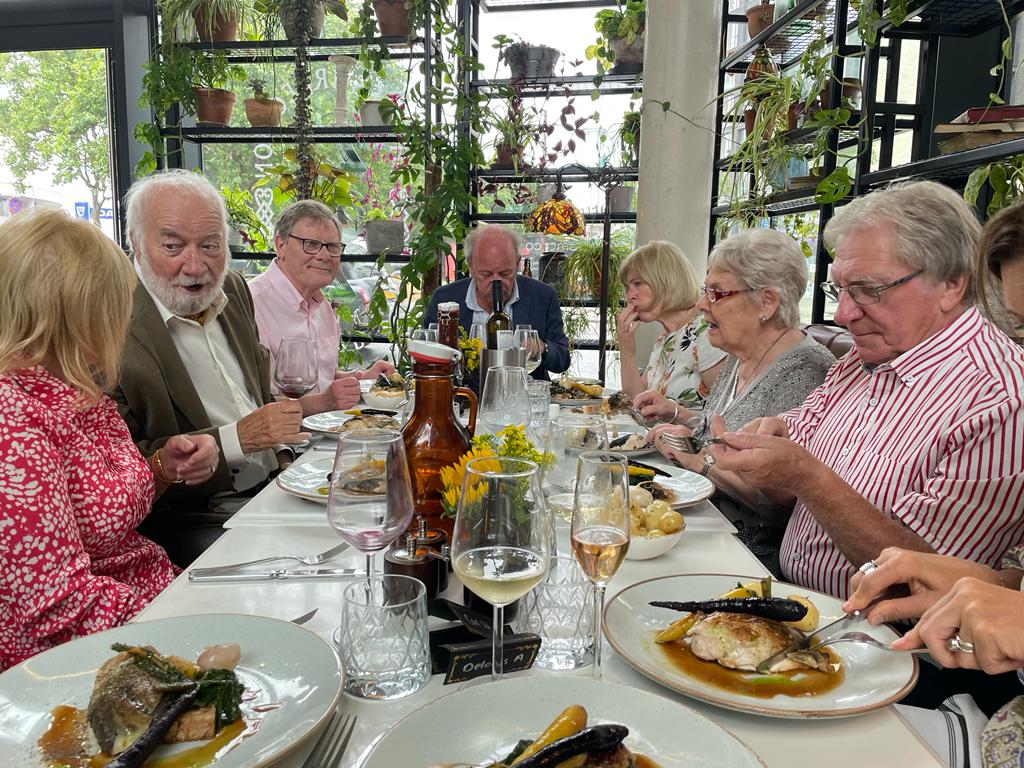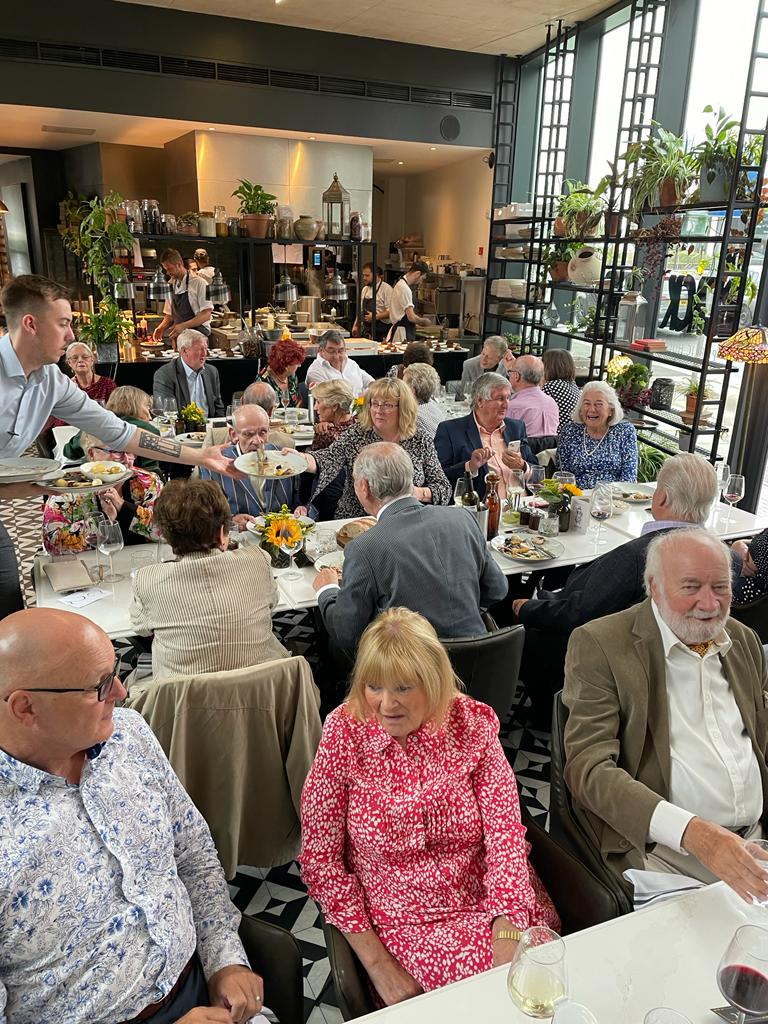 The dessert was a tart case of dark chocolate biscuit base containing rich creamy caramel and accompanied by a lemon sorbet. This was a serious pudding!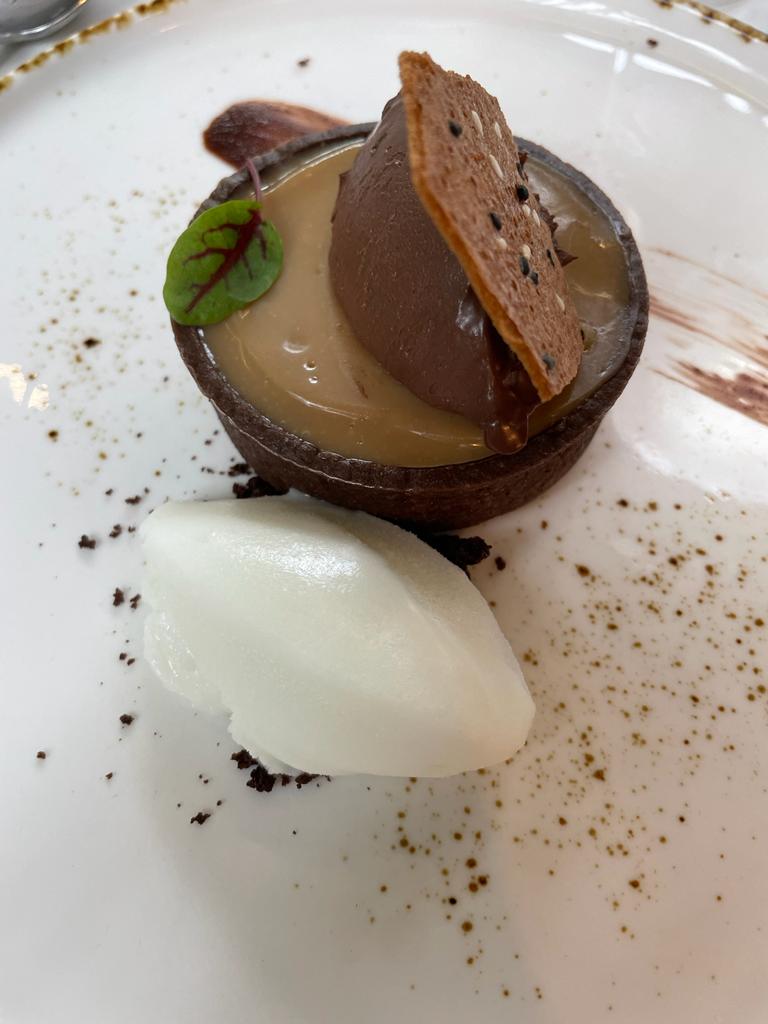 After two outstanding meals cooked by Head Chef Ben Chaplin and team, both with excellent service, we took the opportunity to thank Neil and his teams at the Black Friar by presenting an Excellence Award. They were proud and delighted to be recognised in this way.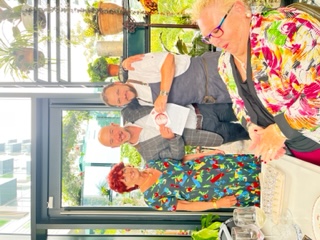 Tea and coffee were served to round off this sumptuous lunch.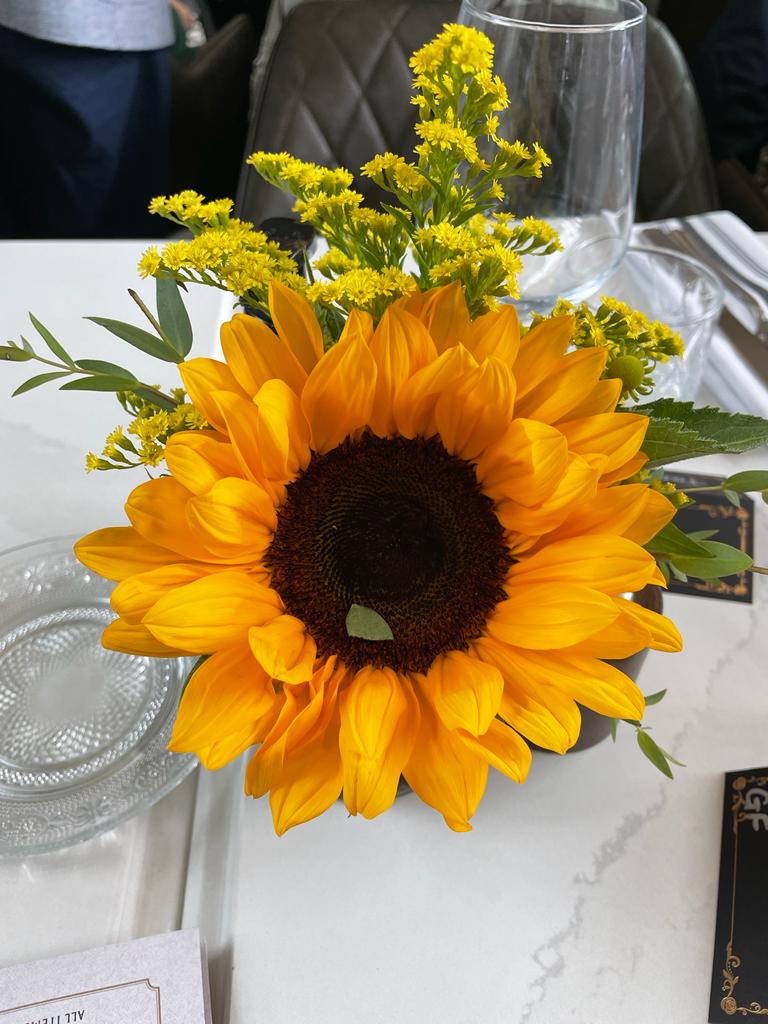 Nicola McLoughlin
GREAT CLASSICAL DISHES RE-INVENTED
********************************************************

" Much have I travell'd in the realms of gold

And many goodly states and kingdoms seen " ( Keats )

Although Keats referred to the kingdoms of his era , the present day wine and food equivalent of the 'realms of gold ' continues to have at its forefront , in my view , the much-loved ' throne room ' of 'The French ' at the Midland Hotel , Manchester , where the present 'King' is Chef/Patron Adam Reid , and his 'goodly state ' there was visited by 32 members and guests of the Manchester IWFS branch on 12th May 2022.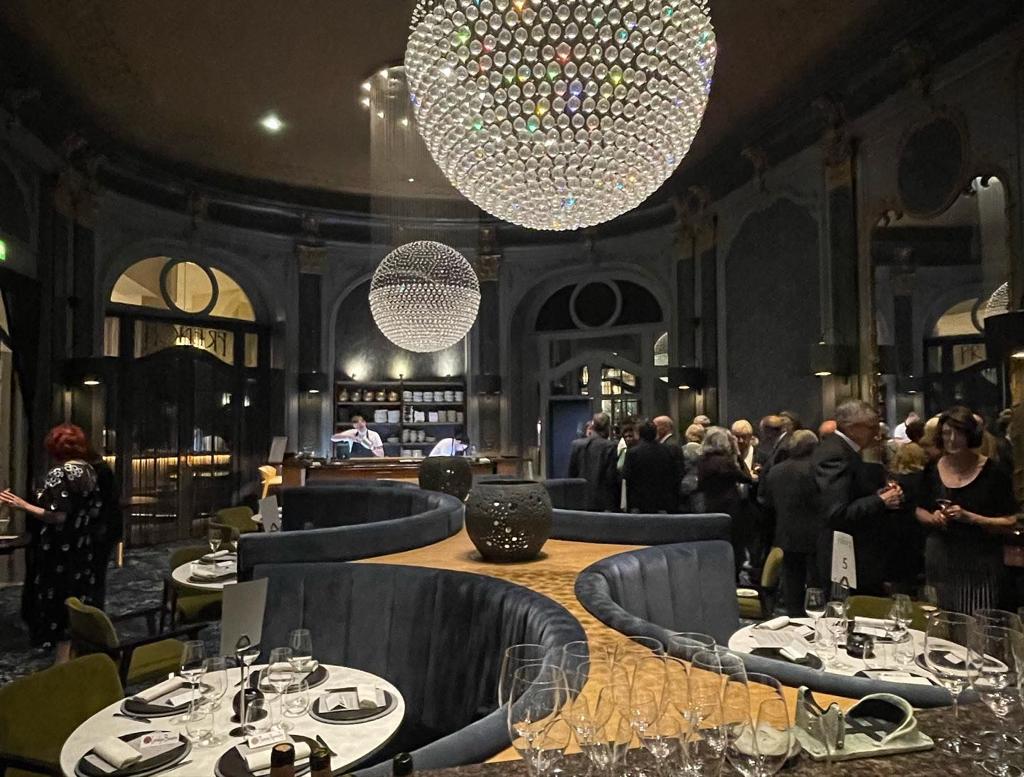 You arrive not knowing what you will be given ( though allergies notified in advance are well catered for ) because Adam only decides on the dishes on the day , using the freshest ingredients available .The style is 'Modern British with a Northern touch ' but do not be deceived by apparently humble titles for dishes . First evidence of this were outstanding canapes lurking under Adam's modest description of 'Snacks' . A skillfully made cheese-infused light cracker with chives, hazelnuts and onion , and then a confit shallot with trout roes were both excellent blends of tastes and textures and were accompanied by a light rose wine , Cuvee Prieur , Chateau Sainte-Pierre, Cotes de Provence 2020 . Again , a modestly described ''French Malt Loaf' ( from the local Pollen Bakery ) was sourdough made with chocolate malt flour and balanced by beef butter and drew much praise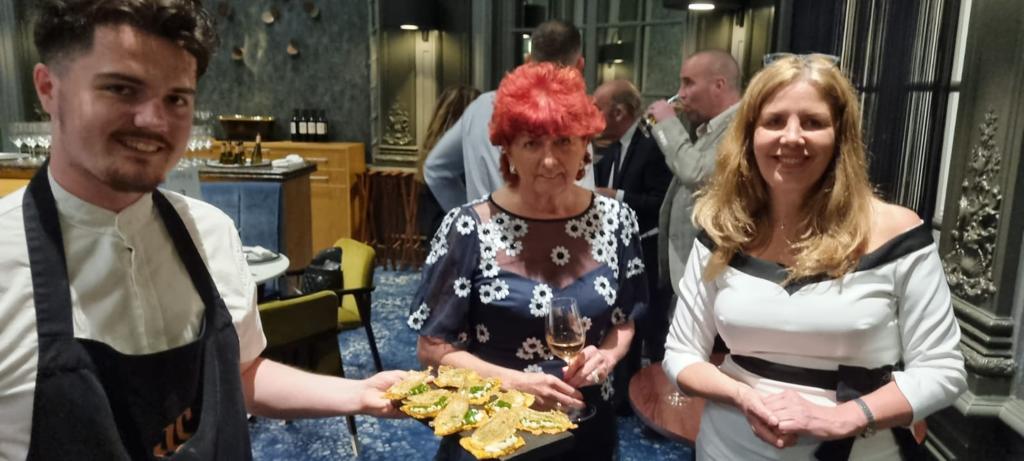 Next , very fresh scallops from the West of Scotland , paired with English Asparagus , in a dressing of toasted hazelnuts , chardonnay vinegar and tarragon gained many positive comments .Some people were surprised that the scallops were served cold ( perhaps the menu card should have made that clear in advance ?), but once over that surprise the tender flesh and very sweet blend of flavours in the dressing was widely described as 'stunning ' ( one dissenting voice apart ) . A Sipp Mack Pinot Gris 'Tradition' , Alsace 2018 was well matched .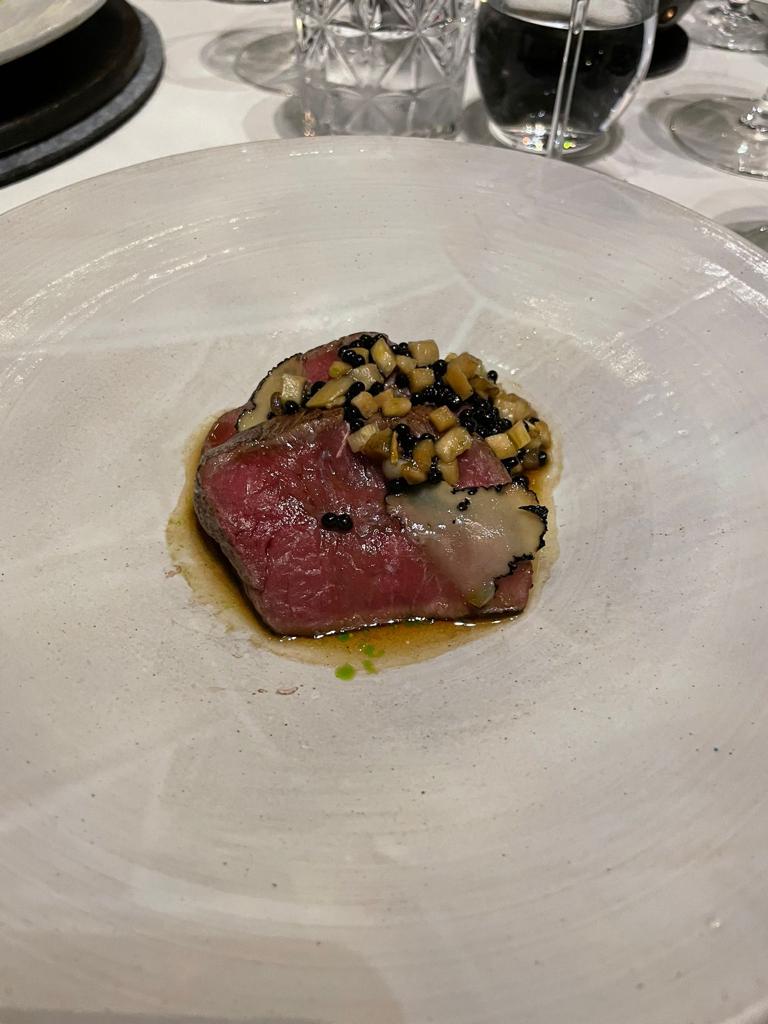 Then came a Cumbrian shorthorn loin of beef cooked in its own fat , with salt-baked Swede , a mushroom and marrow catsup , truffle and fish eggs . The beef , which came rare , had been aged for 7-9 weeks and was poached , not roasted . The balance of the varied ingredients was brilliant , said my neighbour . The red wine was Cuvee de Baldes, Clos Triguedina , Cahors 2018, a very successful blend of Malbec, Merlot and Tannat which, though still young , was full and rounded ..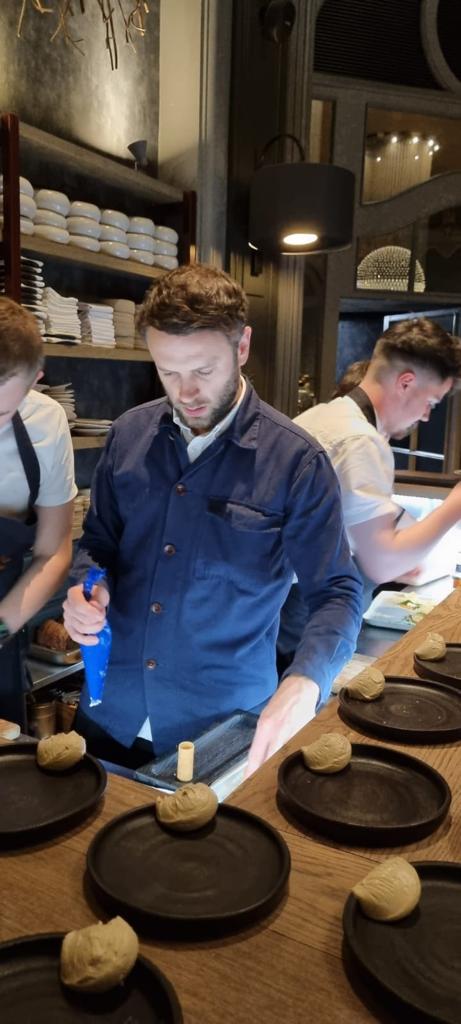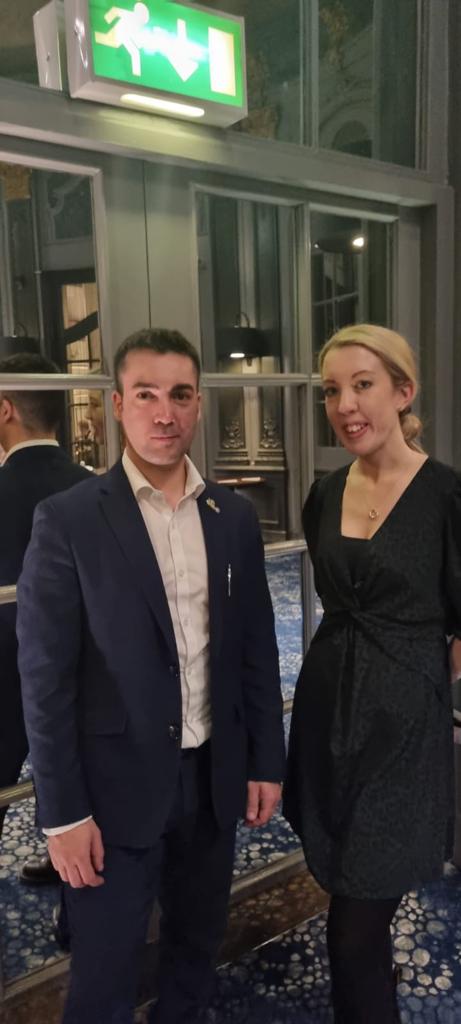 I said earlier that you should not be deceived by understated titles , and , yes ,'English Custard with Yorkshire Rhubarb and nutmeg 'had all those elements , but so unusually and picturesquely presented ,and piquantly flavoured that it vividly exemplified the description of the whole menu by our former Committee Member Patrick Trodden as ' Great Classical Dishes Re-invented '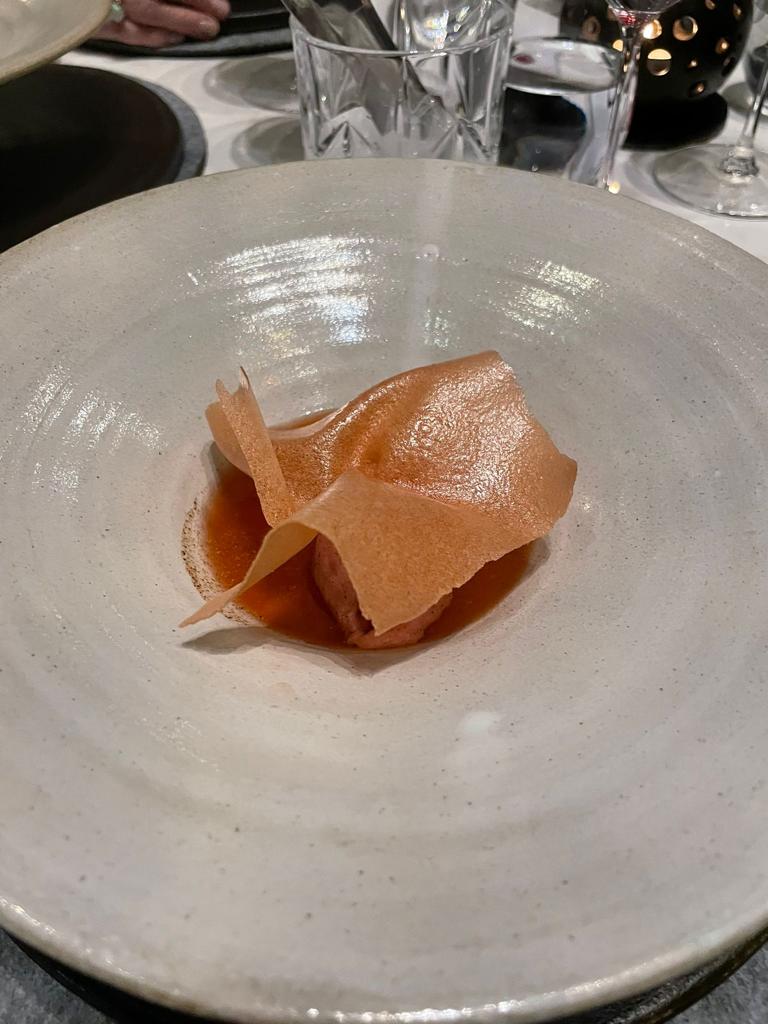 Over coffee and a sweet and savoury treat of a Red Pepper Jelly our Chairman Ronnie Costello warmly thanked Adam Reid and his team , including sommelier Pasquale and front of house leader Eleanor , whose quietly efficient service had helped make a great evening .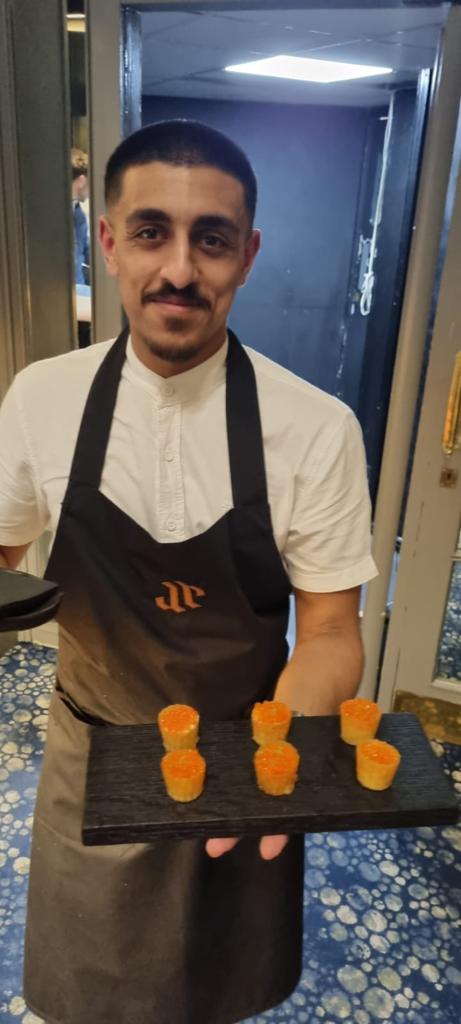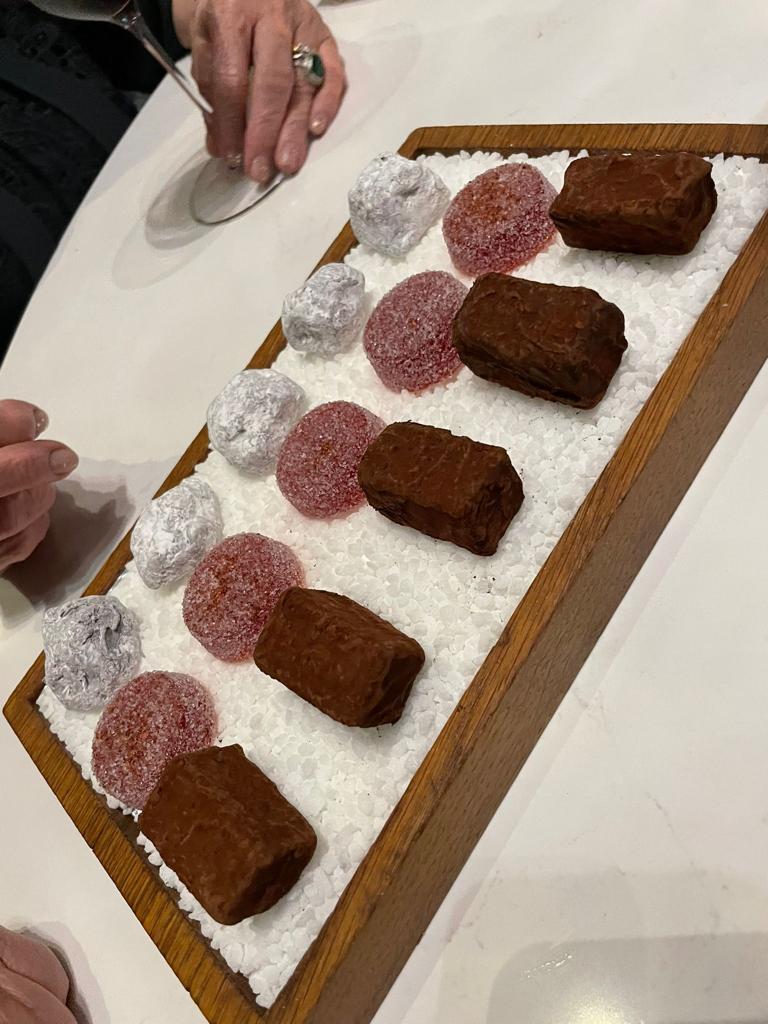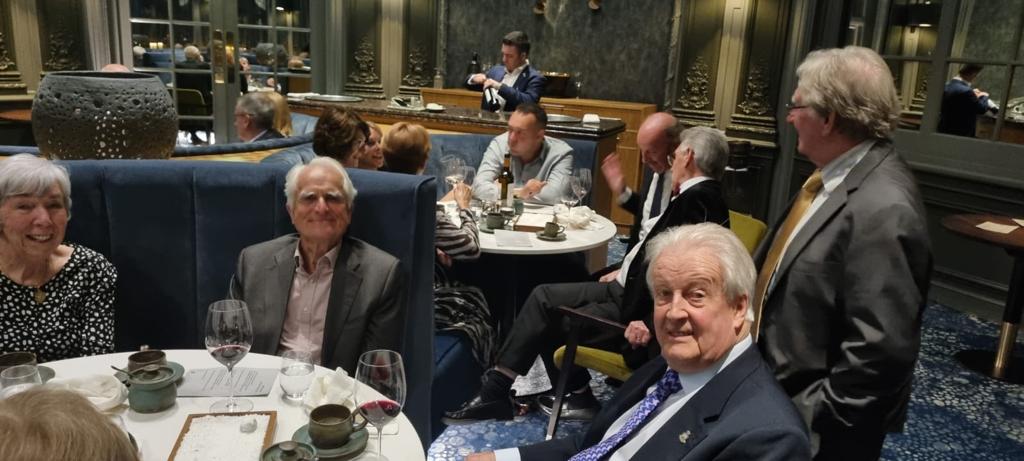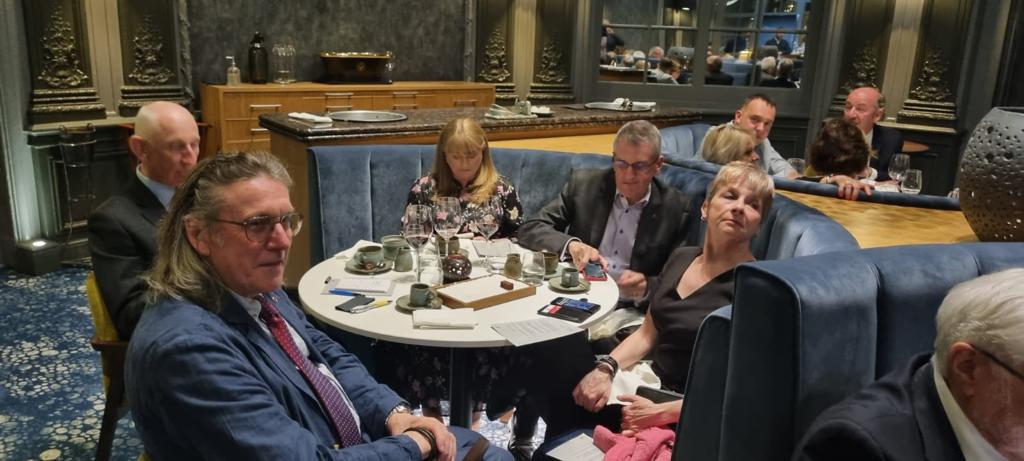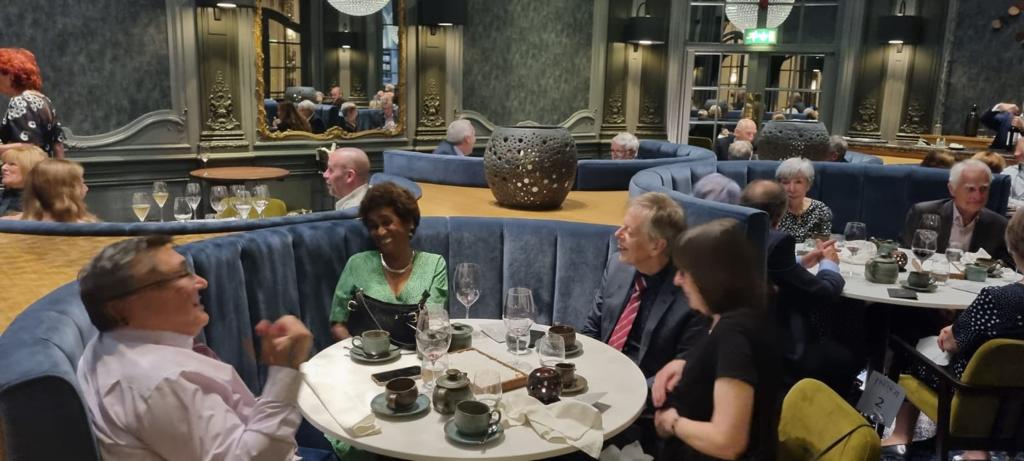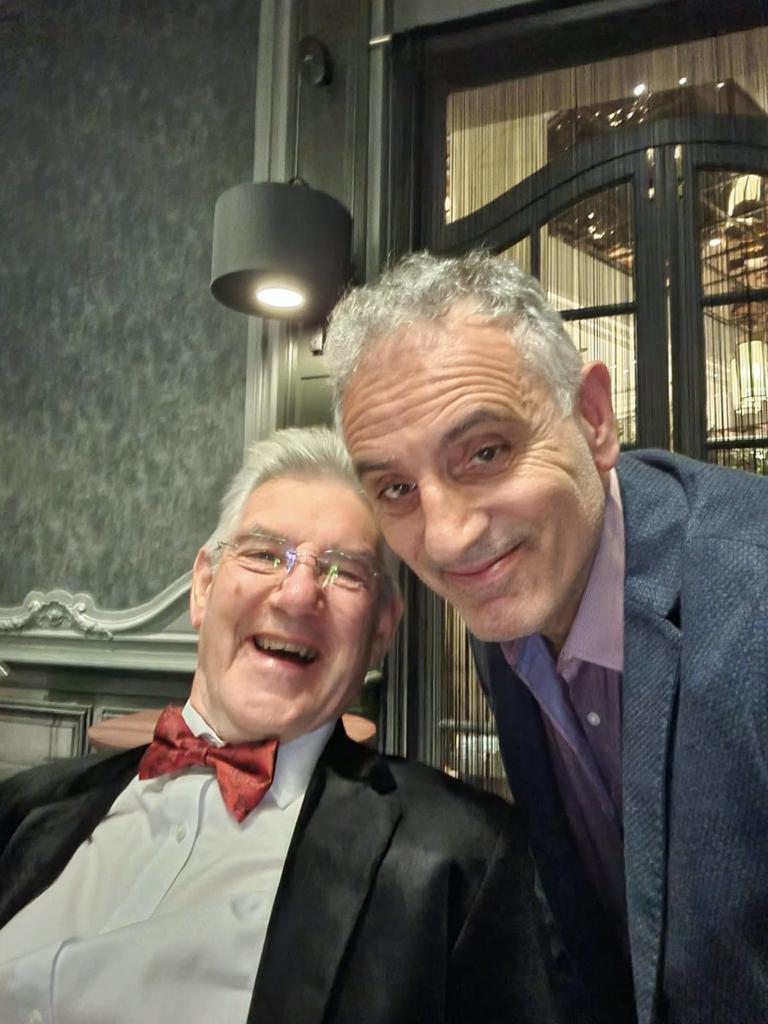 Richard Grieve

14 May 2022
A Tasting of Unusual Grape Varieties on 27th April 2022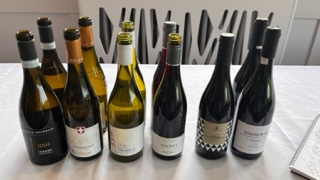 Matt Whitehouse from Majestic in Hale kindly joined us to lead us through a tasting of 6 unusual grape varieties. Matt had really done his homework and explained to us where each wine came from and how the wine was produced.

We started with a Lugana from Lake Garda – Nunzio Ghiraldi- and this was a lovely wine, similar in style to a Chablis. There was plenty of nose and on tasting tropical fruits were dancing in the minerality. This was a delightful and elegant wine.

We then moved onto a wine from Savoie made from the local Jacquère grape – Apremont. This didn't have much on the nose and was quite a delicate wine. It didn't have the structure of the Lugana and whilst we appreciated the skill and effort required to make wine at altitude, it wasn't a memorable wine.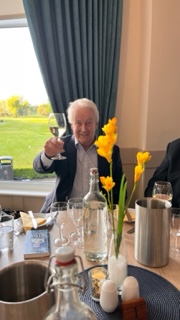 Our final white was Tahbilk, a Marsanne from Australia. This had a powerful almond nose and some citrus came through on tasting. It ages well and develops a honeyed character after a decade or so.
Onto the reds and we started with Bolney Estate pinot noir from Sussex. Most English pinot nor goes into sparkling wine and, unfortunately, we could understand why having tasted this wine. It was thin and didn't have the perfume and fruit we are used to with our Burgundies. An interesting academic exercise nonetheless!

Our next red came from Sicily and was a blend of two unusual grape varieties – Frappato and Nerello Mascalese. This is grown at altitude near the sea and was light and fruity. Fans of Beaujolais would love this one.
Our final wine was from the Xinomavro grape of Greece. This was a wine with some complexity and body. It paired very nicely with our tender lamb hotpot and cheese selection. It is excellent value at £11.99 on the 'mix six' deal and will certainly be appearing in my cellar in future!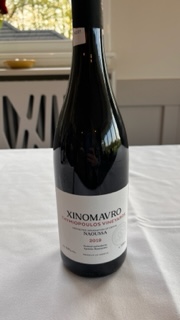 Matt was a very engaging teacher and we thoroughly enjoyed our informative tour of these wines. It was a lovely evening and thanks to Worsley Golf Club for hosting us.
Nicola McLoughlin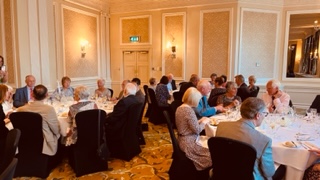 LUNCH & AGM AT MIDLAND HOTEL, MANCHESTER
26th March 2022
The Midland Hotel, one of the finest buildings in Manchester, opened 118 years ago. It was once a British Transport Hotel and (British Rail) Central Station was across the road (now an Exhibition Hall). In recent times the bar area has been refurbished and it's a delight to drink there.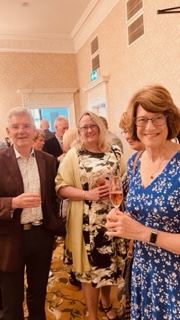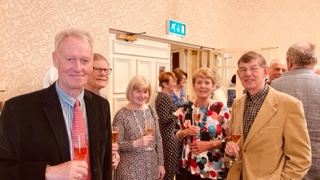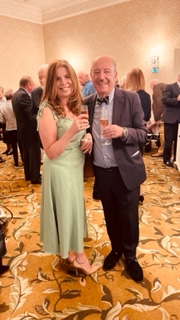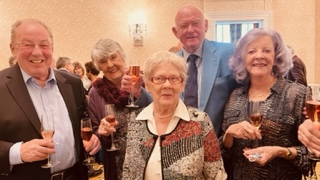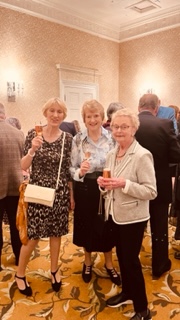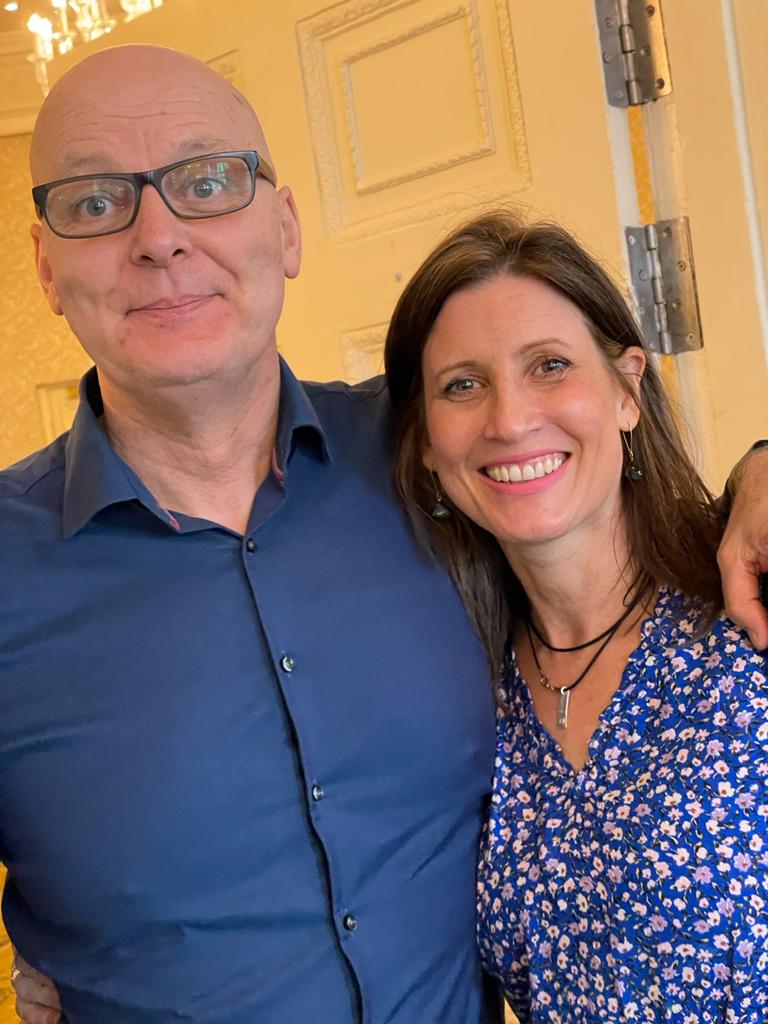 The reception was at midday when an aperitif was served, Devaux Oeil de Perdrix Champagne NV Rose. On the nose there were hints of red fruits, with a good mousse and it finished well – a very pleasant wine and ideal for the occasion.
The AGM followed, attended by 57 people (3 members unfortunately had Covid) in the Derby Suite. The meeting lasted 40 minutes.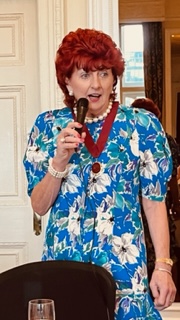 Then lunch was served.
For the starter we had Salmon Ravioli and butter poached Langoustines on crushed peas in a Lobster bisque. This was an excellent tasty dish and judging from comments made, everybody had enjoyed it. It was paired with a Chablis from Domaine Colombier, the two went very well together.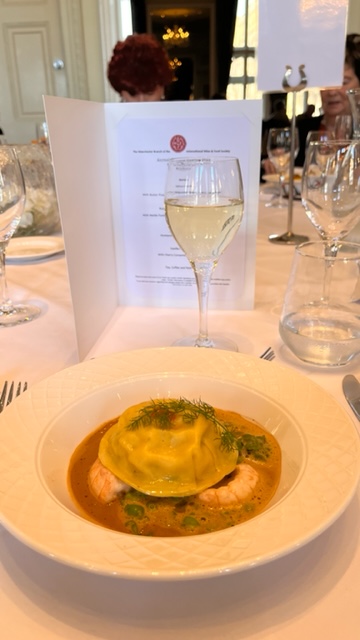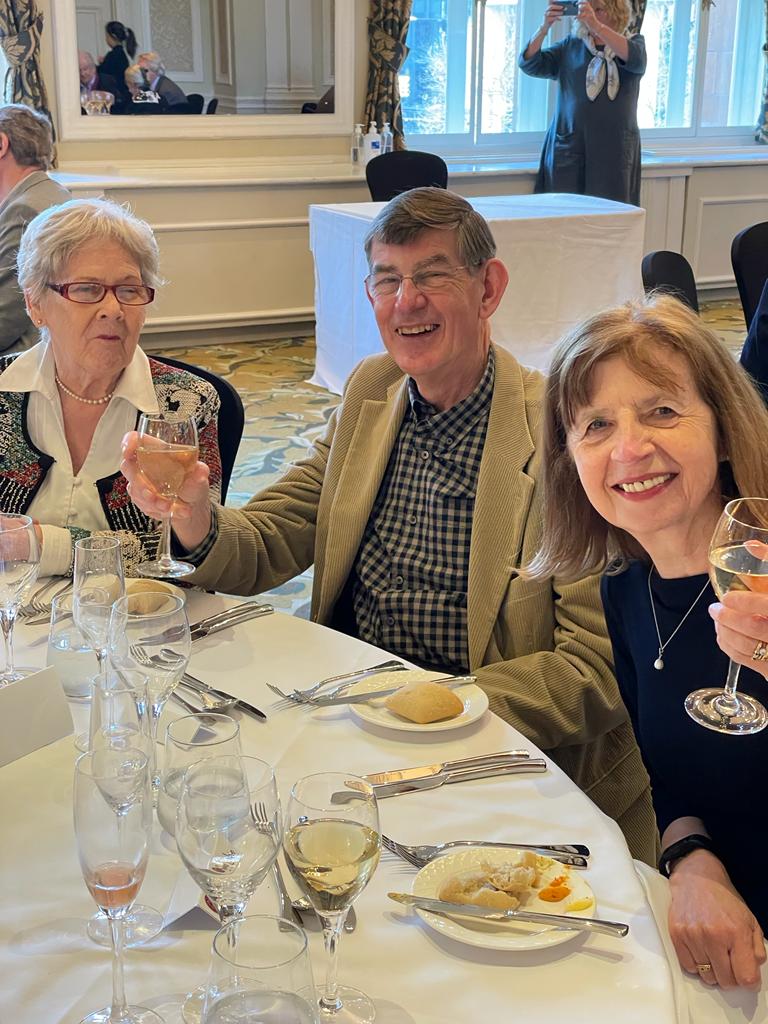 The main course was Roast Fillet of Limousin Beef, with ceps, nettle puree, roasted artichokes, and bone marrow jus. The meat was perfectly cooked, it was truly amazing how the chef could cook so many fillets to perfection. Needless to say, everybody was totally enthused by it.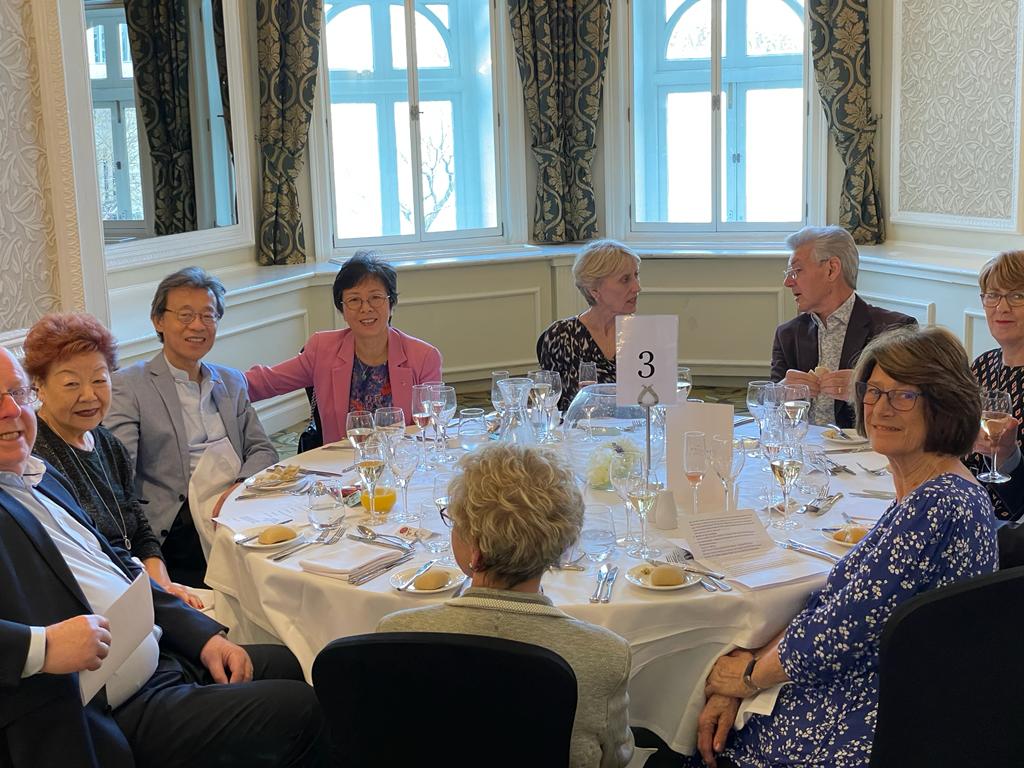 It was paired with a 2016 Les Breteches from Chateau Kefraya in Lebanon. A lovely red wine, which complemented both the main course and also the cheese course of Tunworth Cheese from Leicestershire.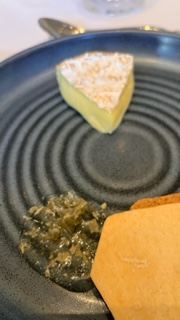 The dessert consisted of Vanilla Pannacotta with cherry compote, and cherry garnish. I do not have desserts myself, but my informant said it was lovely and light and most pleasurable. My fruit salad was delightful.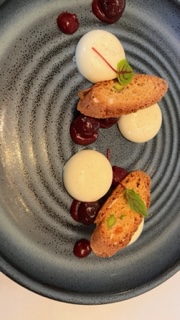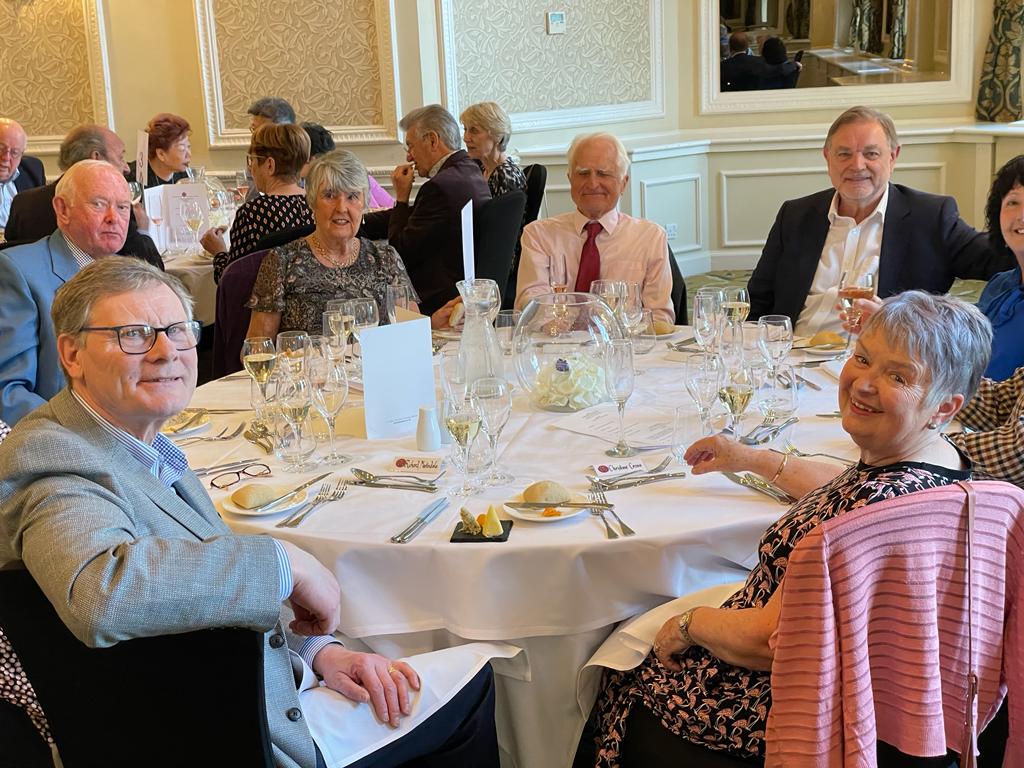 Chef, Brian Spark, and his team put on one of the best meals we have had in a long time. It was truly memorable.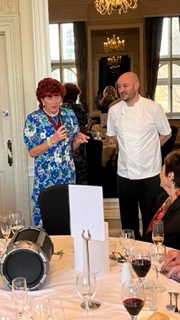 Michael Spencer and his team did a great job with the wine and food service. All in all, a great day out.
Bob Lloyd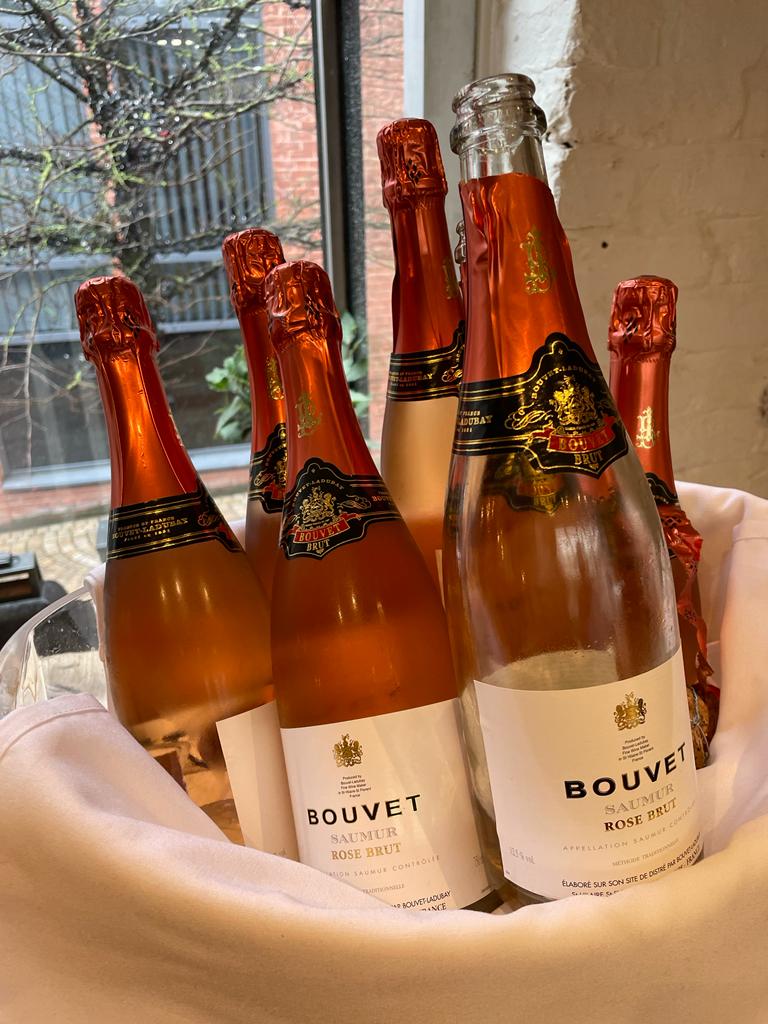 Wild Goose 18th February 2022
Manchester members and guests gathered at the Wild Goose Restaurant in Altrincham as storms ravaged Great Britain. We were greeted by a welcome glass of Bouvet Rose, Saumur which was fresh, creamy and floral. The wine flowed freely as members chatted, pleased to be warm and safe from the gale outside.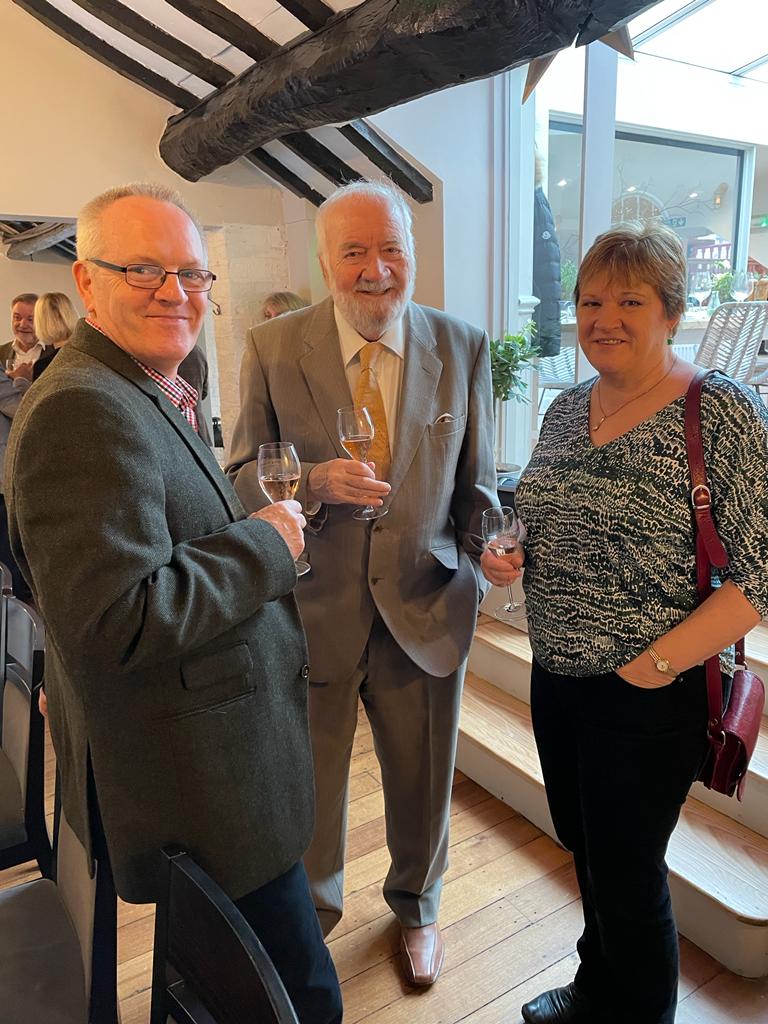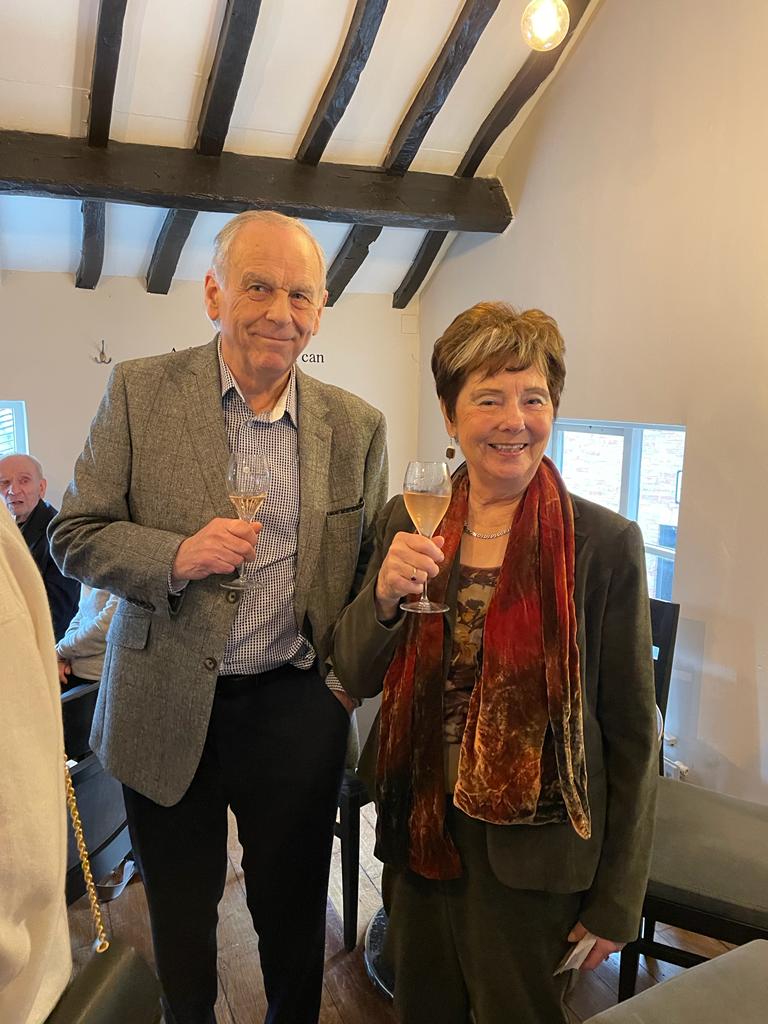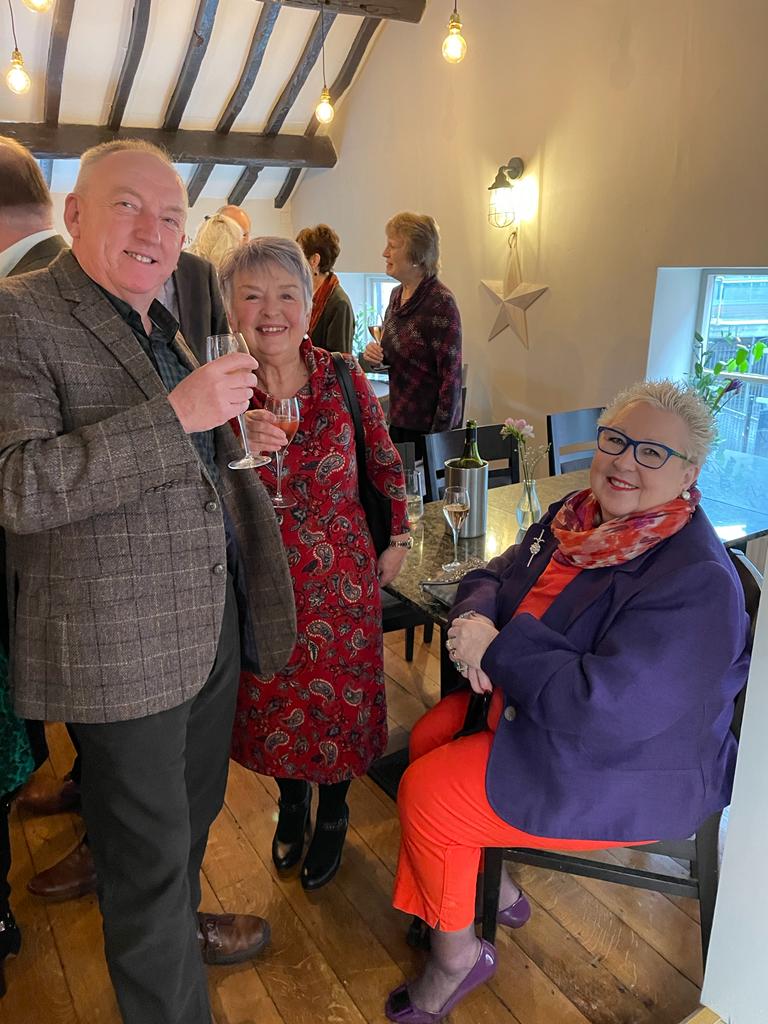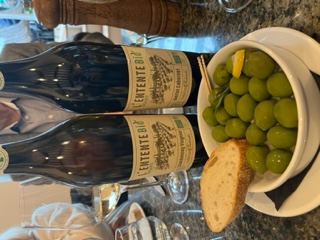 Once seated, Chair Ronnie Costello welcomed everyone especially four new members and guests. Artisan breads, flavoured butter and olives were already on the tables for us to enjoy. Along came French onion soup with a Gruyère crouton which was delicious with the perfect balance of sweet and sharp enjoyed by all. This was served with L'Entente Bio Chardonnay Viognier dry and slightly spicy.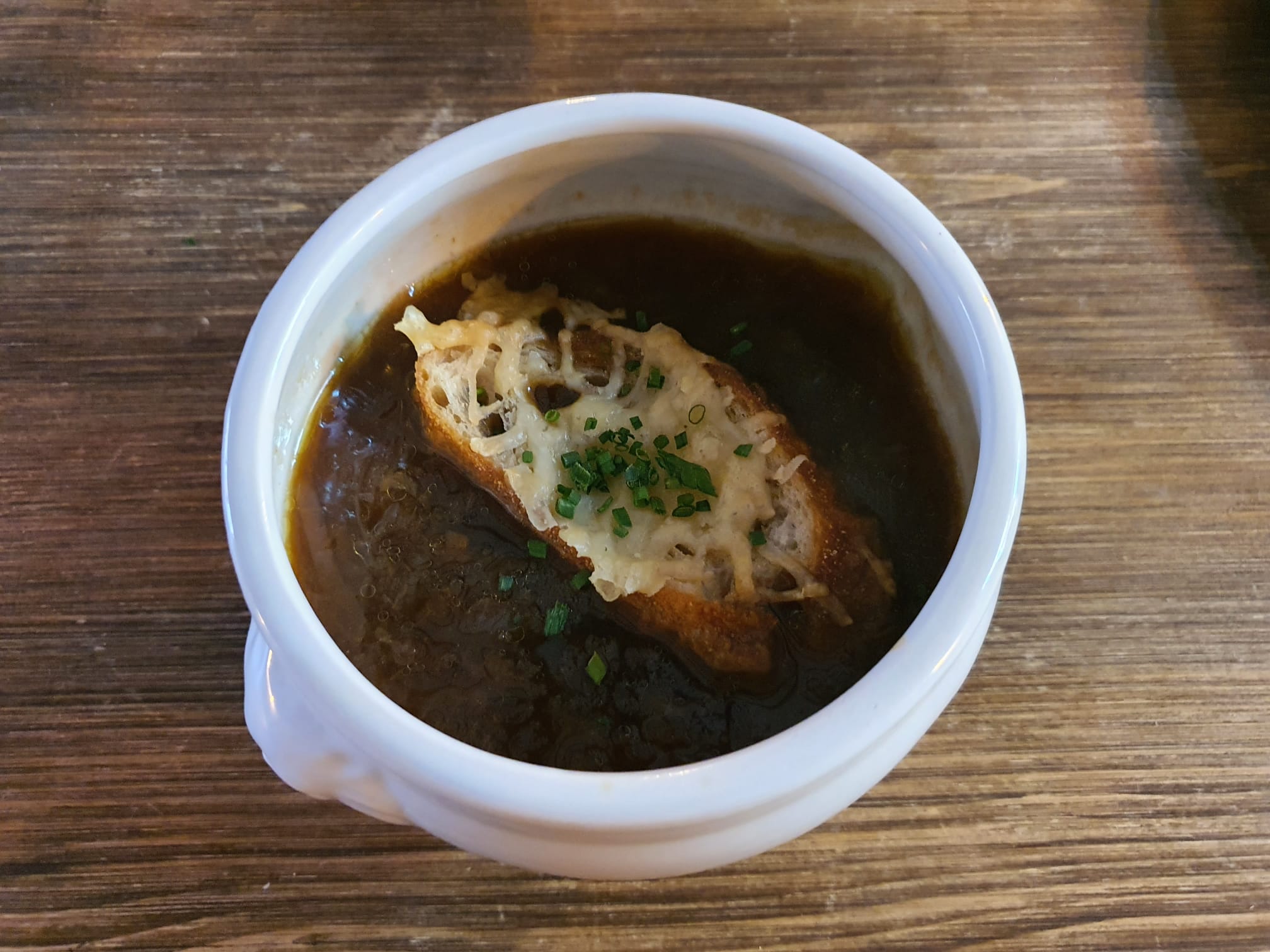 Our main course was a traditional coq au vin with pommes purée, a trip down memory lane nonetheless much enjoyed . L'Entente Organic Merlot Cabernet accompanied it which was fresh and fruity.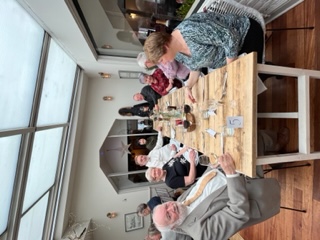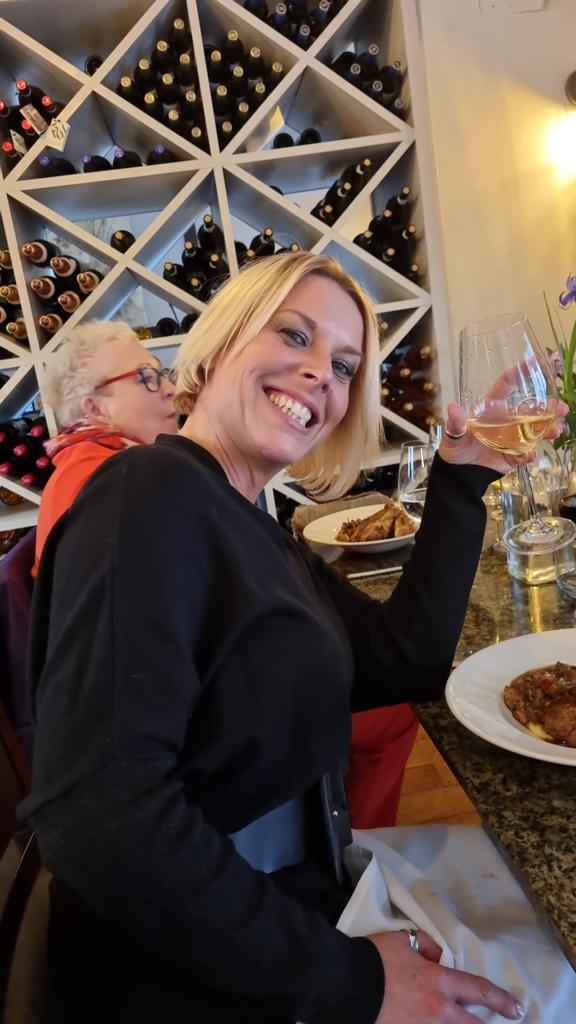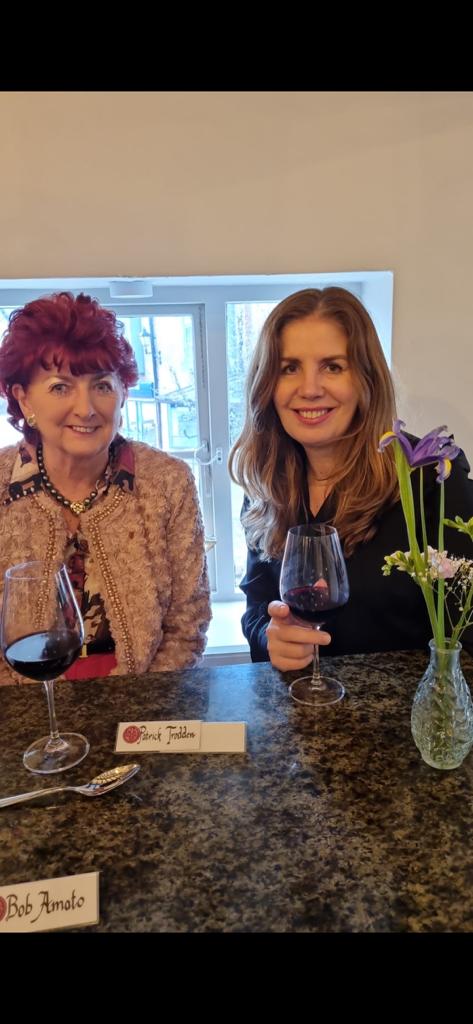 Tart au Citron with raspberry coulis was our pudding which had short, crisp pastry with a creamy tart lemon packed filling, superb.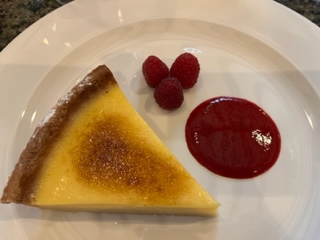 An informal, relaxed afternoon was had by all , Chef Lee, Matt, Jermaine and all the team who did a sterling job where thanked by the Chair.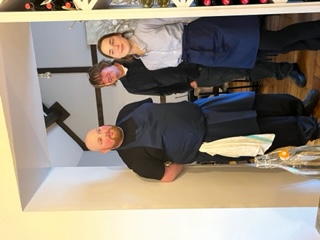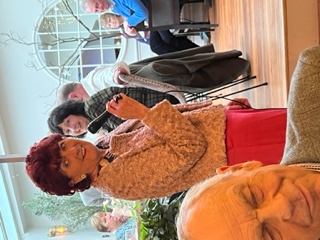 A few days later they were presented with an Excellence Award which they were delighted with.

Ronnie Costello.
Lunch at TNQ Manchester.

On 17th November members and guests gathered for lunch, and on arrival we were served Bouvet-Ladubay Rosé, Saumur, France which was light and refreshing.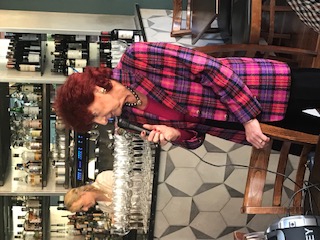 We were then seated and enjoyed homemade bread and juicy olives. Our starter was twice baked smoked haddock and Dewlay cheddar soufflé which was delicious. We enjoyed Fiano del Salento, Italy 2020 whose fresh acidity paired well with the soufflé.

Roast breast of pheasant, braised leg bon-bon, beetroot dauphinoise potato, parsnip purée, cavolo nero and blackberry and liquorice jus was a complex and interesting main course .Duas Quintas Douro, Portugal 2013 complimented the dish with its intense dark fruits and blackberry aroma.
Award winning British cheeses with truffle honey and excellent crackers was a very popular course with everyone.

Berry mille feuille, whipped vanilla mascarpone and raspberry sorbet was a well-executed pudding.
Tea and Coffee were offered.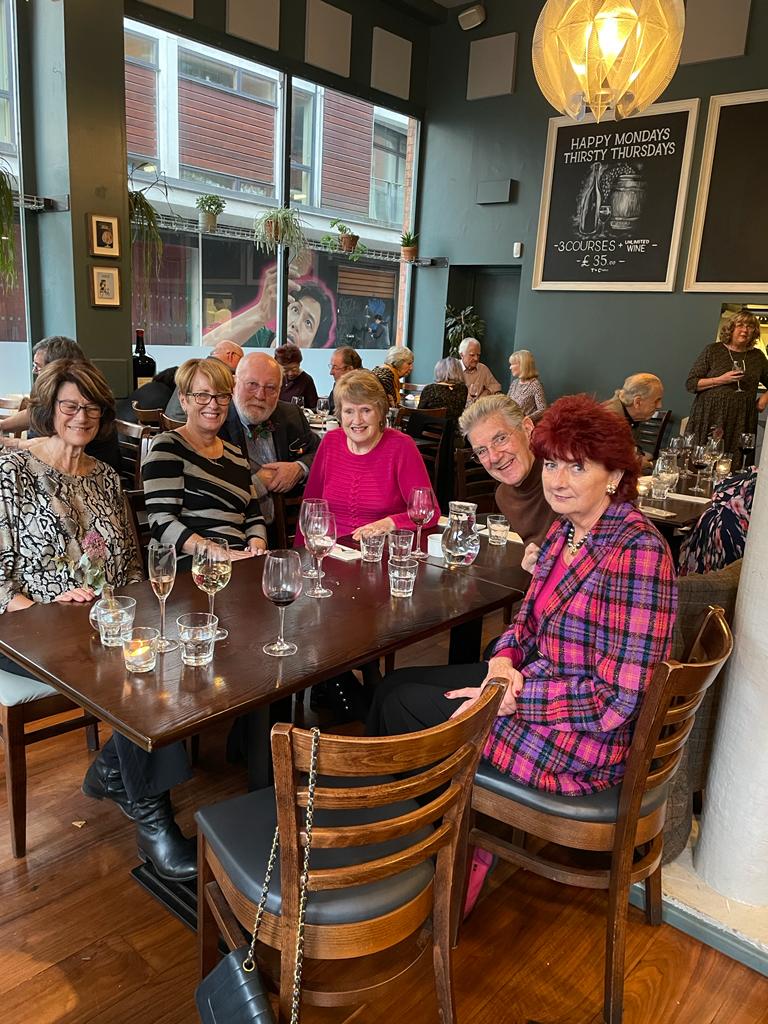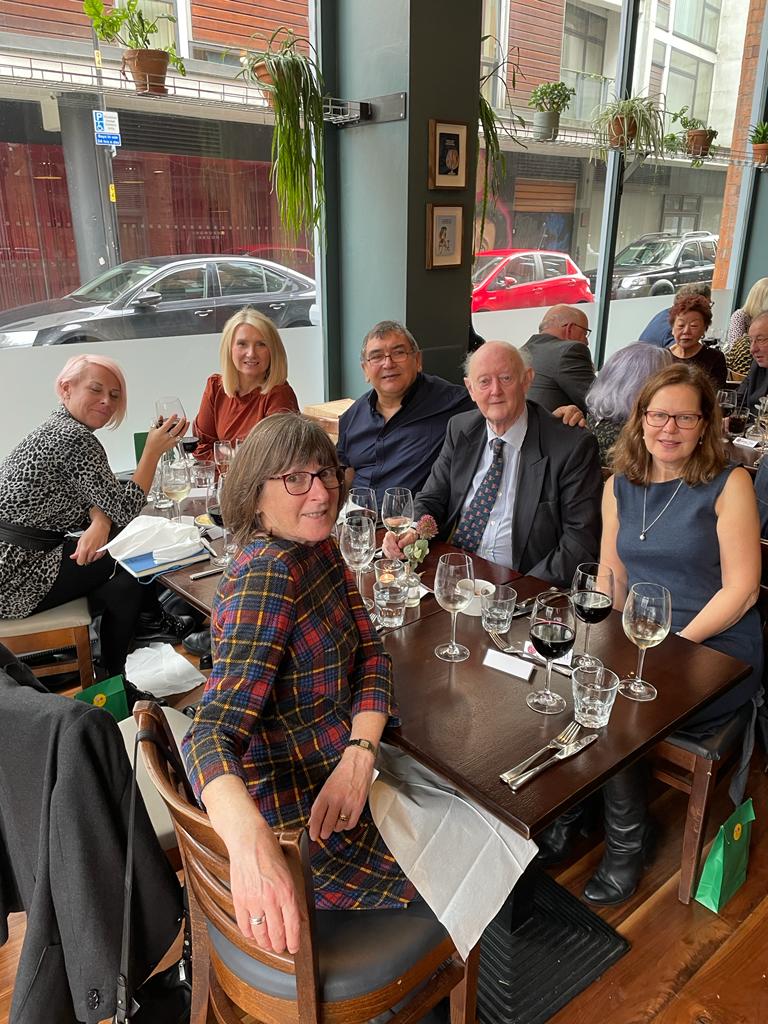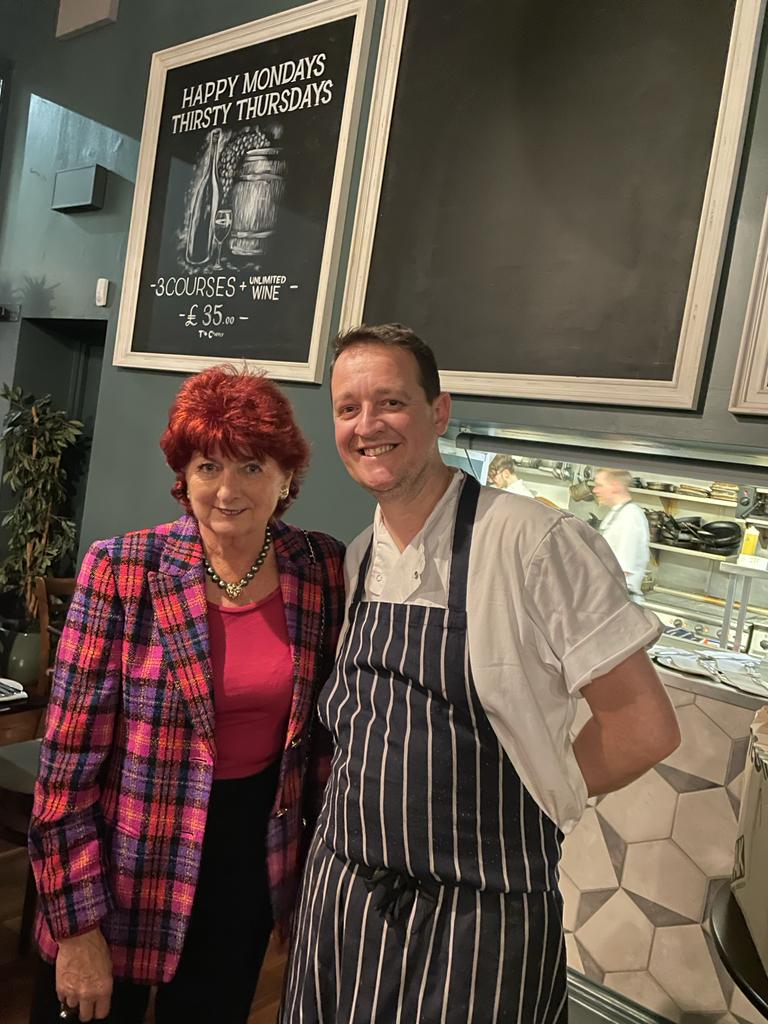 A highly successful event enjoyed by all and a big thank you to Chef Anthony Fielden and all the staff.

Deloras Amato.
Christmas Lunch at the Bowden Rooms

On Sunday 12th December members and guests gathered at The Bowdon Rooms where we were greeted with rosé champagne Devaux 'Oeil de Perdrix', a perfect start to our festivities.

Our starter was a beautifully presented Trio of Salmon - Hot Oaked Smoked Salmon, Beetroot Cured Gravadlax and Poached Salmon Rillette - all delicious, accompanied by 'Styx Gully' Chardonnay 2019 Mount Barker, W.A. which was considered a good pairing.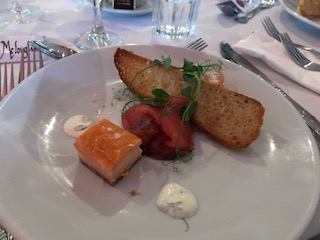 Lamb Rump with a Pistachio and Herb Crust with Fig and Olive Tapenade and Orange Roasted Heritage Carrots was our main course. This was served with 'Hanna's Hill' Cabernet Malbec 2018, Mount Barker, W.A. There was some lamb variation, some people being disappointed but others thoroughly enjoying it.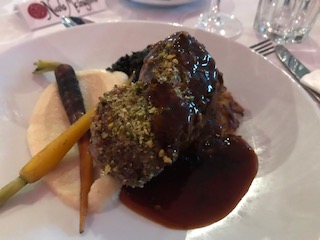 Next, we enjoyed Manchester Tart with Boddingtons ice cream and Vimto Coulis. Tea and Coffee were offered with Mince Pies.

Everyone said how lovely it was to be socialising and seeing friends we hadn't seen for a long time and enjoying ourselves.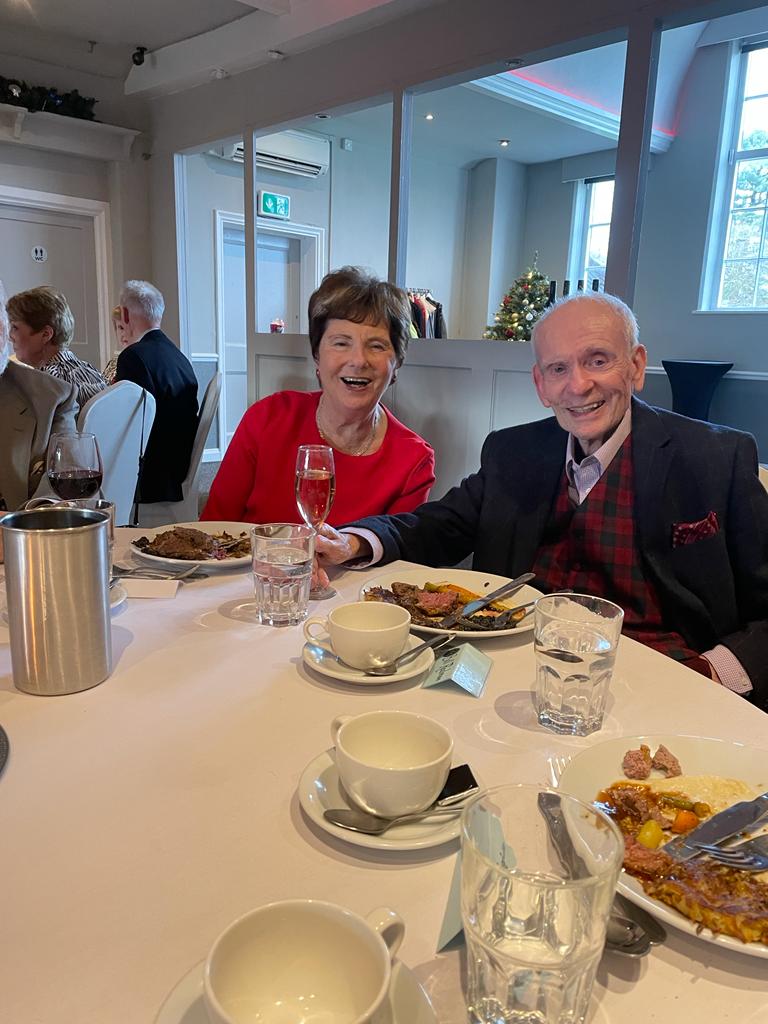 Ronnie Costello.
Christmas Lunch at the Bowden Rooms
I.W.F.S. Manchester Branch – Lunch at The Black Friar, Salford
on Wednesday 6th October 2021
On 6th October we attended at The Black Friar for a superb lunch. Chef Ben Chaplin (no relation of Charlie!), Manager Neil Burke assisted by waiters, Toby and Hadar, put on a memorable three course meal, which was enjoyed by all.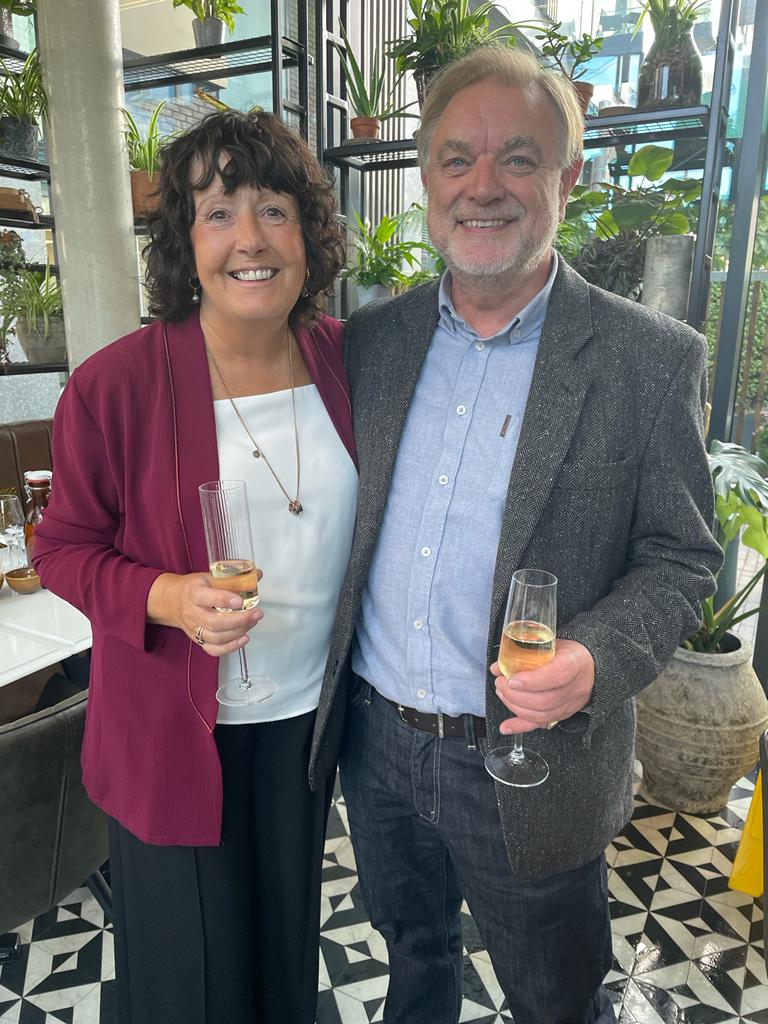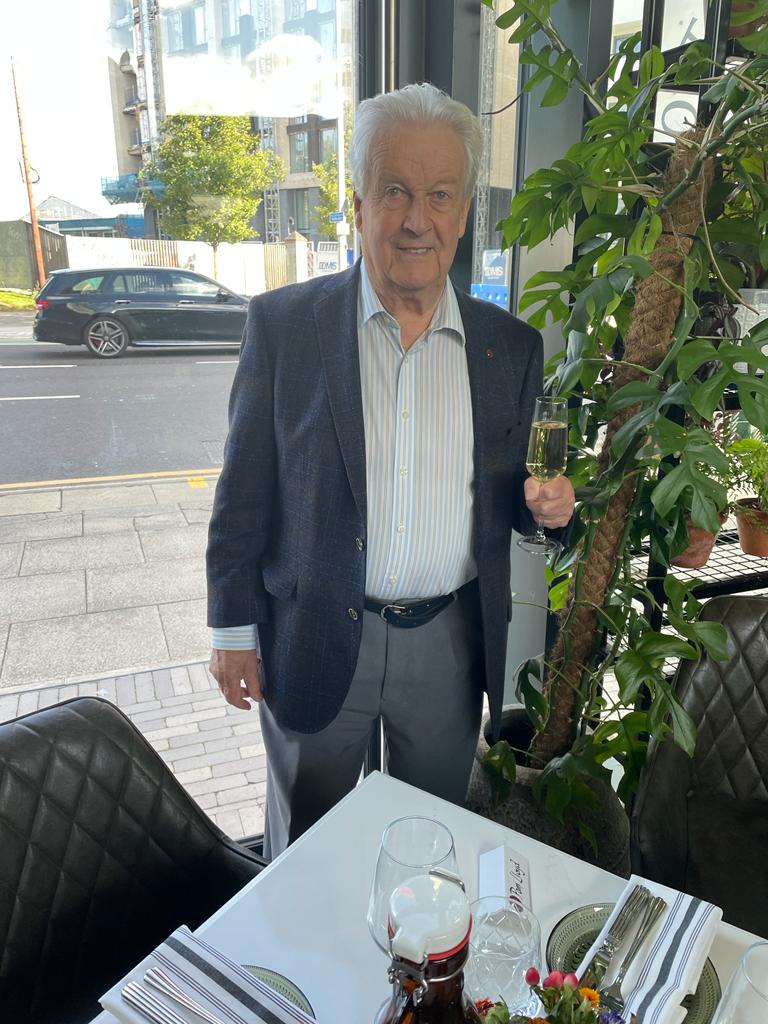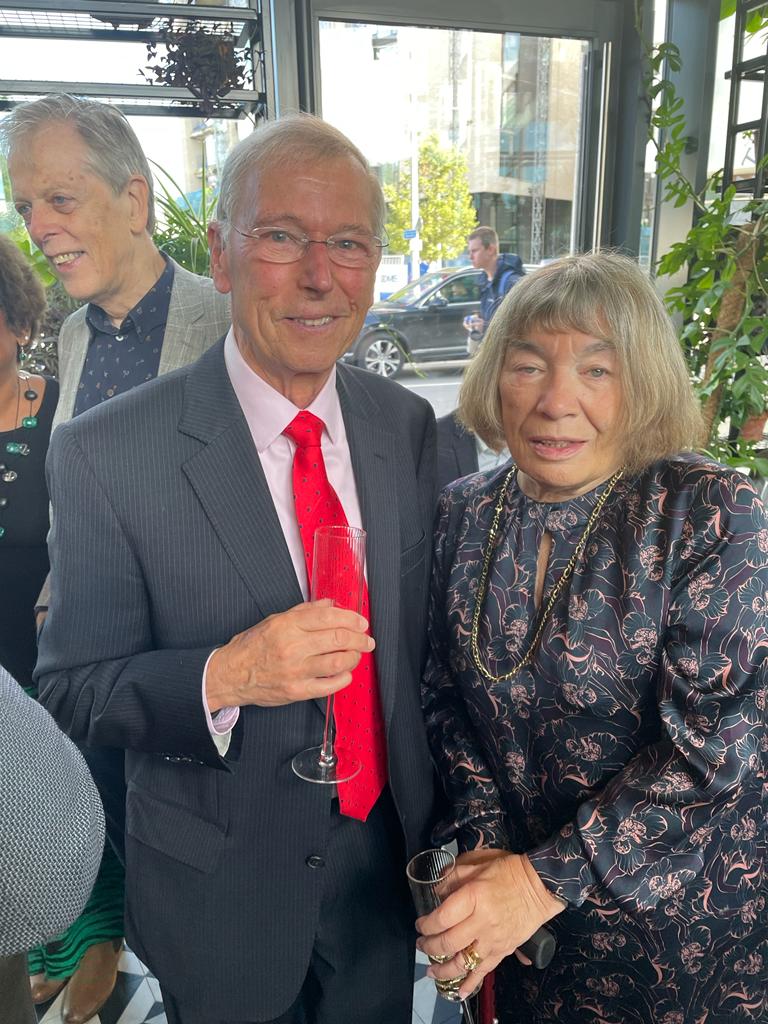 We started with an aperitif – an English sparkling wine from Nyetimber. As one of the outstanding sparklers from England it had a lovely mousse, was well balanced with apple tones, and a dry finish. A good start to the day.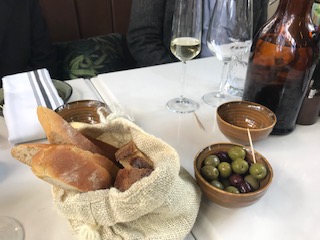 The first course - White Port and Confit Chicken with Apple and Hazelnuts. This was well received, the chicken was succulent, and complemented by the apple and hazelnuts – perhaps the portions were a bit large.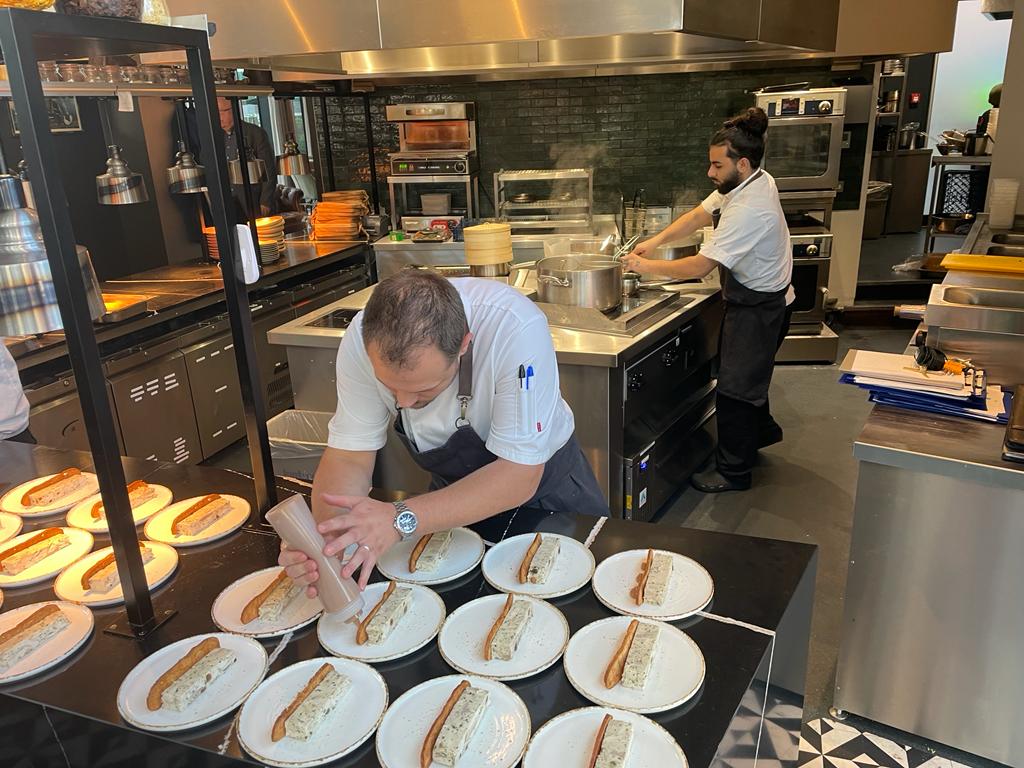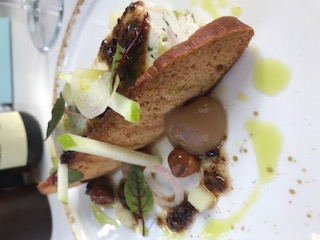 The main course was Line Caught Halibut, Lobster Ravioli, wilted Spinach and Lobster Bisque. This was a really well balanced and luxurious dish, and most members enjoyed it.
The dessert – Lemon Thyme Crème Brulee, Shortbread and Raspberry. This was considered by most to be "the dish of the day". A lovely dessert, beautifully made, and one member was heard to say it was the best crème brulée he had tasted outside France. High praise indeed!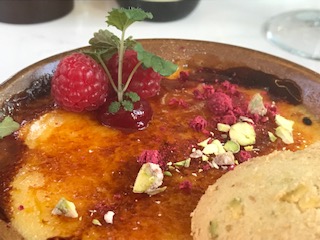 The wines were the restaurant house wines, Organic Airen-Verdejo, Sonadora, La Mancha, Spain for the white, and Grenache-Carignan, Les Louriers, Languedoc, France for the red. The white wine was fruity with a reasonable dry finish. Considered to be quite drinkable. In my opinion, the red wine lacked fruit, was a bit thin and finished short but others seemed to enjoy it.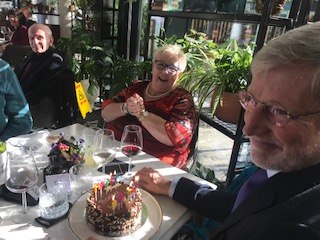 It was a most enjoyable event at a new restaurant and it is more than likely that they have gained some new customers!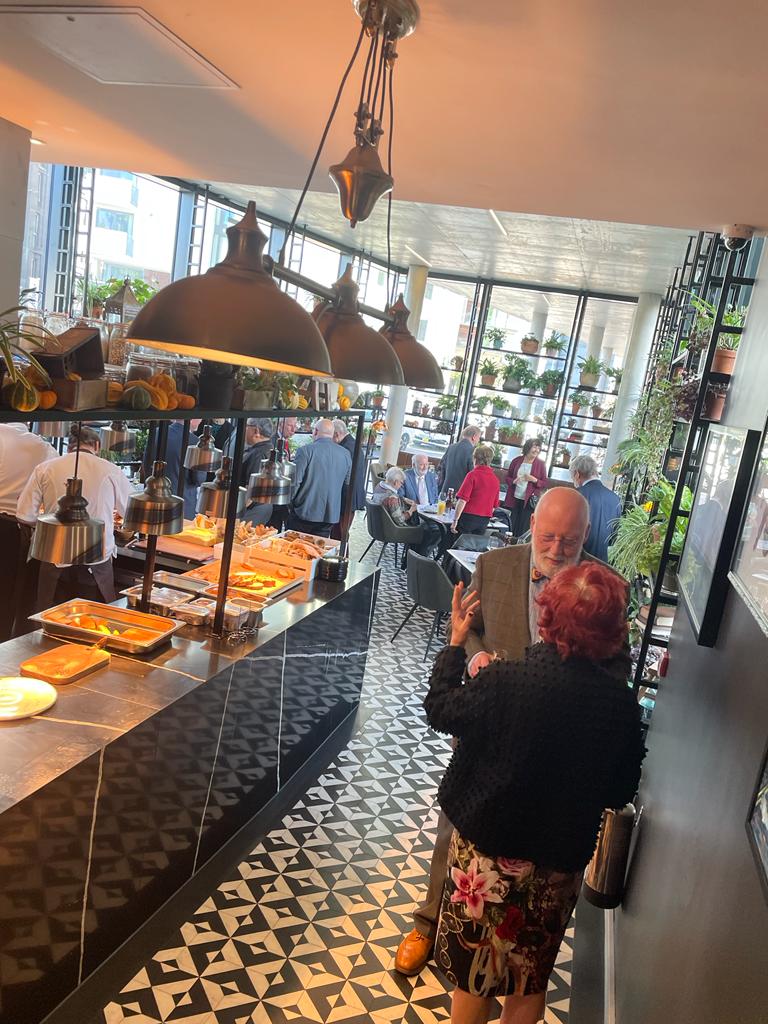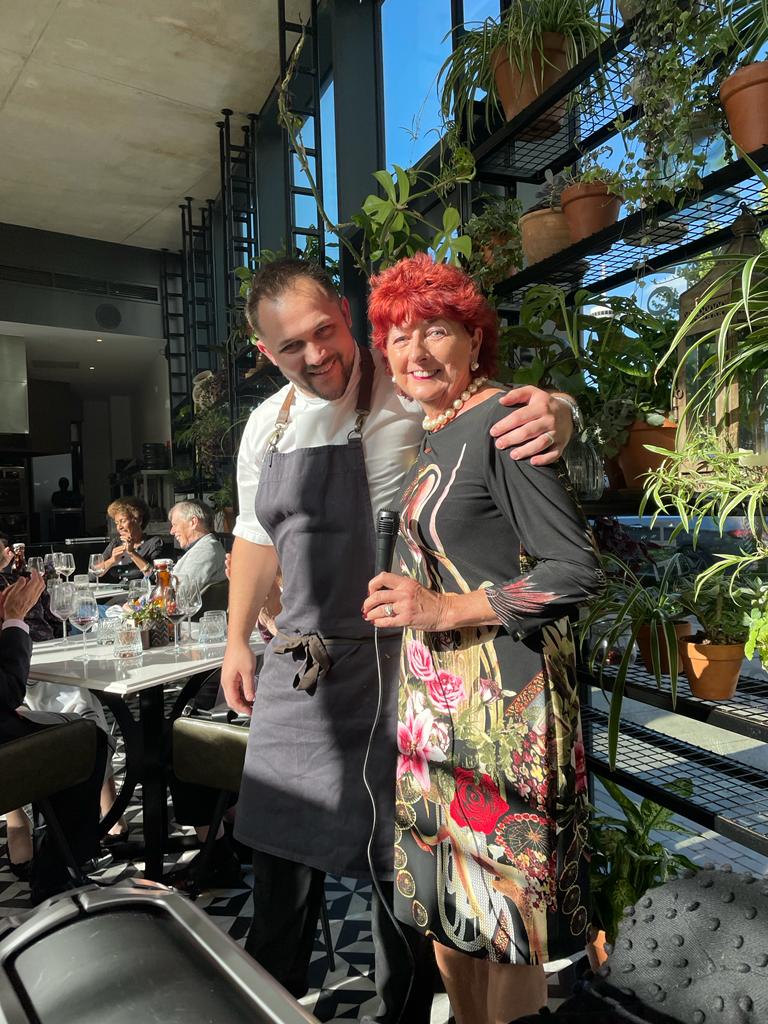 Bob Lloyd
20 Stories 70th Anniversary Lunch - 5th September 2021.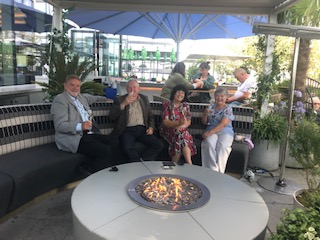 On a glorious sunny afternoon members and guests enjoyed N.V. Cava Brut Nature, MasSardanna, Franck Massard, Spain on the stunning terrace of 20 Stories to begin the celebrations of our 70th Anniversary.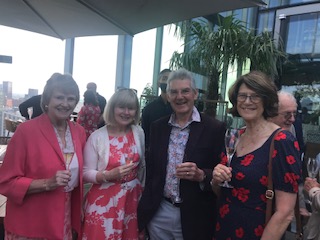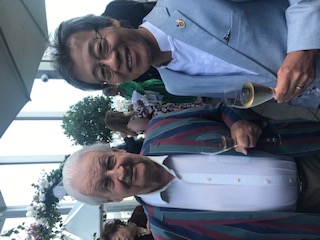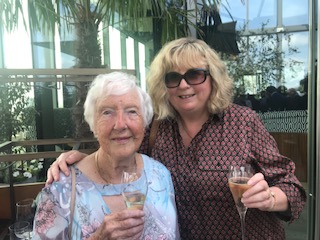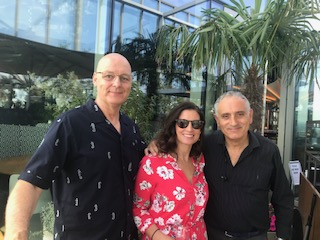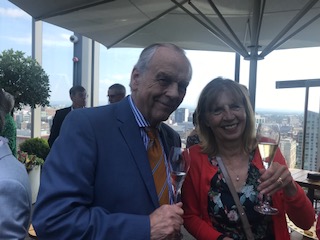 Canapés were served - wild mushroom Arancini with truffle mayonnaise; Jambon Iberico croquettes with tomato and chilli jam; and tuna tartare, with Yuzu gel in a nori rice cracker, this being a firm favourite. Guests enjoyed the stunning views across Greater Manchester.
We then took our pews in the restaurant where Chair Ronnie Costello welcomed everyone and Bob Lloyd read an address from EAZ Chairman John Nicholas.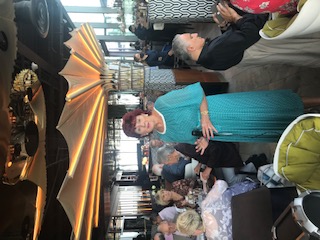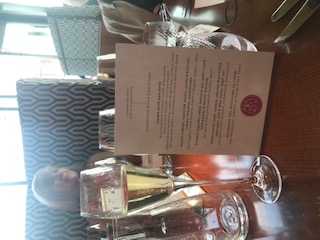 Our first course of seared scallops, squid ink risotto, pickled kohlrabi and tomato concasse was excellent with interesting textures decorated with nasturtium leaves. The 2018 Viognier Gran Reserva, Tabali Pedregoso, Limari, Chile was considered a perfect pairing.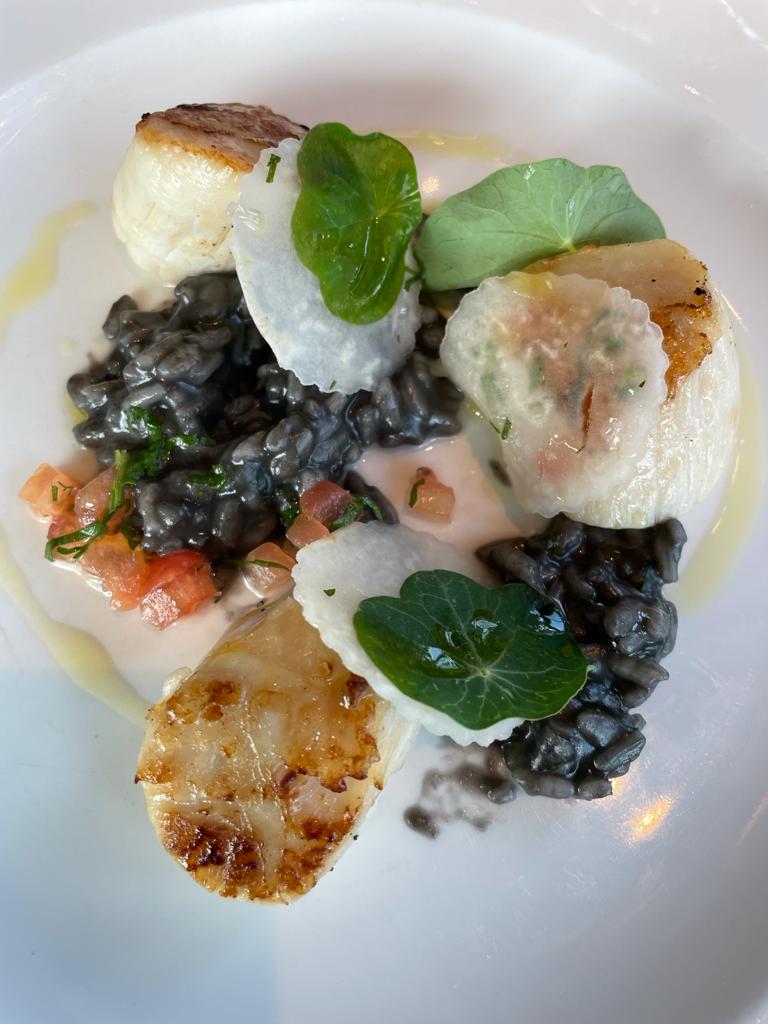 Next we were served pickled vegetable salad, beetroot gel, and goats' curd with walnut and Sherry dressing. This was colourful, fresh and crisp served with NV Sherry Fino, Fernando de Castillo, Spain which was considered an inspired pairing. This dish had people talking!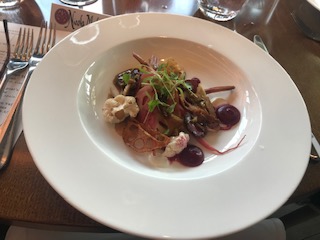 Our main course of herb crusted lamb cannon, pea and mint purée, lamb jus and decorated with pea shoots was perfectly cooked. A delicious 2017 Petit Verdot Zorgvliest, Stellenbosch, South Africa was a good match with its notes of plum and prune with delicate tannin.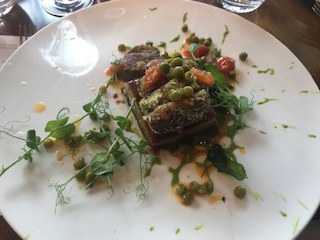 Finally, Manchester tart and Eccles cake ice cream was a very popular pudding with perfect pastry and textures. The 2018 Monbazillac, Domaine de Grange Neuve, France was luscious with a fresh nose of marmalade and nectarine.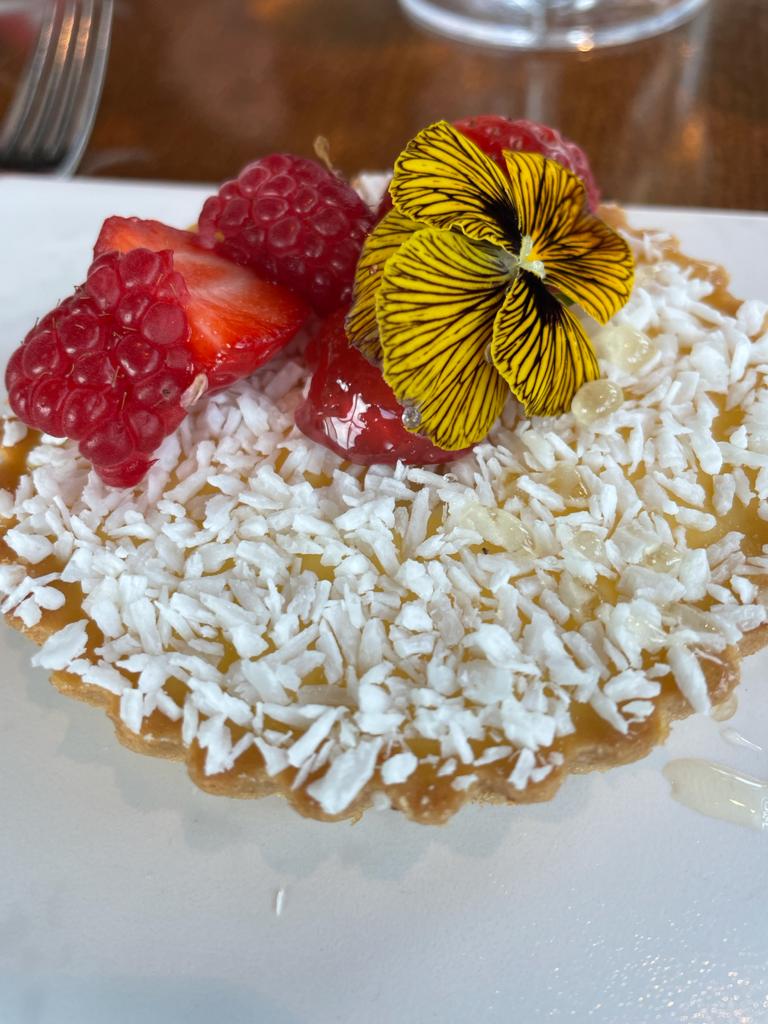 Tea and coffee were offered.
This was a wonderful first face to face event and the food was exceptional, the wines, which flowed freely, were very well received and the service was faultless. A big thank you to Giovanni and all the staff. Chef Dario did a great job too. Also a big thank you to Becky Wilkes who was a great help in organising the event.
Ronnie Costello.
Manchester Branch Zoom Tasting and Briefing on Foraging 27 May 2021
On Thursday 27th May, the Manchester branch of IWFS held a zoom meeting to sample three Summer aperitif wines with an informal discussion of seasonal produce and foraging.
Our first wine, a crémant de Loire, was introduced by Bob Lloyd with a brief history of the Bouvet- Ladubay family . Taittinger have a share on their company. Unusually, the wine is made from 100 % chardonnay as opposed to the typical chenin blanc from the Loire. It was a delicious, light sparkling wine, a great alternative to champagne for Summer evenings in the garden.
Deloras then gave a presentation about foraging. She discussed how hawthorn is the most successful hedgerow plant because of the blossom scent that attracts all the pollinators. She pointed out that some mushrooms are perfectly safe to eat but when mixed with alcohol can cause allergic reactions.
Surprisingly, when elderberry stalks are purple they are full of cyanide. Finally, it's not just the leaves and flowers that are edible from wild garlic. It was interesting to hear about garlic capers, which are phenomenally flavoured and intense.
The second wine, from Provence, was typically light in colour. It was a blend of three grapes, grenache, cinsault and syrah. It was a great example of a rosé with light raspberry tones. It got a unanimous vote of approval for a very easy drinking wine that all could enjoy.
Deloras then introduced some seasonal produce and mentioned the traditional way to grow Jersey royals was with a covering of seaweed. We had an exhibition of British asparagus and a surprising new variety of purple asparagus that is so sweet and crisp it can be eaten raw.
Bunches of fresh carrots are in season which include the wonky varieties and rhubarb is becoming increasingly popular in cocktails and flavoured gin.
Bob's final wine choice was a white Rioja –Definition Viña Majestica. It was creamy and lightly oaked and it had body and richness with fresh citrus tones.
Delores Amato
Manchester Branch AGM by Zoom 5th March 2021
We are still in the grip of the third national lockdown so the meeting and event was held by Zoom. The business of the meeting was attended to promptly, and our focus soon shifted to the enjoyment of food and wine together.
The food was a Mediterranean sharing platter provided by Amato Food Products, a food wholesale company supplying restaurants with staples and more specialist products. Deloras Amato is a member of our branch and a co - Director of this company. Deloras talked us through the delights of the platter which contained a wonderful variety of top- quality produce in generous quantities.
There was a selection of meat and salami -
Napoli Dolce made by Veroni in Italy – gently smoked with a little garlic and black pepper.
Spianata Romana – a flattened shape and spicy with paprika.
Salami Finocchio from Tuscany – full bodied and seasoned with fennel seeds.
Proscuitto Crudo – deliciously salty cured ham.
Likewise, there was a wide selection of cheeses –
Gorgonzola – a soft creamy blue aged for 3-4 months.
Provolone – a semi-hard cheese from Southern Italy made from stretched curds.
Manchego – a classic Spanish cheese with 30 days minimum ripening. This example was mild with a firm creamy texture. It has won two firsts in global contests and a Silver medal in the Nantwich Cheese Awards.
Mozzarella – this example was made with cow's milk and was very much enjoyed with homemade pesto drizzled over the top!
Goat cheese – a young mild example.
The platters were made up on the morning of the event and were lined with a bed of fresh rocket which had been bought at Smithfield market that same morning! Dotted around the platter were Roman style grilled artichokes, mixed peppers from Southern Italy, olives in herbs from South East Italy and sun-dried tomatoes prepared in house and marinated in herbs and olive oil. There were also pots of hummus and pesto Genovese prepared in house to Deloras' own recipes.
A few members enjoyed the vegetarian platters which contained additional cheeses, a smoked applewood Cheddar and a Lancashire, in house sun dried tomato tapenade and grilled courgettes.
These delights were accompanied by a wide selection of artisan crackers and breadsticks including Ines Rosales – individually hand wrapped flaky tortas scented with rosemary and thyme.
As if that were not enough, Delores had sent each platter with a gift of Sicilian Cappuccino Cannolis, crispy little cakes filled with a creamy paste!
With food this good the bar was set high for our wine expert, Bob Lloyd. His brief was to find a good white and red for no more than about £12 a bottle from Majestic so that members could have their choices delivered if that was their preference in the pandemic. The recommended white was the Definition Gavi 2019 from Piedmont in North West Italy. It was fruity, slightly lemony and fairly dry and much enjoyed by all who had taken the recommendation. Members were at liberty to drink wines of their choice and Gavi from Tesco, Waitrose and Aldi were also enjoyed and discussed.
The recommended red was Dolcetto D'Alba 2019, also from Piedmont. This was a soft and smooth wine with cherries on the nose. It stood up well to the robust flavours of the platter and was an excellent choice.
More than anything, Zoom brought us all together to enjoy friendship and company and brighten up our lockdown existence.
Nicola McLoughlin
*********************************************************
I.W&F.S. Manchester Branch
Virtual Lunch by Zoom on 12th April 2021
40 members of Manchester Branch attended a Virtual Lunch on 12th April. Some members had food only, but the majority joined in the Zoom Meeting, in what was a highly successful event.
The food was supplied by Duncan Dickinson of Herb & Spice from Bowdon, Cheshire. We started with homemade asparagus and parmesan tart, served with spring vegetable salad and pea shoots.
The dish was accompanied by Orvieto (Argillae) an Italian wine from the town of the same name in Umbria. The wine is made from Procanico (a Trebiano varietal) together with varying percentages of Grechetto, Verdello, Drupeggio and Malvasia. The wine was light and very dry and is produced in the hills above Orvieto, 500 metres above sea level. It was a little closed on the nose, but with plenty of fruit on the palate, had balanced acidity and a reasonable finish.
The tart was well received and the wine complemented it.
The main course was Lancashire Hotpot, tender chunks of Cheshire Lamb casseroled with leeks and carrots, potatoes and rosemary, topped with sliced potatoes and served with tender-stemmed broccoli and fine beans. Although the lamb was from Cheshire*, it was delightful tender and succulent. Most members thought it to be the dish of the day. The vegetarian option was Vegetable Lasagne – seasonal vegetables cooked in a tomato oregano and basil sauce, layered with pasta and a parmesan sauce, served with a side salad. This dish was enjoyed by those who sampled it.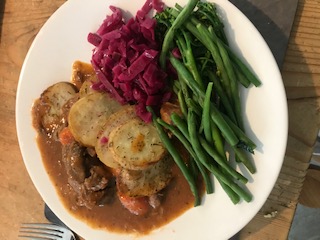 The red wine to accompany the two main dishes was Marques de Riscal, Rioja Reserva 2016. It was a good example from one of the great vineyards of the area. It had a lovely blackberry nose, with red berry fruit and liquorice vanilla spice typical of classic Rioja. The bodega uses 50 year old vines and was the first Spanish vineyard to use French oak barrels to mature its wine, a practice that is used all over Rioja to this day. The grape is 100% Tempranillo.
The dessert was Apricot and Orange Blossom Fool with crushed meringue and Chantilly cream, which brought to an end an exceptionally tasty meal.
The food was organised by Ronnie Costello and the wine was sourced by Bob Lloyd.
Bob Lloyd
*Editor's note – Bob is a Lancastrian!
**************************************************************