Past Events
Manchester Branch AGM by Zoom 5th March 2021
We are still in the grip of the third national lockdown so the meeting and event was held by Zoom. The business of the meeting was attended to promptly, and our focus soon shifted to the enjoyment of food and wine together.
The food was a Mediterranean sharing platter provided by Amato Food Products, a food wholesale company supplying restaurants with staples and more specialist products. Deloras Amato is a member of our branch and a co - Director of this company. Deloras talked us through the delights of the platter which contained a wonderful variety of top- quality produce in generous quantities.
There was a selection of meat and salami -
Napoli Dolce made by Veroni in Italy – gently smoked with a little garlic and black pepper.
Spianata Romana – a flattened shape and spicy with paprika.
Salami Finocchio from Tuscany – full bodied and seasoned with fennel seeds.
Proscuitto Crudo – deliciously salty cured ham.
Likewise, there was a wide selection of cheeses –
Gorgonzola – a soft creamy blue aged for 3-4 months.
Provolone – a semi-hard cheese from Southern Italy made from stretched curds.
Manchego – a classic Spanish cheese with 30 days minimum ripening. This example was mild with a firm creamy texture. It has won two firsts in global contests and a Silver medal in the Nantwich Cheese Awards.
Mozzarella – this example was made with cow's milk and was very much enjoyed with homemade pesto drizzled over the top!
Goat cheese – a young mild example.
The platters were made up on the morning of the event and were lined with a bed of fresh rocket which had been bought at Smithfield market that same morning! Dotted around the platter were Roman style grilled artichokes, mixed peppers from Southern Italy, olives in herbs from South East Italy and sun-dried tomatoes prepared in house and marinated in herbs and olive oil. There were also pots of hummus and pesto Genovese prepared in house to Deloras' own recipes.
A few members enjoyed the vegetarian platters which contained additional cheeses, a smoked applewood Cheddar and a Lancashire, in house sun dried tomato tapenade and grilled courgettes.
These delights were accompanied by a wide selection of artisan crackers and breadsticks including Ines Rosales – individually hand wrapped flaky tortas scented with rosemary and thyme.
As if that were not enough, Delores had sent each platter with a gift of Sicilian Cappuccino Cannolis, crispy little cakes filled with a creamy paste!
With food this good the bar was set high for our wine expert, Bob Lloyd. His brief was to find a good white and red for no more than about £12 a bottle from Majestic so that members could have their choices delivered if that was their preference in the pandemic. The recommended white was the Definition Gavi 2019 from Piedmont in North West Italy. It was fruity, slightly lemony and fairly dry and much enjoyed by all who had taken the recommendation. Members were at liberty to drink wines of their choice and Gavi from Tesco, Waitrose and Aldi were also enjoyed and discussed.
The recommended red was Dolcetto D'Alba 2019, also from Piedmont. This was a soft and smooth wine with cherries on the nose. It stood up well to the robust flavours of the platter and was an excellent choice.
More than anything, Zoom brought us all together to enjoy friendship and company and brighten up our lockdown existence.
Nicola McLoughlin
*********************************************************
I.W&F.S. Manchester Branch
Virtual Lunch by Zoom on 12th April 2021
40 members of Manchester Branch attended a Virtual Lunch on 12th April. Some members had food only, but the majority joined in the Zoom Meeting, in what was a highly successful event.
The food was supplied by Duncan Dickinson of Herb & Spice from Bowdon, Cheshire. We started with homemade asparagus and parmesan tart, served with spring vegetable salad and pea shoots.
The dish was accompanied by Orvieto (Argillae) an Italian wine from the town of the same name in Umbria. The wine is made from Procanico (a Trebiano varietal) together with varying percentages of Grechetto, Verdello, Drupeggio and Malvasia. The wine was light and very dry and is produced in the hills above Orvieto, 500 metres above sea level. It was a little closed on the nose, but with plenty of fruit on the palate, had balanced acidity and a reasonable finish.
The tart was well received and the wine complemented it.
The main course was Lancashire Hotpot, tender chunks of Cheshire Lamb casseroled with leeks and carrots, potatoes and rosemary, topped with sliced potatoes and served with tender-stemmed broccoli and fine beans. Although the lamb was from Cheshire*, it was delightful tender and succulent. Most members thought it to be the dish of the day. The vegetarian option was Vegetable Lasagne – seasonal vegetables cooked in a tomato oregano and basil sauce, layered with pasta and a parmesan sauce, served with a side salad. This dish was enjoyed by those who sampled it.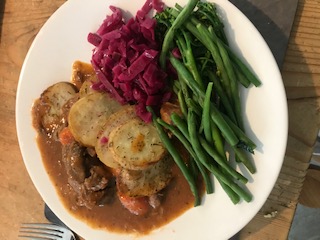 The red wine to accompany the two main dishes was Marques de Riscal, Rioja Reserva 2016. It was a good example from one of the great vineyards of the area. It had a lovely blackberry nose, with red berry fruit and liquorice vanilla spice typical of classic Rioja. The bodega uses 50 year old vines and was the first Spanish vineyard to use French oak barrels to mature its wine, a practice that is used all over Rioja to this day. The grape is 100% Tempranillo.
The dessert was Apricot and Orange Blossom Fool with crushed meringue and Chantilly cream, which brought to an end an exceptionally tasty meal.
The food was organised by Ronnie Costello and the wine was sourced by Bob Lloyd.
Bob Lloyd
*Editor's note – Bob is a Lancastrian!
**************************************************************