The Festival Programme
Monday 28 May



Check in at the superb Corinthia hotel and maybe take in some of the iconic sights of London within easy walking distance. Meet friends old and new for a Champagne reception, and enjoy our welcome gala dinner in the sumptuous surroundings of the Corinthia's ballroom.
Tuesday 29 May

Drive to the heart of the City of London, and the historic Merchant Taylors' Livery Hall for the André Simon Lecture and a formal tasting of sparkling wines, followed by lunch in the spectacular dining hall.
In the evening, travel to one of three well-known smaller restaurants, where the chefs will have an opportunity to showcase their signature dishes.
Wednesday 30 May

Take a boat trip up the River Thames to Fulham, where we will land at the magnificent grounds of the Hurlingham Club. Internationally recognised as one of England's greatest and most exclusive private members sporting clubs, it was once a favourite of the Prince of Wales (later Edward VIIth) and is still a haunt of royalty. Here we will enjoy a wine tasting, before settling down to lunch in the splendid clubhouse.
The evening will be free – an opportunity to explore the sights of London, or even take in a show.
Thursday 31 May

In the morning there will be a variety of opportunities on offer to join a small group for a guided exploration of an aspect of London that particularly appeals to you. The options will be sent to those who have registered later in 2017. Whether or not you have visited London before, there will be something for everyone.
In the afternoon we will board our boat again for a cruise down the River Thames, past many iconic sights of London and through Tower Bridge to Greenwich. Here our coaches will be waiting to take us to Eltham Palace. Situated above Greenwich, with fabulous views across London, and once the childhood home of Henry VIIIth , it was recreated in the 1930s as a millionaire's playground: part medieval palace and part masterpiece of Art Deco design. Savour the decade of decadence, as you are transported back to the allure of 1930s fashionable society for a superb party and dining experience.
Friday 1 June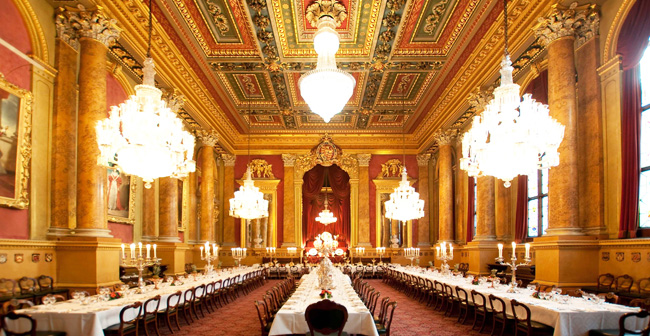 This morning we will be visiting Forman's Fish Island, long renowned as England's foremost smoked salmon processors, and recently re-housed in brand new premises right next to the site of the 2012 London Olympics. We have a talk by the owner, followed by a tour and demonstrations, and then a buffet lunch.
Our final reception and gala black tie dinner will take place in the grand surroundings of the Goldsmiths' Livery Hall, one of London's most spectacular venues. A fantastic feast of food and wines to provide a fitting end to a truly unique experience.
Pricing
Basic Ticket price: GBP 2,495 pp
Non-member Partner: GBP 2,585 pp
Deposit on booking: GBP 900
Final Payment: 28 February 2018
All prices are per person (pp), and subject to a discount of approximately 2.5% if you pay by cheque or bank transfer.
Pre- and Post- Tours:
1. Champagne Experience
2550 euros pp (single supplement 360 euros)
Deposit required on confirmation 1000 euros
Transport and accommodation included
2. Irish Delights - Dublin & Cork
1750 euros pp (no single supplement)
Deposit required on confirmation 700 euros
Includes 3 nights accommodation in Cork.
Dublin accommodation, and flights to and
from Ireland not included.
3. Hampshire and Sussex Wineries
GBP 2,160 pp (single supplement GBP 305)
Deposit required on confirmation GBP 300
Transport and accommodation included
4. Gourmet London
GBP 1,250 pp (accommodation not included)
Deposit required on confirmation GBP 200
The above prices include all applicable taxes. For those tours priced in euros, there will an opportunity to pay in GBP at an exchange rate to be determined at the time when the payment is made.
Corinthia Hotel Prices
Bookings must be made by members directly with the hotel. For the main festival period from Friday 25 May arrivals until Monday 4 June departures you can do this on line. Please contact the hotel by phone or email if you need dates outside this period.
Click here to make your hotel reservation on line.
Superior Double: GBP 372 per room per night
Deluxe Double: GBP 438 per room per night
These prices include 20% tax. Breakfast is not included.
Room upgrades are available at additional cost
Telephone +44 (0)20 7930 8181
Email: reservations.london@Corinthia.com
Group reference: WFSF 210518