The Queen's Platinum Jubilee (Black) Pudding Competition Grand Awards Lunch  
12.30 for 1pm Tuesday 28th June 2022,
University of Bolton, Chancellor's Building & Social Learning Hall A, 676 Deane Rd, Bolton, BL3 5AB. Tel. 01204 900 600
To celebrate the Queen's Platinum Jubilee, the Northern Branches of the IWFS have launched a Black Pudding Competition to fete a great British ingredient, and demonstrate its quality and versatility in modern cuisine. Her Majesty has acknowedged our event. Click here to read her letter. We are also celebrating the creative and technical skills of students from 6 catering colleges across the North, who have been competing since early April to create a dish showcasing black pudding. The winners of the regional heats are being judged by a panel of top chefs at the end of May, with results being announced, and prizes presented at an Awards Lunch on 28th June at the Chancellors Building & Social Learning Hall at the University of Bolton. (please see 11 on this map).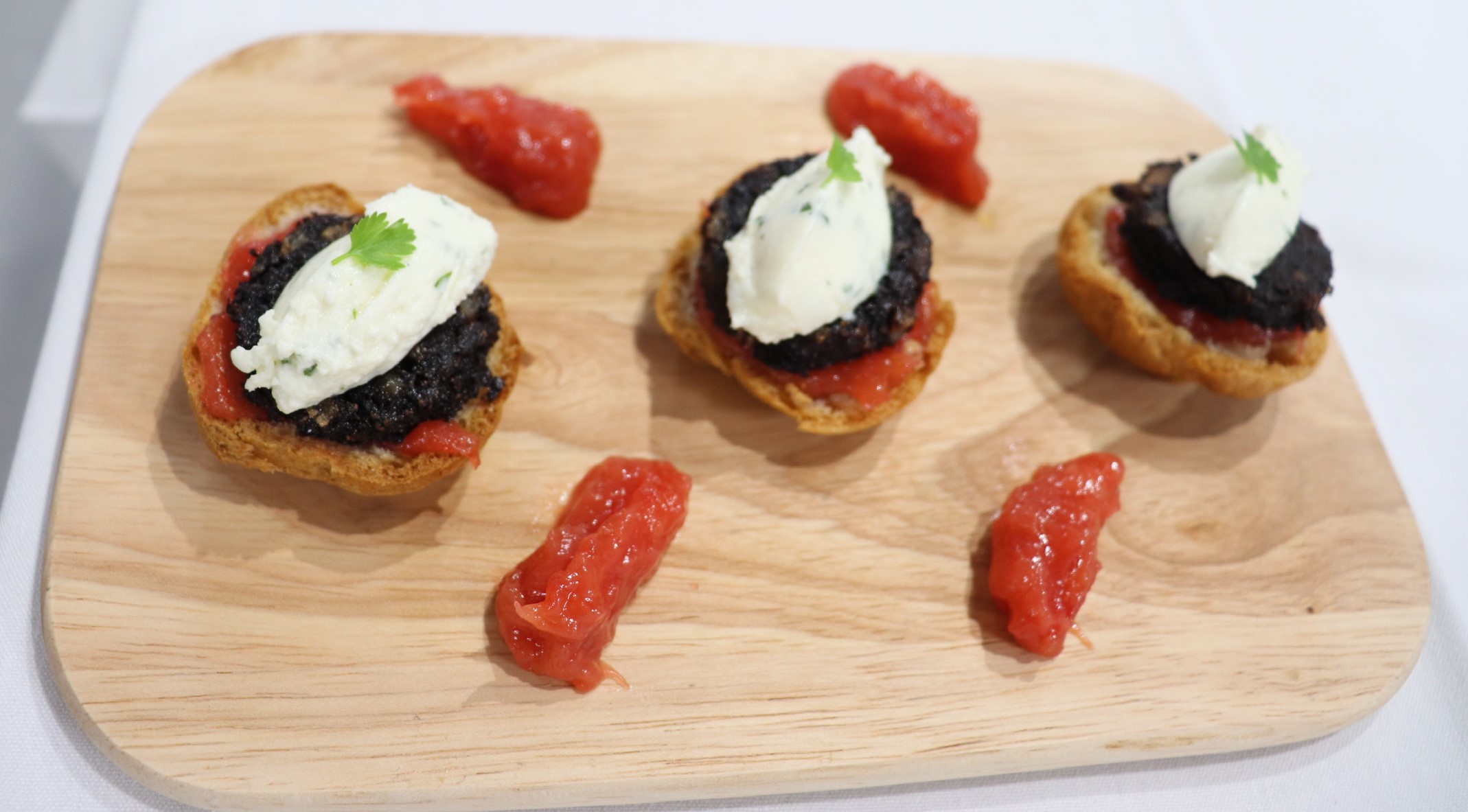 The Lunch will be hosted by professional chef and Great British menu contestant Stephanie Moon, who works closely with many of the colleges being represented. Also present will be our panel of judges, comprising Paul Heathcote (of Heathcotes fame), Aiden Byrne from The Church Green, Andrew Pern from the Star at Harome and Eugene McCoy from The Crathorne Arms.
All chefs and colleges have lauded our initiative, as being an imaginative approach that challenges students, and that will boost our IWFS and branch profiles, because of its unusual theme. Click here for an amateur video with highlights of the story so far. Full details and the latest news from the competition can be found at iwfsblackpudding.co.uk
We will be serving a 3-course lunch, including the winning dish from the competition, and will be pairing the meal with a selection of wines. Click here to see the menu. A limited number of places are being offered to members and friends on a strictly first-come, first-served basis at a subsidised price of £50 per person. To join this event, please make your payment via on line bank transfer (details below) and email the slip to West Yorkshire Treasurer, Russell Hudson. Your booking please to be received by the 18th June, although as demand for places is expected to be high, we would urge you to apply as soon as possible.
Kind regards
Hilary Rylands – secretary
01928 712 123
07803 757 324
IWFS Northern Branches
Blackpool and Fylde Coast
Manchester
Merseyside and Mid Cheshire
West Yorkshire
---
To: Russell Hudson, 2A Second Avenue, Bardsey, Leeds LS17 9BQ; T: 01937 572663
f.russell.hudson@gmail.com
Name(s): ______________________ ___________________________________________
Please reserve _____ places for the Grand Awards Lunch on Tuesday 28th June
Price £50 per ticket
On line bank transfer payment of £______
Account name: West Yorkshire Branch of the International Wine & Food Society; Sort Code 20-48-42; Account No. 23579832
Or cheque to the address above.