Overview of the Wine and Food Society of Baltimore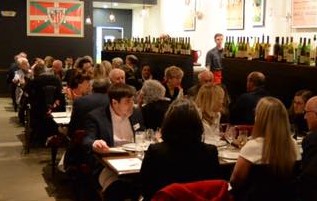 The Wine and Food Society of Baltimore, Maryland was founded in 1947, and since then has been a social club focused on the enjoyment of fine wine and gourmet food with good friends. We are one of more than 75 Branches of the International Wine and Food Society in the Americas.
Our Branch is active throughout the year, usually holding a dozen or more events each year, including fine dining at acclaimed local restaurants and country clubs, visits to local wineries, cooking classes, and wine tastings.
Many of our events are educational, exploring wines of a particular grape or region, sometimes bringing in a winemaker to discuss his or her wine, wine region, or winemaking methods, or a special chef to share cooking secrets.
Events vary from casual to dressy venues, and each year we hold one or two black-tie formal events offering an opportunity to dress to the nines for a fun and spectacular dining experience.
One thing that sets The Wine and Food Society of Baltimore apart from many other Branches is that we maintain our own cellar of fine wines. The Branch's wine cellar was first established in 1981 and collecting began in 1982. This affords members the opportunity to enjoy aged fine wines collected over decades from great wine regions of France, Italy, the United States, Portugal, and other countries, as part of many of our dinners and events.
Membership in our Branch is by invitation only, but if you're interested in learning more about the Wine and Food Society of Baltimore, and how to become a member, please contact us.