Overview
Like its parent organization, the Austin Branch of the International Wine and Food Society celebrates wine, food and friends, and does so with adventure and socialization over shared meals. In robust operation since 1977 and boasting about 70 members, we are one of the larger Branches in the Americas. Nevertheless, we are always welcoming new members who have a passion for the joys of a shared meal.
Our members are actively involved in the Branch and take advantage of Austin's vibrant and eclectic food scene and its proximity to Hill Country wineries. We take turns organizing events. Examples include five-
course degustation menus, omakase experiences, Sunday brunches, curated food truck tours, black tie holiday galas and wine tastings in Hill Country vineyards. We are often the first to identify and try new venues that later secure spots at the top of the list of Austin's best restaurants. Through these events we have the opportunity to explore Austin's ever-evolving dining scene and meet top local chefs and sommeliers.
Our dining adventures extend beyond Central Texas. Every year we organize a Branch trip to a destination recognized for its culinary excellence. Examples include New Orleans, Paso Robles and Charleston, South Carolina.
The Austin Branch welcomes guest-members from other Branches on a space available basis. If you plan to visit the Austin area and wish to attend an event or need restaurant recommendations, please contact us.
Members of the Austin Branch also receive all the benefits of the of global International Wine and Food Society, such as national and international festivals and cruises, a newsletter and magazine, special monographs, and the highly popular blog, Ask Sid.
For information on how to become a member of the Austin Branch, please contact us. We look forward to celebrating wine, food and friendship with you.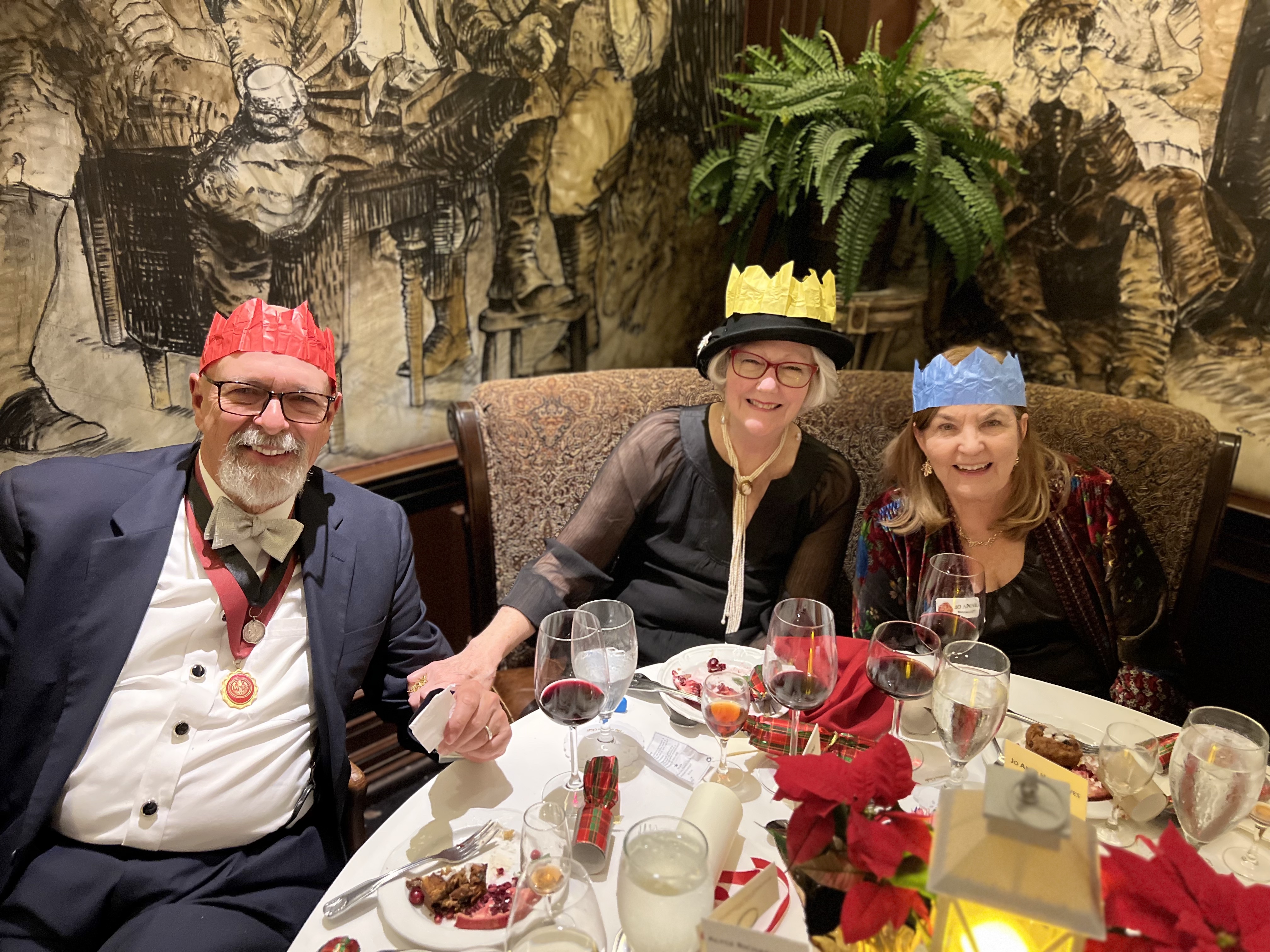 The finale of a Dickensian-themed Holiday Gala, with (L- R) Terry Lyons, Julie Lyons and Jo Anne Hargraves sporting the crowns they found in their Christmas crackers.