2022 Past Events
Past Meetings: M452 M451 M450 M449
Meeting 453 Friday 18th November
This was a tasting of South African wines, from lesser-known regions and titled 'roads less travelled', by Nik Darlington. Nik first worked in South Africa as a rugby coach in 2008 and has returned to the country regularly ever since, most recently this October when the country's wine industry officially reopened post-pandemic with the first Cape Wine conference in 3 years. Nik set up wine importer Red Squirrel in 2012, which merged with another small business in 2019 to create the Graft Wine Company and was voted the UK's Small Agent of the Year this summer by the International Wine Challenge.
Nik gave an excellent presentation, and the wines showed well. It was decided that the Ahrens Family Black was a wine of excellent quality and should be put into the branch cellar, for tasting at a future event after the wine has matured for a few years.
Mark provided boerwurs sausage, the traditional South African sausage they cook on the braii (South African for wood or charcoal barbeque), served with mashed potato and onion gravy. As a winter warmer Mark served a jam roly-poly with custard. (Colin Mair)
| | | | |
| --- | --- | --- | --- |
| Wine | Score | | |
| Corvers-Kauter Secco Rosé 2021 Rheingau | 7 | | |
| Buffelsfontein Wyntjie Steen 2020 Chenin Blanc Western Cape | 6½ | | |
| Cape Town Wine Co. White 2021 Sauvignon Blanc | 7½ | | |
| De Kleine Wijn Koöp Road to Santiago 2020 Semillon Franschoek | 8 | | |
| De Kleine Wijn Koöp Klipkers Droë Rooi 2020 Syrah/Cinsault Paarl | 8 | | |
| Cape Town Wine Co. Red 2020 CS/Merlot/CF | 7½ | | |
| Dorper Pinotage 2020 Stellenbosch | 7½ | | |
| Lowerland Tolbos 2019 Tannat Prieska | 7½ | | |
| Ahrens Family Black 2019 Syrah/Carignan Swartland | 8 | | |
---
Meeting 452 Friday 21st October 2022.
Wines of Sicily and Puglia. Speaker: Clive Stanton, Eton Vintners.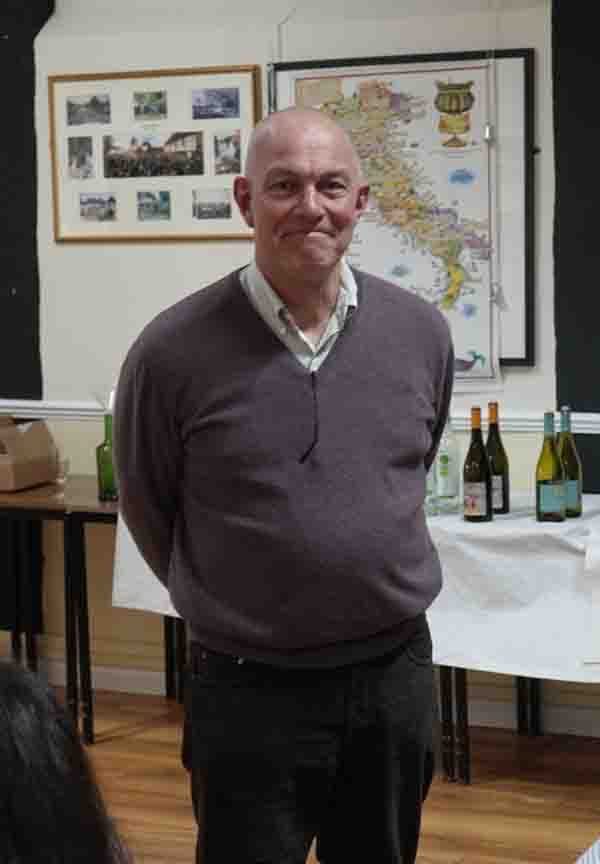 Clive Stanton of Eton Vintners presented wines from Sicily and Puglia. We have had tastings of wines from northern Italy and Sicily in recent years, but none from southern Italy since 2010, so it was interesting to sample some typical Puglian wines, with traditional local grape varieties such as Primitivo and Negroamaro. After a sparkling aperitif, a wine produced on the slopes of Mount Etna, there were three white wines and five reds. Mark accompanied these wines with arancini stuffed with lamb ragu, served to accompany the first red wine, and then at the end of the tasting Pasta alla Norma, which is rigatoni with a tomato and aubergine sauce with grated hard ricotta. In general the red wines were more liked than the whites, and two reds were clear favourites, attracting orders both from members and for the Branch cellar.
The bubbly aperitif is not on Clive's list, but he sought it out to provide a Sicilian wine. It is grown in tricky conditions; insurance costs for businesses on the slopes of a very active volcano are astronomical. So while very interesting and quite fresh and attractive, its price is far from competitive. The other white wines were not outstanding, the Grillo pleasant, the Bianco di Nero I thought rather better but again uncompetitive; the Alastro was disappointing. The red wines, however, were generally very well liked. The Nero d'Avola was a good example and well priced, but perhaps our members already have some in stock. The Primitivo was a big luscious mouthful, with distinct oak and tannin but well balanced. The Squinzano – 90% Negroamaro and 10% Malvasia – was deliciously fruity, a very attractive drink and clearly popular. The Cerasuolo had nice fruit, but I found it a bit too acidic and thus unbalanced. The Settebracia had very generous, slightly sweet fruit, and had very good balance and length, with quite complex flavours. People thought it a good game wine. I guess some who bought it may enjoy it at Christmas. (Colin Mair)
The Wines

Cost(£)**

Score

Aperitif: Planeta Brut 2016
29.95
7
The Whites:
(1) Grillo ERA Volpi 2020 (Sicily)
13.95
6+

(2)Bianco di Nero Comed'Invanto NV(Puglia)

18.95
6+*

(3) Alastro, La Planeta 2021 (Sicily)

18.95
6+*
The Reds:
(4) Costadune Nero d'Avola Mandrarossa 2020(Sicily)
10.95
7+

(5) Primitivo Gioia del Colle Fatalone 2021 (Puglia)

19.50
7+*

(6) Sqinzano DOC Tacco Barocco 2016 (Puglia)

14.95
8*

(7) Cerasuolo d Vittoria Classico, Cos 2019 (Sicily)

26.50
7+

(8) Settebraccia/Negramaro/Susumaniello Sampietrana 2019/20 (Puglia)

18.95
9
* Average of a wide range of scores!! Often 5 to 9
** Price to Members
---
Meeting 451 Friday 12th August 2022.
Wines by Henry Laithwaite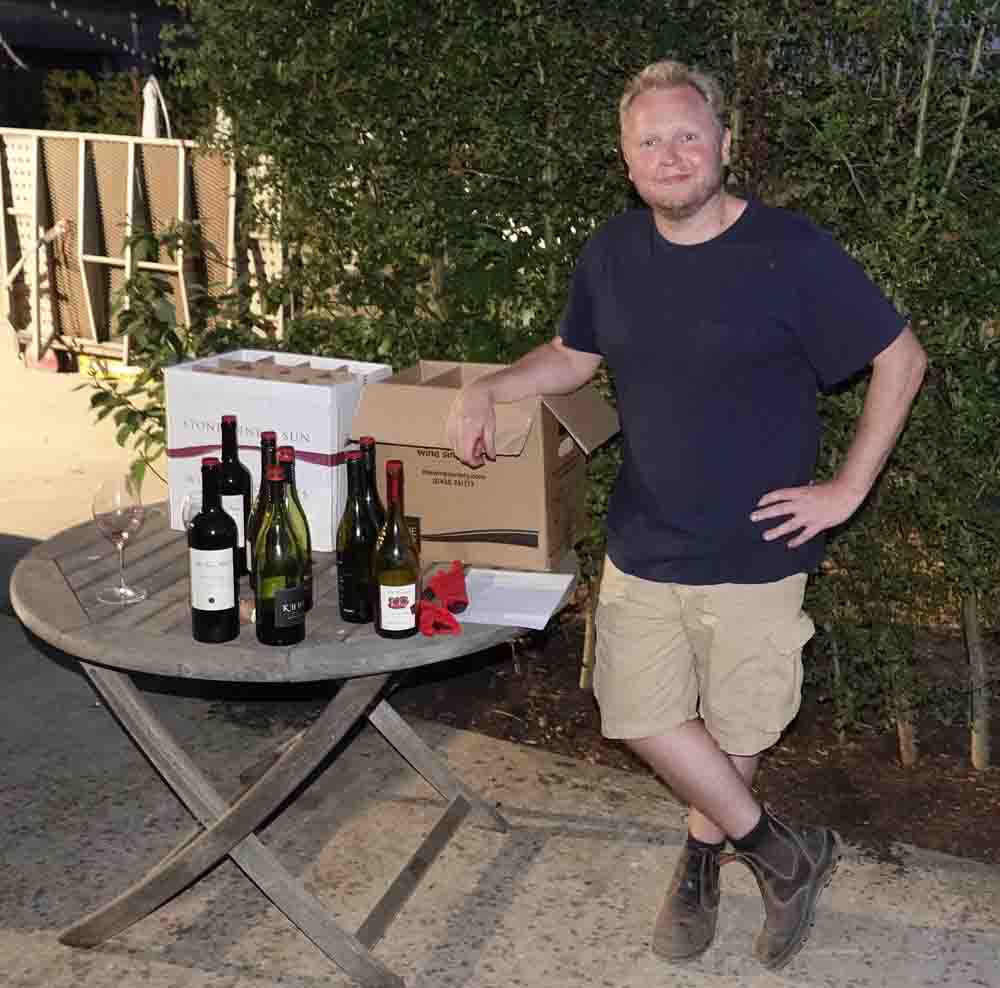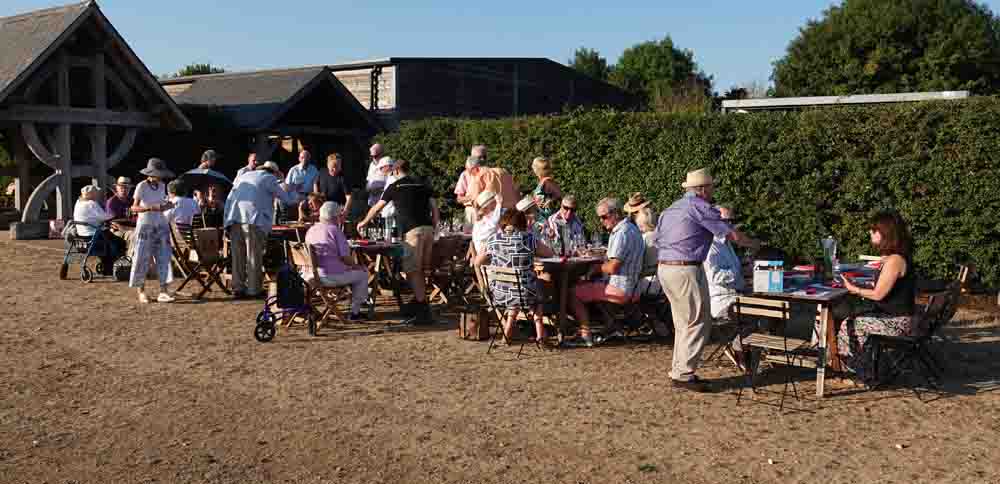 Back in 2007 we had a tasting of wines made by Henry Laithwaite. At that time he was a 'garagiste' winemaker, spending half the year in Castillon and the other half in McLaren Vale. We were very impressed by the wines, and decided to purchase a selection for the Branch cellar. Now we decided that it was time to revisit these wines. The Laithwaite family have invested in land which is a prime vineyard site in Marlow, and Henry has established himself there as a premier producer of English Sparkling Wine, under the name Harrow & Hope. We have maintained a close liaison with Henry – and his charming wife Kaye – and we were very fortunate to be able to hold this meeting at the winery. It is a beautiful site, and the weather was perfect, if perhaps too warm for some at the beginning of the evening. We started with an aperitif wine, the Brut Reserve No. 6. This is 40% Chardonnay, 40% Pinot Noir and 20% Pinot Meunier, reflecting the same proportions of these grapes grown on the 6 hectare site. Henry explained that this is called No. 6 because it is the sixth blended wine he has made. English seasonal weather is of course very variable, and the quality and particularly quantity of wine produced can vary considerably between different vintages. So Henry each year reserves some wine for blending, so that he can produce each year a reasonable quantity of NV wine, and maintain a consistent quality. He was asked how long the wine will keep, and he expects all his wines to keep well, probably for at least ten years. We then tasted the Blanc de Blancs 2017, 100% Chardonnay. Both sparklers had very good balance, with complex fruit flavours and fresh acidity. The 2017 had rather greater richness of flavour and great depth; this is clearly a wine worth laying down for a while.
We now moved on to Henry's older wines. The first was a white wine, not one tasted in 2007, but bought around then by Chris Graham. It was labelled rather cryptically just KR 1st Edition. Henry thought it was probably a 2008 vintage, made by a friend for Henry to give to Kaye (KR were her initials then) because she preferred drinking white wine. It was a blend of Chardonnay and Viognier. It proved an interesting drink, quite oxidised and rather too old, but still with fairly attractive flavour. Then we tasted five wines, all red, and all of which gained very high marks from our members and guests. First was Aux Trois Frères Côtes de Castillon 2005, 100% Merlot. Great fruit on nose and palate, very good balance, and a long soft-tannin finish. Second Khwezi Reserve Cabernet Sauvignon and Shiraz 2003, Stellenbosch. This wine was made by Adam Mason. It had woody notes on the nose and slightly bitter but pleasant fruit flavour, again with good balance and length. Third Le Presbytere 2002 Côtes de Castillon, Merlot and Cabernet Franc. Lovely fruit and soft tannin on the finish. Then to Oz for Wilson Gunn 2005 Late Harvest Shiraz, McLaren Vale. Henry explained that the term 'late harvest' had no meaning in regard to picking; it was simply needed in the title to enable the wine, with an abv of 16%, to be exported to UK. The wine was enormously rich and smooth, even slightly off-dry, a very luscious drink. Finally La Curio 2005 Reserve Shiraz, McLaren Vale. This was the finest of all, with rich, complex fruit, perfect balance and great length. Henry explained that these wines were made when he was learning techniques, not having very much control over the growing of the grapes, all bought from farmers persuaded, often with considerable difficulty, to let him have a portion of their crop, and with improvised equipment. It is a great testimony to his ability that his wines showed so well, and gave us all, and Henry himself, a great deal of pleasure.
Mark was lured away with a last-minute football opportunity, but he sent his friend David, whom we have met before, to prepare the BBQ. David did a great job, and we had tender and tasty beef, lamb and chicken, accompanied by salads, followed by lemon posset with raspberries. This excellent food was accompanied by Chateau de Pitray 2018, 75% Merlot, 23% Cabernet Franc, 2% Malbec, a wine from The Wine Society, which proved a very good BBQ complement. (Colin Mair)
---
Meeting 450 22nd July 2022.
Lunch at the Crooked Billet, Stoke Row
This was a lunch at The Crooked Billet, Stoke Row. Our summer restaurant outings have previously been at weekends. Whether it was this, or simply that many people were away on holiday, taking the opportunity to get away after the Covid lockdown, it is difficult to say; but only a select few of our members, fourteen in number, attended. We were not disappointed. The Crooked Billet, owned and run by Paul Clerehugh since 1989, has a reputation for very good food, in both quality and quantity. Paul proposed the following menu, and our members chose between them all of the items.
Starters
Barkham Blue cheese soufflé. frisée. walnut pesto
Seared Cornish Porthilly mackerel rösti button. gooseberry relish
Pink pan fried Oxfordshire pigeon local cherries.pea shoots. crouton
Mains
Orkney Charlotte potato & Portland crab. lemon butter. green beans
Chicken Milanese.sauté parmesan truffle potato. zucchini fritti.tomato.basil
Pink carved rump of Stoke Row late season Scottish asparagus. broad beans, samphire, heirloom radish. green herb dressing
Cheese & Dessert
An interesting & unusual selection of local artisan oatcakes. piccalilli. grapes. Nettlebed Witheridge.unpasteurised Spenwood ewes. Oxford blue. Cotswold soft jersey
Golden caster thick cream. local strawberry
Dark chocolate Crooked Billet salted caramel ice cream
We were welcomed by Paul, and poured Bouvet Saumur Brut sparkling wine as an aperitif. Then we were surprised by his staff bringing an excellent variety of canapés, generating a splendidly convivial atmosphere. A red and white wine, both very acceptable, were served with the meal. The white was Definition Chablis (available at Majestic). At the end of the meal we were served coffee with caramel (a house speciality). We all agreed that the overall inclusive price of £75, which may have been an additional factor in the poor take up, was in fact excellent value, because the food, wine and service were all exemplary. (Colin Mair)
---
Meeting 449 20th May 2022.
Duncan Ross (Berkmann Wines) Wines of Lebanon (Ch Ksara)
Our old friend Duncan Ross of Berkmann Wine Cellars brought Lebanese wines from Chateau Ksara. He also brought Rachel Davey, who is the UK brand ambassador for Chateau Ksara and has been working with the Chateau Ksara team on all their UK activities since 2017. She is also a director of the Champagne Sparkling Wine World Championships. Rachel gave an excellent presentation, about the state of winemaking in Lebanon and its high-altitude terrior, and about Chateau Ksara, founded by the Jesuits in 1857. It is both the oldest and the largest winery in Lebanon.
Wines and Scores
Blanc de l'Observatoire 2020 6½
Merwah 2020 6½
Blanc de Blancs 2020 Blend of SB Semillon & Chardonnay 7
Sunset Rosé 2020 60% CF 40% Syrah 8
Le Prieuré Rouge 2018 Blend of Carignan CS & Mourvedre 7½
Reserve du Couvent Rouge 2018 8
Old Vine Carignan 2018 8½
Cabernet Sauvignon 2017 8½
Cuveé du Troisième Millénaire 2017 40% PV 30% CF 30% Syrah 9
Our aperitif wine was a dry white, Blanc de l'Observatoire 2020. Then followed two more white, one rosé and five red wines. All vines are picked by hand. Blends are all fermented separately before blending. The wines showed very well. The Merwah is a grape that none of us had experienced, indeed heard of, before, and produced a nice fresh wine with citrus-like flavour. All the reds were excellent. The Cabernet Sauvignon was absolutely classic, with good fruit and a tight tannic grip. The Troisième Millénaire was as good as its price suggested, with luscious fruit, complexity and good balance. Especially liked was the Old Vine Carignan, unusually 100% Carignan. It had a most attractive flavour, with again excellent balance; it appeared to be absolutely at its best.
Mark gave us highly complementary food, starting with mezze, of tabbouleh, home made hummus and labnah (home made yogurt "cheese" - yogurt mixed with salt and strained overnight to remove the moisture - mixed with a little garlic and herbs). After tasting the white and rosé wines we had kebbe (Lebanese spiced meatballs served with muhemmara, a roasted red pepper and walnut dip). At the end of the tasting we continued to drink the Cabernat Sauvignon as the supper wine, with chicken sharwarma, homemade flatbreads, fattoush salad and baba ganoush (smoked aubergine purée). (Colin Mair)
---
Meeting 448 22nd April 2022.
Arman Zaogln, (Southern Wine Roads) Wines of Greece
https://www.southernwineroads.com/
This was a presentation of Greek wines by Arman Zaloglu of Southern Wine Roads. The company imports solely Greek wines, from small producers with whom they develop personal relationships. Few of our members had any knowledge of Greek wines, and the tasting was highly educational as well as enjoyable. Incidentally we had followed the loss of members during Covid with various suggestions for recruitment, recognising that the most effective is the invitation of guests. We were delighted that in addition to 20 members there were 16 guests attending. Wines were all from single grape varieties and from different regions of Greece. They are listed, the first five white, the rest red, with score and price. There was considerable difference of opinion about most of the wines, and the scores average wide ranges.
The Wines Scores
Cair Rhoscento Sparkling 9.5% from Rhodes. Grape: Athisi 6½
Nerantzi Malagouzia 2020 12% from northern Greece. Grape: Malagouzia 6
Nikolou Fine Lees 2018 12.5% from Attica. Grape: Savatiano 7
Vriniotis Sur Lie 2018 13.5% from central Greece. Grape: Assyrtiko 8
Aoton 2020 14.5% from Attica. Grape: Roditis 7½
Grampsas Allegro 2017 12.5% from an Ionia. Grape: Augoustisis 7
Sant'Or Nature 2018 13.5% from Peloponnese. Grape: Agiogitiko 7
Dalamaras Naoussa 2019 13.5% Northern Greece. Grape: Xinomavro 8
Barafakas Ambelou Idea 2020 13.5% from Peloponnese. Grape: Agiogitiko 8½
These are all artisanal wines, with small production numbers. They are inevitably relatively expensive. There was no doubt about the standard of production, even if certain wines did not appeal to all tasters. There was a lack of familiarity, of course, but the wines with the higher scores were certainly of comparable quality to the best of more well-known areas.
---
Meeting 447 18th March 2022.
Wines from Doug Miles' Cellar
This meeting was a very special one. Very sadly, our former Vice-Chairman Doug Miles has not been able to attend our meetings for some time because of illness. But he has kindly offered the Branch a selection of wines from his cellar including some excellent bottles from Germany and Bordeaux. All profits and donations will go to Doug's chosen charity, the Motor Neurone Disease Association.
The meeting started with The Branch's AGM. Highlights were firstly, the Branch made a small profit over the year, but secondly, the membership has decreased over the last couple of years. Anthea, our Membership Secretary pointed out that, despite this evening being a full house, the average attendance recently has been in the low 20s. All other aspects of the AGM followed normal procedure with just the post of Secretary remaining vacant for the moment.
The AGM was followed by awards for special services to the Branch over the years. The Diplomas were presented by our President, Julian, to Colin Mair, David and Ross Kirk and John Farren.
Doug's wines were started with 3 white wines presented by Ian Roe. The aperitif, Von Buhl Sekt made a very pleasant start to the evening with it's flowery nose and its easy drinking lime/lemon palate. The Dr Hermann Spätlese from the Mosel , which followed presented a strong nettles nose, was characteristically semi sweet, good fruit and a clean finish. Despite being 7 years old, it had many more years to go. The Donnhoff Kabinett, from the Nahe, was a little down on the Spätlese – slightly less sweet but still with a flowery nose but a little less fruit and less full. Probably needs drinking now.
The white wines were accompanied by an excellent selection od canapes prepared by Charlotte. (see below}
The Bordeaux Reds were introduced by Chis Gutch. The Clos du Clocher Pomerol (70% Merlot) had a good sloe and raspberry nose, full fruit on the palate but a rather strong level of tannin. Although 13 years old, it still had some time to go before it was likely toachieve a good balance. The Ch. Batailley which followed, unfortunately seemed to have one bottle which was oaked. While half the members had to put up with a questionable nose and a totally flabby and tasteless palate, the rest enjoyed a true Pauillac wine. The Cru Bourgeois, Chateau Cissac, had a good stone fruit nose with balanced but medium fruit, had reached its peak and clearly needed drinking up. The Chateau Ducru-Beaucaillou also needed to be drunk. Strong plummy nose, nicely balanced fruit and comfortable tannin made for a good finish to the reds before the Supper wine. This latter wine, the Chateau Pey La tour Reservewas well appreciated as a full classic product of the Medoc. Full fruit and a balancing tannin with a fairly long finish, and being a 'young' 2018, it perhaps showed why the French as opposed to the Brits like to drink their wines young. While this wine could well be drinkable for some time to come. Why waste time? It was probably the most popular wine of the evening. Of course that may have been because it was accompanied by Charlotte's main meal!
Charlotte's food was excellent as usual. Starting with the canapes then a main meal of slow cooked shoulder of lamb accompanied by carrots, cavalo nero greens, dauphinoise potatoes and a delightful gentle but flavoursome pea and mint pesto.
To finish off the evening, Charlotte prepared a plum and almond tart. This was accompanied by Clos de Sainte Catherine wine, almost orange on the nose, full fruit on the palate, and too easy to drink with a light acid finish. Based on professional scores, the current vintage of this wine was rated as one of the top 10 Coteaux de Layon wines. The final Chateau de Rayne Vigneau had all the attributes of a good Sauternes despite being over 20 years old still had some time to go. But again, why wait?
Altogether, an excellent evening which we hope did credit to Doug and the Charity he supports.
---
Meeting 446 18th February 2022.
Presented by Mark Bradbury (Ruta 40). Wines of Italy
We were pleased to welcome another new presenter in Mark Bradbury from Ruta40, a company specialising in Argentinian wines from mainly small estates and named after the main road that links all the main wine regions from Salta in the north to Patagonia in the south. Mark set the scene by focusing on the 300 days of sunshine that meant a lack of insects, which in turn eliminated the need for herbicides and pesticides – and as a result no hangover if one over-indulged! Mark also emphasised the importance of irrigation and of altitude, with Mendoza at 1000 metres and the northern region of Salta at 1600. After a sparkling Pinot Noir we compared two examples of Torrontés, with the greater fullness and complexity of the 2018 Hermanos from Bodegas Domingo Molina in Salta making that the firm favourite of the two and with a score of 7.5. If a number of members had not been aware of the Torrontés grape that was even more the case with the first red, a 2016 Aranwa Reserve Bonarda from the Maipú region of Mendoza. This smooth but complex wine with a very intense perfumed nose gained some very high scores, although an average of only 7.5. After an interesting unoaked 2019 Cabernet Franc from Antucara we moved on to a fruity and refreshing 2017 Malbec Reserve from Tempus Alba in Lujan de Cuyo. The following two wines achieved the highest scores and were both blends: a 2018 Accuro Inspirado (50% Cabernet Sauvignon and equal parts Petit Verdot and Malbec), which had a powerful nose but was leaner and more tannic on the palate, scored 8.5, whilst the 2017 Antucura Gran Vin from the Valle de Uco (50% Merlot, 40% Cab Sauv and 10% Malbec) had had 16 months in French oak and showed mature tannins with dark fruits with a spicy finish, achieving an average score of almost 9. For the supper Mark had prepared an excellent Chimichurri beef casserole with sweet potato and corn on the cob followed by chocotorta (layers of chocolate biscuits, cream cheese & dulche de leche); the dishes were accompanied by a 2018 Accuro Malbec and a 2019 Laborum Late Harvest Malbec from the Cafayete region in Salta. (Ian Roe)
---
Meeting 445 21st January 2022.
Presented by Tim Syrad (Tim Syrad Wines).
For the first meeting of the new year we were pleased to welcome back Tim Syrad, who had hosted two of our online events during the pandemic. His theme on this occasion was Portugal and he began by emphasising the long history and huge variety of viticulture in a country with 250 indigenous grape varieties: of the ten most planted, only the tenth (syrah) was an international variety. Blends of five or more grapes were common, including field blends, and only two of the wines we tasted were from only one variety. Of the four white wines, including the aperitif, it was an oak-aged 2019 Morgado de Santa Caterina, a 100% Arinto from Quinta da Romeiro in the Bucelas region, that was marginally more popular than the rest with an average score of 7.5, although the very enjoyable 2020 Vinho Verde Reserva from Quinta de Azevedo, a blend of 70% Loureiro with Alvarinho, was richer and less acidic than many wines from that region.
A number of the reds achieved higher scores, although even the two that averaged "only" 7.5 were interesting, especially a 2015 Serra Mãe from Palmela in the Setúbal region, which was 100% Castelão and remarkably rich and spicy. We tasted contrasting reds from three other regions – Alentejo, Douro and Dão – and it was the wines from the latter two that obtained particularly high scores: a 2018 Callabriga from Casa Ferreirinha in the Douro Valley (8.5), a complex blend of three classic varieties Touriga Franca, Touriga Nacional and Tinta Roriz that had been 18 months in oak (75% old French and 25% new American); and a 2017 Tinto Reserva from Quinta dos Carvalhais in the Dão region, a wine of great richness and powerful tannins that obtained an average score of 9.
Reflecting the Portuguese theme, Mark served pork tenderloin in a port sauce followed by pastéis de nata (Portuguese custard tarts).(Ian Roe)
---
Meetings
Meeting 443 19th November 2021.
Presented by Tony Hill (Bordeaux and Beyond)
This month we were pleased to welcome back one of our regular presenters, Tony Hill from Bordeaux and Beyond. At the start of the tasting Tony gave us a detailed account of the problems that small independent wine merchants were encountering post-Brexit, in particular the difficulty of finding hauliers and the trebling of transport costs.
Tony's theme was a Tour de France as we tasted wines from almost all the major wine regions of France apart from Alsace. After a very drinkable Blanc de Blancs champagne from the Domi-Moreau family, we tasted three whites, all from the 2019 vintage: a Sancerre from Domaine de Carroir-Perrin, a Pouilly-Fuissé from Domaine Charmond, and a Viognier Cosy de Cause from the Côtes du Lot. After we had tasted the very enjoyable Sancerre, Tony produced a bottle of the 1993 vintage, which was still very drinkable despite some oxidation (although not obviously a Sauvignon Blanc!). The Viognier was a powerful 15% and was reminiscent of a dessert wine on the nose. The Pouilly-Fuissé, which would be classified as 1er Cru from the 2020 vintage, had been fermented half in partly new oak and half in tank and was full, rich and creamy and obtained the highest score of the three whites (8.5).
We then moved on to two southern reds: a 2017 Château de Bagnoles Majelus from the relatively new Cabardès appellation north of Carcassonne, which with its unusual combination of Syrah and Merlot, together with Grenache Noir, was described as a cocktail of Bordeaux and Languedoc; somewhat more complex and powerful was a 2016 Domaine Vintur Cuvée "Le Gentleman" from Côtes du Ventoux which showed ripe forest fruits and notes of liquorice and was the most popular red of the evening with a score of 8.5. The final two reds were from Bordeaux: a 2016 Château de Lauga from the Haut Médoc, a blend of predominantly Cabernet Sauvignon (55%) and Merlot (35%) with 12 months in oak and still very obvious tannins, and a 2016 Château Bardins from Pessac-Léognan, 5o% Merlot plus equal amounts of Cabernets Sauvignon and Franc and an appellation which Tony said was not well known in the UK but offered excellent value.
The final wine, a 2018 Domaine Belles Courbes from St-Chinian, was served with the supper cooked by Mark, a venison pie with a red currant jus followed by tarte tatin with vanilla ice cream. The supper was very well received, as were Tony's wines, all of which achieved good to very good average scores. (Ian Roe)
---
Meeting 442 23rd October 2021.
Presented by the Committee
This month, for the first time since restarting events at Neville Hall, we had major problems arising from the pandemic as both our presenter, Gavin Whitmee of Purple Foot, and our caterer had to pull out . Mark, our caterer, was able to send a replacement; and the wines and accompanying notes were delivered to the Secretary, who then presented the wines with valuable assistance from the Chairman and Vice-Chairman. Gavin's theme was Italy, currently the leading producer of wine in the world, and his emphasis was on differences between the North, producing both white and red wines that were ideally accompanied by food, and the more fruit-driven easy-drinking wines of the South. After a Prosecco Rosé we tasted two examples of the Cortese grape from Piedmont , followed by a Verdicchio Classico by Monte Schiavo in the Castelli di Jesi DOC and an Etna Bianco from the Cantine Nicosia; this last wine, made from the Carricante grape at 700 metres on the slopes of Mount Etna, proved to be the most popular white wine of the evening with an average score of 7 and higher scores from some members.
We then moved on to four reds, firstly two from Piedmont: a 2018 Langhe Nebbiolo from the Araldica co-operative and a 2018 Crocera Barbera d'Asti from the top estate of Il Cascinone; these were followed by two Puglian wines, a 2020 Primitivo from Cantine Minini and a 2018 Ca' Vittoria Limited Edition made from predominantly Negroamaro with a 25% mix of Merlot and Primitivo, and using the Appassimento method. The Nebbiolo was light-bodied, but the other three reds had considerable body, richness and length, and scored either 8 or (for the Appassimento) 8.5.
Mark's replacement, George, served wild mushroom arancini balls as a starter, followed by an extremely tasty cacciatore of pheasant accompanied by fried polenta and kale. Overall, especially considering the inauspicious omens, the evening proved a success. (Ian Roe)
---
Meeting 441 17th August 2021
Presented by Tony Wellings (Antipodean Sommelier) Wines of New Zealand
This month we were very pleased to welcome a new presenter. Tony Wellings had described himself as "director of The Antipodean Sommelier, a small but perfectly formed specialist wine producer, brand owner, importer and distributor", and at the start of his presentation Tony gave more detail on how his company had been set up in 2001, combining a wine merchant and a winegrower and dealing with 200 Independent Wine Shops in the UK and selling around 15,000 cases a year.
After an aperitif of a sparkling rosé from Marlborough we moved on to taste a further (still) rosé and then two whites and four reds. The two whites, both from the 2020 vintage, were much appreciated, with the (despite the name) relatively restrained Tony Bish "Fat&Sassy" Chardonnay from Hawke's Bay, matured in egg-shaped concrete tanks and then large barrels, scoring 8, fractionally higher than the fuller and richer Awatere Pinot Gris from Marlborough. We then compared two Pinot Noirs: a 2019 Ward Valley Mt Victoria from Marlborough and a 2018 Coal Pit "Tiwha" from the coolest part of Central Otago. The latter had a lovely texture and richness (reminiscent of a top Pinot Noir from the Ahr valley) and scored 8+, whereas the Marlborough example was very light and may have needed time to mature. The final two wines were both from the Obsidian estate on Waiheke Island to the east of Auckland; both the 2016 Estate Syrah and the 2015 Vitreous, a Bordeaux blend of five grape varieties, were full and complex, with the latter achieving the higher score of 8.5.
Mark had prepared a starter of seared tuna steaks with caper, lemon & olive oil sauce and a salad of couscous and grated cauliflower; the main course was barbecued lamb cutlets with butter beans and green beans. Mark could not attend the meeting, but his colleague David was a very competent replacement in supplying the finishing touches and serving the food.
Tony's informal and humorous but also very informative presentation of the wines was much appreciated and the evening was most enjoyable. (Ian Roe)
---
Meeting 440 20th August 2021
Presented by Duncan Ross (Berkmann Wine Cellars) Wines of Argentina and Chile
For this meeting we were delighted to welcome back one of our regular presenters, Duncan Ross from Berkmann Wine Cellars, who stepped in at relatively short notice when the scheduled presenter cancelled. Duncan's theme was Chile and Argentina and he was pleased to focus on a number of estates (Matetic, Pulenta) that had only recently been added to Berkmann's portfolio. Duncan began by focusing on key aspects of climate in the two countries: the cooling effect of cloud over the coastal areas of Chile; and the Andes as a formidable barrier that provided a rain shadow over the Mendoza region of Argentina but also resulted in Chile being relatively isolated from the rest of the continent (so many organic wines).
After an aperitif of Grüner Veltliner from Bodegas Norton, a grape only recently introduced in Argentina, Duncan presented three whites and five reds, all of which scored at least 7/10 with a number of 8s and the only slightly disappointing wine being a Pinot Grigio-based blend from Masi Tupungato. The other two whites were a 2020 Corralillo Sauvignon Blanc from Matetic in San Antonio Valley (Chile) and a 2019 Chardonnay from Pulenta in Lujan de Cuyo (Mendoza). Overall the red wines achieved higher scores than the whites, the two highest being awarded to two very rich and complex wines, a 2018 Gran Cabernet Franc from Pulenta (8.5) and a 2018 Hussonet Gran Reserva Cabernet Sauvignon from Haras de Pirque in Maipo Valley (Chile); not far behind were two more wines from Matetic, a 2018 Corralillo Pinot Noir and a 2015 EQ Cool Climate Syrah, the latter concentrated but still remarkably fresh despite six years of age. Indeed the orders submitted after the event showed that even the "easy drinking" supper wine, a 2019 Merlot Estate Reserve from Morandé in the Chilean Casablanca Valley, had been enjoyed, and Duncan was warmly congratulated for his choice of wines and his presentation.
In the absence of our regular caterer, Julie Graham and Yoko Gutch put on an excellent "posh ploughman's" with crudités and humous (?++), then smoked salmon, a cold meat platter and cheeses, and finally fruit. (Ian Roe)
---
Meeting 432 21st February 2020
Presented by Tim North (Joie de Vin) Bordeaux v. Languedoc Roussillon
Tim North previously established France's largest wine exporter in the UK, but became increasingly disillusioned with the quality and range offered by mainstream retailers. He set up Joie de Vin to seek out artisan wines that are hand-crafted by small producers in limited volumes and are not normally available in the UK.
His Aperitif was a fine example of Methode Traditionelle wine made from Chenin Blanc. Fizzy, Fruity and crisp. The first white from Domaine La Toupie, fermented 6 months in oak, was nicely balanced, mineral with a hint of pepper on the nose. It proved popular with the members. The Semillon based Chateaux Brown Cotes de Roussillon Blanc had a strong nettles and flowery nose and had been slow barrel fermented at low temperature.
The first Red, Cotes de Castillon from Ch. Le Plantey was 85% Merlot with a touch of Cabernet Franc lighter but tannic. The Domaine Trilles Côtes de Roussillon which followed was altogether more full with a strong stone fruit nose was smooth, balanced and very long on the palate. The Ch Lussac had a gentle damson nose with full fruit on the palate; was quite tannic and long having spent 18 months in barrel. Like all the reds it was popular with members The Ch. Montfin Cuvee Margot made of an almost classic mix of Syrah, Grenache and Carignane had a hint of sweetness (15% alcohol?) , was very full and smooth with strong tannins and a long finish. It has the prospect of aging well. The following View Ch Gachet on the other hand despite a full body of stone fruit with a hint of tropical fruit and soft tannin was quite short on the palate. However it was probably the most popular wine of the evening. The final red , which was also the supper wine, from Domaine La Toupie Quatuor had a production of only 4000 bottles was rich with plum and blueberry fruit, good tannins and was long on the palate. It deservedly obtained 92 points from the Wine Advocate.
Altogether a fine range of wines which showed some interesting contrasts between Bordeaux and Languedoc- Roussillon.
Martin provided us with a delicious Duck Cassoulet followed by Crème Brûlée.
An excellent evening all round. (JF)
---
August 2019, meeting 427
It was a great privilege to welcome Charles Metcalfe, the well-known wine writer and co-founder of the IWC, but also the friend and choral colleague of our Chairman. His theme was "Why I love Portuguese Wine" and he explained how his interest in Portuguese wine had developed and resulted in the publication in 2007 of The Wine and Food Lover's Guide to Portugal, written in collaboration with his wife Kathryn McWhirter, who also attended the meeting and proved a very excellent pourer! Illustrating his presentation with a wealth of stories and anecdotes – and with impeccable pronunciation that would be an example to many wine experts – Charles introduced the various regions of Portugal and explained how Portuguese grape varieties do not share the DNA of most European grapes. After a white port from Sandeman's as aperitif, we sampled a variety of grapes and regions. Of the whites, a light and refreshing Sainsbury's TTD Albariño 2018 from the Minho region obtained the equal highest score of 7, alongside a more complex nutty and honeyed 2018 Adega de Pegões from Setúbal, made from a variety of grapes including Fernão Pires and Verdelho but also 10% Chardonnay. The red wines similarly encompassed a variety of regions, from the Algarve in the south to the Douro in the north. The highest average score of 7.5 was achieved by an Esporão Reserva 2015 from the Alentejo region, a blend of Alicante Bouschet, Aragonez, Trincadeira and a dash of Cabernet Sauvignon.
Mark prepared barbecued sardines, which were served after the white wines, and Piri Piri Chicken with sauté potatoes and salad as the main course.
---
Meeting 426 - " Wine tasting and Lunch at Waddesdon Manor"
Sunday 21st July 2019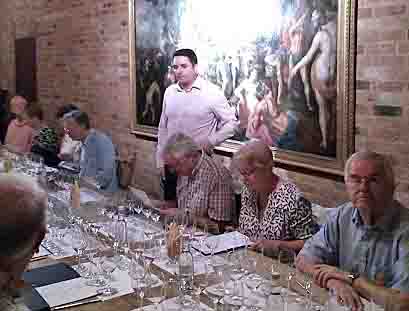 Waddesdon Manor was built by Baron Ferdinand de Rothschild between 1874 and 1885 to display his collection of art and to entertain the fashionable world. Opened to the public in 1959, Waddesdon Manor is managed by the Rothschild Foundation, a family charitable trust, on behalf of the National Trust, who took over ownership in 1957. The cellar was built in 1994 specially to reflect the wide variety of the wines of the Rothschild Domaine and its affiliates. It holds some 15,000 bottles dating back in age to 1868.
In 1868 James de Rothschild purchased Chateau Lafite and so began an expansion of the Rothschild brand which now has associated producers throughout the world (Argentina, Chile, California and New Zealand to name a few). In France the Compangnie Vinicole Baron Edmond de Rothschild has outstanding holdings in Listrac, Moulis as well as its Domaine de Rothschild Duhart-Milon (Pauillac), Chateau Riessec (Sauterne) and L'Evangile (Pomerol). Not to mention Chateau Clarke, Chateau Malmaison and Chateau Mouton Rothschild.
On a clear summer's day, members of the IWFS Berkshire Branch spent an excellent day sampling some of the wines from the cellar and having a fine lunch at the estate owned Five Arrows Hotel.
Following a tour of the cellars and a talk on the history of Waddesdon we enjoyed a selection of Rothschild wines under the guidance of the Manor's Wine adviser, Peter Tompkins before moving on to lunch.
The first of two white wines that Peter presented was a lime and tropical fruit chardonnay from Baroness Nadine from South Africa. With a strong flowery nose it was well balanced clean acid and had a long finish. The Aile d'Argent which followed was a typical Semillon/Sauvignon seepage with a nectarine and orange palate with a slightly less acid finish than its predecessor but still very clean.
The first red from Rimapere had a full soft fruit palate and nose and soft tannins and was popular. By contrast the Chateau d'Evangile (85% Merlot and 15% Cabernet Sauvignon) was less fruity, slightly spicey but quite tannic. The Chateau Clerc Milon which showed its Grand Cru Class and perfect drinking age with ripe damson and some mineral on the palate. The Los Vascos le Dix is a product of the close association with Rothschild and had a strong nose of raisins with cherries on the palate. The final red from Gran Corte in Vista Flores (1100ms high) was also popular with a classic Argentinian blend of principally Malbec and Syrah.
The final Domaine de Rothschild Rieussec was all we expect from a classic Sauterne and rounded off an excellent tasting.
Our thanks to Peter for a very informative presentation and a well balanced selection of the wines from the Waddesdon cellar. We were in perfect (almost balanced!) condition to stroll over to the Five Arrows Hotel. In an a very comfortable location with very attentive staff, we enjoyed an excellent and relaxed lunch.

Five Arrows Hotel Lunch Menu
Starters

Braised beef nugget, Mustard Mayonnaise, Gherkin

Hot or chilled pea and mint soup, Lemon crème fraiche

Grilled mackerel fillet, Smoked pate, avocado, caraway cracker


Mains

Roast Pork Chop
Champ, black pudding, garden greens apple and sage sauce

Pan fried salmon fillet
Roast courgette, radish, cucumber butter sauce

Pearl barley risotto
Eythrope estate vegetables, toasted hazelnut
| | | |
| --- | --- | --- |
| Bespoke flight of Rothschild Wines | Cost(£) | Score |
| (1) Baroness Nadine 2017,Western Cape, South Africa | 23.95 | 7+ |
| (2) Aile d'Argent 2015, A.C, Bordeaux | 95.00 | 7 |
| (3) Rimapere Pinot Noir 2017, Marlborough New Zealand | 29.95 | 8+ |
| (4) Chateau L'Evangile 2006, A.C. Pomerol | 155.00 | 8 |
| (5) Chateau Clerc Milon 2005, Grand Cru Classè Pauillac | 10.94 | 8+ |
| (6) Los Vascos Le Dix 2015, Colchagua, Chile | 42.50 | 7+ |
| (7) Gran Corte 2011, Vista Flores, Argentina | 34.50 | 8 |
| (8) Chateau Rieussec 2010, Grand Cru Classè Sauternes | 65.00 | 9 |