Past Events
Meeting 441 17th August 2021
Presented by Tony Wellings (Antipodean Sommelier) Wines of New Zealand
This month we were very pleased to welcome a new presenter. Tony Wellings had described himself as "director of The Antipodean Sommelier, a small but perfectly formed specialist wine producer, brand owner, importer and distributor", and at the start of his presentation Tony gave more detail on how his company had been set up in 2001, combining a wine merchant and a winegrower and dealing with 200 Independent Wine Shops in the UK and selling around 15,000 cases a year.
After an aperitif of a sparkling rosé from Marlborough we moved on to taste a further (still) rosé and then two whites and four reds. The two whites, both from the 2020 vintage, were much appreciated, with the (despite the name) relatively restrained Tony Bish "Fat&Sassy" Chardonnay from Hawke's Bay, matured in egg-shaped concrete tanks and then large barrels, scoring 8, fractionally higher than the fuller and richer Awatere Pinot Gris from Marlborough. We then compared two Pinot Noirs: a 2019 Ward Valley Mt Victoria from Marlborough and a 2018 Coal Pit "Tiwha" from the coolest part of Central Otago. The latter had a lovely texture and richness (reminiscent of a top Pinot Noir from the Ahr valley) and scored 8+, whereas the Marlborough example was very light and may have needed time to mature. The final two wines were both from the Obsidian estate on Waiheke Island to the east of Auckland; both the 2016 Estate Syrah and the 2015 Vitreous, a Bordeaux blend of five grape varieties, were full and complex, with the latter achieving the higher score of 8.5.
Mark had prepared a starter of seared tuna steaks with caper, lemon & olive oil sauce and a salad of couscous and grated cauliflower; the main course was barbecued lamb cutlets with butter beans and green beans. Mark could not attend the meeting, but his colleague David was a very competent replacement in supplying the finishing touches and serving the food.
Tony's informal and humorous but also very informative presentation of the wines was much appreciated and the evening was most enjoyable. (Ian Roe)
---
Meeting 440 20th August 2021
Presented by Duncan Ross (Berkmann Wine Cellars) Wines of Argentina and Chile
For this meeting we were delighted to welcome back one of our regular presenters, Duncan Ross from Berkmann Wine Cellars, who stepped in at relatively short notice when the scheduled presenter cancelled. Duncan's theme was Chile and Argentina and he was pleased to focus on a number of estates (Matetic, Pulenta) that had only recently been added to Berkmann's portfolio. Duncan began by focusing on key aspects of climate in the two countries: the cooling effect of cloud over the coastal areas of Chile; and the Andes as a formidable barrier that provided a rain shadow over the Mendoza region of Argentina but also resulted in Chile being relatively isolated from the rest of the continent (so many organic wines).
After an aperitif of Grüner Veltliner from Bodegas Norton, a grape only recently introduced in Argentina, Duncan presented three whites and five reds, all of which scored at least 7/10 with a number of 8s and the only slightly disappointing wine being a Pinot Grigio-based blend from Masi Tupungato. The other two whites were a 2020 Corralillo Sauvignon Blanc from Matetic in San Antonio Valley (Chile) and a 2019 Chardonnay from Pulenta in Lujan de Cuyo (Mendoza). Overall the red wines achieved higher scores than the whites, the two highest being awarded to two very rich and complex wines, a 2018 Gran Cabernet Franc from Pulenta (8.5) and a 2018 Hussonet Gran Reserva Cabernet Sauvignon from Haras de Pirque in Maipo Valley (Chile); not far behind were two more wines from Matetic, a 2018 Corralillo Pinot Noir and a 2015 EQ Cool Climate Syrah, the latter concentrated but still remarkably fresh despite six years of age. Indeed the orders submitted after the event showed that even the "easy drinking" supper wine, a 2019 Merlot Estate Reserve from Morandé in the Chilean Casablanca Valley, had been enjoyed, and Duncan was warmly congratulated for his choice of wines and his presentation.
In the absence of our regular caterer, Julie Graham and Yoko Gutch put on an excellent "posh ploughman's" with crudités and humous (?++), then smoked salmon, a cold meat platter and cheeses, and finally fruit. (Ian Roe)
---
Meeting 432 21st February 2020
Presented by Tim North (Joie de Vin) Bordeaux v. Languedoc Roussillon
Tim North previously established France's largest wine exporter in the UK, but became increasingly disillusioned with the quality and range offered by mainstream retailers. He set up Joie de Vin to seek out artisan wines that are hand-crafted by small producers in limited volumes and are not normally available in the UK.
His Aperitif was a fine example of Methode Traditionelle wine made from Chenin Blanc. Fizzy, Fruity and crisp. The first white from Domaine La Toupie, fermented 6 months in oak, was nicely balanced, mineral with a hint of pepper on the nose. It proved popular with the members. The Semillon based Chateaux Brown Cotes de Roussillon Blanc had a strong nettles and flowery nose and had been slow barrel fermented at low temperature.
The first Red, Cotes de Castillon from Ch. Le Plantey was 85% Merlot with a touch of Cabernet Franc lighter but tannic. The Domaine Trilles Côtes de Roussillon which followed was altogether more full with a strong stone fruit nose was smooth, balanced and very long on the palate. The Ch Lussac had a gentle damson nose with full fruit on the palate; was quite tannic and long having spent 18 months in barrel. Like all the reds it was popular with members The Ch. Montfin Cuvee Margot made of an almost classic mix of Syrah, Grenache and Carignane had a hint of sweetness (15% alcohol?) , was very full and smooth with strong tannins and a long finish. It has the prospect of aging well. The following View Ch Gachet on the other hand despite a full body of stone fruit with a hint of tropical fruit and soft tannin was quite short on the palate. However it was probably the most popular wine of the evening. The final red , which was also the supper wine, from Domaine La Toupie Quatuor had a production of only 4000 bottles was rich with plum and blueberry fruit, good tannins and was long on the palate. It deservedly obtained 92 points from the Wine Advocate.
Altogether a fine range of wines which showed some interesting contrasts between Bordeaux and Languedoc- Roussillon.
Martin provided us with a delicious Duck Cassoulet followed by Crème Brûlée.
An excellent evening all round. (JF)
---
August 2019, meeting 427
It was a great privilege to welcome Charles Metcalfe, the well-known wine writer and co-founder of the IWC, but also the friend and choral colleague of our Chairman. His theme was "Why I love Portuguese Wine" and he explained how his interest in Portuguese wine had developed and resulted in the publication in 2007 of The Wine and Food Lover's Guide to Portugal, written in collaboration with his wife Kathryn McWhirter, who also attended the meeting and proved a very excellent pourer! Illustrating his presentation with a wealth of stories and anecdotes – and with impeccable pronunciation that would be an example to many wine experts – Charles introduced the various regions of Portugal and explained how Portuguese grape varieties do not share the DNA of most European grapes. After a white port from Sandeman's as aperitif, we sampled a variety of grapes and regions. Of the whites, a light and refreshing Sainsbury's TTD Albariño 2018 from the Minho region obtained the equal highest score of 7, alongside a more complex nutty and honeyed 2018 Adega de Pegões from Setúbal, made from a variety of grapes including Fernão Pires and Verdelho but also 10% Chardonnay. The red wines similarly encompassed a variety of regions, from the Algarve in the south to the Douro in the north. The highest average score of 7.5 was achieved by an Esporão Reserva 2015 from the Alentejo region, a blend of Alicante Bouschet, Aragonez, Trincadeira and a dash of Cabernet Sauvignon.
Mark prepared barbecued sardines, which were served after the white wines, and Piri Piri Chicken with sauté potatoes and salad as the main course.
Meeting 426 - " Wine tasting and Lunch at Waddesdon Manor"
Sunday 21st July 2019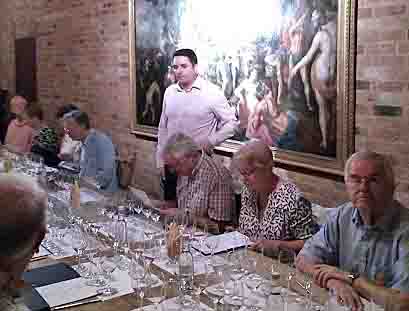 Waddesdon Manor was built by Baron Ferdinand de Rothschild between 1874 and 1885 to display his collection of art and to entertain the fashionable world. Opened to the public in 1959, Waddesdon Manor is managed by the Rothschild Foundation, a family charitable trust, on behalf of the National Trust, who took over ownership in 1957. The cellar was built in 1994 specially to reflect the wide variety of the wines of the Rothschild Domaine and its affiliates. It holds some 15,000 bottles dating back in age to 1868.
In 1868 James de Rothschild purchased Chateau Lafite and so began an expansion of the Rothschild brand which now has associated producers throughout the world (Argentina, Chile, California and New Zealand to name a few). In France the Compangnie Vinicole Baron Edmond de Rothschild has outstanding holdings in Listrac, Moulis as well as its Domaine de Rothschild Duhart-Milon (Pauillac), Chateau Riessec (Sauterne) and L'Evangile (Pomerol). Not to mention Chateau Clarke, Chateau Malmaison and Chateau Mouton Rothschild.
On a clear summer's day, members of the IWFS Berkshire Branch spent an excellent day sampling some of the wines from the cellar and having a fine lunch at the estate owned Five Arrows Hotel.
Following a tour of the cellars and a talk on the history of Waddesdon we enjoyed a selection of Rothschild wines under the guidance of the Manor's Wine adviser, Peter Tompkins before moving on to lunch.
The first of two white wines that Peter presented was a lime and tropical fruit chardonnay from Baroness Nadine from South Africa. With a strong flowery nose it was well balanced clean acid and had a long finish. The Aile d'Argent which followed was a typical Semillon/Sauvignon seepage with a nectarine and orange palate with a slightly less acid finish than its predecessor but still very clean.
The first red from Rimapere had a full soft fruit palate and nose and soft tannins and was popular. By contrast the Chateau d'Evangile (85% Merlot and 15% Cabernet Sauvignon) was less fruity, slightly spicey but quite tannic. The Chateau Clerc Milon which showed its Grand Cru Class and perfect drinking age with ripe damson and some mineral on the palate. The Los Vascos le Dix is a product of the close association with Rothschild and had a strong nose of raisins with cherries on the palate. The final red from Gran Corte in Vista Flores (1100ms high) was also popular with a classic Argentinian blend of principally Malbec and Syrah.
The final Domaine de Rothschild Rieussec was all we expect from a classic Sauterne and rounded off an excellent tasting.
Our thanks to Peter for a very informative presentation and a well balanced selection of the wines from the Waddesdon cellar. We were in perfect (almost balanced!) condition to stroll over to the Five Arrows Hotel. In an a very comfortable location with very attentive staff, we enjoyed an excellent and relaxed lunch.

Five Arrows Hotel Lunch Menu
Starters

Braised beef nugget, Mustard Mayonnaise, Gherkin

Hot or chilled pea and mint soup, Lemon crème fraiche

Grilled mackerel fillet, Smoked pate, avocado, caraway cracker


Mains

Roast Pork Chop
Champ, black pudding, garden greens apple and sage sauce

Pan fried salmon fillet
Roast courgette, radish, cucumber butter sauce

Pearl barley risotto
Eythrope estate vegetables, toasted hazelnut
| | | |
| --- | --- | --- |
| Bespoke flight of Rothschild Wines | Cost(£) | Score |
| (1) Baroness Nadine 2017,Western Cape, South Africa | 23.95 | 7+ |
| (2) Aile d'Argent 2015, A.C, Bordeaux | 95.00 | 7 |
| (3) Rimapere Pinot Noir 2017, Marlborough New Zealand | 29.95 | 8+ |
| (4) Chateau L'Evangile 2006, A.C. Pomerol | 155.00 | 8 |
| (5) Chateau Clerc Milon 2005, Grand Cru Classè Pauillac | 10.94 | 8+ |
| (6) Los Vascos Le Dix 2015, Colchagua, Chile | 42.50 | 7+ |
| (7) Gran Corte 2011, Vista Flores, Argentina | 34.50 | 8 |
| (8) Chateau Rieussec 2010, Grand Cru Classè Sauternes | 65.00 | 9 |