2023 Past Events
Meeting 462 Friday 20th October
Wines from Milton Sandford, Warren Row
Our planned tasting of German wines was not possible, because the presenter had been called away on business. But very fortunately we were able to call on a local merchant, Milton Sandford of Warren Row, and their Stan Park brought a selection of interesting wines from their portfolio.
We started with an aperitif of Franciacorta, Italy's finest sparkler. It was fresh and deliciously fruity; the downside is that it is as expensive as Champagne, at over £30. The white wines were well liked, with the Valençay representing especially good value. The reds showed even better, with the three cheaper examples all of outstanding quality. The Monastrell Syrah, enjoyed with our main course, had great depth of fruit and a soft but complex tannic finish.
Mark gave us a starter of smoked mackerel paté served with pickled vegetables and toast. This was served with the last white, the Rueda. The main course was chicken and marsala pie with vegetables and mashed potato.
Stan presented the wines very well, and we are very grateful that he was able to come at short notice and give us a very enjoyable evening.
| | | | |
| --- | --- | --- | --- |
| Wine | Score | Price | |
| Franciacorta Saten 2018 Tenuta La Valle Lombardy | 7½ | £31.05 | |
| Domaine Bordenave Jurançon Souvenirs 2022 (Gros Mensang) | 7 | £11.50 | |
| Dom Oliver Simson Valençay Blanc 2022 Loire (SB/Chardonnay) | 7 | £10.50 | |
| Riesling Terrassen 2022 Weingut Rudolph Rabl Kamptal | 7½ | £16.90 | |
| Rueda Nogaro 2022 Bodegas Valtravieso (Verdejo) | 7½ | £13.50 | |
| Domaine des Gaudets Morgon 2020 Cru Beaujolais | 8 | £14.50 | |
| Merlot Sangiovese 2021 Gran Bruno Tenuta Castello di Radda Tuscany | 7½ | £17.50 | |
| Montpeyroux 2019 La Balade Aurelie Vic Languedoc | 8 | £15.50 | |
| Monastrell Syrah 2019 Sein Bodegas Vinessens Alicante | 8½ | £14.50 | |
---
Wine Tour of Piedmont with Tim Syrad 8-12 October
Several of our members have been on Tim's wine tours, and have reported that they are excellent. Very happily we persuaded Tim to do a tour specifically for Berkshire Branch, and a visit to Piedmont fitted in with his schedule. Twenty members and one guest enjoyed great food and wine, while learning about the region and its wines. We were all familiar with Nebbiolo, Barbera, Moscato and Cortese, but many of us had never heard of Arneis, for example.
Most of us flew from LHR to Milan Malpensa on Sunday 8th, where we met others who had been extending their holiday. We checked in to the hotel I Castelli in Alba. The hotel was very comfortable, with modern facilities. Breakfasts were excellent, but the real surprise was that its restaurant had a very good menu at reasonable prices, and that its wine list was exceptional. But on this first evening we dined at the restaurant Cortiletto d'Alba. Here the regional dishes were all beautifully presented. We started with a plate of three hors d'oeuvres items, vitello tonnato, a salad of celery, apple and cheese, and polenta mousse. With this an Arneis white wine was very much admired. There followed ravioli, then pork in a marsala sauce with roast potato, and for dessert hazelnut cake, each plate differently and beautifully decorated with chocolate, plum and mango sauces.
During the coach journey from the airport to the hotel, and on all other journeys, Tim took the opportunity to impart his in-depth knowledge of the area and its wines. He had explained the recent renaissance of the Arneis grape, and we were certainly convinced of its quality at the restaurant.
On Monday we travelled the short distance to the Roero district, where Arneis is grown. We visited Marco Porello, third generation wine maker. He gave us a delightful tour and presentation of his wines. We tasted two Arneis, one Barbera and two Nebbiolos. The wines impressed; the Arneis is attractive and clearly a worthy dry white wine, good with food. The Nebbiolos were quite light, and already enjoyable even though they would improve with 5 or even 10 years of ageing. It was going to be interesting to compare their style with the more traditionally robust Barolos. We were then taken to the lovely village Guarene and given a very fine lunch at the Miralanghe restaurant. Again we started with vitello tonnato. This was followed by risotto porcini, then chicken in Nebbiolo with carrots and roast potato, and a dessert of two cakes, hazelnut chocolate and hazelnut cream. In the afternoon we went to the winery Montaribaldi, where we tasted some Barbaresco wines. Our reaction to these was rather mixed, with a 2018 for example being not very pleasant and needing several more years for the tannins to soften. We had an interesting comparison of two vintages of the Barbaresco Palazzina; the 2020 was quite attractive, with good balance; the 2011 had seemingly more tannin, with a more intense flavour but duller fruit. Both would improve in a few years. We also tasted a Moscato d'Asti, a frizzanti wine. This was a very nice dessert wine, but very sweet; we had tasted a more refined version in the restaurant at lunch time. The schedule from here on left our evenings free. We were able to explore the most attractive town of Alba. A few of us had discovered that the hotel restaurant wine list included over 70 Barolos, with many older vintages at reasonable prices (in the context of the very high general cost of Barolo wines). We found a 2009 vintage at €50, and shared it among six people; it was complex and delicious.
Tuesday took us to Barolo, and we started at Domenico Clerico. This was a high-class modern winery, clearly with ambition to attract rich clients. We were shown round the superb facility, with impressive rows of barriques in the cellars and a beautiful tasting room. Sadly the generous spaces all had boomy acoustics and it was difficult to follow the presentation by Domenico's glamorous daughter Cristina. It is said that the 2019 vintage is one of the best. We tasted two, the Barolo del Comune di Monforte d'Alba (€40) and the Ciabot Mentin (a bit more expensive). The first was very light, with little nose. The second had a soft fruity nose and a bit more colour; it was nicely balanced with soft tannin and fair length. I was assured that they would become wonderful with 10 or more years of ageing, but I found it difficult to believe that they had enough complexity of fruit. The lunch that followed was at the very fine restaurant Tota Virginia. Here we were treated to an amuse bouche of goat's cheese coated in chopped hazelnuts drizzled with honey. Then a fascinating soup in a glass – celeriac and saffron over a lightly cooked egg drizzled with olive oil and pumpkin seeds. Risotto porcini had much more intense flavour than we had had the previous day, and the secondo of braised beef cheek was impressively tender and delicious, served simply with a rich gravy sauce on carrot and squash mousse. The dessert was hazelnut and chocolate cream and panna cotta. In the afternoon we went to Corino. This contrasted markedly with Domenico Clerico. Again a family winery, smaller and more modest, it is managed with a clear passion for quality by Giuliano, whose father Giovanni founded the company. We were given a tour and tasting by Giuliano's wife Stefania. The wines all impressed. We tasted a Dolcetto, two Barberas, the l'Insieme, a blend of 50% Nebbiolo and 50% Barbera, Langhe Nebbiolo, and four Barolos. All the Barolos had great depth of rich fruit, and distinct but not aggressive tannins. Three were priced in the forties, and the Riserva 2017, from 70 year old vines, at eighty euros. The cheapest, the Giachini 2019 at €43, attracted a number of purchases.
On Wednesday we travelled further east, to Gavi, and visited one site, La Giustiniana. This is an historic venue, with a beautiful 17th century house and three vineyard sites spanning 100 hectares. We visited the old winery and an exhibition of old wines from the estates, and then walked around the central vineyard at La Giustiania. Lunch was provided in part of the buildings being renovated to become an attractive wedding venue. We started with a quite overwhelmingly delicious plate of beef carpaccio on salad leaves. Then polenta cakes with mushroom and pine nut sauce followed by ravioli. Petits fours and coffee rounded off the meal; it had been accompanied by their white wines, all made from Cortese. These wines were very attractive, and again resulted in several sales.
On Wednesday evening Tim invited us all to the outside terrace by the restaurant at the top of the hotel, and chose four different old vintages of Barolo from the extensive list. We had 2013. 2011, 2010 and 2009. This was a privileged opportunity to taste old vintages, and to see how Barolo wines can develop. They were all complex wines, with distinct tannins. The two older vintages in particular were wonderful wines to drink now with food, but all will last several years yet before reaching their peak.
We checked out of the hotel on Thursday morning, and en route to Malpensa stopped at Strevi to visit Marenco. We started in the town, where the winery has a remarkable exhibition of old equipment used in winemaking, and associated items representing local culture. Then we travelled out to their house in the middle of the vineyards, where a delightful lunch was served, with their wines, under the trees in the garden. A focaccia oven in an outhouse prepared some of our starters, accompanied by Scrapona Moscato d'Asti. Our hors d'oeuvres was a plate of charcuterie, then ravioli and a selection of local cheeses. Accompanying these were Carialoso, a white wine made from Caricalasino grapes, I guess a first for all of us; it was light, fresh and balanced, then two Barberas that proved very palatable, the Ciresa 2019 and Nizza 2020. Another unusual grape was the Albarossa, the 2020 vintage showing very well. A dolce of hazelnut cake and amaretto biscuits was served with a sweet Moscato dessert wine.
This tour was an outstanding success, owing to meticulous research and logistical planning by Tim. We were particularly lucky with the weather, which at this time of year is typically 17°C and foggy. Of course we would have enjoyed it whatever the weather, but in fact were treated to glorious sunshine and temperatures in the mid twenties. (Colin Mair)
---
Meeting 461 Friday 11th August
Wines from Italy presented by Martin Keogh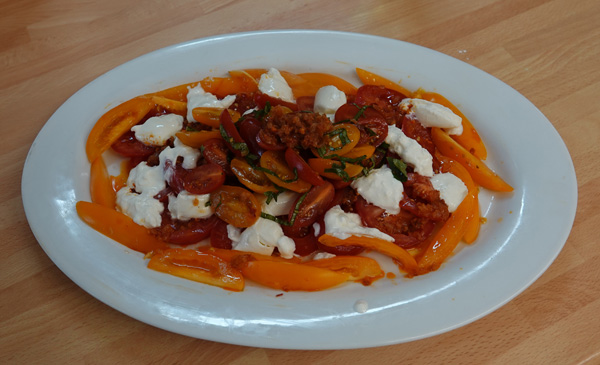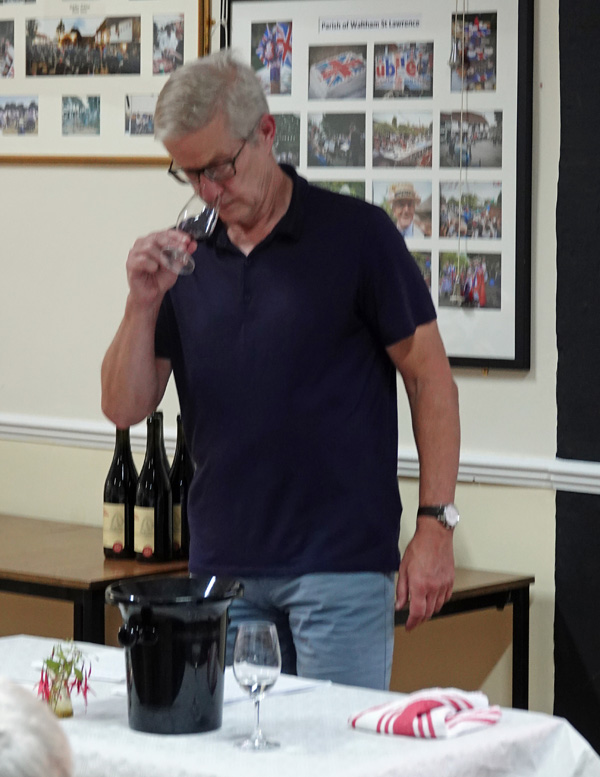 This was a selection of lesser-known wines from Italy, presented by Martin Keogh of Grape Minds. Grape Minds is a small independent wine retailer with two outlets, Summertown which opened in 2018 and Wallingford, opened 2021. They source wines directly from producers as well as from a variety of merchants. Martin joined Grape Minds earlier this year and is working part time after retiring from teaching. He has just completed his WSET Diploma, with merit.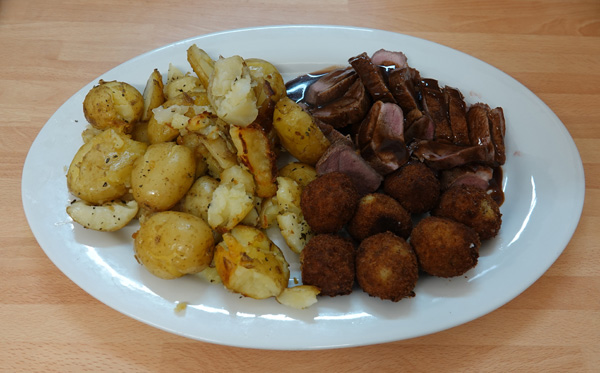 As ever, we found that Italy produces a bewildering variety of wine, and Martin brought some we had never heard of but mostly familiar regions or grapes but from unknown producers. The quality was consistently good, with some outstanding. As witnessed by the orders, the Primitivo was lusciously fruity and exceptional value for money.
Mark gave us a starter, served with the last white wine, of tomato salad, burrata (a Puglian cow's milk cheese made from mozzarella and cream) and n'duja (a spicy, spreadable pork sausage from Calabria). For our main he served duck breast & duck leg bon bon with summer beans & peas, a red wine with balsamic reduction and crushed new potatoes. (Colin Mair)
| | |
| --- | --- |
| Wine | Score |
| Dubl sparkling Falanghina NV | 7 |
| Colomba Bianca Zibibbo 2022 | 7½ |
| Ke Bonta Gavi 2022 | 7 |
| Verdicchio di Metallica 2021 | 7½ |
| Al Cantara Occhi Di Ciumu 2021 (Carricante/Grecanico) | 7 |
| Cantine Lavis Teroldego 2021 | 7½ |
| Tenuta Fortecole 2019 (Montepulciano/Sangiovese) | 7½ |
| Zensa Primitivo 2021 | 8 |
| Torre Falasco Amarone 2018 | 9 |
---
Meeting 460 Friday 23rd June
Visit to All Angels Vineyard at Enborne
This was a visit to All Angels at Enborne, near Newbury. Sadly only nine Berkshire Branch members attended, with a total of 12 people made up by two from London Branch and one guest. The weather was perfect, the site is absolutely delightful, and we had a thoroughly enjoyable day. We met at 1100 – mostly, as some found it tricky to find and were late – and started with a tour of two of three vineyards owned by All Angels. Mark Darlay explained many aspects of viticulture, and we saw Rondo, Pinot Gris, Chardonnay, Pinot Meunier and Pinot Noir vines. The walk alongside the smallest vineyard is adjacent to the graveyard and church of St Michael and All Angels, a historic church with one of the oldest bells in the country. The church gives its name, partly, to the vineyard.
Back in the beautiful tasting/dining room, with an eclectic selection of modern art displayed, we enjoyed a tasting of three sparkling wines. First the 2014 Classic Cuvée Long Aged. This has been 7 years on the lees before second fermentation. It is 50% Chardonnay, 28% Pinot Noir and 11% both Pinot Gris and Pinot Meunier. It is wonderfully fresh with perfect balance and very good fruit. It is long and quite complex. With a cellar door price of £30 this is one of the best English sparklers available, and pretty excellent value; its quality would be difficult to match with commercially available Champagne, even at a very high price. Next we tasted the 2015 Classic Cuvée. This has had 6 years on lees. It is 58% Chardonnay, 19% Pinot Noir, 13% Pinot Meunier and 10% Pinot Gris. This has a slightly deeper colour and richer nose. Quite fresh again but with more of the classic brioche flavour. A very interesting wine, that would doubtless reward tasting over a longer period. It has great complexity, and a very slight bitterness on the finish. The third wine was the Rosé 2018. This has been on the less for 3 years. It is 61% Rondo and 39% Pinot Gris. Utterly delightful, with fresh fruit and lovely balance.
We then enjoyed a magnificent buffet lunch, with Mushroom, Red Onion and Mascarpone Quiche, Coronation Chicken with Mango and Almonds, and Home Cured and Smoked Salmon with Dill Mayo. These were accompanied by Red Cabbage Slaw with Barkham Blue Cheese and Walnuts, French Bean and Mangetout Salad with Hazelnut and Orange Dressing, Hot Buttered Potatoes with Chives , and Tomato, Basil and Mozzarella Salad. There followed two desserts, Chocolate Torte with Fresh Raspberries and Raspberry Coulis, and Pear and Almond Frangipane Tart. All this was rounded off with Coffee and Petits Fours.
During lunch Mark gave us two white and two red wines to taste. The first white was a Pinot Noir, Freedom of the Press, Paradox 2021, from Oxfordshire, priced at £28.50. This is a nicely balanced wine, with pleasant fruit – nice on its own, but was very good with our buffet lunch. The second white was from the Welsh vineyard Montgomery (Monty's Brewery), and was the Seyval Solaris 2021 Limited Edition. This seems to be available at prices between £19 and £31. It is fresh and fruity, similar in style to trocken or halbtrocken (feinherb) Riesling. Of the whites most of us preferred the PN. The first red was a Dornfelder, the Oxford Regatta Dry 2017 from the Brightwell Vineyard near Wallingford, priced at £13.50. This had pleasant fruit, and would be a match for most German versions. The second red was a 2020 Pinot Noir from Lyme Bay, available at £29.99. Hand harvested between 26th October and 3rd November from Dijon and Spätburgunder still wine clones, the grapes were treated by the vineyard as a field blend. Small batch fermentations were undertaken with 10% whole bunch fruit, and manual pigéage (punch downs) took place up to 3 times a day to gently maximise the extraction of colour, flavour, and structure. The wine was then transferred to barrel for 100% malolactic fermentation. 32% new French oak was used, as well as older barrels from French, Eastern European and American origins. Aged for 11 months in barrel, the wine was then blended and left to settle several weeks before bottling. The wine has no fining, and only a light filtration to retain the delicate nuances of the fruit and oak. This wine was much enjoyed. It has good fruit and balance, and good length. It is a fine example of the best that England can produce, and shows that there is a great future for English still red wines.
There may have been few of us, but we were made most welcome, and treated to a wonderful day. Tour, wines and food were all thoroughly enjoyable.(Colin Mair)
---
Meeting 459 Friday 19th May
Andrew Walker (Solaris Wines) with guest presenter Jakob Tripp (Prince Stirbey Estate) – Wines of Romania and Slovenia
Eastern European countries have a long-established tradition of wine making and are now producing wines of excellent quality but just becoming more available in UK. So it was a pleasure to welcome Andrew Walker of Solaris wines, with his guest Jakob Kripp of the Romanian Prince Stirbey Estate, who brought a selection of wines from Romania and Slovenia. Numbers are slowly recovering after Covid lockdowns, and we had 30 members booked, with three guests. Sadly three members were indisposed on the night. Good news is that two of our guests have signed up to be IWFS members.
Andrew introduced Solaris wines, explaining that he wishes to source wines from places that are currently little represented by UK wine merchants or other outlets. He then introduced Baron Jakob Kripp. Jakob is from Austria, but moved to Südtirol, where his brother Sigmund runs the family's wine estates. His sister is married to a winegrower in Germany, and it was here that he met Ileana. He was fascinated by her lost background and intrigued by tales of the unspoilt wilderness of Romania. Love blossomed, they were married, and Jakob took Ileana back to her homeland on honeymoon.
Ileana comes from a long line of Romanian nobles. The Stirbey family is of Wallachian origin and their records go back to the fifteenth century. Prince Barbu Alexandru Stirbey (1873 to 1946) had 200 hectares of vineyards including 20 in Drâgâsani and huge cellars under the Stirbey Palace in Bucharest. Ileana has found advertisements showing that Stirbey wines were served on the Orient Express. On his death his eldest daughter Princess Maria Stirbey, Ileana's grandmother, inherited the 20-hectare Drâgâsani estate. It was all confiscated by the state in 1949. Many of Ileana's relatives ended up in prison or in forced labour camps. Ileana and her parents tried to escape from the country. They finally succeeded in 1969, with the help of a friend Henri Coandâ (Romania's famous inventor of the first jet aircraft), then living in France. He invited Ileana to a French language course, and she 'lost' her return ticket. She was the 15, and thought she would never go back.
Jakob and Ileana were married in 1997. They returned to Romania in 1999, hoping to recover Ileana's inheritance. Fortunately Princess Maria had retained deeds, and the state proved helpful. Also luckily the vines had been looked after; the present vineyard manager, Dumitru Nedelut, had been tending the vines during the state occupation. In 2001 the estate became theirs once again. They have 25 hectares of vines surrounding the century-old mansion and winery.
It was through Sigmund that the Kripps met their winemaker-to-be. Oliver Bauer had grown up in a winery in Baden-Württemberg. A meeting with Jakob over a beer in Munich persuaded Oliver to go to Romania for a couple of months to train the local team. Soon the Kripps asked him to manage the winery. Oliver relished the opportunity to rebuild a historic winery from scratch and work with passionate people. The first vintage was 2004. Prince Stirbey has developed a reputation as one of the country's top wineries. Their concept is to focus on local grape varieties, making single-variety wines. The Crâmposie variety is almost unique to them. The Selectionata version was produced at the research station in Drâgâsani in 1972, and is grown only in this area.
Feteascâ Neagrâ (black maiden grape) is Romania's most important red native grape. It is now grown in almost every region and is the subject of academic research into the best ways of growing it. There were 1270 hectares in 2006; 2950 in 2017. Negru de Drâgâsani - black from Drâgâsani – crossing was carried out at the Drâgâsani research institute and released in 1993. There were only 19 hectares in 2017 but it is showing great promise for deep coloured, richly fruity and high quality red wines.
| | |
| --- | --- |
| Wine | Score |
| Prince Stirbey Cramposie Spumante Brut 2018 | 6½ |
| Tilia Estate Nostra 2018 (Slovenia) | 7½ |
| Prince Stirbey Cramposie Selectionata 2021 | 6½ |
| Oliver Bauer Sauvignonasse 2019 | 7 |
| Prince Stirbey Feteasca Regala 2019 | 7½ |
| Stkelj Planta Rdeca 2019 (Slovenia) | 7½ |
| Tilia Estate Pinot Noir (Slovenia) | 7 |
| Prince Stirbey Negru Dragasani Rezerva 2018 | 8 |
| Prince Stirbey Merlot Malta Rezerva 2018 | 8½ |
(Colin Mair)
---
Meeting 458 Friday 21st April 2023
Tim North – Joie de Vin
Tim North of Joie de Vin returned (he gave us our last tasting at Waltham St Lawrence in Feb 2020 before the Covid lockdown) to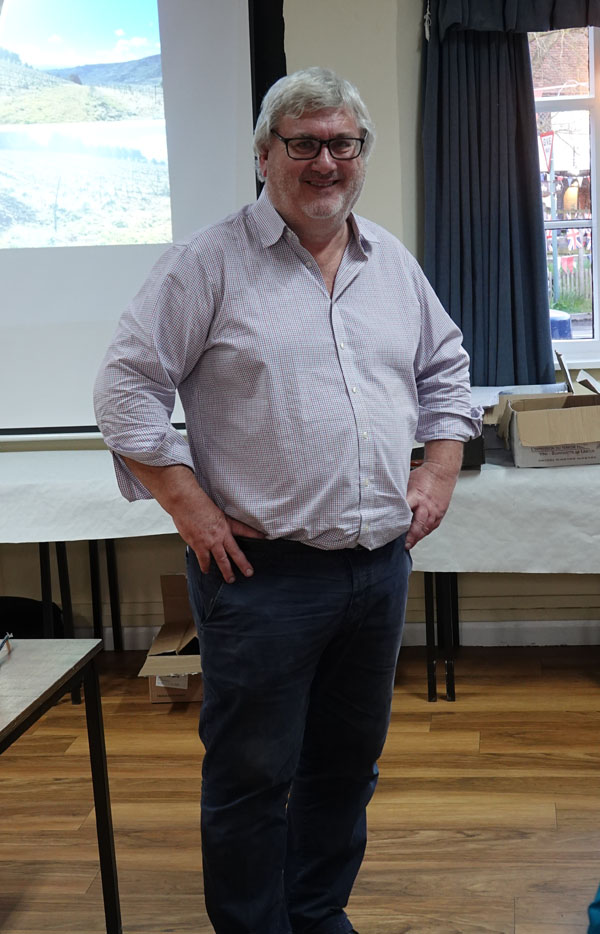 show a range of wines from different regions of France. The wines showed very well, and it was good to return to classic regions and styles, and see that the quality is very much still there, if the value for money does not always match wines from many other regions. Tim had sorted out some lesser known wines, and presented them with interesting background information.
We started with a sparkling aperitif, as usual. This was Domaine de La Chaise Brut Nature NV. It was nice and fresh, with good fruit. A pleasant wine, but no better than the Crémant de Loire from Lidl we tasted last month, and significantly more expensive. Not surprisingly the outstanding wines were two of the three most expensive. The Macon was a beautiful example of classic white Burgundy, and this, being from a lesser-known region well south of the more famous names, was very competitively priced, at £22.50. The outstanding red was Domaine Trilles Pedra Llune Côtes du Roussillon 2019. From 90-year old vines, and unusually 100% Mourvedre, this had gorgeous rich well-balanced fruit and great depth.
| | | |
| --- | --- | --- |
| Wine | Score | |
| Domaine de La Chaise Brut nature NV | 6½ | |
| Domaine Metz Alsace Silvaner 2020 | 6½ | |
| Gitton Sancerre Les Implipeaux 2021 | 7 | |
| Domaine Mayrac Limoux Blanc 2019 | 7½ | |
| Domaine Normand Macon La Roche Viveuse Vieilles Vignes 2020 | 8½ | |
| Domaine de La Chaise Gamay 2022 | 7½ | |
| Domaine Laurens Marcillac Cuvée Pierres Rouges 2019 | 7 | |
| Chateau de Marjolet Côtes du Rhône Villages 2020 | 8 | |
| Domaine Trilles Pedra Llune Côtes du Roussillon 2019 | 8½ | |
| Domaine Mayrac Pinot Noir 2020 | n/a | |
This was a two-bottle tasting, but we served three bottles of the lovely Macon, for people to enjoy with the first course of bouillabaisse. Mark served this delicious soup, with of course croutons and rouille, and with the Pinot Noir supper wine spring chicken with pesto sauce, fondant potato and petits pois à la française. As ever the excellent food was both quite delicious and matched the wines perfectly. (Colin Mair)
---
Meeting 457 Friday 17th March 2023
Richard Bampfield MW – Top wines from Lidl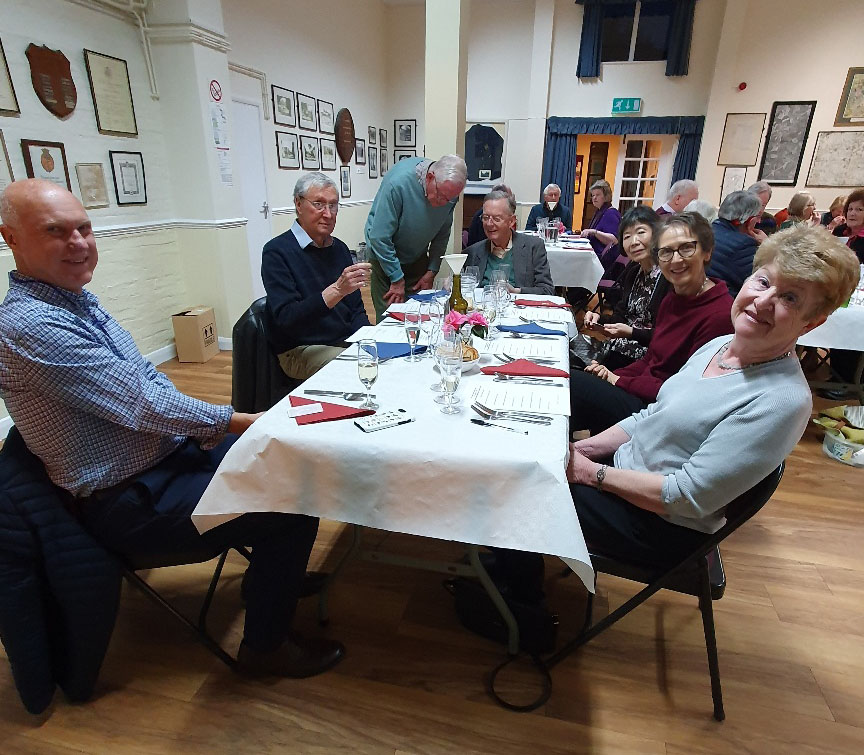 An unusual opportunity arose, with one of our members, Chris Gutch, making contact with Richard Bampfield MW, who is a consultant working for the Lidl supermarket.
Richard brought wines which he hoped would be available in Lidl in the days following the tasting. He explained that there are two ranges of wines in Lidl, one of wines that should be available throughout the year, and a second, called the Wine Tour, which are sourced every couple of months, and not replenished. For each Tour a new set of wines is chosen. The latest had been put on the shelves on Thursday, the day before our tasting, and so these wines, the majority of those in our tasting, should be available to our members in the days following this tasting.
The wines showed very well, and as usual the prices were not disclosed until the end of the tasting, at which point our members were delightfully surprised at the value revealed.
Both Crémants were very much liked, and for a wine made with second fermentation in the bottle, like Champagne, but from other grape varieties such as Chenin Blanc, the price offers excellent value. Of the white wines the Vinho Verde stood out; it has freshness and a lovely balance of fruit and acid. The Balla Géza proved controversial, as its label could be confusing. It is made from grapes grown in Romania, but it is made by Hungarians, probably in Hungary, and the name is certainly not Romanian – as was confirmed by Aurel and Andreea, our Romanian members. Of the reds, the Côtes du Rhône proved very appealing and outstanding value. The Saint Emilion is again remarkable value for a wine of such pedigree. It has a lovely nose, but still a fair amount of tannin. It needs food, and of course it will keep for several years yet. Our supper wine, the Nero d'Avola, was quite appealing, easy drinking, and amazing value, a very suitable accompaniment to Mark's tasty lamb rump.
Richard's presentation was first class, with just the right amount of information, and helpful encouragement of how to get the best drinking experience out of these very good wines.
Mark provided a supper of roasted rump of lamb with tenderstem broccoli and pommes boulangère, with a pudding of pear frangipane tart. (Colin Mair)
| | | |
| --- | --- | --- |
| Wine | Score | Price |
| Crémant de Loire Brut | 7½ | £8.99 |
| Encostas de Caíz Avesso 2022 Vinho Verde Portugal | 7½ | £7.99 |
| Haraszthy Sauvignon Blanc 2022 Hungary | 6½ | £8.49 |
| Brauneberger Kurfurstlay Riesling 2021 Mosel Germany | 7 | £4.99 |
| Balla Géza Kadarka 2020 Romania | 7½ | £8.99 |
| Torre de Ferro Dâo Reserva 2019 Portugal | 7 | £6.99 |
| Côtes du Rhône Villages Séguret Les Aumôniers 2020 France | 8 | £7.99 |
| Saint Emilion Grand Cru 2020 Bordeaux | 7½ | £14.99 |
| Crémant de Loire Rosé Brut | 8 | £9.99 |
| Nero d'Avola Italy | n/a | £4.99 |
---
Meeting 456 Friday 17th; February 2023
Paul Fritz-Johnson, Welch & Co Merchants
"A Ramble through Rioja and Rueda"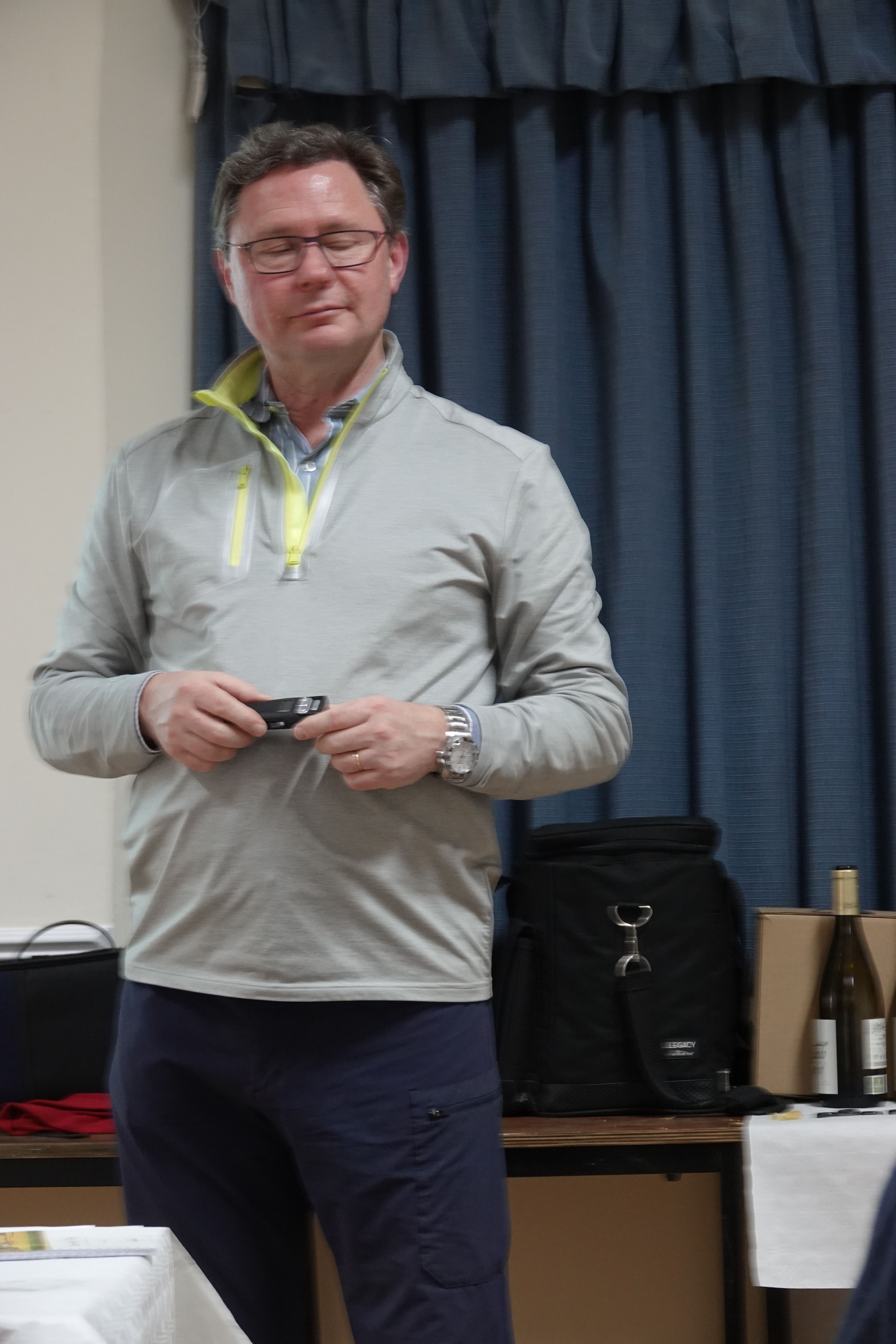 This month we were very pleased to welcome back Paul Fritz-Johnson, who first came to Berkshire Branch in 2019. His wines, as his title suggests, includes a variety of wines from the main regions across the North of Spain.
RUEDA was first established in the 11th century by Alphonso VI. After destruction by phylloxera and generally not very successful at producing fortified RUEDA Rosado (from Palamino Fino) it revived after being blessed by Marchese de Riscal 1970 - one of the leading wine makers of Rioja and Ribero. By 1980 it became DO. The predominant grape is Verdejo - almost 90%. It is located South of the Duero and covers something like 40,000 acres. The best area is close to the Duero and is alluvial soil high in lime. Other authorised Whites are Viura, Viognier and Chardonnay. The demise of Palamino Fino is underlined by the fact that it is now forbidden to plant it in the area.
Paul's aperitif,the Mas Macia Cava had a nice fruity nose with a hint of orange. Good fruit on the palate with a clean light acid finish. A pleasant start to the evening. The Diaz Siglos Verdejo had a tropical fruit nose with plenty of fruit on the palate. This wine proved to be very popular. It was followed by the Menade Verdejo. It had a slightly puzzling nose, a quite deep yellow colour and full citrus palate. It was more complex than the Diaz Siglos but was not as popular. The following Gomez Curado Rioja Blanco had good fruit and herbal nose. The full fruit (gooseberry?) and light acid finish was the second most popular white wine. The Diez Siglo sauvignon Blanc had a typical nettles and grassy nose. The clean tropical and citrus fruit resulted from the early picking of the grapes before the verdejo.
Mark then provided us with a very multi-flavoured Prawn and Chorizo in garlic. Very moorish!
The first red wine, the Gomez Crudao Rioja , had a sweet stone fruit nose - almost soft fruit, With a full very plummy palate and soft tannins it was followed by three popular red wines. The first of which, the Ca N'Estruc L'Equilibria had a hint of vanilla on the nose and a well balanced full fruit and soft tannins which gave it a long finish. The Bodegas Borsao Cabriola had everything going for it. Balanced full fruit and smooth tannins. The 15.5% alcohol did not did cause any problems! The final red the Gomez Cruzado Rioja Reserva was a delight with damson on the nose with a rich palate of sloe stone fruit and soothing long soft tannin and fruit finish. Altogether a very interesting range of wines.
Mark's supper was a very tasty Iberian Pork Casserole together with an excelent mixture of vegetables. To accompany the supper, Paul provided a pleasant full Borsao Seleccion Tinto Garnacha (100%) A very good wine and food evening.
The Wines

Cost(£)**

Score

Aperitif: Mas Marcia Cava Brut Reserva NV
11.76
7
The Whites:
(1) Diez Siglos Verdejo Ecologico, 2021
8.68
8+

(2)Menade Verdejo Nosso Natural Organic, 2021

15.87
7

(3) Gomez Cruzado Rioja Blanco 2Ano 2021

13.78
8

(4) Diez Siglo Sauvignon Blanc, 2020

8.59
7+
The Reds:
(5) Gomez Cruzado Rioja Crianza, 2017
14.35
7+

(6) Ca N'Esruc L'Equilibrista, 2016

20.23
8

(7) Bodegas Borso Cabriola, 2017

15.86
8+

(8) Gomez Crusado Vina Durana Rioja Reserva, 2017

26.51
8+
The Supper Wine:
(9) Borsao Selection Tinto Garnacha
8.11

** Price to Members
---
Meeting 455 Friday 20th January 2023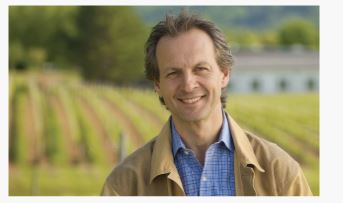 We decided that it was time to sample again some of the wines the branch bought after our highly successful visit to Virginia in 2018. From Luca Paschina's Barboursville winery we had bought four wines, Voignier, Cabernet Franc, Nebbiolo and Octagon. In past years I had also bought Octagon, and thus we had available two bottles each of three vintages, 2010, 2012 and 2013. I wrote to Luca, both to tell him about our tasting and to ask his advice about which order to serve the three Octagon vintages, and he was delighted to hear about our tasting, and gave good advice. During our visit we were very impressed by another Virginia winery, Veritas, run by the British couple Andrew and Patricia Hodson, and we included their Petit Verdot 2015 in the tasting.
As Luca is Italian, and puts an Italian accent on his wines from Barboursville, we chose Italian wines for the aperitif and supper wine. The aperitif was a Franciacorta from The Wine Society, and the supper wine Perseo 2015, from Le Morette (Valerio Zenato), made by Fabio Zenato, whom some of our members met on our October 2008 visit to Veneto. As we had only one white wine, the Viognier, we added a classic Viognier, a Condrieu, again from the Wine Society, for comparison.
Several members commented that they had never given such high scores in one of our tastings. The Franciacorta was delicious, with beautiful fruit and excellent mousse. Perhaps the two Viogniers were in the wrong order. The Condrieu is an oaked wine, giving richer texture. This example was exemplary. The Barboursville is unoaked, a bit leaner, but still very elegant, if rather tame after the Condrieu. Mark served clam chowder, absolutely delicious and enjoyed with the white wines.
Then came the Cabernet Franc, with a wonderful nose and great depth and balance. This is an exceptional wine, one of the finest examples we have ever tasted. The Nebbiolo was very much liked by most tasters, though a few said it was not their style. A couple of tasters commented that if they had tasted blind they would have been convinced that it was a very good Pinot Noir. The Veritas Petit Verdot seemed quite classic Bordeaux in style, with good complexity and depth of fruit.
We then came to the Octagons. Luca had recommended 2012, 2013, 2010. As we all had two glasses we started by pouring the 2012 and 2013. There was absolutely no doubt that the 2013 shone. Good as the 2012 certainly was, it was put in the shade by the 2013. This is a really elegant wine, with good balance and enormous depth of fruit and other flavours. We then moved to the 2010. This is more austere, even deeper than the 2013, rewarding savouring over what time was left to us. It still has a long way to go. Luca had correctly explained his order recommendation. He also told us of the unusual composition of the 2012; no one suspected that it had 49% Petit Verdot. But people certainly detected a different style between the 2012 and 2013. People were divided in preference between the 2013 and 2010, with the 2013 coming out on top.
Mark served another American speciality, meatloaf, as the main course. Mark used a Tom Kerridge recipe for the meatloaf, alongside creamed corn, onion rings, jacket potato, green beans and gravy. With this we enjoyed Fabio's Perseo. This showed very well, even after the exceptional quality of the Octagons,and some commented that it was much better than our usual supper wine standard. (Colin Mair)
| | | | |
| --- | --- | --- | --- |
| Wine | Score | | |
| Franciacorta Brut Ferghettina NV (Wine Society) | 7½ | | |
| Condrieu Cave Merlin 2019 (Wine Society) | 9 | | |
| Barboursville Viognier 2015 | 7½ | | |
| Barboursville Cabernet Franc 2014 | 8½ | | |
| Barboursville Nebbiolo 2013 | 7½ | | |
| Veritas Petit Verdot 2015 | 8 | | |
| Barboursville Octagon 2012 | 7½ | | |
| Barboursville Octagon 2013 | 9 | | |
| Barboursville Octagon 2010 | 9 | | |
| Le Morette Perseo 2015 | 7½ | | |